Common Nordstrom Slip and Fall Injuries
All sorts of personal injuries can occur following your slip and fall accident, some of which include the following:
Broken bones and fractures
Back and neck injuries
Spinal cord injuries
Traumatic brain injuries like concussions
Soft tissue injuries.
Damages You Can Recover in a Nordstrom Slip and Fall Accident
With surgery and medical bills and out-of-pocket expenses stacking up, a slip-and-fall accident can leave you financially dry.
Fortunately, under premises liability law, you can recover compensatory damages if your accident happened due to the negligence of the property owner, manager, or employee.
Compensatory damages include economic and non-economic damages.
Economic damages: These are out-of-pocket expenses you incur directly after your accident, including medical expenses, lost wages, and property damage. You can calculate these damages by adding up all the costs incurred following your accident.
Non-economic damages: These are subjective losses and vary from one slip and fall accident case to another. Some of the non-economic damages you may recover include pain and suffering damages, emotional distress, reduced quality of life, and mental anguish, among others.
Calculating non-economic damages are much more challenging, and accident victims should reach out to experienced personal injury lawyers for help.
Had a Slip and Fall Accident in Nordstrom? Here's What You Should Do…
Although an attorney can help immensely, building a strong case starts immediately after suffering injuries in an accident.
If you sustained injuries in a slip and fall accident at a Nordstrom store, taking certain steps to protect your premises liability case is essential. These include the following.
Ask for Help
After a slip and fall accident, you must ask the employees for help.
Whether you require emergency medical treatment or need assistance getting up, asking for help ensures the store manager knows a serious incident occurred at their store.
Gather Evidence Like Medical Bills and Photos
When filing a personal injury claim, you need to provide evidence to support your slip and fall injury claims. The best time to start collecting evidence is when the incident is fresh. There may not be sufficient evidence available if you wait even a few days to gather information. The same goes for bruises, so get it documented in a medical report and take pictures for future use by injury lawyers in court or during insurance settlement negotiations, etc.
Snap some pictures and take a video of the hazard that caused your accident and led to your injuries. Make sure you photograph the surroundings and any employee present at the time of the accident. Even if it was a car accident or slip and fall hazards causing a fall case in the Nordstrom store parking lot, if you seek damages, the more evidence, the easier to protect your legal rights when you finally call us to guide your case.
Request Accident Report
The official report by the store manager is not easy to obtain. And it's often riddled with falsities designed to derail the legal process in favor of the property owners. Requesting an accident report is critical to your personal injury claim. It lets the insurance company know that the incident happened and quickly document the accident with the proper individuals at the store.
If you slipped and fell, ask the store manager to file an accident report and request a copy for your record, as you are seeking medical attention. If you are having a hard time, the best attorneys at our firm are ready to offer you a free consultation over the phone or email to discuss dangerous parking lots, wet floors, icy surfaces, and other hazards. We are available 24/7 at (213) 596-9642 to discuss and help you prove your Nordstrom's case and obtain justice in the form of money damages.
Talk to Witnesses
Witness statements add a lot of weight to a personal injury claim, and if there are witnesses around, talk to them and ask them for their contact details.
Seek Medical Treatment
If you're seriously injured, it is best to call first responders to send an ambulance to transport you to the hospital.
Even if you don't have apparent injuries following your accident, visit a doctor immediately for a medical evaluation. Without proper imaging scans and tests, self-diagnosing internal injuries or organ damage following a slip and fall accident can be difficult.
At times, injuries may take time to manifest, which is why it is essential to monitor your health and look out for any new symptoms you may experience following your accident. If you're starting to feel pain or experience symptoms, don't wait and immediately head to a medical provider.
Maintain a folder with all the medical bills and receipts for out-of-pocket expenses, as you will need them when filing a personal injury claim.
Speak to an Experienced Nordstrom Store Personal Injury Attorney
A skilled personal injury lawyer can assess your damages, gather evidence, and build a strong case to recover the compensation you deserve.
Accident victims need to reach out to a reputable law firm immediately after their slip and fall accidents, as they may not have enough time due to the statute of limitations. If you were injured by the failure of Nordstrom to provide a safe environment, don't sit around letting the statute expire and witness memories fade. Get on this today and get the compensation you deserve from the other party!
Schedule a Free Consultation with Ehline Law
From Florida to California, there are all kinds of ways clients can fall at Nordstrom. It could be from a dropped beverage, a greasy floor, or a clothes hangar you tripped on in the aisle at the shoe store that led to your fall incident. If you suffered injuries in a Nordstrom slip and fall accident, contact us at (833) LETS-SUE for a free consultation to discuss your injury case with a top lawyer at our law offices.
Our personal injury attorneys can help represent and protect your rights and fight for the compensation, and other losses you deserve from the liable at-fault parties.
---
Michael Ehline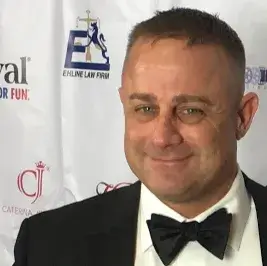 Michael is a managing partner at the nationwide Ehline Law Firm, Personal Injury Attorneys, APLC. He's an inactive Marine and became a lawyer in the California State Bar Law Office Study Program, later receiving his J.D. from UWLA School of Law. Michael has won some of the world's largest motorcycle accident settlements.
---
Recent Personal Injury News
Check out our most recent premises accidents in California and more, including the famous, infamous and everyday people wounded by at fault parties around the world.