If we don't win, you don't pay.
Speak to the Attorney.
Born to serve.
633 W 5th Street #2890
Los Angeles, CA 90071
(213) 596-9642.
2323 S. Voss Rd, Suite 244
Houston, TX 77057
(832) 592-1260.
Date Modified: June 13, 2023
The Santa Monica Third Street Promenade is an exclusive downtown area of Santa Monica that consists of shopping malls, entertainment venues, and more. With more than 80 retailers, you'll find everything here, from fresh groceries to restaurants, bars, and shopping havens.
Run over in Santa Monica, CA?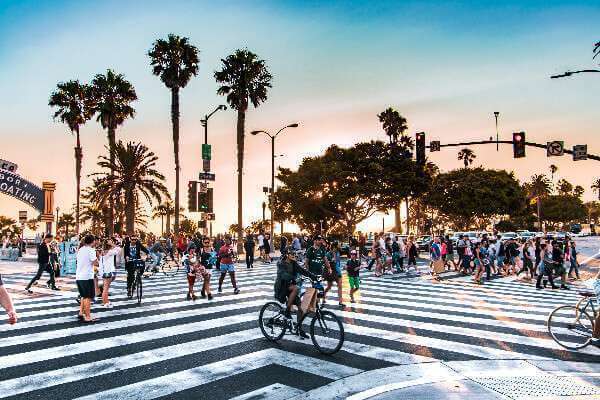 Receive a Free Consultation Today! Walking down the Third Street Promenade is like a scene from a movie, with street artists performing acts, sprawling tourists amazed at the architecture, and local residents in groups running to catch the latest movie.
Although the Santa Monica Third Street Promenade is one of Los Angeles, California's best tourist and local destinations, it can be dangerous for some, including passengers and pedestrians injured by a Big Blue Bus. With so many people flocking to the area, massive crowds and inadequate safety measures can increase the risk of accidents and injuries.
You might be eligible for compensation if you suffered an injury on Santa Monica Third Street Promenade. Contact Ehline Law and our Santa Monica Third Street Promenade car accident lawyers for a free consultation on your Southern California personal injury case.
Dangerous Incidents on Santa Monica Third Street Promenade
Holiday Vandalism: Property Damage on Third Street
On December 15th, 2021, law enforcement authorities received a distressed call at night.
The frantic caller spoke of five young men uprooting trees, breaking holding decorations, and causing property damage to businesses on Third Street Promenade.
The Santa Monica Police Department dispatched a unit of officers to the area to investigate the concern and saw a group of men vandalizing.
The young men were immediately arrested for felony vandalism and for causing more than $5,000 in property damage, but no major injury to people, as evident from CCTV footage.
Racially Motivated Attack
On May 1, 2021, police officers arrested a suspect for a racially-motivated attack on an elderly Asian man. A call from the Trimana Market area to the police officers led to an investigation where the officers were told of an African American woman in her 50s hitting an elderly Asian man with her shopping cart from behind in one of the worst rear-end collisions of its kind.
The motives were unclear at the time, and officers wanted to complete their investigation into the serious injuries before presenting the case to the District Attorney's office in Los Angeles.
The Farmer's Market Car Accident
You may have heard of car accidents among vehicles, but what about a car accident that turned into a massacre? In July 2003, an 86-year-old man drove a Buick towards the Third Street Promenade before crashing into a Mercedes, which had stopped to give way to the pedestrians.
After the crash, the Buick driver accelerated off the path and down the closed road where pedestrians were walking. The car sped up to 60 miles an hour while crashing into many objects, such as signs, boards, and fences. After the car had come to a complete halt, more than ten people were gruesomely killed in the speedy rampage. The driver said he had pushed down on the accelerator instead of the brake, resulting in the devastating accident.
However, the surviving family members and accident victims believe that Weller lacked remorse for the accident. After a few months in court, the jury found Weller guilty of vehicle manslaughter. These are just some of the many accidents in and around the city's famous Third Street Promenade. The majority of the accidents around Third Street Promenade are car accidents, resulting in serious injuries to the victims and even wrongful death to some.
An experienced personal injury attorney can protect you financially from any accident that is not your fault. At Ehline Law, our personal injury lawyers work tirelessly to provide swift justice to injured victims across Santa Monica, CA.
Car Accidents and Santa Monica Personal Injury Lawsuits
Can You Pursue Pedestrian Accidents in Los Angeles County?
A car accident's consequences can devastate Santa Monica, accident victims. Depending on the severity of the injuries, it can take a physical, mental, and financial toll on the injured victim's life. Local juries often view bicycle accidents with motor vehicle as avoidable pedestrian accidents.
Traumatic Brain Injury?
A car crash can cause a spinal cord injury or a traumatic brain injury, leading to permanent disabilities and turning an injured victim's life around. Fortunately, California law allows injured victims to seek compensation for their loss within two years following the accident.
A skilled car accident attorney can help pursue a personal injury lawsuit on your behalf and hold the negligent party responsible for traffic accidents and attendant severe injuries and damages. (Example, Santa Monica spine injury on a bicycle, or e-bike, etc.)
Do You Have a Liability Case?
To have a liability case, the victim must prove negligence and the impact of the negligence, resulting in injuries and financial and non-financial damage in the form:
Medical bills
Future medical expenses
Lost wages
Therapy costs
Emotional trauma
Pain and suffering
And more.
How Can a Personal Injury Attorney Help You Recover Maximum Compensation?
Whether car accidents, motorcycle accidents, truck accidents, drunk driving accidents, or even distracted driving accidents, car accident lawyers from a leading car accident law firm can level the playing field. We have the knowledge and experience in gathering evidence and filing car accident claims against the negligent party. We are also experts at negotiating with their insurance company for a fair settlement.
Injuries such as spinal cord injuries or traumatic brain injuries can cost a victim millions of dollars over their lifetime, and it is unfair that you pay for someone else's mistakes. Ehline Law has helped Santa Monica pedestrian accident casualties to recover compensation for their loss from the at-fault party. We can help you beat the insurance adjuster too.
Contact A World Class Third Street Promenade Accident Lawyer for a Free Consultation
An accident victim may face disabilities or lose their income while recovering. Still, our attorneys are ready to investigate a personal injury case, determine the negligent party, and hold them accountable for the damage. Our personal injury lawyers at Ehline Law have more than 30 years of collective experience in dealing with car accident cases.
Our commitment to providing a professional attorney-client relationship has led us to recover more than $150 million for over 3,000 injured victims in California. If you suffered injuries from an accident that was not your fault, contact us at (213) 596-9642 for a free case evaluation with our Santa Monica Third Street Promenade accident attorneys today.
Citations:
Michael Ehline is an inactive U.S. Marine and world-famous legal historian. Michael helped draft the Cruise Ship Safety Act and has won some of U.S. history's largest motorcycle accident settlements. Together with his legal team, Michael and the Ehline Law Firm collect damages on behalf of clients.
We pride ourselves on being available to answer your most pressing and difficult questions 24/7. We are proud sponsors of the Paul Ehline Memorial Motorcycle Ride and a Service Disabled Veteran Operated Business. (SDVOB.) We are ready to fight.