If we don't win, you don't pay.
Speak to the Attorney.
Born to serve.
633 W 5th Street #2890
Los Angeles, CA 90071
(213) 596-9642.
2323 S. Voss Rd, Suite 244
Houston, TX 77057
(832) 592-1260.
Date Modified: July 25, 2023
The legality of trucks driving in the left lane depends on the state and its laws. However, in the majority of states, trucks can only drive in the left lane if they're making an exit to the left, overtaking another vehicle, or making a left turn.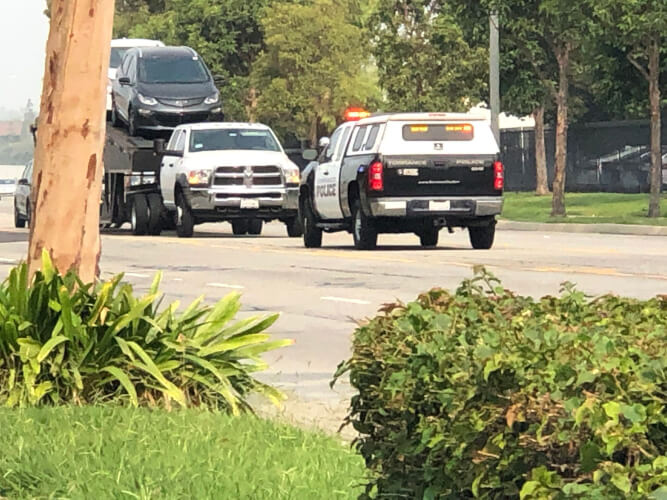 Some states even have designated truck-only lanes to reduce the risk of serious accidents.
Trucks staying in the left lane pose a serious threat to other drivers on the highway or road and can lead to accidents resulting in severe injuries.
More than 500,000 trucking accidents occur each year in the United States, killing over 5,000 people. The designated lanes are expensive to build, and there are not enough of them to prevent truck accidents across the country.
Contact Us Today
Smaller vehicles are vulnerable to devastating accidents upon colliding with large-bodied heavy trucks. Although there are laws that try to prevent common trucking accidents, they still occur, and small passenger car drivers must drive defensively at all times.
Over the years, Ehline Law and our truck accident attorneys have helped multiple truck accident victims secure multi-million dollar verdicts. Truck accident claims against large trucking companies can be challenging, but our experienced attorneys handling injuries are always ready to pursue your claims and protect your interests aggressively.
Why are Trucks Dangerous in the Left Lane?
Commercial truck drivers who illegally drive in the fast or far left lane endanger themselves and those around them. Trucks are slow-moving vehicles, and when in the left lane, it disrupts traffic flow, especially when the road is traveling uphill.
Some would argue that if a truck travels at higher speeds in the left lane, there is no cause for concern. On the contrary, a truck breaking the state's speed limit creates a higher risk of accidents as a speeding truck cannot react fast enough to emergencies or road hazards.
There is also the risk of accidents when moving from the left lane to the right. It can often be difficult for truckers to detect vehicles on their right, as the blindspot for a truck is much larger than that of a passenger car. The driver may not realize a vehicle is next to them until it's too late.
Can Trucks Drive Legally in the Left Lane in California?
In some states, semi-trucks, large trucks, and other similarly large vehicles are not allowed to drive in the far left-hand lane, while in others, they can only use the left-hand lane for passing.
The law about trucks driving in the left lane in California is pretty straightforward. Commercial vehicles, semi-trucks, big rigs, and towing trailers cannot drive in the left lane on an undivided highway with at least two lanes of same-direction traffic.
California places left lane restrictions on trucks for several reasons. A vehicle with a maximum speed limit of 55 miles per hour would cause the traffic to slow down if it were to drive in the left lane. Slow-moving trucks in the left lane can cause traffic congestion and increase the risk of rear-end collisions.
Some drivers may want to pass the left-lane truck by moving fast in the right-hand lane, which can lead to lane change and side-swipe accidents. Because of the safety risk large vehicles traveling in the left lane pose, California law prohibits trucks and any other vehicle with three axles or more from driving in the left-hand lane.
Truck drivers in California can only drive in the left-hand lane if they're passing another vehicle. Failing to do so can lead to tickets and fines for the truck driver.
The California Highway Patrol is responsible for stopping trucks that are not driving in their designated lane, and the truck drivers caught driving in the left lane may have to pay fines of up to $250 for a third offense.
These strict lane requirements make California one of the few states actively preventing trucks from using the left lane.
What to Do If a Truck is in the Left Lane?
You must exercise extreme caution when sharing the road with a truck or large vehicle, especially riding a motorcycle or operating a passenger car.
The blind spot of a semi-truck starts from the front of the cab and goes all the way down to the length of the trailer. You might be driving in the right lane, but what if the truck driver decides to steer the vehicle back into the right lane?
In many cases, due to the large blind spot, the driver may not be able to detect a vehicle on its right and will try to make the switch. If you're not careful, you will run the risk of a collision or even a multi-vehicle accident.
When you see a truck in the left lane, you must try to avoid riding in its blind spot at all times. If there is a semi-truck on the right and you wish to overtake it, you can move to the left lane, move well ahead of the truck, and then transition back into the right lane.
When you're driving behind a truck, or any vehicle for that matter, always make sure to keep your car at a safe following distance.
Can You Recover Damages After a Truck Accident?
Whether living in a no-fault or at-fault state, you can recover damages after a truck accident.
The only difference between the two is that you file a claim against your insurance company in a no-fault state, while in an at-fault state, you must file an insurance claim with the negligent party's insurance company. The amount of compensation awarded in an at-fault state will depend on the degree of fault.
That said, victims can recover the following types of damages after a truck accident:
Medical treatment expenses
Future medical costs
Lost wages
Future loss of earning capacity
Pain and suffering
Scarring
Loss of quality of life.
Besides the damages mentioned above, injured victims may also receive compensation for other damages depending on the severity of their injuries. Suppose a truck driver causes an accident while driving illegally in the left lane. In that case, the surviving deceased family members can file a wrongful death lawsuit against the negligent party to recover compensation for their loss. Surviving family members can seek compensation for all the above damages and also for burial and funeral costs.
Because of the loss of a personal relationship, which can cause a lot of grief, a surviving family member, such as a spouse, can also receive compensation for the loss of companionship. Minor children may receive compensation for the loss of parental support. It is important to speak to a personal injury attorney to learn about the types of damages you can recover.
We won't let you sign a settlement without real pay money.
We don't spend our money buying expensive cars and radio ads.
We take on fewer cases, meaning you get top-priority results.
We have the financial resources to stave off any insurance company's procedural parlor tricks or legal loopholes.
We are reviewing and filling out time-consuming paperwork.
You are conducting investigative case research on your or your loved one's behalf.
Responsibility for proving your lost income. (Financial support after California electrocutions, seizures, wrongful death, etc.)
What to Do After a Truck Accident?
Truck laws and left lane restrictions on trucks are there to ensure the safety of other motorists on the road. When a truck driver breaks the law, they are committing a violation. If an accident occurs after violating the law, the injured victim may file a claim against the trucking company.
Speaking to a truck accident attorney right after an accident is essential to understand your rights. However, it is even more crucial to take certain steps after a truck accident to help maximize your chances of securing compensation for your loss.
Here are some steps that you should follow after getting involved in a truck accident.
Call for Help
A truck accident can oftentimes be devastating, and if you're injured, you must seek help immediately. If you can move without hurting yourself, try to move your vehicle to the side of the road to avoid further collisions. But if you're hurt, it's important to remain where you are, stay calm, and call 911.
Gather Evidence
The evidence you gather when the accident scene is fresh can help prove the driver's negligence. Take pictures of the accident scene, the surroundings, traffic lights, and any road signs.
Make sure to photograph all the other vehicles involved in the accident from all angles and take pictures of any skid marks on the road. This photographic evidence will help your attorney recreate the accident scene to determine who is at fault.
If you're injured, ask someone to help you take photographs and take down personal information from any witnesses.
Go to the Hospital
Once you've gathered all the evidence, you must wait for emergency services to take you to a nearby hospital.
Sometimes, an accident might not leave any obvious injuries. However, it is still crucial that you visit a hospital for a medical examination, as some injuries can take time to manifest.
Record all the medical receipts, medical records, and doctors' opinions. Keep track of all the appointments, and don't skip out on any, as it can adversely affect your personal injury case.
Michael Ehline:
Background:
Inactive U.S. Marine
Former Los Angeles City Attorney Law Clerk
Former California Court of Appeal extern
Avvo 5-star rated lawyer
Multiple Superlawyers Rising Star Winner
Multiple Nominee – US News-Best Lawyers
We hire the best medical doctors with years of experience helping wounded, grimacing patients
Legal researcher
Appellate attorney
Litigator
USMC work ethos.
Contact a Car-Truck Carrier Accident Attorney in Los Angeles
Truck accidents can leave you severely injured, and if you're looking to secure your chances of obtaining compensation, you must contact a truck accident attorney early on to help file a truck accident injury claim with the negligent party's insurance company.
An experienced personal injury attorney can work towards strengthening your case, file a personal injury claim, and aggressively pursue the insurance company for a fair settlement. Our attorneys at Ehline Law have recovered more than $150 million in settlements and verdicts for our injured clients.
If you are an injured victim of a truck accident in California, contact us at +(833) LETS-SUE for a free case review, as you may be eligible for compensation. Discuss the events of your truck accident with our legal experts and learn your rights.
Michael Ehline is an inactive U.S. Marine and world-famous legal historian. Michael helped draft the Cruise Ship Safety Act and has won some of U.S. history's largest motorcycle accident settlements. Together with his legal team, Michael and the Ehline Law Firm collect damages on behalf of clients.
We pride ourselves on being available to answer your most pressing and difficult questions 24/7. We are proud sponsors of the Paul Ehline Memorial Motorcycle Ride and a Service Disabled Veteran Operated Business. (SDVOB.) We are ready to fight.