If we don't win, you don't pay.
Speak to the Attorney.
Born to serve.
633 W 5th Street #2890
Los Angeles, CA 90071
(213) 596-9642.
2323 S. Voss Rd, Suite 244
Houston, TX 77057
(832) 592-1260.
Date Modified: June 18, 2023
This is the Ultimate Guide to Compensation for Humboldt County Injuries. Humboldt County is a beautiful area a couple of hours from San Francisco.
Fight for Your Rights in Any Humboldt County City
The county has one of the worst accident records in the state of California, with injuries and motor vehicle deaths surpassing the national average. Statistics from 2016 showed that the deaths in Humboldt County were almost three times the United States average. Personal injury from car collisions is a common situation here, so you need a personal injury lawyer to contact when such events occur.
Ehline Law is best known for its personal injury lawyers in Northern California. Our free consultation service encourages you to contact us immediately if you ever find yourself in an accident in Humboldt County, CA.
Get Our Law Firm Involved Early
The moments after an accident can be overwhelming. A victim who escapes death or serious injury is left overwhelmed and shocked. It is advisable not to do or say anything during these critical moments.
You should contact the police, emergency services, and your attorney. Call us if you don't have any form of representation. We are an excellent personal injury law firm that is prepared to help wherever you are in Humboldt County.
Remember not to provide answers to any questions until your lawyer is around. This gives you an advantage, as nothing can be used to dismiss your claims if you don't say anything.
What Is Personal Injury Law?
Not every injury suffered will merit a liability. This is why we offer a free consultation to help you determine if your situation fits the definitions in personal injury law. Our attorneys are always available for a free consultation.
Contact us if you suffer injuries due to another person or institution's negligence. We will help you understand what you deserve according to the law.
When To Contact A Personal Injury Lawyer?
Time is critical in establishing facts when building a case. Call your attorney as soon as you gather your thoughts from the emotional distress of an accident. In the situation that you don't have one, you can call us at (833) LETS-SUE wherever you are in Humboldt County. Our law firm has the following attorneys to help you out with your case in terms of our related practice areas:
Wrongful Death Claims Lawyer
Wrongful death has so many consequences. The anguish of knowing that a dear one was taken away from you due to a mistake is traumatic. It also has economic effects if the person happened to be the provider in their family. Apart from what is lost, funeral expenses become another burden. This is why you need a wrongful death attorney to help you seek financial compensation when this happens.
The money may not bring back your loved one, but it will help secure the responsibilities they used to handle at least. You get answers to questions about their death that may bother you. It also gives you closure knowing that the responsible parties have been brought to justice.
Car Collision Accident Lawyer
An auto accident attorney handles many dimensions of a car collision. Their most important role is helping the victim secure compensation from the insurance company of the party at fault. They even enable you to get compensation from your insurers if the personal injury case permits it. Insurance adjusters that contact you after the incident may pose as your best friend. However, they try to save the insurance company money with minimum settlements. In some cases, they may deny the personal injury claim altogether.
Our personal injury lawyers at Ehline Law are always available to help you make your claim after an accident in Humboldt County, CA. We have the resources and expertise to establish a driver's failure to use reasonable care in a collision. There are many aspects of evaluating cost, which include:
Current and future medical expenses
Loss of wages
Pain and suffering.
As a law firm, our job is to help you know all possibilities available to you.
Premises Liability Lawyer
This law says that property owners and occupants are responsible for maintaining their premises to make them reasonably safe for guests. If there are any hidden dangers, they are to notify visitors accordingly. The law defines the duty of care as regular inspection and repairs if any issues are discovered. A person who suffers a personal injury due to such negligence is subject to compensation from the property owner. In making your case, you must show that the defendant owns, leases, or occupies the property where you got injured. You also have to prove that the injury was due to the person's mismanagement.
The steps you take as soon as the event occurs are critical in making your personal injury case. This is why it is best to contact a personal injury attorney immediately. Call us if you are in Humboldt County. Our attorneys will help you through the whole process to help you get the appropriate compensation for your injuries.
Laws in Humboldt County, CA, still consider bicycle accidents and those involving pedestrians the same as motor vehicle ones. Many insurance companies have loopholes that they use to deny people bicycle crash claims. Get in touch with Ehline Law if you are involved in a bicycle accident. Our bicycle attorneys understand how the law can help you get compensation for your injuries according to the state's Vehicle Code. If it involves a driver that fled the scene, our attorneys can help you file a civil claim to seek damages. In case such a driver is never found, there is still the option of seeking compensation from your insurer under the Uninsured Motorist Insurance policy.
Construction Site Accident Lawyer
Personal injury law covers all examples of workplace injuries at construction sites. Our law firm is available to help workers in Humboldt County and our service areas in California navigate the complex process for such claims involving construction accidents. Such incidents fall under both state and federal law, making a victim entitled to several compensations. A personal injury attorney will guide you through the details of your case to get you the maximum benefits available.
It is difficult to decide to send an elderly family member or loved one to a nursing home. To have them there and get abused can be painful or cause emotional distress. The hints of this are usually subtle, but you can quickly identify them if you are alert. If this unimaginable situation happens to your family or loved one, you should take steps to seek justice under the law. This action is one way to help stop this in that home and deter others from happening elsewhere.
We recommend that you call our law firm immediately if the facility is in Humboldt County or elsewhere in Northern California. Our personal injury attorneys are ready to assist you through the legal process. Ehline Law and its elder abuse attorneys can also help you and your loved one receive answers and compensation for the abuse.
How to Hire Personal Injury Lawyers
There are different kinds of legal representation. A trial lawyer can specialize in criminal defense or stick to civil litigation. The entire team can't practice law the same way in a law office. Each attorney handles a different type of legal issue to give the law firm a more holistic approach to helping a client.
Before hiring an attorney, you should consider the following factors:
Background
Professional Record
Reviews and Testimonials
Legal Fees and Costs.
Background
The experience of your attorney is vital when you are looking to hire someone to represent you. If you want a lawyer for criminal defense, you require someone with expertise in handling legal processes in that regard. Their experience gives them an advantage over those who have handled cases in other domains. Ehline Law has attorneys to help a client, no matter the area. Our services cover almost all aspects of litigation.
Professional Record
A lawyer may have experience with many cases, but always check the outcome of those proceedings before hiring them. An attorney that loses a lot of their cases cannot represent you in court. Many hide under the cloak of more successful lawyers in a law firm. Don't dwell too much on the past records, though. Every case has different facts; thus, relying too much on what an attorney did in the past may have been a lesson that made them better.
Contact our law office for attorneys with exceptional records in Humboldt County. There are many directories of attorneys in the county that you can also access to know this information.
Reviews and Testimonials
What people say about a lawyer or law firm is important when hiring them. It is smart to listen to people who have previously experienced legal services from such firms. You don't believe everything. The best review examines what other attorneys say about the lawyer you intend to hire. This is a more trustworthy source since their professional careers depend on it. Law firms can plant testimonials or even receive some bad reviews from competitors who pose as former clients. You have to pay attention to the details of such reviews.
Legal Fees and Costs
A standard law office should have a free consultation to advise a client seeking legal representation.
This is set up to help us discuss the details of your case.
As we give you legal counsel on the steps to take, you also use it to assess whether we know our job.
Legal fees are then discussed during these meetings.
Personal injury lawyers mostly work with contingency fees instead of payment upfront.
Your charges depend on the kind of attorney you are looking to get as representation.
Contact Highly Rated Personal Injury Lawyers in Humboldt County, CA Today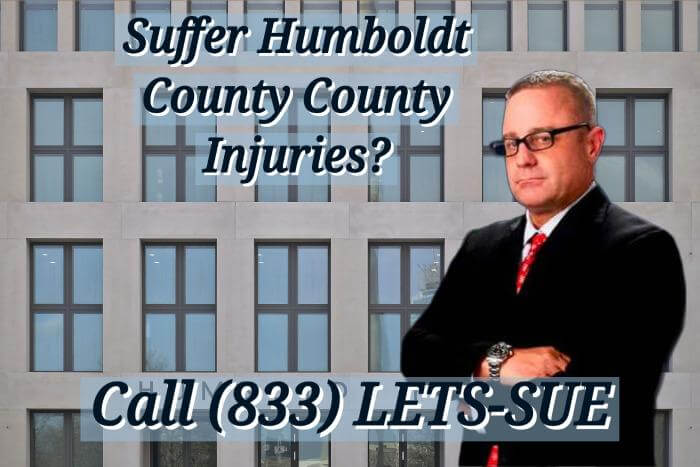 At Ehline Law, our caring, compassionate team has been working on injury claims since 2005. This means we have years of experience. Our services and results are always available to clients in Humboldt County, Eureka, CA, and other parts of Northern California. This includes Sacramento, San Francisco, etc., so you came to the right place if you're injured and want to discuss the options at hand.
Our lawyers are always ready to help give you a basic understanding and education in PI law. Our business is helping negligence victims get back on their feet, and they'll be treated right by a dedicated legal team. Call our bonded, licensed attorneys, walk into any law office, or use our online website contact form to schedule your free consultation in all California cities by dialing (833) LETS-SUE.
Let's get started. You'll be pleased you reached out to our office to deal with your problems professionally and ensure a good result.
Michael Ehline is an inactive U.S. Marine and world-famous legal historian. Michael helped draft the Cruise Ship Safety Act and has won some of U.S. history's largest motorcycle accident settlements. Together with his legal team, Michael and the Ehline Law Firm collect damages on behalf of clients.
We pride ourselves on being available to answer your most pressing and difficult questions 24/7. We are proud sponsors of the Paul Ehline Memorial Motorcycle Ride and a Service Disabled Veteran Operated Business. (SDVOB.) We are ready to fight.