If we don't win, you don't pay.
Speak to the Attorney.
Born to serve.
633 W 5th Street #2890
Los Angeles, CA 90071
(213) 596-9642.
2323 S. Voss Rd, Suite 244
Houston, TX 77057
(832) 592-1260.
Date Modified: June 18, 2023
This is the Ultimate Guide to Compensation for a Santa Clara County Injury, written by top local Santa Clara personal injury lawyer Michael Ehline, Esq.
Santa Clara County Personal Injury Claim?
Someone else's carelessness can end up in a tragic accident. Everyone is probably used to seeing newspapers full of headlines about crashes on busy highways or lawsuits against negligent companies.
However, things are much worse when you're the person involved in such a bad experience. Do you know what to do if you're in Santa Clara County and others do something that risks your life? Find a personal injury attorney who has received great fame and peer recognition for his efforts serving Santa Clara County, injured people, and military veteran cancer survivors!
Why Do I Need a Personal Injury Lawyer from Santa Clara County?
A personal injury lawyer would be your best ally if a third party's actions got you into trouble. Whether they are physical injuries, emotional trauma, or financial losses, someone is responsible for such consequences, and an expert can help you hold at-fault parties accountable for their negligence.
The Basics of Personal Injury Law in Santa Clara County
Also known as "tort" law, it allows people to file lawsuits against other individuals or businesses for negligent acts or misconduct.
According to the personal injury system in Santa Clara, CA, victims can seek help from a personal injury lawyer and initiate legal action to seek financial compensation after suffering damage or loss caused by others' intentional or non-intentional actions.
What Are the Most Common Personal Injury Claims in Santa Clara, CA?
In Santa Clara County and other parts of California, personal injury law covers physical or emotional damages and losses arising from negligence. The most common related incidents in Santa Clara, CA, range from motor vehicle accidents to medical malpractice.
Car Accident
Car accidents are Santa Clara, CA's most common reason behind personal injury claims. Many people are injured by other drivers committing violations or not paying enough attention to the road.
Victims of an automobile accident may decide to file a lawsuit against the at-fault party to obtain compensation. At this point, seeking help from a personal injury lawyer in Santa Clara, CA, is essential.
Pedestrian Accident
Unlike the car accident, the victim in these cases is not a driver but someone on foot. The injured person usually suffers painful or permanent consequences from other forces, such as a motor vehicle, motorcycle, scooter, or horse.
Most pedestrian accidents occur anywhere people might be walking, including streets, parking lots, or sidewalks. If this happens, a personal injury lawyer can lend you a hand!
Dog Bites
Almost every family in California has lovely pets to take for a walk every day. However, having many out there also means that animal attacks can happen in San Jose, CA, or Santa Clara at any moment with zero warnings.
Pet owners must take care of their dogs or cats all the time. If they fail to do this, someone could get hurt. That can be considered negligence under the tort law, and victims can hire a personal injury lawyer to take legal action against them! Check out our locations page to find a dog bite lawyer office location near you serving Santa Clara County, CA.
Assault
Some forms of personal injuries can be intentional, including assault. Unfortunately, more cases of violence are reported every day. Therefore, you can seek professional help to file a lawsuit if you're a victim.
Each case is different. A sexual abuse victim needs guidance from a personal injury lawyer with proven experience as a sexual assault attorney, for example.
Legal Malpractice
Another form of personal injury is legal malpractice, which occurs due when your legal personnel makes mistakes that can put you at risk or have permanent consequences to your life, like blowing the cruise ship passage contract time to file a claim or blowing some other law that leaves a victim penniless.
Slip and Fall
Dangerous conditions on private or public property can injure many. These are known as "slip and fall" accidents and can lead to a personal injury claim.
Product Liability
Defective products can also cause personal injuries. Victims can file a suit and seek legal remedy if the damages can be directly related to a faulty item.
Workplace Accident
Employers must guarantee safe working conditions for their staff members. If they fail to comply with safety regulations or maintain a hazard-free workplace, companies can face legal action by an injured worker.
Construction Injuries
The construction industry reports the highest number of workplace accidents per year. A construction worker can file a construction accident lawsuit against their contractor or employer if they suffer a severe injury while working because related risks were not adequately mitigated.
Premises Liability
A claim in this category seeks to hold property owners liable for damages or serious injuries to others caused by an unsafe environment or defective premises.
Wrongful Death
Suppose a loved one dies because of others' wrongdoing. In that case, you can seek advice from a personal injury lawyer and fight to get the compensation assistance you and your family deserve from a wrongful death attorney.
When Do I Need to Find an Attorney in Santa Clara, California?
All accident victims or anyone injured by a third party's negligence may need help from a personal injury attorney.
Whether you were at fault or not, an experienced personal injury attorney can accompany you at every step of the legal process that involves seeking compensation or filing a claim.
Personal injury cases can be very complicated, but experts know the laws of California and any other state. Therefore, they can help you build a solid claim if you suffered permanent injuries, became disabled, or someone has blamed you for the accident.
What Does a Personal Injury Lawyer Handle in Santa Clara County
If you plan to file a lawsuit or seek compensation in Santa Clara, CA, a personal injury attorney can establish a communication channel between the parties involved, hold conversations with the insurance company, and collect evidence to build a solid case.
Should your case go to court? A personal injury attorney working at a trustworthy law firm provides legal representation and focuses on helping clients defend their cases before a jury to obtain the best possible outcome.
Will a Personal Injury Lawyer Fight for Fair Compensation?
An experienced personal injury lawyer will always do everything possible to obtain fair compensation for their clients in Santa Clara County. Experts consider medical expenses, lost wages, legal fees, and other factors to calculate a fair sum.
Reliable law firms' personal injury lawyers always go the extra mile to obtain maximum compensation and other benefits that the law grants to the injured party. A good attorney cares about you and will fight hard to help you get what you deserve!
Types of Personal Injury Compensation in Santa Clara, CA
All personal injury cases are different. In some cases, the victim sustains a minor injury but losses a lot of money in property damage, for example. However, those affected by more severe accidents could see their lives hanging by a thread.
Therefore, you must remember that there are also various types of compensation in Santa Clara, CA.
Overall, they are all grouped into two:
Compensatory
Punitive damages.
Compensatory Damages in a Santa Clara County Personal Injury Case
According to the law system in Santa Clara County, compensatory damages intend to reimburse people for costs related to their accident or serious injury. They include quantifiable personal expenses and are available in almost all personal injury cases.
What Do Compensatory Damages Cover in a Santa Clara County Personal Injury Claim?
A personal injury lawyer could seek common compensatory expenses when negotiating settlement or compensation, including:
Medical bills, expenses for hospital stays, surgeries, and medical treatment
Expenses related to medical appointments or visits to the doctor
Rehabilitation or physical therapy bills
Nursing home fees
Increase in living expenses
Property damage expenses
Missing wages
Loss of irreparable items
Loss of future earning capacity
Expenses associated with lost or suspended trips
Pain and suffering
Low quality of life
Physical pain
Non-economic damages, such as mental or emotional anguish
Special compensatory damages in wrongful death cases, including funeral and burial costs and loss of consortium.
Punitive Damages in a Santa Clara County Personal Injury Case
Punitive damages in a Santa Clara County personal injury case aren't meant to compensate the victims but to punish the at-fault parties. A judge can grant them if they consider that the compensatory amount awarded is insufficient to deter the defendant from making the same mistake.
A Santa Clara County court may award punitive damages to individuals or organizations that acted with malice or committed a crime, such as assault or fraud. Punitive damages also apply if the personal injury lawyer managed to prove that the responsible party had provoked severe financial issues.
Do I Need a Personal Injury Attorney to Obtain Compensation in Santa Clara, CA?
An experienced personal injury lawyer knows the laws and procedures to obtain compensation in any case held in Santa Clara County or other cities in California.
Some insurance companies and other parties seek to settle before taking the case to court. At this point, hiring a Santa Clara County law office with a professional personal injury attorney who can fight for your rights is important.
If you're in Santa Clara, CA, an experienced personal injury attorney working for a reputable law office knows all the factors to consider in personal injury cases. Therefore, they can help you get a more accurate estimate of what you should seek for compensation if others' misconduct hurts you. During your initial free consultation, San Jose and Santa Clara-based injury lawyers at our law offices will discuss everything you must know.
How Can Ehline Law Personal Injury Lawyers Help You?
Do you live in San Jose, CA, in Santa Clara County, and need legal advice? Ehline Law is here for you! Our law firm has a team of lawyers trained to work on any personal injury case. They all have experience in all related practice areas!
Were you injured in a driving accident, or did a defective product affect your life? We offer personal injury law services to all people in Santa Clara, CA, who need legal support to undergo such a stressful and scary process.
What Can Our Personal Injury Law Firm Do for You?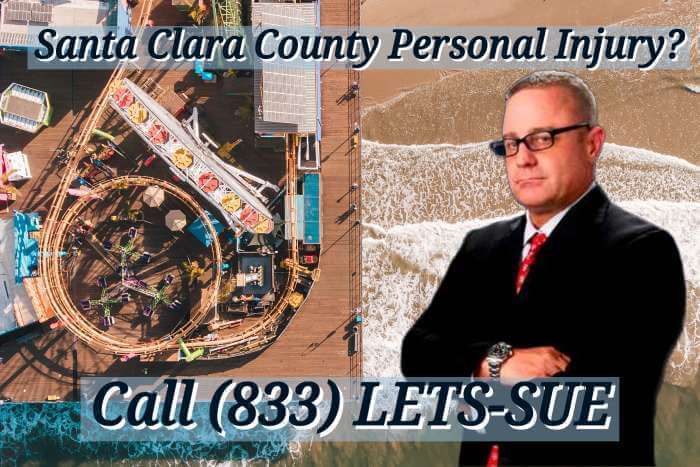 Suppose you plan to file a lawsuit for a serious accident or seek compensation for the injuries you suffered. In that case, our law firm in Santa Clara, CA, has a personal injury lawyer ready to fight for your rights and the compensation you deserve.
These are some things that our law office's attorneys can do for you:
Collect evidence, photos, and witness testimony to build a strong case
Talk to insurance companies and resolve issues
Find a good settlement out of court
Represent you before the jury if your case escalates
Give you legal assistance if you need a personal injury lawyer
Collect all medical documents and evidence to estimate the best compensation
Defend yourself in court if you're being charged or have been blamed for an accident in Santa Clara, CA.
Fill Out The Form and Get a Free Consultation From Personal Injury Lawyers in Santa Clara County Immediately
Do you want a personal injury attorney to evaluate your case first? Our law office offers a free consultation to all our clients, promising first-class advice from the first day you call us.
We care about you and your family! Therefore, our highly experienced attorneys in Santa Clara County are ready to help you. Do you want more information about our services or a free consultation? Feel free to fill out our website contact form for a swift return email. Or you can call (833) LETS-SUE, day, evening, or even 24/7 for prompt service from an attentive, caring lawyer in Santa Clara County, CA!
Michael Ehline is an inactive U.S. Marine and world-famous legal historian. Michael helped draft the Cruise Ship Safety Act and has won some of U.S. history's largest motorcycle accident settlements. Together with his legal team, Michael and the Ehline Law Firm collect damages on behalf of clients.
We pride ourselves on being available to answer your most pressing and difficult questions 24/7. We are proud sponsors of the Paul Ehline Memorial Motorcycle Ride and a Service Disabled Veteran Operated Business. (SDVOB.) We are ready to fight.