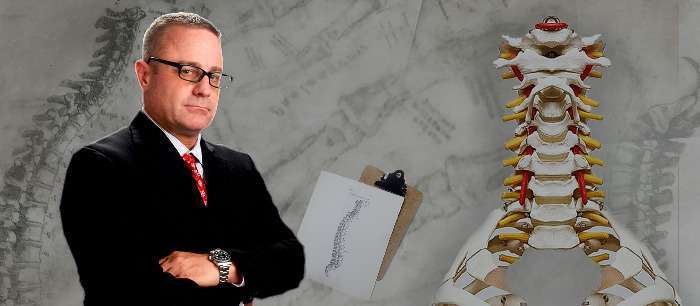 An accident resulting in chronic pain, paralysis, or any spinal cord injury can make life seriously difficult for the injured victim or their loved ones.

A Spinal Cord Injury is Very Serious – Call the Ehline Law Firm to Reach Our Spinal Cord Injury Lawyers
Fortunately, California residents have two years to file claims against the negligent party to recover compensation following a spinal cord injury. If you received spinal cord injury from an accident that was not your fault, contact Ehline Law and our Santa Monica spinal cord injury lawyers today for legal advice.
Types of Spinal Cord Injuries
There are a couple of types of spinal cord injuries, but the two main categories they fall under are incomplete spinal cord injury and complete spinal cord injury.
An incomplete spinal cord injury or partial injury contributes to 60% of the spinal injuries in the United States. These types of injuries have a better chance of recovery since medical professionals take the right steps immediately before a spinal cord injury can turn complicated.

The three types of incomplete spinal cord injury are:
Anterior Cord Syndrome: This can take place at the front of the spine, affecting sensory and motor functions.
Central Cord Syndrome: This takes place at the center of the spine, affecting the nerves.
Brown-Sequard Syndrome: This type of spinal cord injury affects one side of the spine only.
Complete spinal cord injuries are not as common as incomplete injuries, but these are severe spinal cord injuries that can affect most bodily functions.

There are three types of complete spinal cord injuries, and they are:
Tetraplegia: This is the most severe of the three types of complete injuries causing paralysis and can affect all the limbs. Depending on where the spinal cord injury is on the cervical spine, the severity of it can vary.
Paraplegia: In this type of injury, the patient loses all bodily movement and sensory functions.
Triplegia: This type of injury affects movement and sensations in two limbs and an arm.
Average Costs of Spinal Cord Injuries in the U.S
The medical costs of spinal cord injuries vary according to the severity of the injury.
Here are some average costs you can expect to pay yearly depending on the type of injury:
High Tetraplegia: $1,064,716 (first year), $184,891 (subsequent year)
Low Tetraplegia: $769,351 (first year), $113,423 (subsequent year)
Paraplegia: $518,904 (first year), $68,739 (subsequent year)
Incomplete motor: $347,484 (first year), $42,206 (subsequent year.)
The costs mentioned above are medical costs and do not include indirect costs as a result of an injury, such as lost income, loss of quality of life, and more. In 2014, an independent survey showed that indirect costs from spinal injuries could average around $72,000 annually. Taking into account inflation and poor wages, this indirect cost figure would've skyrocketed by now.
What Damages Can a Spinal Cord Injury Attorney Recover?
After an accident, many injured victims prefer to file claims themselves in the hopes of avoiding legal fees. However, that negatively affects their claim. A single error in the form or overestimating claims can result in a quick rejection and pile on the stress.
In addition to running the risk of rejection when filing claims themselves, injured victims only calculate the value of their current medical bills. However, an accident can have severe repercussions on the victim, besides the burgeoning medical bills.
At Ehline Law, our spinal cord injury attorneys have experience recovering the following damages in spinal cord injury cases:
Pain and Suffering
Pain and suffering from an accident can severely affect the quality of life of the injured victim, and US law allows victims to recover this type of damage from the defendant. Our spinal cord injury lawyers can help determine the value of the pain and suffering a victim is facing and retrieve it from the insurance company.
Lost Income
A severe spinal injury can affect the livelihood of an injured victim by significantly impacting their ability to operate normally. Those with paralysis may not conduct office work, while some may have to rest for months for a proper recovery. Our spinal cord injury lawyers can help recoup wages from insurance companies when filing spinal cord injury claims.
Property Damage
If you received spinal injuries in a car accident, then that means that your car is probably damaged. Repairing a car can cost thousands of dollars. However, our spinal cord injury lawyers have the experience to retrieve property damage and losses when filing claims.
Future Medical Expenses
You may be able to recover medical bills on your own when filing claims, but our spinal cord injury lawyers can help recoup future medical expenses from the insurance company. You don't want to be in a position to face additional medical bills when you've only recovered partial payments from the insurer. In such cases, you will have to pay from your pocket.
In addition to the damages listed, there are other types of damages our personal injury attorneys have helped recover from insurers for injured victims. Depending on the case, our attorneys can recover punitive damages, physical impairment, disfigurement, emotional damage, and more. It is best to talk to a legal representative and know your options before pursuing a claim against a third party's insurance company.
Ehline Law Firm has the resources available to help evaluate the value of claims by bringing in medical and legal experts. Using their respective knowledge and expertise in the field, every Santa Monica spinal cord injury attorney on our staff can obtain maximum compensation for your loss.
Contact Ehline Law Spinal Cord Injury Attorneys in Santa Monica Now!
Our personal injury lawyers maintain a professional and caring attorney-client relationship where we not only offer the best legal representation to personal injury victims but also provide it on a contingency fee basis. For more details on how we can help, contact us or visit any of our law offices across California.
Our lawyers have helped more than 3,000 accident victims recover over $150 million in compensation. If you received injuries from an accident that was due to someone else's negligence, contact us at (213) 596-9642 for a free consultation with a Santa Monica spinal cord injury attorney. Trial lawyers at Ehline Law have the knowledge and experience to obtain the maximum settlement for serious injury claims.
Michael is a managing partner at the nationwide Ehline Law Firm, Personal Injury Attorneys, APLC. He's an inactive Marine and became a lawyer in the California State Bar Law Office Study Program, later receiving his J.D. from UWLA School of Law. Michael has won some of the world's largest motorcycle accident settlements.
---
Recent Personal Injury News
Check out our most recent distracted driving law blog posts about the famous, infamous and everyday people wounded by at fault parties around the world.
Proudly Serving the Following Santa Monica Zip Codes
90401 / 90402 / 90403 / 90404 / 90405 / 90406 / 90407 / 90408 / 90409 / 90410 / 90411
More Santa Monica, CA Practice Areas