Are you a bereaving or sad parent seeking legal help because your child was severely injured in a car accident because of a crummy child protective seating system? Not all attorneys are created equal, and that is why our clients refer their friends and family decades later.
We Help People Suffering From Defective Child Safety Seats
Our clients are made up of a wide variety of California consumers, including parents and minor children in urgent need of swift and potent legal services over a piece of garbage products, including clients with child car seat defects causing injuries.
Our lawyers have the funding and economic resources to go after a large number of parties and the largest Fortune 500 corporations on your behalf to garner you an overwhelming form of financial compensation for those injuries caused by poorly made products. You would be wise to look up our attorneys online and give them a call for a free consultation to tell them about your garbage baby seats and see if these aggressive attorneys in Los Angeles County can sue you over these defective products.
---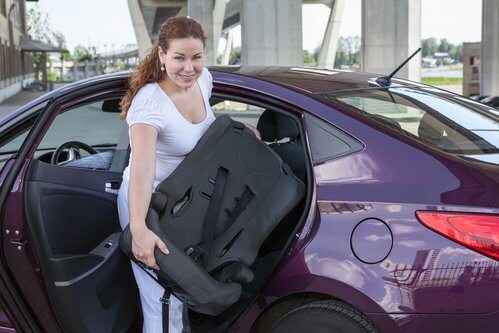 Transporting your most precious cargo should be easy in modern cars, and you never assume you were sold a defective car seat. But some car seats fail and not by mistake. Some child car seats are designed, manufactured, or labeled poorly in a sufficient manner to protect children.
What Are the Rules Regarding Backseat Babies in CA?
Kids under age 8 (or under 57″ in height) must be adequately secured into a rear seat, forward facing, child restraint system. Children under age 2 or 40 lbs. (or under 40″) must be placed into a secured rear-facing child restraint device. Failure to abide by these safety standards will significantly increase the risk of wrongful death, brain injuries, and other disabilities to the baby. If you drive in the United States, use a car seat, for God's sake. And if your car seats fail, you call (833) LETS-SUE, do not pass go!
What Makes Us So Much Better Than These Other Lawyers?
First, we are run by a former jarhead. Even former 75th Rangers hire our lawyers to sue on their behalf. Why? Because they know our lawyers will Ranger up to prove our blood oath to a fellow warrior. I am world famous defective baby seat lawyer, Michael Ehline.
I have the expertise, authority, and trust of a top Los Angeles car crash lawyer. I also have the respect and trust of our elite warriors, and so do the lawyers at my law firm. Let's get back to our work as defective car seat attorneys. While most baby seats/child seats are safe, there have been terrifying examples over the last several years. So these examples show the need for the utmost safety for our children.
Many parents don't realize the potential harm to children that poorly made child safety seats and boosters can be. Although nothing we discuss can legally be taken as legal advice until we form an attorney-client relationship, we provide a free consultation to key you to discuss the strengths and weaknesses of your legal matter.
You will immediately see that our services stand in high contrast to other lawyers who are just interested in money, with no concern about you. A poorly manufactured restraint device, like bad child car seats, can lead to severe injury or fatality. Also, kids can even die in low-speed crashes due to these crummy and defective products.
Statewide California Child Restraint Defects Attorneys
Any attorney will not do in a case like this. But having a lawyer specialized in baby seat injuries is needed to bring the matter to a fitting conclusion. The first step is to have an attorney who understands the law's inner workings. Injured victims need a representative whose expertise revolves around these types of issues. Such a lawyer like Michael Ehline will give you the advantage you need in court.
Since children are more minor than adults, these seats are necessary. Kids not in baby seats or boosters can get seriously injured in a car accident.
California law requires sure children remain secured in a child car seat or passenger restraint as follows:
Current California Law:
Children under 2 years of age shall ride in a rear-facing car seat unless the child weighs 40 or more pounds OR is 40 or more inches tall. The child shall be secured in a manner that complies with the height and weight limits specified by the manufacturer of the car seat. (California Vehicle Code Section 27360.)

Children under the age of 8 must be secured in a car seat or booster seat in the back seat.

Children who are 8 years of age OR have reached 4'9″ in height may be secured by a booster seat, but at a minimum must be secured by a safety belt. (California Vehicle Code Section 27363.) Passengers who are 16 years of age and over are subject to California's Mandatory Seat Belt law.
---
Properly Working Restraints Can Save Your Baby.
When the child safety device works correctly, it can be a lifesaver. It could cause severe injury or wrongful death if manufactured poorly or malfunctions.
Helping Injured Consumers is Our Passion.
Ehline Law Firm has the experience and tenacity to handle cases like this. Thus, we ensure car companies and seat manufacturers are held responsible for the errors they make. Our compassionate team of attorneys is prepared to file a lawsuit against anyone who damaged you. So the maker of a negligent vehicle or child restraint device is unsafe. Although we can't entirely make up a child's child's injuries, we will do our best. Our staff will work to ensure that others don't have to suffer through the same grief.
The Law Requires Certain Things.
California law now requires vehicle manufacturers to install a latch child seat-tethering system. So these are two anchors located at the top and bottom of the back seating. Also, this ensures a child's child's seat or booster will be adequately secured. Plus, auto safety research shows that children under six years of age or sixty pounds will not have the same protection they need. So in the case of a severe accident, they may not be safe. State laws recognize children grow at different rates.
So they placed both factors as components of their child safety seat law. Parents that follow state guidelines help to protect their children from serious harm. However, faulty seats or other severe issues could cause problems for the whole family. Ehline Law has the know-how to hold the safety restraint maker responsible in their negligence cases. We will retain experts to find out about recalls and evidence of any negligence. So we can hire engineers, doctors, and others to prep clients' claims. We don't give up. So we fight for our partners until the bitter or victorious end.
Speak to A Local Defective Baby Seat Attorney in Los Angeles County, CA
If your child has become hurt due to a faulty child seat in a car accident, we can help determine your next step. Let our track record of hundreds of successful injury cases work for you. Call us and speak to a brilliant, expert lawyer with authority in the profession and trust from our thousands of prior customers. To talk to motivated, superb injury and accident lawyers near you, and for more information, call (213) 596-9642 now!
Citations: