If we don't win, you don't pay.
Speak to the Attorney.
Born to serve.
633 W 5th Street #2890
Los Angeles, CA 90071
(213) 596-9642.
2323 S. Voss Rd, Suite 244
Houston, TX 77057
(832) 592-1260.
Date Modified: April 14, 2023
I-215 Collisions
A serious injury from a car accident can have far-reaching consequences if the victim does not undergo proper treatment. Immediate medical attention can help save victims from further complications, but the medical bills from the treatments can leave pockets empty. Although insurance companies must pay settlements to car accident victims, delays and refusals can increase stress levels.
A Car Accident on the 215 Freeway Can Be Devastating — Reach Out to Ehline Law
If you got into a traffic collision that was not your fault, contact Ehline Law and our freeway accident lawyers today for a free case review.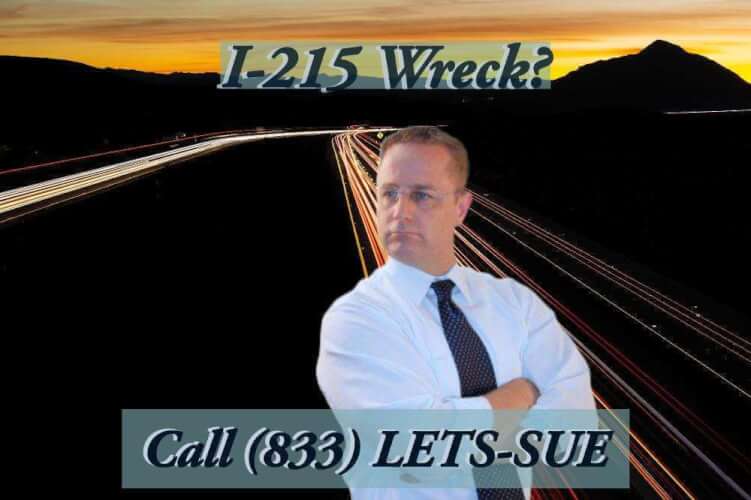 I-215: From San Bernardino to the Riverside
Spanning almost 55 miles, Interstate 215 connects San Bernardino to Riverside with major junctions at Murrieta, Perris, Riverside, Colton, and San Bernardino. Once part of the I-15E before 1974, the I-215 was later made into a freeway and separated from the I-15E.
An existing freeway between San Bernardino and the SR-60 interchange in the city of Riverside received the status of I-215.
The confusing nature of the interchange with SR-60 means that travelers traveling on the I-215 must change freeways rather than follow the initial lane. This confusing nature and the 65-mile-per-hour speed limit have made the I-215 notorious for auto accidents across California.
This means if you travel anywhere from San Bernardino to Riverside, your chances of getting into a car accident are higher.
Recent Car Accidents on the I-215
Accident Involving a DUI
According to the California Highway Police, on the morning of October 12, 2021, a 29-year-old woman got into a solo DUI car crash. The initial inquiry stated that the driver was drunk and sustained injuries, resulting in her death at the accident scene.
Upon further investigations, it was reported that the dead woman at the scene of the accident was partially ejected from the vehicle before the impact. Reports confirmed that the driver had no control over the car, failing to safely turn the vehicle at the dangerous curve.
This accident could easily be a case of negligence due to reports suggesting alcohol consumption. However, it could also be a case against the manufacturer for vehicle defects. Whatever the case, such accidents impact pedestrians the most.
Wrongful Pedestrian Death
On October 3, 2021, local authorities got a call from a panicked driver requiring help immediately on the I-215. As the police reached the accident scene, they found a dead woman on the side of the road with the driver whose car had hit the pedestrian.
Upon investigation, the reports suggested that the woman had successfully crossed the southbound lane but got hit by a car traveling north. There was no further report on why the pedestrian was crossing the freeway.
Multi-vehicle Wreck
At 4:30 AM on September 20, 2021, the I-215 witnessed a multi-vehicle pileup in Perris with more than four vehicles involved in the car crash. Local authorities reached out for emergency help and found two injured victims at the accident scene and one dead. The two victims got taken to the county hospital, where they got treatment for their serious injuries.
These are a few of the recent accidents on the I-215 that paint a picture of the kind of hazards that can occur on the Interstate Highway System.
Types of Vehicle Accidents on the I-215
Highway Construction Accidents
Many different up-gradation projects have recently started on the Interstate Highway System, including the I-215. However, companies leading these projects, including Caltrans, are responsible for ensuring the safety of drivers on the highway, but due to negligence, the safety gets compromised, resulting in severe accidents.
Interstate Accidents
Traffic safety requires you to follow the traffic lights and stay within the speed limit; however, on interstate highways, there are very few traffic lights, and the speed limit is higher than on typical normal roads. This increases the chances of fatal accidents on the I-215 if the drivers don't exercise caution.
Hit and Run Crash
When an accident occurs, panic starts to set in for the negligent driver, and in a state of chaos, the driver may leave the accident scene without waiting for authorities to arrive. This is also known as a "hit and run" and is a crime at the state and federal levels.
Other Types of Collisions
With many different junctions and lanes on the I-215, vehicles everywhere move from one lane to the other. Such transitions on the road with fast-moving cars are a terrible combination, leading to rear-end collisions, head-on collisions, side impacts, and different types of crashes.
Why Choose Ehline Law?
The circumstances surrounding an accident may differ, but its impact on the victims can completely derail their lives. Ehline Law is a personal injury law firm that helps injured victims by providing them with sound legal advice and a professional attorney-client relationship to stay on top of their accident cases.
We work on a contingency basis – no win, no fee! Legal fees get deducted from settlements upon winning, ensuring injured victims don't have to face additional expenses.
We have more than 15 law offices servicing San Bernardino County, Los Angeles County, Orange County, and more in California.
Our law firm will help you deal with the legal process and negotiate with insurers on your behalf while you recover from your injuries. Our attorneys have experience in taking cases to trial, which is more than enough for insurers to take us seriously.
Let Us Deal with the Insurance Company
Understandably, an accident victim would want to accept a low settlement offer to stop the constant harassment from insurers. However, victims of a car accidents later find out that low settlements don't even cover a fraction of their medical bills, leaving them on their own to pay for the hefty hospital expenses instead of relying on the insurance company.
If you got into a car accident on the I-215 from San Bernardino to Riverside that was not your fault, contact us at (213) 596-9642 and get a free consultation with our injury attorneys. Contact us for more information on your legal matter.
Michael Ehline is an inactive U.S. Marine and world-famous legal historian. Michael helped draft the Cruise Ship Safety Act and has won some of U.S. history's largest motorcycle accident settlements. Together with his legal team, Michael and the Ehline Law Firm collect damages on behalf of clients.
We pride ourselves on being available to answer your most pressing and difficult questions 24/7. We are proud sponsors of the Paul Ehline Memorial Motorcycle Ride and a Service Disabled Veteran Operated Business. (SDVOB.) We are ready to fight.