If we don't win, you don't pay.
Speak to the Attorney.
Born to serve.
633 W 5th Street #2890
Los Angeles, CA 90071
(213) 596-9642.
Date Modified: June 17, 2023
This is the Ultimate Guide to Compensation for Typhlotic Cases in LA County, CA, written by personal injury attorneys in California.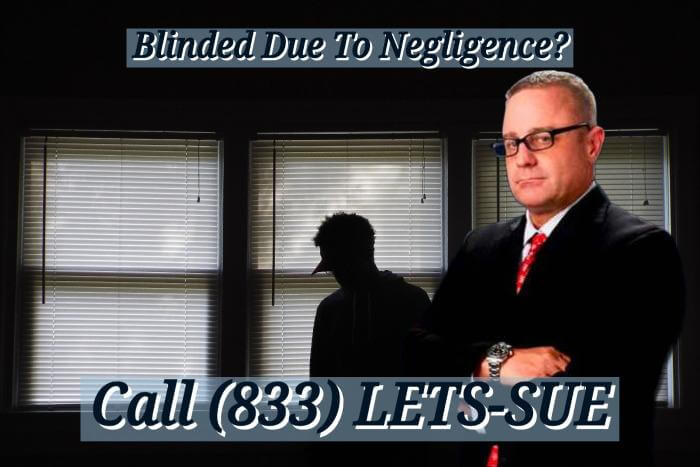 Vision Loss and Blindness Claims
We've all been poked in the eye at one time or another.
Below, our award-winning personal injury lawyers will discuss purblind cases and how we work to help victims on a contingency fee basis. Eye injuries are considered any physical or chemical damage to the eye. It can lead to dizziness, vertigo, loss of vision, cataracts, or total blindness, which can be devastating.
Injury victims will have to change their lifestyles to normalize their new circumstances. They'll have to buy assistive technologies, dog services, and life care planners, among other things, to help mitigate sight loss. The costs of medication and surgeries can bankrupt victims and harm their ability to get along with their close loved ones. (Victims are more prone to divorce when they lose their job and can't put money on the table.)
In some circumstances, serious eye injuries can result from another person's careless, negligent, or reckless behavior. Eye injury victims can, therefore, pursue a monetary award for damages incurred due to the said accident. They'll do so by filing an eye injury lawsuit against the at-fault party (Property owner, vehicle or parts manufacturer, government agency, etc.)
Why Else Hire Us?
Success means hiring the right lawyer to begin the legal process. Los Angeles eye injury lawyers from Ehline Law can help claimants secure compensation for damages they are entitled to against negligent property owners and other at-fault parties on behalf of all new clients. The AVVO-rated trial lawyers are recognized and honored around the world for helping consumers.
We are your best bet to win difficult injury claims. They'll be at every step of the way, bringing skills, experience, and knowledge into a claimant's case. You can request a free consultation to determine your legal options against the business or person responsible for causing your harm. Call Ehline Law Firm at (833) LETS-SUE to speak to experienced trial lawyers.
How Do Permanent Eye Injuries Occur?
Complex organs in the eyes can fail to function when they sustain types of eye injuries that not even a doctor can always heal.
They include; Iris, Lens, Optical nerve, and Retina. Here are some common eye injuries:
Broken orbital bones: Orbital bones surround the eye and create the eye socket. Broken bones may threaten an individual's eyesight as the muscle becomes entangled with bone fragments. It can cause blurred vision as the broken orbital bones limit the eye's range of motion plus cause double vision. Moreover, the bone fragments can rapture the optic nerve and eyeball, causing permanent blindness requiring immediate medical attention.
Chemical burns: Chemical exposure can cause eye injuries and damage your eyelids. The severity of damage will depend on the type of chemical and how long the chemical is in contact with the eye. Some toxic chemicals can leave you blind as a bat or cause light sensitivity.
Detached retina: When an individual receives a blow to the head, it detaches the retina. A detached Retina will lose blood supply and won't communicate with the optical nerve. When this happens, surgery is required to reattach the retina and drain swelling to reduce bruising. However, some peripheral vision is expected due to damage to the retina.
Foreign objects in the eye: An accident can cause a foreign object to log into the eye, like broken glass, metal filings, chalk dust, chemical acids, and even electric car battery explosions. This object causes immersed eye pain and needs to be removed. If the object penetrates the eye, surgery is required. In severe cases, a victim may have a permanent eye injury after the removal.
Tearing won't wash away embedded metal shavings, reduce pressure on your eyes, or restore your sight. It won't always stop burning, either. We offer free consultations, so our California lawyers can discuss your trauma and give you some tips to help you get back on your feet. You can heal as our team pursues the liable party.
Risks Factors for Becoming Unsighted or Suffering Eye Injuries
Eye trauma happens in any California accident. Any time you strike an object, it can cause eye injuries and sight loss. Money is your only justice for the injuries you sustained, and our lawyers can help make it happen.
Here are some of them:
Car accident: Eye injuries can occur in a car crash, causing the orbital bone to fracture, along with a full or partial brain injury and other painful symptoms sustained.
Workplace accident: Many workplace accidents, like falling objects and exposure to chemicals or debris, can injure the eye. Falls off a ladder or blows to the head by an equipment malfunction can cause victims to suffer a sting, corneal abrasions, and even blindness. Workplace violence or a slip are all common causes of sight loss.
Defective product: The product can explode, sending fragments like sawdust or fine sand into the eye.
UV rays: Long exposure and sensitivity to UV rays without eye protection can cause corneal, pupil, and retina damage.
To recover full compensation in a typical Southern California case requires medical experts to prove how the eye injury caused your suffering and harmed your life. Our injury law firm will fight on behalf of you or your loved one and advance costs to get you through your recovery against your employer or another defendant. That's what you deserve for full rehabilitation after your newfound disability.
Medical Treatment for Eye Injury
Physicians usually treat eye injuries suffered by flushing chemicals, removing foreign bodies, and surgically repairing damage to the orbital bones. After the treatment, the eyesight might return, while serious eye injury cases result in impaired vision or leave you visionless. This may be due to irreparable damage you can not reduce or treat with surgery, depending on your situation.
Can Injured Victims File an Eye Injury Claim?
Injured clients can file an injury lawsuit when the accident that caused the injuries was a result of someone else's negligence. It's within their legal rights to seek compensation for damages for permanent and temporary harm and treatments intended to mitigate the injuries.
Whether the defendant physically assaulted the victim with violent actions or in a case of medical malpractice, where the medical professional injured a patient, an injured victim needs to be compensated by the responsible party.
Once both parties establish the attorney-client relationship, Ehline Law Firm's attorneys will start the legal process. They'll first conduct investigations to collect evidence, formerly file the lawsuit and prepare and represent the plaintiff in court. The lawyer must prove the four elements of negligence to win a case.
What Compensation Can a Plaintiff Recover for Vision Loss and Blindness?
California eye injury lawyers representing a plaintiff can secure two types of damages in a personal injury claim.
They include:
Economic damages: It covers direct injury costs, including medical expenses, future medical bills, and lost income. Whether a serious injury or permanent vision loss, a plaintiff suffering difficult, substantial economic damage must be compensated.
Non-economic damages: They cover the accident's physical and mental suffering on the plaintiff, including pain and suffering, and emotional distress.
Again, experts are key. You may need to hire an economist to prove lost wages and the millions you will lose over your lifetime. It's, therefore, wise for a claimant who suffered an eye injury to partner with a Los Angeles eye injury attorney specializing in personal injury practice areas to maximize their chance of winning the case. Call Ehline Law Offices at (833) LETS-SUE today for a free case evaluation from experienced attorneys.
Schedule a Free Consultation with Awarding Winning Personal Injury Attorneys in Los Angeles
Ehline Law Firm's Los Angeles office offers free consultations to claimants with partial and complete vision loss injuries due to accidents fostered by someone's negligence. Our associates have decades of experience helping accident victims and dealing with insurance companies. They'll advise claimants on the nature of their claims and the legal steps to take to win their case.
You are important, so act now to prevent a crushing defeat and ensure your survival! Our champion lawyers are ready to answer your questions in any California city. Call their personal injury warriors today at (833) LETS-SUE to start your legal journey and restore your rights and those of your family. You can also use our online website contact us form to email and learn how a Los Angeles, CA accident lawyer to assist you 24/7.
Michael Ehline is an inactive U.S. Marine and world-famous legal historian. Michael helped draft the Cruise Ship Safety Act and has won some of U.S. history's largest motorcycle accident settlements. Together with his legal team, Michael and the Ehline Law Firm collect damages on behalf of clients.
We pride ourselves on being available to answer your most pressing and difficult questions 24/7. We are proud sponsors of the Paul Ehline Memorial Motorcycle Ride and a Service Disabled Veteran Operated Business. (SDVOB.) We are ready to fight.