If we don't win, you don't pay.
Speak to the Attorney.
Born to serve.
633 W 5th Street #2890
Los Angeles, CA 90071
(213) 596-9642.
2323 S. Voss Rd, Suite 244
Houston, TX 77057
(832) 592-1260.
Date Modified: August 18, 2023
When we think of commercial vehicles, most of us don't think about the different types of loading ramps and accidents that can happen in a loading bay or our homes.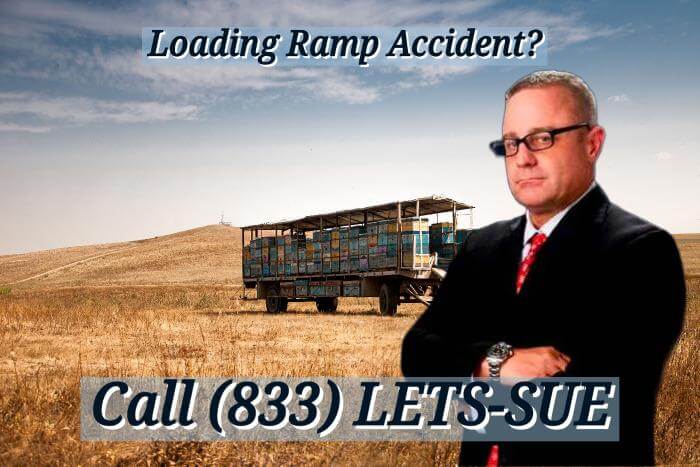 Get Legal Assistance Today
Being in a loading ramp accident is certainly one of the worst situations you can go through, but even if you're in a crash or fall off the platform, certain types of devastating circumstances can make things worse. For example, if you broke several bones due to a ramp accident or a truck crash, your whole life might change. Imagine being a warehouse employee, trucker, or even a regular person renting a moving truck.
Think of the different types of truck ramps there are. Now imagine what could happen if one collapses or breaks loose while you are using it to move heavy items. Specialized attorneys can help you get your future back, so hiring our Los Angeles lawyers at Ehline Law Firm might be what you need to guarantee you get the compensation you deserve.
Types of Truck Loading Ramps?
First, we help truckers, construction workers, dock workers, warehouse workers, and people who rented a moving truck and were injured in one or more ways by a loading ramp.
Some loading ramps are specifically built to aid in the job another machine or piece of equipment performs. Most standard commercial ramps are used with many kinds of machinery. Some ramps are purpose-built to be used with a specific type of machinery. For example, imagine moving a huge crane made by Caterpillar. You'd have to check compatibility before driving this heavy equipment onto a truck carrier. This means following legal guidelines regarding the weight of your equipment and the heavy hauler itself when determining what ramp you'll select.
It would help if you considered what is being loaded. Is heavy construction equipment being loaded, or are lighter-weight boxes and furniture being moved to or from a private residence? You can use a shorter ramp because towed trailers will typically be lower to the ground than the tractors themselves. Still, longer slopes are generally more versatile and safer for most loaders and some machines to cross over. If you are loading a custom vehicle like a truck with a lift kit, the lower down longer ramp is generally better as the truck needs more length from the ramp for a less angled storage position.
There are many different types of loading ramps available for other applications, including:
I.
Walk Ramps
A sturdy truck walk ramp remains vital for private parties, commercial delivery drivers, professional moving service providers, and other personnel to load gear efficiently, boxes, and other equipment in tandem with hand trucks, dollies, and two-wheeled carts. When used properly, these ramps are generally a safe way to reduce load time.
This can lower overall physical exertion, which reduces labor costs and associated injuries. Van ramps are another thing to consider. Disabled elders and military veterans need ramps for custom vans and buses. But these autos and ramps need integrated safety features to protect the person under the ADA and other statutes.
Most moving ramps feature ribbed aluminum, perforated, or serrated metal surfaces, allowing maximum loader traction and preventing slipping and falling in the snow, mud, or wet conditions. Many commercial loading ramps are used daily for moving equipment into a moving truck, box truck, U-Haul, rental trailer cube, van, or shuttle bus. Legal rights can be violated due to a maintenance issue, design defect, or failure to warn the ramp users of any inherently dangerous problems for safe operation, etc.
Summary of Walk Ramp Safety
Reduced injury risk
Less load and unload times = lower labor costs
Good traction even in less-than-perfect weather conditions
Utility – A wheeled, multi-purpose ramp can be used with many vehicles and loading bays.
Typical Walk Ramp Features
The hook ends that grip and secures the loading surface without straps
Bi-folding construction to reduce the ramp storage room needed
Tapered feet for a safe and easy transition from the ramp down to the surface
Raised sides to keep you and your cargo inside the ramp
Steel is sturdy and cheap, whereas aluminum is lighter and rust proof
Perforated, ribbed, or serrated walking surface for excellent traction to avoid a catastrophic head, neck, and back injury.
II.
Heavy-Duty Commercial Loading Ramps
Heavy-duty loading ramps are used most for heavyweight loading of machinery. These ramps are strong but can be dismantled and moved swiftly. Teamsters unions use one of the two-piece designs often.
A two-piece loading ramp typically has a weight limit per axle as part of its manufacturing guidelines. This means each side should be able to support up to a standard number of pounds per square inch. These ramps are not necessarily lengthy. However, they are solid and capable of supporting tons of weight.
If someone loads machinery on rocks or uneven surfaces, the two-piece design is far easier to level to the surface.
Two other heavy-duty ramps include:
Air ramps
Hydraulic ramps.
Both use automation modalities to assist in lowering and raising large ramps. We have all seen these in front of liquor stores, making it easier for individuals to operate in tandem with commercial trucks.
Often constructed from aluminum, an air ramp uses the air brake system. These ramps are great for moving trucks and lighter loads.
A hydraulic ramp vehicle uses electrical or battery power in tandem with hydraulics to lower, raise or fully extend. These are generally heavier steel construction capable of lifting heavier items, whereas aluminum has more weight restrictions.
III.
Mobile Loading Ramps
They are "mobile" because of the attached wheels, making them more capable of moving around. We briefly discussed these in item I. above. These come in handy at a moving yard or loading many trucks in a storage yard. If the wheels are substandard or have some, hand injuries and broken bones will follow.
IV.
Dock Loading Ramps
Think Home Depot or the Port of Los Angeles. Standard-height ramps won't be capable anywhere there are higher-up docks or bays. Most dock ramps are relatively portable and still grant access to higher-up platforms from the ground. Some are strong enough to let vehicles drive to the dock.
V.
Step Deck Trailer Loading Ramps
Similar to heavy-duty commercial loading ramps, these are typically two-piece ramps, with one ramp for each axle. They can be easily assembled or disassembled. They can load heavy, lightweight trailers that are towed behind pickup trucks, vans, and larger vehicles.
Aluminum is the material of choice due to its tensile strength and lower weight. These loading ramps are mainly used to move a vehicle, like a classic car, on or off a moving trailer. There is no room to turn or maneuver.
VI.
Forklift Loading Ramps
These are often used in lumberjacking operations, job sites, and inside warehouse yards. They have uniquely L-shaped angles so a forklift driver can safely maneuver, turn, pick up, and drop loads onto the ramp or loading area. They feature a traditional ramp design with extra space for the forklift to move at the top.
As always, you should use a spotter or assistant to help direct the loader and provide any first aid in an emergency. Without a helper, experts advise using a longer ramp to reduce the angle steepness, allowing the loader to move at a slower pace more safely.
Whether you have a spotter or not, you must abide by federal and state safety requirements.
Here are some valuable items you may need to stay safer while loading a truck or storage unit:
Tie downs: Also called cam buckle straps or tie-down ratchets, these can mate the ramp to the container in a secure fashion
Safety Helmet: Depending on where you work, you must wear one. But most standard helmets don't use chin straps. So if you fall, it may not be effective.
Other Personal Protective Equipment: (PPE), including gloves, leather boots, and eye protection or safety harnesses.
You must always abide by the safety standards described in your ramp safety manual, including:
Parking your vehicle on stable ground
Refusing to use a ramp with too steep of an angle.
Use tailgate safety training so operators have sufficient training and stay alert while working.
Being in a Ramp or Truck Accident Can Be Devastating
If you fall down a ramp, break your skull or neck, or hurt your body in any other way, your life might change completely. Being in a car, ramp, or truck accident can shift your perspective, particularly if you get hurt due to a negligent truck driver or any other irresponsible person. A truck ramp standardized by the trucking industry that causes serious injuries can make the company and the truck manufacturer liable for damages or a death the accident victim suffers, typically.
Also, commercial truck and loading ramp accidents are more common than you might think in Los Angeles. Therefore, if you are a ramp, car, or truck accident victim, you might want a specialized lawyer to help you file your claim.
Even if you've never been in an accident like this one, it doesn't mean it can't happen to you, so you should hire the best truck accident lawyers for commercial truck crashes. You can speak with our personal injury attorneys in Los Angeles 24/7 to evaluate your case and discuss forming an attorney-client relationship to recover compensation under California law.
The most frequent loading ramp, car, and common truck accident injuries include some of the following issues:
Broken neck
Injured muscles
Cuts and bruises
Broken skull
Confusion and psychological trauma
Broken bones
Wrongful death
Traumatic brain injury.
Now that you understand how serious truck accidents and other types of crashes can be, you might know why getting a lawyer to help you is the best idea. Our Los Angeles truck accident attorney can help you get the fair compensation you deserve. So call our aggressive trial lawyers today for a free case evaluation at (213) 596-9642.
Ramp and Truck Accident Victims Might Suffer for a Long Time
Suppose you are in a crash because the negligent party experienced truck driver fatigue; you might get lucky and only get a few bruises. However, that's not the case for most people working for truck companies or moving furniture, for example.
Instead, ramp, car, and truck accident victims usually suffer for long periods, particularly if they suffer grave injuries. If that's the case, you might even lose your ability to work or do the activities you love.
Suppose you're working and you break several bones due to a ramp accident. Instead, imagine being in a trucking accident where someone dies. Think about the driving victims who fail their skulls because a negligent party crashes into them.
Whether you're in an auto accident, a ramp one, or putting together a truck accident case for wrongful death, a Los Angeles truck accident lawyer is the best professional to assess your evidence and guide you through the murky waters of the legal process.
Sometimes insurance companies don't want to pay fair and just compensation for most truck accidents. And that's normal because they need to stay in business, not be stuck paying medical bills and funeral expenses. However, personal injury lawyers are responsible for guaranteeing you get the best compensation, so they will negotiate with insurance agents and ensure it happens.
Car, Ramp, and Truck Accidents Can Change a Person's Life
Overall, being in a crash can be devastating and confusing. However, the worst-case scenario includes truck accidents changing a person's life because victims end up with an injury that will impact them forever.
For example, people with traumatic brain injuries sustained due to a trucking accident might not be able to walk or talk again. Therefore, hiring an experienced truck accident attorney is essential if you want to file a claim and guarantee you get the justice you deserve. An experienced accident lawyer in Los Angeles can also deal with ramp incidents or car accidents. They can evaluate your case and ensure you get the best financial recovery possible for a tractor-trailer accident.
Whether you're filing a truck accident claim or a claim against the rental agency for inadequate handling of the ramp that caused your injuries, truck accident lawyers can help you because they specialize in tort law and getting compensation from at-fault parties. This legal aspect includes civil litigation; thus, experts can help you with many issues involving third-party defendants.
A Ramp and Truck Accident Lawyer Can Help
As was mentioned before, a truck accident lawyer is the ideal professional to hire if you want to sue the trucking company. The rental company that owns the ramp or even the organization you work for may be liable to cover your non-economic damages, property damage, hospital bills, and even lost wages.
If you were in a commercial truck accident, a car crash, or a ramp accident due to someone else's negligent behavior, you are entitled to compensation for what you're going through. The money from our personal injury law firm can help you pay for medical expenses, treatment, pain, and suffering, allowing you a speedy and stress-free recovery.
Filing a ramp or truck accident injury claim is often challenging because you need to prove that the rental or trucking company acted negligently. Overall, rental companies and trucking companies usually have the best legal experts by their side. Therefore, being in a ramp or truck accident means you must have a knowledgeable truck accident attorney to help you too.
Our Los Angeles attorneys can help with this. Once you get assistance from one of the experts at our personal injury firm, we can help you file your wrongful death claim and workers comp claim and get compensation for your catastrophic injuries and pain and suffering.
What to Do if You Are in an Accident
Being in a ramp or traffic accident in Los Angeles or any part of Southern California is one of the worst situations you can go through. Truck accidents are usually nasty, and victims can go through a lot of pain, which is why you must know what to do if you ever find yourself in this situation.
A significant truck accident due to negligent drivers might leave deceased people behind. However, once you hire a personal injury law firm, you can at least ensure they get the justice they deserve for having caused you so much pain.
There are thousands of ramp accident claims each year. But not all go to court. Regardless of whether or not all ramp and truck accident cases end up on trial, you need a professional, experienced expert who knows what to do if the worst happens.
Take a look at the following tips:
Don't Move
Firstly, if you are in significant truck accidents, don't move unless you know you were out of harm's way before the crash.
If you think you sustained truck accident injuries, you must stay where you are because you might worsen them by trying to move. Only healthcare professionals can evaluate you and decide whether or not you're able to move.
Call an Ambulance
Given you not having sustained any injuries, you can call an ambulance and wait for them to arrive.
Sometimes healthcare professionals offer help if you were just in a truck accident, and you should never refuse it. This is evidence that your truck accident attorney will later use to put your case together against the at-fault party.
Contact the Police
After making sure you can walk and usually talk, contact the police and start gathering evidence. Commercial truck accident claims and ramp lawsuits require hiring the best attorneys to succeed, but you must also gather as much evidence as possible.
Try to get all the contact information from the truck driver and take pictures of the trucking accident around the place.
At the same time, take note of the trucking company or the rental company that owns the ramp. If you are in a car crash, try to get the other driver's contact information.
Hire a Lawyer
Lastly, you should avoid talking to anyone about the case until you hire truck accident lawyers who can guide you through the legal process with top-notch legal representation.
You're going up against rental companies offering ramps and rental trucks all over Los Angeles or trucking companies with hundreds of truck drivers to defend. Therefore, you must ensure you hire the best attorneys you can find in Los Angeles, CA.
A Los Angeles truck accident lawyer has probably handled different types of claims for a long time. Therefore, you should trust that they will do what's necessary to guarantee you get the best outcomes possible when the truck company violates federal safety regulations or common sense leading to falls off of truck loading ramps.
Don't forget that most trial lawyers understand that your U-Haul may have had a wrong or broken-down ramp. So our legal team knows that the truck company and its aggressive legal teams may avoid liability. Still, the rental company cannot ignore they rented a defective or dangerous inclined ramp or plane. Neck and head injuries are common, so you will need someone to advocate to get you financial compensation as you heal from the fall.
Ehline Law Firm – a Specialized Legal Office in Los Angeles County that Offers Fantastic Attorneys
Finding a lawyer specializing in truck accident litigation or ramp accidents is sometimes challenging. Even though there are numerous alternatives, you can't trust everyone; therefore, you must ensure that the attorney you hire is experienced and knowledgeable enough to handle your case with any insurance company. We have had significant legal resources and training to prove liability and compensate you.
Schedule a Free Consultation With Top Loading Ramp Accident Lawyers in Los Angeles, CA
Ehline Law Firm is a fantastic option, as we have a team of experts who won't disappoint you. Our Los Angeles attorneys are committed to helping you and ensuring you get the justice you deserve and obtain compensation for your pain.
Please get in touch with us if you want to know more about how we can help you. We're ready to evaluate the evidence and passionately defend you by phone at (213) 596-9642 or via our convenient online contact us form. We help families recover compensation for deadly truck-loading ramp accidents utilizing aggressive legal strategies and personable charisma!
Other Common Carrier Accidents
Michael Ehline is an inactive U.S. Marine and world-famous legal historian. Michael helped draft the Cruise Ship Safety Act and has won some of U.S. history's largest motorcycle accident settlements. Together with his legal team, Michael and the Ehline Law Firm collect damages on behalf of clients.
We pride ourselves on being available to answer your most pressing and difficult questions 24/7. We are proud sponsors of the Paul Ehline Memorial Motorcycle Ride and a Service Disabled Veteran Operated Business. (SDVOB.) We are ready to fight.