The Difference Between Loaner and Rental Car Accidents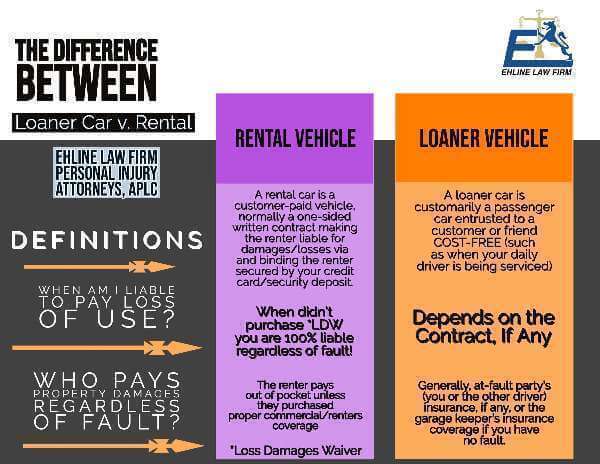 Do you have a car rental or loaner?
Find out below:
Loaner Vehicle
Loaner vehicles are often given to customers to use by luxury car dealerships, such as Audi, BMW, Mercedes-Benz, Porsche, and Tesla. Often they are garage-owned and brand-name luxury cars and trucks. However, the dealership might also loan out its cars for the day.
Therefore, it uses a dealer car or van to take you home, to the rental car agency (where the dealer covers the rental during warranted and covered services and repairs), or can direct you to an on-site car rental agency.
Rental Vehicle
However, loaner vehicles aren't like a rental car. These people need one when they're driving in an unfamiliar location or vacationing in California. Likewise, they might rent a moving van or truck to pick up and drop off things at a storage unit or to move from one part of the state to another.
Rental Car Accident Cases Focus on Who Pays the Rental Car Company Property Damage and Loss of Use
Generally, loaner vehicles are different because of the person who's responsible for covering the vehicle insurance for any property damage that occurs. Many times, who pays primarily depends on who is at fault.
If you caused the accident, regardless of the reason why, your insurance covers the reimbursement to the dealership's insurance agent or pays the injured parties directly up to your policy amounts. Overall, the dealership gave you the loaner car and acted like a friend in this situation. Still, if you let another person drive your loaner and crash, your insurance is also involved.
The caveat here is that you agreed to be the sole vehicle operator of the loaner car, so you are directly liable to pay the dealer if you breach the promise and let someone else drive.
If the person who crashed the loaner had enough insurance to cover the losses, they are also liable to pay up to the policy amount for anything owed for property damage. This is similar to many Los Angeles car rental contracts because you're responsible for paying for the loss of use and property damages. Many loaners are only provided while waiting for your vehicle to be fixed.
The main differences (in the contract) between a loaner and a rental car are listed below:
Loaned Vehicle Provider or Rental Car Company
A car rental agency is a corporation that rents vehicles for short periods. Many times, they are a few hours long but can be provided for weeks or months of use. The most popular rentals are trucks from Ryder and U-Haul, small cars, and trucks from companies such as Alamo, Hertz, Avis, Enterprise, Dollar Rent a Car, and Budget.
Rental car accidents happen more often than you imagine. Our injury lawyers primarily focus on representing these bodily injury claims. However, you need someone to mitigate your financial losses and keep you off the hook for legal issues after a car rental accident occurs.
Does Your Own Insurance Cover the Rental Car Usage After a Crash?
It depends. In many cases we've handled, someone's daily-use vehicle was destroyed or damaged in an accident, so they rent a car until theirs is fixed or replaced. This often takes a while.
Generally, it's best to purchase rental car reimbursement coverage to get the peace of mind knowing that you're covered up to the insurance policy limits for mileage.
How Do You Know If You've Got Rental Car Reimbursement Coverage?
After you've been in a horrible car accident with your daily vehicle, you should work with a Los Angeles personal injury attorney to determine if you've got rental car reimbursement insurance coverage because everyone doesn't.
You might be able to call your own insurance agent and find out from them.
Can You Get a New Rental Car if Your Existing One Is Wrecked?
It is possible to get a rental car up to the policy dollar and day amounts permitted while the regular vehicle is replaced or repaired, which is similar to a person's private vehicle. If it was in a wreck, you have to prove that the fault rested with the other driver. Seek reimbursement by hiring a personal injury attorney.
Otherwise, the personal injury victim has to pay out of pocket for the damages to the car rental and the driver of the other vehicle.
What If There Are Damages When Returning the Rental Vehicle?
Whether you're in a rental car accident or not, you're responsible for the damage to the vehicle. Typically, you walk around it with the rental agency employee so that they can document dings, scratches, and wear-and-tear issues before filling out the rental paperwork.
Car accidents in rental cars happen sometimes. Overall, the rental agency realizes that there's a chance you might get into a wreck. You might not want to wait for your own insurance to determine the details and decide to pay. Therefore, you're stuck covering the "loss of use" to the company.
Here are just a few situations where you're forced to pay loss-of-use charges with credit card coverage. Typically, rental agencies withhold the security deposit, demanding payment for the full damage, including:
Full Tank of Gas – Most of the time, a rental agreement indicates that you should return the rental vehicle with the gas tank full.

Smoking – Generally, the rental agreement indicates that you can't smoke in the rental car. If you do, it will likely smell like an ashtray, requiring you to pay additional amounts.

Damaged or Destroyed Vehicles – If you bring back the rented vehicle, and it's damaged or destroyed, you're responsible. Credit card coverage often covers this.
Rental companies include these contingencies in the contract, so it's best to review all of the paperwork provided to you when you get the vehicle. You must understand what coverage exists and what's covered if you're in an accident.
The major issues include:
Parties
The person renting the vehicle (public or private cars and the person borrowing the rental)

The parties in the collision
Liability and Fault
Who pays for the damage to the rental car?
Who should pay for the personal injuries to others?
Issues and Parties Involved in Rental Car Collisions
Most wrecks occur as you near your home or come back from running errands in town. They're unexpected circumstances, but the aftermath is often ugly. Many times, there are severe injuries, and death may also happen, but this depends on the situation.
In the rental car case, the renter might be in a fender-bender with another car or might hit a pedestrian who crosses the street. This presents many problems that you don't incur with your personal vehicle. There is a complicated procedure involved with legal concerns and paperwork. The parties generally consist of individuals involved and the rental car company.
Negligence from the Rental Car Company
Every California personal injury case rests on negligence, so accidents that involve rental cars and apps are no different.
The insurance company of the at-fault driver must provide reasonable compensation for losses and injuries to all victims. This includes vehicle damage caused during the crash. Many times, negligence lies with multiple parties, including the car rental company, government agencies, and the other drivers.
Who's at Fault for Your Rental Car Accident?
There are difficult questions regarding fault and who must pay for what. Often, they bring the family and person into crisis. Here are a few factors to determine who covers the monetary payments for a rental car accident:
Did That Rental Car Company Maintain and Inspect the Vehicle Properly? If the rental agency knew that there were safety defects in the vehicle and ignored or failed to repair them, it could be at fault for the multi- or solo-vehicle collision. Severely injured parties and their families may file a lawsuit against such rental car companies because they didn't perform routine vehicle inspections and offer maintenance.

Was There a Breach by the Rental Agency? Did the rental company keep its promise in the written contract and policy? If not, a car accident attorney may help you seek bad-faith lawsuits that force coverage.

Was the Vehicle Negligently Entrusted to Another Person? Rental car agencies must ensure that the driver who rents the car has maintained a valid driver's license and doesn't threaten other drivers. When the agency fails, and you or someone else gets hurt, victims should file a claim for rental company damages. For example, the person had a revoked driver's license after a DUI or had alcohol on their breath. This impaired driver caused the rental vehicle accident, so the company is liable for negligent entrustment, which includes the injuries caused in the collision.

Was the Vehicle Driven for Another Person's Benefit? If you were using the vehicle for someone else's benefit, such as running errands for a company, the employer might be legally liable.
Issues Relating to the Loss of the Vehicle
Many people wonder who covered the cost of the destroyed vehicle, especially if they were renting because they were replacing one of their own.
California is a pure-comparative fault state. Therefore, if you're 10 percent at fault, the court or attorney must subtract that amount from the verdict or insurance settlement. You still take home 90 percent of the award.
Whenever a victim is partially at fault for causing the rental car accident, the court or insurer must reduce the personal injury recovery amount based on the percentage of fault.
For example, a rental victim damages their own car and gets into an accident with the rented vehicle. They receive compensation of $100,000 for the property and personal damage. However, the jury found the person 10 percent at fault for the crash. Therefore, pure comparative negligence rules reduce the victim's award amount to $90,000.
The Rental Car Insurance Claims Process
Many factors determine what might happen after a rental car accident. Someone must decide who's at fault for the accident.
Typically, the car insurance company of the at-fault driver must pay compensation to the injured parties after an accident. It's best to get in touch with us at our Los Angeles office for assistance.
Call Ehline Law Firm for Assistance
Getting a car rental is often necessary, but the person renting the vehicle might end up injured in a crash. Whether you were partially at fault or not, you deserve the maximum compensation you can get. Please request a free case evaluation. Fill out the online form or call (833) LETS-SUE to reach the Los Angeles office.
Questions Concerning Rental Car Insurance Claims
What If You Were in the Vehicle Rental?
If a vehicle operator hits you while driving the rented vehicle, it's best to call a Los Angeles rental car accident lawyer. We can file a claim through the personal car insurance company of the other party or the renter's insurance company as needed.
What If the Other Driver Operated the Rental Vehicle?
When the rental car driver hits your car or you, their insurance company must pay reasonable compensation. However, if the other driver didn't purchase additional coverage, there's a problem. The severely injured party must file claims through the person's insurance company if they have one. Sometimes, the credit card company offers auto insurance and covers some losses. Finally, your own insurance policy might cover the loss for an uninsured or underinsured motorist.
Later, you might learn that you could have purchased additional insurance coverages for extra protection. However, it's time to take a moment and relax because you can't change the past. A Los Angeles rental car accident lawyer generally assumes you have enough liability coverage to pay for that person's injuries.
What If It Wasn't Your Fault? Does "Full Coverage" Car Insurance Pay for Your Bodily Injuries?
If we assume that you're not at fault for the accident, you're the plaintiff (victim) and the other party to the liable defendant. Early in the process, the rental agency demands payment for the property damage to the car rental.
Before signing a contract for the car rental, the agent should have offered coverage for damages occurring in a crash. This is additional or "rider" coverage. Many people reject that idea because they think their insurance covers this, especially when they've got "full coverage."
Could You Personally Be on the Hook for the Rental Car Damages?
Most people don't have coverage for any damage done to the car rental. Rental accident victims are often mistaken about what collision, comprehensive, and full coverage means. Therefore, you are on the hook for any vehicle replacement or repair which comes from your own pocket, even if the accident wasn't your fault.
Issues like these focus on the permissive use doctrine. It's implied that someone borrowing your car used it with implied or express permission. When dealing with car-sharing companies like Turo, the vehicle owners are often in a tough spot when trying to get the car fixed.
What Is the Difference Between Supplemental Property Damage Coverage and Rental Car Reimbursement Insurance Coverage?
Generally, California auto insurance carriers offer the proposed insured customer a policy add-on option. Rental reimbursement coverage exists to pay you to rent similar vehicles that you own, but there's a stated daily cap included. However, rental company insurance agents tend to overlap with the insurance you already have under an existing exclusion or insurance coverage section.
The caveat here is that the rental reimbursement coverage doesn't mean the car is covered for property damage to another vehicle or the rental. It's best to work with rental car accident lawyers to explain everything thoroughly.
Overall, it doesn't pay for all of the damages unless you have more supplemental liability coverage from the rental company or insurer. We've included tips for rental car accident victims to identify the types of coverage they've got and whether they need more before they rent a car below.
Each Los Angeles rental car accident claim is different, so some rental car drivers might have chosen a high-end vehicle, such as a Maserati or Porsche, to replace a daily driver and then get involved in a rental accident. If you've only got the California minimum limits (liability coverage), you might have to worry about your options. That's where our legal team assists with free consultations to find out if you have a case.
What Could Happen If You're in Someone Else's Rental Car and Crash? (Excluded Driver)
If a customer rents a car from a vehicle rental company, the contract generally includes an excluded driver provision. That extra language indicates that only certain parties can operate the vehicle. Usually, any other driver is barred from driving other than you. Therefore, loaning the rental to anyone else means you're violating the agreement you signed.
The best tip I can offer here is not to allow any unnamed person to drive the rental, or the insurer is likely to render your rental insurance coverages null and void.
Are There Alternative Forms of Rental Car Insurance Coverage Payments?
If the car insurance company excludes coverage, renters are responsible for paying any damages to rental cars or making the liable party pay. Often, insurance from a credit card or primary agent covers this. If anyone was hurt during the crash, the renter's insurance is generally liable for paying out compensation for the injuries.
However, this is like any other accident. Therefore, you might be personally liable if your insurance isn't enough to cover the injury cost.
We've narrowed in on the risk of paying out-of-pocket for loss-of-use or damages to the rental vehicle with your insurance carrier. Now, you should know if you're adequately covered during an accident.
Should You Speak to a Rental Car Accident Attorney if You've Got Full Coverage Insurance?
Yes, you should speak to a rental car accident lawyer. However, you must understand that "full coverage" is another term for saying that you've got collision and comprehensive coverage as part of the liability insurance policy. The attorney can tell you if this includes med-pay and underinsured/uninsured motorist coverages. If so, you're fully covered up to those policy amounts.
We often suggest that you speak to the insurance company representative to determine if you've got liability coverage. If that's all, you may request additional insurance coverages to cover yourself for any collision involving a rental vehicle.
Why Do You Need Full Coverage for a Rental Car Collision? Should You Care?
Yes, you should care because you don't want to pay for replacement loaners or rental cars when you could have purchased insurance to cover your risk. Liability insurance minimums only cover the damages up to the policy limits if you don't buy additional insurance coverages in Los Angeles.
Here are the ones that matter when borrowing or renting a car that could directly or indirectly help to replace or fix the damaged automobile:
Collision Insurance – This is optional and pays for the damages to your vehicle if it's been in an accident. It pays to repair the car but doesn't cover dents, theft, scratches, and dings. Typically, collision insurance doesn't pay for cars that are left underwater during floods. The goal is to fix your vehicle without waiting for the other party's insurance company to accept the fault months later. You need something to drive now!

Comprehensive Insurance – This is an optional coverage that pays for vehicle damages that insurance companies and lawyers call "acts of God." It doesn't cover things like damage from theft, arson, and windstorm paint issues. Other examples include protection from fallen tree limbs, floods, and some vandalism.

Liability Insurance – This doesn't protect from car theft, but it pays for damage that your vehicle causes to other people's property and occupants. Even with such additional coverage, the insurer might include exclusions for riots and other incidents, such as getting burned by ANTIFA, Black Lives Matter, and other social justice groups.
Overall, you must speak to your insurance agent about your coverage before driving a rental car so that you understand the potential issues. For example, if there are exclusions for riots, you might not want to park the rented car in a known riot zone like Downtown Los Angeles.
You might not know whether certain coverage options extend to rental car damages or know you don't already have full coverage. Therefore, you might want to buy coverage from the rental company, which is explained in the "loss damage waiver" of your agreement.
Are You Liable for Loss of Use Payments to the Rental Company if You Have Full Coverage?
You might be responsible for paying loss-of-use payments, even if you maintain your insurance coverages. Generally, most private insurers don't cover the rental car company's loss of use because it's commercial. This applies to people who commercial loan cars and others. Here are a few points to consider:
Liability coverage only covers the property repairs, cost of the vehicle, and some medical bills.

Rentals are commercial transactions, so collision coverage covers the repairs but not the commercial loss of use from the rental car crash. If you created a contract with the company, you agreed to be liable for consequential damages.

You might have to buy supplemental insurance coverages. The insurance representative likely offered supplemental insurance coverages for commercial loss of use. Since that rental car is damaged, the company might come after you because it can't rent it to other customers. This might lead to lost rents, so each day the car is in the shop (or waiting to be replaced), the business makes no money. That is what it can hold over your head if you don't have appropriate insurance coverage.
Check out these other issues that might occur after a crash:
Don't expect the other party who caused the crash to purchase a car for you to drive.
Don't expect the other party to pay damage for the last rental or your deductible soon.
Make sure you have rental reimbursement coverage.
If you don't add the non-mandatory rental coverage before a crash, you might have to rely on a local repair shop loaner car or borrow something from a friend.
Sure, it's likely the other guy's fault. However, they don't write a check from their personal bank account, and the money you receive might not cover the damage. Plus, automobile insurers can investigate claims under the Insurance Code of California.
Even when liability is clear, it could take months before you receive a settlement draft. That also assumes the other person has insurance and other coverages. If that's the case, your rental reimbursement and rental insurance coverage aren't the same.
What If You Don't Have Enough Rental Car Insurance to Cover the Damages?
Here's an example for you:
Illegal aliens often get cars registered in their names and cancel the insurance. Assume that the person who hit you had the minimum coverage under the California's Prop 213 law. That means you've got about $5,000 for property damages to replace or fix the person's car you drove. This presents a huge problem if the rental was totaled out because the vehicle was worth $20,000.
Now, you owe $15,000, and there's no way to collect it from the other party in California. The defendants might have already left the country, crossing the border for you and your family to be left responsible.
While your car insurance coverage likely pays what it can, you have to seek financial compensation for injuries you received from that policy, assuming it's at play. The rental company isn't sympathetic because you probably waived the extra collision coverage. Therefore, you require a Los Angeles car rental accident lawyer, and that's what Ehline Law Firm deals with daily!
Supplemental Insurance Options Provided by Rental Car Companies
Most car insurance companies, such as State Farm, Allstate, and Farmers Insurance, offer rental reimbursement coverage, but rental car companies try to sell more insurance coverage when you get the vehicle from the lot. You might already have these things from your personal car insurance, credit card company, or health insurance:
Collision Damage Waiver or LDW (Loss Damage Waiver) – If you've purchased a collision damage waiver, the car rental company can't charge you if the vehicle gets stolen or damaged. However, the price to buy LDW might be high, depending on your vehicle type and business. On average, it runs anywhere from $10 to $30 each day. Rental reimbursement coverage doesn't pay this, so it's an out-of-pocket expense.

Supplemental Liability Protection – This insurance handles the costs to others in a collision if it was your fault. It likely overlaps with the existing policy.

Personal Accident Insurance – Generally, personal accident insurance pays people for their injuries or death to anyone occupying the rental car during the crash.

Personal Effects Coverage – Overall, personal effects coverage exists to reimburse you for stolen or damaged personal items inside a rented vehicle.
If the rental company didn't offer you property damage insurance while you were behind the wheel, your lawyer has a strong defense. You must determine if it is honoring the policy in good faith if you had existing coverage or bought temporary insurance from the company. Even with that figured out, the personal injury lawyer must work hard to collect for lost wages, medical costs, and pain and suffering.
When there isn't enough coverage, your assets are at risk. These issues mean that such lawsuits become messy quickly. We're dealing with car insurance companies in Los Angeles, the rental business, and much more. That's why our team is here to help those in need. We transform your experience into a positive one and help you move on with your life.
Special Concerns with Standard Coverage – Can You Get Paid for Your Personal Belongings in the Stolen Vehicle?
Usually, you can't be paid for any personal belongings that were damaged in a car accident. It's not covered in an average policy. Therefore, you should make a tenant's or homeowner's claim on those policies. Generally, a property deductible payment applies. Swift action from an experienced attorney can help a business or family recover fully. The right choice makes all the difference, and that's why we consult with legal and medical experts.
Most people require intense physical therapy or surgery and must select the right medical team. After that, you should call a legal expert after a Los Angeles car rental accident. In most cases, we're the only ones specialized to handle such personal injury cases.
What to Do Before Renting Vehicles
Intelligent consumers should take several steps before renting a car, even if the insurance pays. Review your current car insurance coverages to see if they apply to car renters and vehicles.
If it doesn't, you should check your credit card to see if it does. Here are a few steps to take:
Call the auto insurance company and learn about your exclusions, coverages, and limits.
Check your credit card company to see if it offers rental car company liability.
Send a copy of the insurance coverage and exclusions declaration to the rental agency.
There's more than meets the eye to renting a vehicle. Getting into an automobile accident could be damaging, and it's why the Ehline Law Firm team writes these articles and presents them to you. You're better informed and have options when necessary.
Overall, renting isn't the same as getting a loaner. The insurance policy won't pay for repairs or replacements if you're in an accident with your primary vehicle and didn't buy rental reimbursement coverage. Consider buying additional insurance.
Tips for Dealing with Your Rental Car Accident
It's best to simplify things from the start. We assume you haven't been injured already and must go to work, run errands, and take your children to school. You're worried about getting into an accident and dealing with the paperwork and insurance coverage options. Here are a few tips:
Check the Accident Scene for Safety – Find out if you and others in the vehicle are injured, and then move the car off the road.

Inspect – Safely inspect your car after moving it to the shoulder and ask about the health and wellness of other passengers.

Exchange Insurance Information – Exchange valid insurance information and ID.

Gather Evidence – Start building a case early by finding witnesses and evidence that an accident happened. Take pictures of the road debris, cars, skid marks, and others injured in the accident.

Contact Law Enforcement – Call the city police to the scene to create a police report. Officers can clear away the debris, write up the police report, and send it to you to prove your claim with the car rental company. If the cops don't send it to you, your rental car accident lawyer will request a copy.

Get Medical Attention – Go to the emergency room by ambulance. You may feel fine, but it's still best to do this.

Hire a Lawyer Immediately – You've suffered from a crash that was someone else's fault. Therefore, you should get legal advice from the best attorney.

Contact Your Rental Car Agency – Ask your lawyer to call the car rental company immediately. It has documents to fill out and sign, and you should also take time to check your insurance policy.

Contact Your Insurance Company – We assume here that you didn't buy car rental insurance, so you must go to your own insurer, whether you were responsible for the accident or not. Most insurers want you to tell them what's happening, and you might lose your policy if you don't.

Mentally prepare for the paperwork and calls you must handle. It's not an easy time, but we can help with your personal injury to ensure you receive fair compensation because of the other driver's fault.
Getting a Replacement Vehicle after a Rental Car Accident
It's time to contact your insurance company to get a replacement vehicle. Supplemental protection and car insurance are the policies governing rental coverage.
Please try to help the car rental company and lawyer retrieve copies of the documents.

The insurance agent in Los Angeles might help you reduce some of the hassles and talk with the rental agent. This often comes into play when the car must get towed to the company.
Many times, the rental agency has its own body shop for repairs. You might have to pay out of your pocket to move the vehicle if you can't contact anyone. However, make sure that you keep any billing records and receipts from the towing company to seek reimbursement later as the personal injury case develops.
It's often hard to handle cops, insurers, and rental companies after a collision, but a great lawyer can assist. We are advocates who shield you from other parties while you recover and offer free consultations.
Compensation Options After Your Rental Car Accident
After you or your loved one has suffered a serious car accident injury, you're already fighting an uphill battle. There are plenty of new bills and costs to figure out; you're in pain and must get well and will likely lose work. Our experts can reconstruct the scene with superior training, knowledge, and skills to help you calculate those losses and get the most compensation possible.
Potential legal damages can include:
Property damage

Medical expenses

Loss of consortium

Loss of enjoyment of life

Physical therapy or rehabilitation expenses

Pain and suffering (which includes emotional distress)

Lost wages and income
Work with a rental car accident lawyer now to review your evidence. We listen to your story, go over your case's weaknesses and strengths, and check average compensation settlements received for similar situations. We're here to earn your trust and offer a free consultation. Plus, we don't collect legal fees until you win your case!
Finding the Best Rental Car Accident Attorney
When searching for a Los Angeles car rental personal injury attorney, they must offer:
Clear Communication – The best rental car accident lawyer makes it easy to understand what they do and how they can benefit your case. They offer information about their fees, processes, and more. Plus, they are direct with questions and always ensure they've answered everything before leaving.

Engaging Conversations – Car accidents are highly stressful, and they're the top personal injury. We are interested in you and are engaged enough to ask the right questions while being kind and courteous in your time of need.

Offers References – You should always ask your potential lawyer for a reference list. Call those people and ask them questions to determine the attorney's reputation. Even if you don't contact them, you've got confidence that they provided the information to you!

Experience – Make sure the lawyer you choose has experience in personal injury cases. How many have they taken in the past, and did they win?

Professional Office – Many lawyers now like to do everything online (technology is amazing!) However, they should still have a physical office where you can visit; it's important to see how they work and their organization levels.
Call Ehline Law Firm to Request a Free Case Evaluation With A Top Los Angeles Rental Car Accident Lawyers
We know you've got other problems after your accident. However, it's best to speak with a Los Angeles rental car accident attorney as soon as possible. Contact us through the online form or call (833) LETS-SUE to understand your situation and determine if you've got a case.
We can take the time to discover ways to get a new rental vehicle and offer legal help after a collision. Don't let the car rental agency bamboozle you! Request a free case evaluation and form the attorney-client relationship with a Los Angeles personal injury attorney servicing all of Southern California.
We're available 24/7, so call today! We also have a Newport Beach office to make it easier for OC residents too.
---
Michael Ehline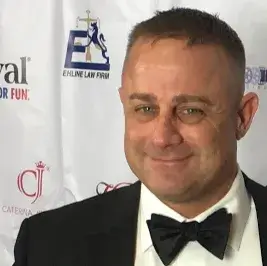 Michael is a managing partner at the nationwide Ehline Law Firm, Personal Injury Attorneys, APLC. He's an inactive Marine and became a lawyer in the California State Bar Law Office Study Program, later receiving his J.D. from UWLA School of Law. Michael has won some of the world's largest motorcycle accident settlements.
---
Recent Personal Injury News
Check out our most recent rental car accidents and more, including the famous, infamous and everyday people wounded by at fault parties around the world.