Frequent Injuries Sustained By Customers While Shopping at Costco
Costco offers a wide variety of products and services. Therefore, the company must be held liable for accidents related to its auto repair, pharmacy, home repair, merchandise, and food products services.
However, most people who are harmed at Costco stores are involved in slip and fall incidents that cause devastating injuries, such as the following:
Broken bones
Head and brain trauma
Nerve damage
Paralysis
Dislocated hips
Spinal cord injury
Wrist injuries
Lacerations
Facial disfigurement
Cuts
Bruises
And more.
In many cases, victims are severely injured and must undergo multiple surgeries and therapies to fully recover. Many also have to take dangerous prescription medications to relieve pain.
While everyone can be in an accident at Costco, the elderly are more vulnerable to complications and serious health consequences resulting from minor incidents. Therefore, store managers and employees must ensure that the premises are secure enough for all customers.
Common Causes of Accidents at Costco
Most accidents at Costco have been caused by the following:
Uneven surfaces
Wet or slippery surfaces
Improper or negligent maintenance.
Improper response to harsh weather conditions that may increase hazards in certain areas, including the parking lot or the entryway
Missing or broken stair railings
Falling objects
Merchandise racks or displays
Poor stairway lighting
Electrical cords lied down across isolates.
Wrongful Death Claim Involving Accident Fatality at Costco
You can also take legal action against a Costco store and seek compensation if a family member dies while shopping at Costco due to the negligence of the store or its workers.
In these cases, you must prove that the victim was harmed due to the way the store manager or property owner managed the facility or that they failed to comply with their responsibilities to keep customers protected.
How a Personal Injury Lawyer Can Help
Shopping at Costco shouldn't pose risks to a person's life and well-being. Unfortunately, it happens frequently in California and in other stores across the United States.
However, a seasoned and skilled Costco accident & injury lawyer with experience in premises liability can give you the legal assistance you need to determine if you can file a claim and seek compensation.
If you hire professionals, they will gather all the evidence necessary to prove the at-fault parties' negligence and poor management of the premises.
Moreover, they will go the extra mile to ensure that you are eligible for fair compensation for a variety of damages, including the following:
Medical bills
Costs for rehabilitation and physical therapy associated with your injuries
Past lost income
Future lost wages and earning capacity
Property damage, if applicable (including torn clothing)
Funeral and burial costs if you file a wrongful death claim related to a Costco accident fatality
Intangible damages, including pain and mental anxiety and emotional distress due to the accident.
Additionally, a trusted personal injury attorney can help you handle each step in the process of filing a premises liability claim so you can recover from your injuries or other serious harm you may have suffered while shopping at Costco.
Documenting the Incident
Whether slip and fall or another type of incident, Costco accidents are not the victims' fault. Therefore, paying for the injuries you suffered is not your responsibility if the incident was caused by the store employee's negligence or careless conduct.
However, if you file a claim for a slip and fall accident or another incident that was NOT your fault, you will be required to support your case with evidence, which often includes medical records, scene photographs, witness statements, and more.
Therefore, after the accident, you must follow some steps. First, it is important to report to the store manager what happened. If possible, you can try to take photos of the scene since store workers will clean it up quickly.
However, if you are unable to gather the evidence yourself, you should consider hiring an expert personal injury lawyer!
If You Suffered Injuries at Costco, Call Ehline Law Firm Today!
Did you suffer a serious accident at Costco stores? Was your loved one injured in a slip and fall incident while shopping there? We can help you!
At the Ehline Law Firm, we have a team of experienced Costco accident attorneys ready to help victims build solid cases and fight for their legal rights.
Our legal team is ready to help you file Costco accident claims and will go the extra mile to get the compensation you deserve.
If you need help filing a claim because you or a loved one were affected by Costco accidents, even a minor slip and fall incident, do not hesitate to contact us! Call us at (833) LETS-SUE and get a free consultation today!
As soon as you reach out to us, an experienced Costco accident injury lawyer will review your case!
---
Michael Ehline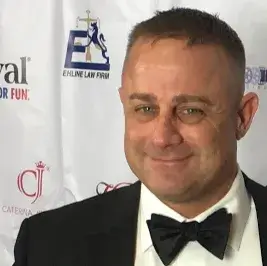 Michael is a managing partner at the nationwide Ehline Law Firm, Personal Injury Attorneys, APLC. He's an inactive Marine and became a lawyer in the California State Bar Law Office Study Program, later receiving his J.D. from UWLA School of Law. Michael has won some of the world's largest motorcycle accident settlements.
---
Recent Personal Injury News
Check out our most recent premises accidents in California and more, including the famous, infamous and everyday people wounded by at fault parties around the world.