If we don't win, you don't pay.
Speak to the Attorney.
Born to serve.
633 W 5th Street #2890
Los Angeles, CA 90071
(213) 596-9642.
Date Modified: June 13, 2023
Hello and welcome to our California premises liability law firm. I am Los Angeles premises liability lawyer Michael Ehline. I am here today to discuss accidents and premise claims occurring at Griffith Park. I will also provide some bonus information in the end about how to hire the best premises liability attorneys in CA.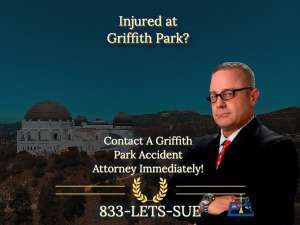 Southern California is a beautiful area, and it pays to know the rich history of Griffith Park. Since its creation, Griffith Park doubled as a World War II battlefield and a prison for Japanese, Italian, and German prisoners. A famous billionaire also used it as a place to experiment.
It was even used as an aerospace defense complex. For example, in the 1960s, hippies hung out there, and later, gay men cruised the Observatory to get some action after dark. Gays loved it so much that it even hosted the state's first gay rodeo.
But keep in mind that people have gotten hurt in premises liability and even motoring accidents throughout its many incarnations when the land managers have failed to provide adequate security to visitors or allow dangerous conditions leading to murder and even mayhem.
We represent the victims and families of people negligently injured or killed while traveling to and from Griffith Park Observatory. It would also help you understand why you might need an accident attorney, whether you're in Los Angeles County or anywhere else.
The Beauty and Curse of the Griffith Observatory
The history had started with the Feliz family curse over the land's water rights back when Spain and Mexico held sway over California. (Read more.) Griffith Park is located off Los Feliz Boulevard and houses a 14-foot statue of self-styled "Colonel" Griffith J. Griffith.
On December 16, 1896, Griffith mostly bequeathed the 3,015 acres of his Los Feliz Rancho estate as a Christmas gift to the people of Los Angeles to be used as parkland for the "plain people" in the City. The City accepted the offer but was blocked by the Park Commission in court. So it was not a simple gift or donation.
A peculiar tragedy befell his wife when Griffith shot her in the face, allegedly drunk on alcohol. Authorities arrested, jailed, and charged him with assault with a deadly weapon/attempted murder. She survived with the loss of her right eye and a disfigured face, but the judge threw the book at him.
It all started when he was born in South Wales, and his uncle took him to America as a child. He decided to go into the newspaper lifestyle, which brought him to running a San Francisco newspaper that focused on the mining in Alta, California. From there, he moved to Los Angeles permanently. There, Griffith acquired a ranch that Don Antonio Feliz said to be cursed.
The Land Grant Jealousy
He was a well-known figure in Los Angeles and wanted to make his ranch the best in the nation. In the 1890s, he was a member of the now considered by some journalists to be the "racist" Jonathan Club." (Source.)
Though some people didn't like that he got what he received from a Spanish land grant (Antonio Coronel Curse), Louis Mesmer introduced him to Tina (Mary Agnes Christina Mesmer). His family was a descendant of the Verdugo family, so they had a lot of money.
Griffith believed she was the heir to the Briswalter fortune and courted her, with wedding announcements going out soon after. However, he learned that she only got half the fortune ten days before their wedding, breaking off the engagement.
Her family was upset and begged that he go through with it, which he agreed to if she inherited the entire fortune and it got transferred into his name.
Severe many injury accidents and deaths have occurred at this location. Before Memorial Day 1961, 75 police officers responded to the Park's "Walt Disney" cheery merry-go-round to de-escalate an armed crowd carrying rocks, baseball bats, and glass bottles. They were upset over the carousel operator's harsh treatment of a black teenager.
Why the Los Angeles Times wrote about Griffith
The Times spoke of the marriage and how the estates were now united. However, most people weren't happy with Griffith's rise to power. Though he called himself a military rank, the only military title he ever held was alleged with the California National Guard as "major of rifle practice." (unconfirmed.).
The Major of Rifle Practice and Shot to Wife's Face
Things didn't go well at home, and Griffith once pulled a gun on his wife in the Arcadia Hotel in Santa Monica after attending a Greek theater production. He ended up shooting her in the face one night, causing him to be sent to San Quentin.
Tina was in the hospital for one month after receiving prompt medical aid, while Earl Rogers, Griffith's lawyer, claimed he had been too drunk to be responsible for his actions.
He created the Prison Reform Publishing Company after being paroled after two years in jail in 1906. He claimed the land was on the Pacific Coast to request an observatory be built. However, the Los Angeles City Council could not get roads constructed for the Park, making it publicly accessible.
No Christmas present could help his wife feel better about the alcoholic insanity her husband went through. But she refused to divorce at that time, stayed married, and had a son. He became the park commissioner for the City of Los Angeles observatory.
The land even hosted the Autry Museum of the American West in furtherance of Griffith's goal to make "Los Angeles a happier, cleaner and finer city" despite the havoc in the life of the Colonel himself.
In the end, his wife Tina divorced and moved in with family, still disfigured at her frontal bone and weary of her husband. He died of liver disease on July 6, 1919.
Risks of Injury, Rape, and Death at Griffith Park?
To this day, many think ghosts from the 150-old curse inhabit it. Recently, hikers stumbled across a human skull along a rarely traveled side trail near the Hollywood sign. A right hand and some feet were later discovered. These events were found to have been a murder involving two male homosexual lovers in a quarrel in the local homosexual community. Gay rape of children is also commonly reported here, the original home of the Body Snatchers motion picture film.
You can quickly become lost, injured, trip, slip and fall, or be run over by cars in secured and unsecured areas. Multiple reports of child rape, prostitution, and illicit drug use have occurred. Parents are encouraged never to let their kids be left alone while on parklands.
Workers have reported crime during the darkness, and evidence exists in specific periods; the government and private vendors may have been negligent. Even your shuttle bus driver or rideshare service may be vicariously liable along with the Park for your pain and suffering and ambulance expenses.
Personal Injury You Can Suffer Recap:
Assault, including sexual assault
False Imprisonment
Dog and animal bites
Battery
Brain injury
Burn Injury
Spine Injury
Lacerations
Kidnapping
Wrongful death.
Suppose someone you love has been injured or died at the Park jogging, riding a bike along the street, or even a worker injured constructing a building, etc. In that case, our serious injury lawyers can help you seek an award of financial compensation.
Other Potential Defendants?
Universe Stellar Emporium
Samuel Oschin Planetarium
Exhibits Observing the Sky Hollywood Sign
Any Magazine, Media, Rental, or Filming Employment Company
Department of Recreation and Parks City of Los Angeles
Griffith Observatory Foundation
Eat & Shop Café
Universe Stellar Emporium, etc.
We can seek an award of maximum compensation for things like lost wages, medical bills, medical expenses, and other future health-related problems.
Our Goal?
Our goal is to help improve society by holding wrongdoers accountable under civil negligence law. We are masters of disasters and have vast experience dealing with insurance settlement negotiations and personal injury lawsuits.
We will protect the standard two-year statute of limitations and make sure you don't blow the traditional government claim time limitations under the Tort Claims Act.
The Park's Location
This public Park is one of the largest municipal parks around; you're sure to appreciate that it's close to the Wilson Golf Course and Los Angeles Public Library. Get there in the morning to find parking, especially on a Sunday or holiday week.
After leaving the freeways, follow the signs and enter the Park Metro & LADOT Dash Walk Bike Drive & Park LADOT DASH Bus. The higher elevations are often congested with bumper-to-bumper traffic.
Not much parking exists either. Cars are broken into by vagrants often, and the City does little to stop it, instead apparently encouraging homeless people to occupy the City.
When you climb Mount Hollywood (the highest point), you can see the Hollywood sign and the Los Angeles Zoo. Just take the Ventura Freeway to get there and make your mark!
Why Hire an Attorney Near Rancho Los Feliz
You don't have to be a mining expert, ride horses, or be part of the mining industry to require an attorney. Though Griffith had various mining syndicates, took marriage vows he didn't want, and testified on the witness stand as his defense, he was considered successful and led from the front. Michael Ehline of Ehline Law, an inactive U.S. Marine, also leads from the front. We are a cut above; the defendant and its insurance company know this to be true.
Schedule a Free Consultation With An Accident Lawyer in Griffith Park Today
If you were injured in the Park or elsewhere, it's time to call the Ehline Law Firm at (213) 596-9642 for assistance. We can help you bring a lawsuit against the negligent property owner and anyone who contributed to any victim's injuries or fatality. Schedule your free consultation with a highly-rated accident attorney in Los Angeles today. You can also use our convenient online website contact us form.
Michael Ehline is an inactive U.S. Marine and world-famous legal historian. Michael helped draft the Cruise Ship Safety Act and has won some of U.S. history's largest motorcycle accident settlements. Together with his legal team, Michael and the Ehline Law Firm collect damages on behalf of clients.
We pride ourselves on being available to answer your most pressing and difficult questions 24/7. We are proud sponsors of the Paul Ehline Memorial Motorcycle Ride and a Service Disabled Veteran Operated Business. (SDVOB.) We are ready to fight.