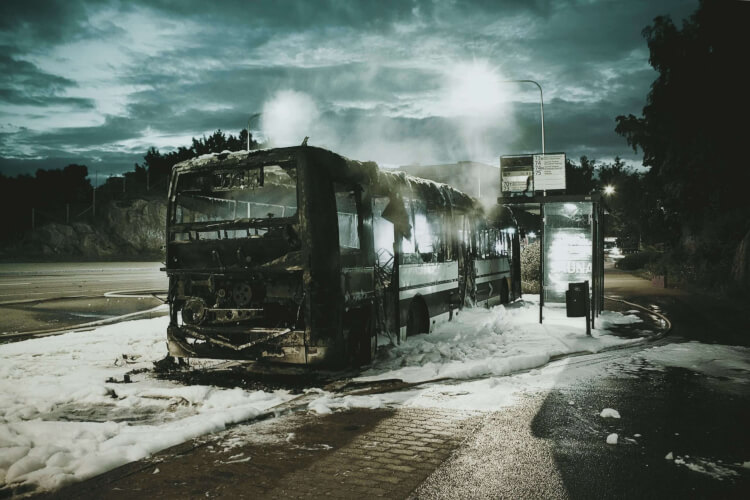 Everything You Should Know
With many intense stories about electric cars catching fire and past disasters of overheating lithium-ion cellphone batteries, it's reasonable to be uptight about lithium-ion battery fires, especially for fast respondent workers.
How often does it happen? Going by the famous local news highlighting a particular electric bus fire in Hamden, Connecticut, you can't determine when to expect electric vehicle fires and successfully mitigate them.
Fire officials in the Hamden fire department announced that their firefighter crews responded to an electric bus fire at the CT Transit bus depot parking lot.
They had difficulty extinguishing the fire because of the thermal chemical process in the lithium-ion battery, which continually reignites the fire and produces excellent heat.
In such situations, you let lithium-ion battery fires burn out, as stated by the fire officials at the bus accident location.
The fire didn't have any fatalities, but two CT transit workers were taken to the hospital as a precaution for smoke exposure and a firefighter for heat exhaustion.
Moreover, the news traveled fast, like wildfires in local news and social media, as the story differs from what the EV industry says about electric vehicles.
Why the Electric Bus Caught Fire
The cause of the electric bus fire at the CT Transit bus depot is still a mystery to many. Fire officials can really say what went wrong as the matter is still under investigation.
Far from this occurrence, a France-based operator for RATP decided to pull out a fleet of 149 electric buses because two burst into flames and caused damage in one month.
The explosion happened near a famous Paris bank, and the video recording shows a Bolloré brand electric bus bursting into flames circulated widely on social media.
What seems to baffle social media users is that the two incidents raised more questions than answers – as the people in charge didn't know what made the electric buses catch fire.
According to Forbes, battery fires occur in an electric vehicles for two reasons:
A crash damages the cells in Li-ion batteries, leading to a battery explosion and causing a fire that engulfs the entire body of the electric vehicle.
The second reason is manufacturing defects. Forbes reports that most EV lithium batteries fire results from manufacturers' defects. It continues to say that EV fires are sporadic, but the lithium-ion cell is tough to extinguish when they do happen.
Other Incidents of Battery Fire
The first incident of an electric bus catching fire due to a lithium-ion battery's cells that made social media users go frenzy was the electric RATP bus in Perugia, Italy. The electric bus caught fire after battery explosions that consumed the entire vehicle.
At the beginning of the footage, you can see a small explosion on the bus's rooftop, where the batteries are located. It then burst into huge flames, which produced great heat that completely consumed the entire vehicle.
According to the firefighters contacted, this 71-line bus mobilized around thirty workers to extinguish the fire, but all was in vain.
Moreover, the Perugia fire command acted at a breakneck speed to extinguish the fire, but everything burned down due to a thermal chemical process in the batteries. Luckily, no one was injured in this accident.
Social media users, however, had reservations, with some saying, 'What could have happened if passengers were on board?' The incident made the RATP bus temporarily withdraw electric automobiles from their fleet.
Preventive Measures for an Electric Bus Fire
Fire Officials from Hamden Fire Department that tried to stop the electric bus fire in a parking lot at the CT Transit bus depot in State Street remember standing there shooting so much water. Still, the fire continually reignited, making the fire hard to put out.
With many other battery fires on the rise apart from the CT Transit bus depot and the one in Paris, electric vehicle manufacturers and the EV Industry are investing millions in developing a next-generation battery that can take up the solid-state cells.
By replacing the slurry substance on natural gas batteries that cause a fire in a thermal chemical process with solid-state batteries, they'll become fireproof, limiting instances of natural gas battery fires.
Who Is Held Responsible for Electric Bus Fires?
Looking back at the electric bus that caught fire in a parking lot at the CT Transit bus depot in State Street, two CT Transit workers and one firefighter got injured. The incident caused these workers to suffer injuries due to someone's negligence.
They'll need to hold the responsible party liable for their injuries. Personal injury attorneys practicing tort law in Los Angeles would be in a position to help these workers seek compensation for damages.
After a successful review of the case in such a situation (for the one firefighter who had heat exhaustion injuries or the two workers who went for preventive treatment for black smoke exposure), the two parties can sign a fee agreement to start the legal process.
Award-winning attorneys at Ehline Law Firm can help any victim of workplace injuries to file claims and get the justice they deserve. Schedule a free consultation with them at (213) 596-9642 to discuss your case.
Schedule a Free Consultation with Los Angeles Ehline Law Firm for a Free Case Review
Many workers, like the ones who incurred injuries while on the job, suffer daily. These workers need some protection to compensate them for their damages on the job. Insurance companies will always try to downplay the situation to forfeit paying a settlement.
Therefore, these workers must contact reputed personal injury attorneys as soon as possible to help them secure a fair settlement.
These workers need to file a personal injury claim to get a monetary award for the damages they incurred. They must speak to a personal injury lawyer to help them determine their legal course of action. Plaintiffs should, therefore, contact Ehline Law at (833) LETS-SUE today to start their legal journey.
Main Los Angeles Location
633 W 5th Street #2890 Los Angeles, CA 90071 (213) 596-9642.