If we don't win, you don't pay.
Speak to the Attorney.
Born to serve.
633 W 5th Street #2890
Los Angeles, CA 90071
(213) 596-9642.
Date Modified: June 11, 2023
Did Culver CityBus fail to provide you or a loved one with a safe carriage, leading to significant injuries or death? Do you have a hard time finding a superior personal injury attorney? Your search is officially over.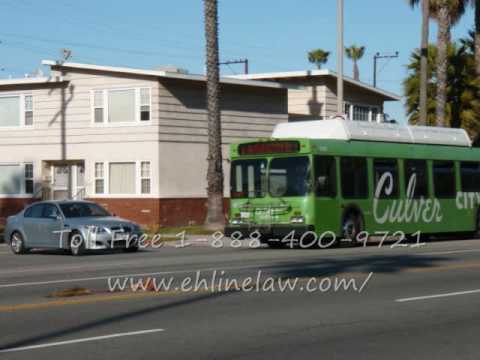 We Provide Clients With Compassion and Care
Did Culver CityBus fail to provide you or a loved one with safe carriage, leading to significant injuries or death? Due to its sheer size alone, a bus crash can lead to broken bones and brain or spine injuries that can be caused by other drivers or even mechanical failure and can involve many buses and multiple parties.
Culver CityBus is a government entity that provides public transportation in the Culver City area. Though this is a large green bus, other public transit vehicles are involved in transporting people, such as the Big Blue Bus, Silver Streak, and The Metro.
Either way, most people injured who receive damages and undergoing long-term care don't know what the statute of limitations is from the date of the incident. Most do not know how to file a government claim form or even the proper documents to use. That's why you schedule a call with our bus accident lawyers at (213) 596-9642 when you seek a recovery of compensation from an injury or wrongful death collision.
Our Experience, Expertise, Authority, and Trust as Bus Accident Experts in Culver City
I am Culver CityBus accident attorney, Michael Ehline, in Los Angeles County, CA. Together with my staff and experts, I have recovered over $150 million on behalf of bus accident victims in Marina del Rey, Redondo Beach, and other LA cities since 2005. Our superior attorneys have done so with utmost care and compassion, proving liability. Let's take an expert look at these governmental entity cases and how to get compensation for the devastating injuries and economic damages to the general public attendant to these common carrier claims.
The Culver CityBus radiates from the center part of town toward Century City, Mar Vista, West Los Angeles, Venice, and Marina Del Ray. It's generally fair to assume that bus systems and mass transportation are safe for riders. Still, the truth is that bus accidents frequently happen, leading to severe auto accidents, death, or terrible bus accident injury.
Helping Victims of Bus Accidents in Los Angeles
Ehline Law Firm represents bus accident victims in Los Angeles, whether they were hurt as passengers, pedestrians, bicyclists, or drivers of vehicles that a CityBus hit in Southern California.
We can even sue if you did not have seat belts aboard and make claims against a private company, including other vehicles run by school districts and other public entities responsible. We aim to help you obtain maximum compensation for your medical expenses, lost wages, and joint injuries like pain and suffering sustained during a bus crash.
In addition to our California residents, we offer skilled representation for injured families and tourists who lost a loved one in a bus crash. Please call (833) LETS-SUE for a free consultation explaining the legal process and your personal injury claim.
When Could I Seek Compensation for Injuries Relating to a Bus Accident?
City buses, community shuttle services, charter buses, and tour buses are all common carriers. Therefore, they have a high standard of care when focused on passenger safety. They should be held responsible financially for injuries sustained from faulty equipment, poor maintenance, and negligence from bus drivers.
A Los Angeles bus company, such as Culver CityBus, can be held liable financially if the vehicle gets involved in a significant crash. However, the bus company and operator might be held financially responsible, even when fewer catastrophic accidents occur.
The bus accident lawyer you choose often goes after the bus driver's employer and insurance company for an accident involving a bus passenger or someone hit by city buses.
Cases can include:
If a bus lets off a passenger in an unsafe location whereby they get hit by traffic
If bus passengers suffer from a head injury from striking a seat back or pole because the bus had to make a sudden stop after speeding through red lights
If elderly passengers fall and break bones because the driver didn't ensure the passenger has been seated
If the operator performed distracted driving activities or suffered from driver fatigue, which led to personal injuries like friction burns from being thrown down the passenger aisle.
Our Dedicated Law Firm Handles Accidents Against School Buses and Other Governmental Entities!
Victims can find themselves in many bus accident situations, and the bus companies must be held accountable. But you need expert advice, and our lawyers consider it our duty to give the victim superior leadership and direction if they suffered general and economic losses during a bus-related car wreck.
Ehline Law Firm assists with all types of motor vehicle accidents, including:
School bus accidents
City bus accidents
OCTA
MTS
MTA.
When clients need a Beverly Hills, Culver City, Santa Monica, or other Los Angeles bus accident lawyer, Michael Ehline's team is here to assist and fight to obtain maximum compensation on your behalf.
Types of Damages Injured Victims Can Receive in Personal Injury Cases
Your personal injury firm can help you seek damages against private companies for accident claims related to spinal cord injuries and other serious injuries.
Justice in the form of compensation can include:
Reimbursement for medical bills and medical treatment
Lost wages (current and future)
Emotional distress
Humiliation
Pain and suffering.
Many cases fall under the Tort Claims Act in California, so notice of your claim has to be served within six months from the accident date. However, those injured in a private bus accident will have to file their claims two years from the accident date. Otherwise, they cannot sue in court against the driver or anyone who operated the bus or bus company, even if there were fatalities at the accident scene.
Proven Track Record of Success against a Bus Driver or Other At-fault Parties
Were you struck by a train parked on the tracks as a Culver CityBus passenger or a pedestrian struck seeking to file a claim? Ehline Law Firm has a proven track record of successfully handling bus accident cases involving cars and single-vehicle collisions in Los Angeles County, CA. We put our in-depth understanding of policies, extensive resources, and compassion to work to ensure you get full and fair compensation.
Schedule a Free Case Review With The Best Culver CityBus Accident Law Firm Today
Your struggle is ours, regardless of age, even if you are an entitled child left behind in the aftermath with no money to survive or bring a lawsuit. We even help Culver CityBus employees in complex work comp cases as part of our professional business.
Use our online website contact form, or call our personal injury law firm at (833) LETS-SUE to request your free case evaluation and discuss your harm immediately. Our very best attorney makes bad actors pay up! And we WIN BIG!
Michael Ehline is an inactive U.S. Marine and world-famous legal historian. Michael helped draft the Cruise Ship Safety Act and has won some of U.S. history's largest motorcycle accident settlements. Together with his legal team, Michael and the Ehline Law Firm collect damages on behalf of clients.
We pride ourselves on being available to answer your most pressing and difficult questions 24/7. We are proud sponsors of the Paul Ehline Memorial Motorcycle Ride and a Service Disabled Veteran Operated Business. (SDVOB.) We are ready to fight.