If we don't win, you don't pay.
Speak to the Attorney.
Born to serve.
633 W 5th Street #2890
Los Angeles, CA 90071
(213) 596-9642.
2323 S. Voss Rd, Suite 244
Houston, TX 77057
(832) 592-1260.
Date Modified: July 2, 2023
Are you seeking help from a trial lawyer after a Mini Blue bus crash? Are you undergoing expensive medical treatment and want the best lawyers by your side?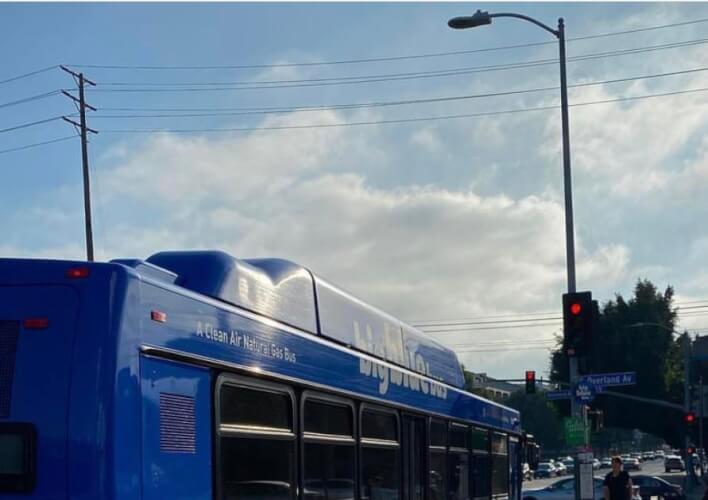 Ehline Law has over 30 years of combined experience helping thousands of bus accident victims obtain compensation. If you have ever been to the west side, you will see the Mini Blue and Big Blue Buses cruising along Pacific Coast Highway, driving to and from Santa Monica.
Unlike school bus accidents, Mini Blue Bus Accidents are not as common as other motor vehicle accidents. So we hear less about the injured victims who suffer injuries while riding or running over as pedestrians.
Yet, they can still happen and leave you, your loved ones, and your children, injured or worse. According to the National Highway Traffic Safety Administration (NHTSA), there have been 1,172 fatal incidents caused by intercity buses, including mini blue buses, in the last ten years.
This means lost time from work, expensive medical treatment, and being sent to collections by medical professionals who won't bill the responsible parties. You are on the hook without the best lawyers to pursue the common carrier responsible for your safe carriage. (Typically, government entities like the City of Santa Monica, but sometimes other passengers, a bus manufacturer, etc.)
Reasons You May Need Compensation
What if your bus ran the red lights and rear-ended another car, bus, or truck? What if you were thrown into the aisle or struck in the head with fallen luggage? Do you need funds to cover medical bills or other medical expenses after a bus accident? Try hiring just California bus accident lawyers and see what happens! No, you need the best attorneys in Los Angeles to pursue government entities in these complex cases with many not-so-common injuries. Our super lawyers have held hundreds of government entities liable, helping our clients make informed decisions along the way.
Neither you nor your children deserve to suffer a head injury or death because of the negligence of a mini blue bus driver or bus manufacturer. You can get compensation for what happened as long as you can prove they are liable for the bus accident. This means the courts can hold these government transit lines and any private company at risk, liable to pay for things like lost future earning capacity and medical attention.
We are Ehline Law, and our top trial lawyers are more than ready to file a lawsuit against the liable parties for the bus accident that injured your children. The only thing you need about catastrophic injuries to do to hire a bus accident lawyer from our firm is to contact us at (213) 596-9642 or enter a valid phone number through our website form to become a new client.
Don't hesitate to do it! Trial lawyers stand by 24/7 to help you obtain maximum compensation for your injury case. You can also read more information about what to do after a Mini Bus Accidents on this page for buses involved in local, intercity, and Santa Monica bus accidents.
School Bus Accidents or Mini Blue Bus Collisions?
There are many causes of bus accidents and many types of buses. As we mentioned before, unlike a school bus accident, it's uncommon to see a Mini Blue Bus Accident. This is because these local Santa Monica buses are supposed to be safer than other motor vehicles, and fewer are fielded by these local public entities.
Regardless, they can still happen for many reasons since controlling what other drivers do is difficult. Although they are less prone to happen, the reasons bus accidents happen are similar to the ones that cause other kinds of auto crashes.
Here are some examples of what can cause a bus accident to happen:
Drunk Driving
You may never expect a mini blue bus driver to be drunk while driving kids to school, but it's something that still can happen. If bus drivers are under the influence of any psychotropic substance, they are a menace to all passengers' safety.
Distracted Driving
Negligent drivers are one of the main causes of auto accidents in general, and since there are many ways to distract yourself while driving, you can see more auto accidents each day. Bus accidents are not an exception to that since not focusing on the road for one second can lead the driver to crash the bus.
Not Being Fit for the Job
Driving school buses in Los Angeles differs from driving a car or a truck. Not only are they different vehicles, but you are also responsible for caring for all the children you are taking to school.
Therefore, many schools try to look for professional drivers to drive school buses or at least try to get one from a bus company. Despite that being the ideal thing to do, many schools ignore it and hire the first person who reaches out to them.
Drivers who aren't fit to drive mini blue buses can make mistakes while doing so or don't be as careful as they need to be while driving and end up causing a bus crash.
Bus Malfunction
Although negligent drivers are one of the main reasons bus accidents happen, they are not the only ones. What if the driver couldn't do anything because the accident happened due to a bus malfunction?
Sometimes, manufacturers sell vehicles that are not ready to be driven by anyone, making them liable for what happened. The same happens with repairers and maintainers who cause a school bus accident because they didn't do their job properly.
Other Negligent Drivers
Drivers or bus companies are not always liable in a bus accident lawsuit since the crash can also be caused by a third party, such as a driver who ignored traffic signals and crashed with the bus.
Is the Bus Driver Liable for the Accident?
As we mentioned before, bus drivers can be liable for a mini blue serious bus accident, but it doesn't have to be like that all the time. Hence, the bus accident attorney you hire needs to make a thorough investigation that shows who caused the accident to happen.
Here are some of the situations in which some parties can be liable when a bus accident occurs:
Bus Drivers
Many accidents happen due to negligent drivers' wrongdoing, and even if you drive safely and follow all traffic signals, it's difficult to be safe from those people at all times.
Bus drivers are always liable for bus crashes if they caused them directly or indirectly. Such bus accidents need to be proven later in a court of law.
These are some examples of when a bus driver is liable for accident victims:
If they were drunk or distracted driving
If they weren't as careful as they needed to be
If they weren't qualified for the job
If they didn't follow traffic signals.
Bus Manufacturers
You can ask your bus accident lawyer to file a claim against bus companies or manufacturers if the accident happened to a bus malfunction they could have foreseen.
The same happens with repairers and maintainers since they are all liable for the accident if they:
Release a bus that is not ready to be driven
Didn't take enough safety measures
Didn't repair something properly
Didn't keep the bus in the conditions it should've been in.
Schools
It's worth noting that under certain circumstances, schools can be liable in a bus accident case if bus passengers get injured due to the institution's negligent behavior.
There can be several liable parties simultaneously, and a bus accident victim can sue them all and get compensation for them if the case requires it.
Schools are liable for a bus crash in Los Angeles if they:
Willingly hire someone who isn't fit to take drive a bus or take care of each bus passenger
Carelessly hire someone who isn't fit for the job
Keep working with a bus company knowing it could put students in danger.
How Dangerous Are Mini Blue Bus Accidents?
Bus accidents are one of the most dangerous things you could think of due to the number of children who get on school buses every day. While car accidents often only injure the people involved, all the students in a bus crash could die or get serious injuries for something that is not their fault.
While wrongful death is already something catastrophic, no one deserves to go through. It's not the only consequence of getting into one of these accidents. Similar to other personal injury cases, injuries can lead to permanent emotional trauma and physical disability.
The more severe an injury is, the more compensation a personal injury law firm in Los Angeles can get. Nonetheless, it would be best to have experienced lawyers for the job since a law firm with unskilled attorneys may not be good for the job.
Personal injury lawyers working for the Ehline Law Firm in Los Angeles and Southern California are all experienced and qualified to win your case regardless of how difficult it is, so you can call us anytime you need to get a free consultation on a school bus crash case.
People involved in mini blue bus accidents can develop the following injuries:
Wrongful death
Chronic pain
Spinal cord injuries
Traumatic brain injuries
Amputations
Internal injuries
Burns
Facial fractures
Broken bones
Emotional trauma/distress
Whiplash
Other back and neck injuries.
How to File a Lawsuit After a Mini Blue Bus Accident
Filing a lawsuit after getting a serious injury in a mini blue bus crash is a complex process, but going through it is much easier if you count on a decent legal team who can focus all their time on your case. That's what you get when you hire Ehline Law for the job.
The first thing lawyers need to do to file a lawsuit is to get some evidence of what happened. Some excellent pieces of evidence are pictures, videos, medical records, and witness statements of what happened.
An attorney-client relationship is mandatory for all kinds of lawyers so clients can tell them all the accident details without a problem.
After getting a free consultation with your personal injury attorney, your lawyer must get that evidence and file a complaint against the liable party for the incident. Then, they must notify the other party they are being sued and await their response.
It's not common for negligent parties, such as negligent drivers of a school bus or the company who provided it to the school to admit they are at fault for fatal crashes. Hence, they may say they are not liable for the accident to avoid paying for devastating injuries.
As national trial lawyers do, personal injury lawyers can negotiate with the other party to get to a settlement that is beneficial for victims and not bad for the defendant. Nonetheless, if they can't agree, the case will go to trial.
Why Hire Ehline Law to Take Mini Blue Accident Cases?
Many personal injury law firms are in Los Angeles, so why should you hire Ehline Law to take your case?
We recommend you schedule a free case evaluation with us as soon as you can, and here is why:
All our lawyers are experts in personal injury legal matters.
We work all day and night, so you can call us whenever you want.
You don't have to pay us if we don't win.
We offer a free case evaluation to our clients.
We can handle all the lawsuit paperwork for you after a mini blue bus crash in Los Angeles.
Wrapping Up
While no one deserves to get into a Mini Blue Bus crash in Los Angeles, you need to be prepared to get justice for your children if that happens.
Paying for the treatment needed to heal from the injuries an auto accident can cause is not easy, so getting financial help would help a lot.
Contact Superior Mini Blue Bus Accident Lawyers at Ehline Law Firm Personal Injury Attorneys, APLC
Contact Ehline Law now to get the highest possible compensation from the government or any insurance companies. You will need to recover economic and non-economic damage after a crash in Los Angeles; this is our business.
Our team can help gather the winning evidence in your individual case on behalf of you or a loved one! We are available 24/7 at (310) 237-6218 or via our incredibly efficient contact us webmail form here.
Other Common Carrier Accidents
Michael Ehline is an inactive U.S. Marine and world-famous legal historian. Michael helped draft the Cruise Ship Safety Act and has won some of U.S. history's largest motorcycle accident settlements. Together with his legal team, Michael and the Ehline Law Firm collect damages on behalf of clients.
We pride ourselves on being available to answer your most pressing and difficult questions 24/7. We are proud sponsors of the Paul Ehline Memorial Motorcycle Ride and a Service Disabled Veteran Operated Business. (SDVOB.) We are ready to fight.