Strict Liability Dog Bite Laws in California
Unfortunately, holding a dog owner responsible for your injuries is no simple process. Despite the strict liability framework used by California's dog bite laws, dog owners aren't always held accountable.
Understanding California's Liability Laws
In California, even if the owner of the dog had no idea it might bite someone, he or she might still be held responsible for physical harm and damage to property.
Dogs are generally considered a threat under Section 3342 of the California Civil Code. Therefore, the owner is responsible for your damages regardless of whether the incident occurs in a public area or when the victim is legally in a private location, including on the dog owner's property while on a leash.
California Does Not Consider Past Offenses
Unlike other states, California does not consider whether the animal had a previous offense. Unless an unusual circumstance arises, the dog's owner or controller is frequently liable for paying for your damages.
Common Reasons for a Dog Bite Injury
Dog bites in Fremont can occur for a variety of reasons. Here are some of the most common:
The dog's owner cannot keep the animal under control
Provoking or hurting the dog
Interrupting it while it is eating or drinking
Violating leash laws
Strangers attempting to touch a dog.
The truth is that dog attacks can be traumatic and painful. If you have suffered injuries caused by dog bites, it's important to get in touch with our team of dog bite lawyers.
How a Fremont Dog Bite Attorney Can Help
No personal injury case is a sure win, and the insurance company may try to get you to settle for a low offer. This is why hiring an experienced Fremont dog bite lawyer is important.
Your dog bite lawyers will assist you by:
Providing legal counsel and ensuring that your rights are protected
Investing the case to determine who is liable for your damages
Filing a personal injury claim against the dog owner
Gathering evidence in the form of medical bills, surveillance footage, and more
Negotiating with the insurance company to get you a fair settlement
Representing you in court if the need arises.
Who Can Be Held Liable for Your Dog Bite Injuries?
Most dog bite victims in California are able to get a judgment or payment from the owner of the animal directly if it attacked them, resulting in property damage, personal harm, or even death.
Other Parties May Be Liable
If someone else, such as a friend, relative, or pet sitter, kept the animal or exercised control over it, they may be held collectively or solely liable.
Any person or entity who cares for or keeps a dog is considered its "owner" according to California law.
Proving Ownership
To prove ownership, your Fremont dog bite lawyer will request ownership documentation.
This can either be in the form of microchips, tags, or an AKC registration. Veterinary documents and homeowner's or insurance coverage, among other things, are additional ways to demonstrate control.
Anyone in charge of the violent dog at the time of the assault may be held responsible for the ordeal and any injuries.
Contact Our Team of Dog Bite Attorneys Today!
Dog bites can leave lasting trauma, which is why it is important to contact our team of dog bite lawyers to obtain compensation for your injuries. We will fight aggressively to ensure a favorable outcome!
Let us help you in your pursuit of justice for the injuries caused by a dog attack.
To book your free consultation with a Fremont dog bite lawyer, please contact us at (833) LETS-SUE or complete the contact form, and we will be in touch.
---
Michael Ehline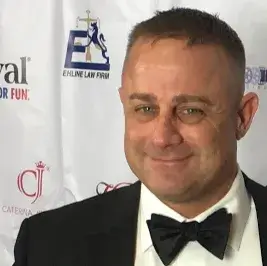 Michael is a managing partner at the nationwide Ehline Law Firm, Personal Injury Attorneys, APLC. He's an inactive Marine and became a lawyer in the California State Bar Law Office Study Program, later receiving his J.D. from UWLA School of Law. Michael has won some of the world's largest motorcycle accident settlements.
---
Recent Personal Injury News
Check out our most recent auto defects, accidents in Fremont and more, including the famous, infamous and everyday people wounded by at fault parties around the world.