Hollywood Injury Attorneys / Practice / Universal Studios Injury Lawyers
Regardless of how serious they are, accidents frequently occur at theme parks. Having a California amusement park lawyer on your side can help protect your rights and ensure you get financially compensated for your loss.
How to Document an Accident at Universal Studios?
It is straightforward to document a motor vehicle accident, but when it comes to writing an accident at an amusement park, it can be challenging. The sheer chaos and movement of people and activities can easily affect your opportunities to document the accident.
Let's look at an example.
You're at an amusement park when a protruding object from a ride injures you, dealing serious injuries. You might take out your camera to take a picture or video, but you may not have enough time to do so as other people start to get on the ride, or you may not realize you received injuries until after the ride due to an adrenaline rush.
An experienced Universal Studios injury lawyer can use various tactics to retrieve the relevant evidence to strengthen your personal injury case and help fight for your rights.
Determining Liability at Universal Studios
There are three Universal Studios in the United States: Universal Studios Florida, Universal Studios Orlando, and Universal's Islands of Adventure. Who is responsible for injuries at any of these amusement parks?
In most cases, any injury at an amusement park is primarily because of negligence on behalf of the staff working there. This could include poor ride design, faulty replacement parts, lack of inspection, and failing seat belts.
Ride operators must remain alert at all times and ensure the safety of the guests at the amusement park. However, they may overlook operating procedures due to distractedness or carelessness, putting the guests at risk of serious injury.
There are so many things that could go wrong at theme parks like Universal Studios, which is why these amusement parks are held to a higher safety standard.
Should You File an Amusement Park Injury Lawsuit?
Depending on the type of accident, you may suffer serious injuries requiring extensive medical care. With the state of our public healthcare system, treatment costs often skyrocket, leaving injured victims financially dry.
Injured victims face extensive medical expenses, but they also have to endure pain and suffering for an indefinite period, affecting their quality of life. An accident victim must not be responsible for any injuries and damage from an accident that was not their fault.
You have a right to claim economic and non-economic damage for your loss, and an experienced personal injury attorney can help you pursue legal action against the negligent party or theme park to recover financial compensation.
Contact a Universal Studios Injury Lawyer
Ehline Law firm has over 30 years of collective experience helping over 3,000 injured victims obtain more than $150 million in compensation.
If you received injuries from a Universal Studios accident, contact us at (213) 596-9642 for a free consultation with our experienced personal injury attorney.
Whether Universal Studios California, Universal Studios Orlando, or other popular amusement parks, our personal injury lawyer will help gather evidence of the amusement park accident to bolster your case, file a Universal Studios injury lawsuit, and negotiate maximum compensation on your behalf.
---
Michael Ehline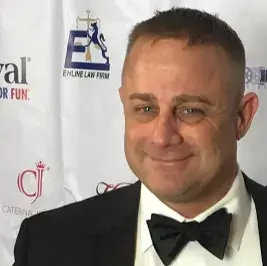 Michael is a managing partner at the nationwide Ehline Law Firm, Personal Injury Attorneys, APLC. He's an inactive Marine and became a lawyer on the California State Bar Law Office Study Program, later receiving his J.D. from UWLA School of Law. Michael has won some of the world's largest motorcycle accident settlements.
---
Recent Personal Injury News
Check out our most recent car accident blog posts from celebrities crashing cars to everyday people getting run over, rear ended or otherwise colliding.