If we don't win, you don't pay.
Speak to the Attorney.
Born to serve.
633 W 5th Street #2890
Los Angeles, CA 90071
(213) 596-9642.
Date Modified: June 17, 2023
This is the Ultimate Guide to Compensation for Inyo County, CA, Personal Injury Accidents.
The Lawyers You've Been Looking For
The negligence or wrongdoing of others can impact your life and leave permanent consequences.
Therefore, if you had an accident or have been harmed by other people's acts, you may need help from personal injury attorneys in Inyo County.
Whether you're in Inyo County, Los Angeles County, or any other city across California state, a specialist in this legal field can guide you through the entire process of getting compensation or fighting your case in court.
At Ehline Law, our million-dollar advocates offer a free consultation with an attorney in Inyo County, CA, for all our services. Do you want to know more about what our lawyers do from city to city? Keep reading!
What Are Personal Injury Attorneys?
Although the laws vary in some states, the role of these attorneys in Inyo County, CA, and the rest of the country's cities remains the same: they represent the claimant. In other words, these attorneys work hand-in-hand with people seeking compensation for injuries or losses related to an accident caused by others.
Among other responsibilities, a personal injury expert performs the following tasks:
Helps a plaintiff protect and fight for their rights anywhere in Inyo County, CA
Creates a plan to get fair compensation for those affected by the negligence or conduct of other individuals or organizations in any city in the County
Goes to great lengths to reach the best settlement for Inyo County claimants
Collects evidence and analyzes cases in-depth to prove that a defendant was neglectful or made voluntary decisions that caused injury or loss to their clients
Win trials and even appeals on legal questions affecting your compensation.
Let's discuss what these professional attorneys working throughout Inyo County can do.
Holds Discussions with Insurers in Cities throughout the County
If you had an accident, there would likely be conversations about your medical bills and property damage, but you don't have to deal with them. Your attorney or law firm will negotiate with insurance companies and ensure all your expenses are paid, and you get fair compensation for your losses.
Negotiates with the Parties Involved
Attorneys with experience in personal injuries are used to negotiating to ensure their clients get what they deserve. Do you want the at-fault party to pay for your damaged property or medical treatment? Did you think about getting a settlement out of court? Leave this task in your reliable attorney's hands.
Collects Evidence and Leads a Discovery Process
A dedicated attorney working on the plaintiff's side must also initiate a discovery process. Experts must investigate the case thoroughly and obtain all the necessary evidence. At this stage, attorneys speak with witnesses, send interrogatories to defendants, and seek expert testimonies.
Draws up Pleadings
If the insurance company refuses to offer a fair settlement, attorneys should be prepared to draw up pleadings and submit complaints against the defendant. When the case escalates to this point, experts on the plaintiff's side must build legal arguments as to why the accused party is responsible for the accident.
Sends Demand Letters
Law offices or attorneys in Inyo County, CA, also create and send demand letters to insurance companies after thoroughly investigating the case. Generally, these documents contain the accident's details and stipulate an amount the plaintiff seeks for the injuries the defendant caused.
A Lawyer Represents You in Court
If the case is not settled for any reason, your attorney should also provide representation in court. Keep in mind that experts are already familiar with the related processes and can guarantee that your claim is structured in a solid way.
Each lawyer with experience in personal injuries has a different method to prove their arguments. They mostly depend on practice areas, the case's details, and the stage where they are. However, an experienced attorney in Inyo County, CA, always fulfills specific tasks, such as searching for reports, collecting evidence, and investigating claims.
When Should You Hire a Personal Injury Lawyer?
There's no specific deadline to seek help from a lawyer if you have had a car accident involving DUI or are a victim of workplace negligence at a business in Inyo County, California. However, you must consider hiring a lawyer offering these services as soon as you realize you're in a bind.
You don't want to go anywhere without counsel after someone else puts your life on the line, do you? Also, by the time you are looking for legal assistance, the at-fault party might have already hired a criminal defense attorney.
Although criminal defense attorneys may work in the same practice areas as personal injury lawyers, they generally side with the defendant who has been charged with crimes. They do everything possible to defend defendants in any scenario, whether innocent or guilty. Therefore, you need advice and help from a personal injury lawyer who can help you fight and win this case.
Suppose you had a vehicle accident and the person who hit you has hired a criminal defense attorney. In that case, you should have an experienced and professional injury lawyer from Ehline Law by your side. In these scenarios, our experts can:
Fight for our financial and constitutional rights
Collect evidence to hold guilty parties accountable
Establish liability through duty of care, breach of duty, causation, and damages
Test if there was only negligence or if intentional tort occurred
File a lawsuit against the defendant.
What Types of Injuries Qualify for Compensation?
Other questions that haunt the minds of people who have been injured in accidents have to do with compensation. What injuries can it cover? Are my nursing-related expenses recoverable? Find the answers here!
In most cases within this area, compensation covers physical and emotional losses that may impact the victim's quality of life.
If you provide evidence of the consequences you face from your injuries, you can expect compensation to cover the following:
Medical or nursing expenses
Lost wages
Emergency room visit fees
Financial losses if it's a wrongful death case and you were dependent on the victim
Loss of enjoyment of life
Therapy
Future rehabilitation
Emotional distress
Lost work benefits
Other related fees.
Compensations for monetary losses caused by injuries are considered "special compensatory damages," while non-monetary consequences are called "general compensatory damage." Of course, attorneys will help you calculate the compensation costs, considering if an individual, company, or business conglomerate has injured you. A lawyer in Inyo County, CA, may also require that your compensation include punitive damages intended to punish the defendant for their intentional or malicious conduct.
How to Choose a Good Personal Injury Lawyer in Inyo County, CA?
Now that you know if you need a lawyer to handle a wrongful death case or a claim for personal injuries after a DUI-related accident that left you injured, let's learn how to choose a reliable attorney. These are the most important factors to consider:
Make Sure the Lawyer Is Experienced and Find out Their Success Rate
You can find two types of lawyers: specialists and generalists. Which one is the best for you? It depends on your case and their practice areas. An attorney with experience in personal injuries could be your best ally if you were injured by a driver accused of DUI or a defective product. However, you should seek out a wrongful death lawyer if you lost a loved one due to the negligence of others.
Remember that each incident is different. Therefore, you should look for a specialist attorney in Inyo County, CA, who offers services related to personal injuries and can understand the laws that apply to your case.
Also, many lawyers have experience in injury cases, but you need someone to guarantee a successful outcome. As most cases are settled before reaching court, focus on those that went to trial. Everyone needs a lawyer who can offer excellent results in both scenarios.
Researching Attorney Discipline and Ask for Referrals
Another important step in knowing if a lawyer is trustworthy is to discover if they have been disciplined. Both in California and other US states, there are disciplinary organizations that monitor lawyers. Researching attorney discipline is always the best way to go! Are there complaints filed against them? Maybe you should find another law firm.
Moreover, someone you know has likely hired an attorney in the past. Therefore, one of the best ways to find a trustworthy professional is by asking your friends and acquaintances for recommendations. At this point, you can list possible lawyers' profiles and add notes based on their experiences to know if one is worth choosing.
Work on Contingency
Some lawyers are expensive, but that doesn't mean you must spend millions of dollars. If you have been injured and have suffered monetary losses, you can ask your attorney to work on contingency, which means they don't get paid until you do. Reputable experts offer this option to their clients. Also, most provide a free consultation to evaluate your case before starting the legal process.
Contact Reliable Attorneys at Ehline Law
Do you still need help? Ehline Law's attorneys are here for you. We know how difficult it can be for you and your family to live through the terrible experience of an accident or a wrongful death. For this reason, we offer specialized services hand in hand with professional lawyers who will fight to obtain all the benefits you deserve.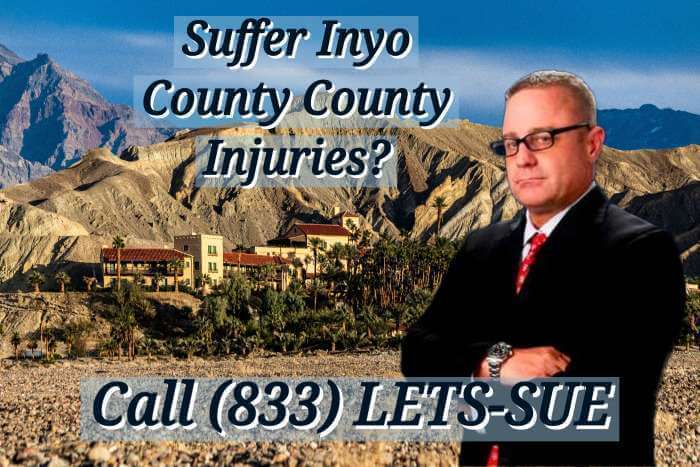 Our team will keep all your information confidential while ensuring the law and insurance companies protect your rights. Trust us! We care about you! That's why we also ensure that every attorney in our lawyer directory is licensed to practice in California and many other cities.
Do You Want Us to Evaluate Your Case? Contact a Personal Injury Lawyer in Inyo County, CA, For a Free Consultation!
As we said, we care about you! Therefore, our firm's law services start with a free consultation to clarify doubts about your case and tell you how we can help you. Our Inyo County, CA, lawyers have experience in several practice areas and can build a solid claim to obtain the compensation that California law grants you.
Do you want to contact us right now? Call (833) LETS-SUE and get a free consultation today! You can also fill out our online website contact us form for a prompt return call to find the Inyo County attorney-client relationship you need to win big.
Michael Ehline is an inactive U.S. Marine and world-famous legal historian. Michael helped draft the Cruise Ship Safety Act and has won some of U.S. history's largest motorcycle accident settlements. Together with his legal team, Michael and the Ehline Law Firm collect damages on behalf of clients.
We pride ourselves on being available to answer your most pressing and difficult questions 24/7. We are proud sponsors of the Paul Ehline Memorial Motorcycle Ride and a Service Disabled Veteran Operated Business. (SDVOB.) We are ready to fight.