How Do You Get Compensation for Drunk Driving Accidents?
Drivers must exert extreme caution while driving as they have a duty of care towards other drivers and pedestrians. In a drunk driving accident case, the drunk driver had the duty of care they breached, resulting in an accident due to the drunk driver's negligence. In court, DUI is often separated into civil and criminal proceedings, and any result from the case can impact the other.
A drunk driving accident victim has the right to recover any damages from the at-fault drunk driver during a civil claim, and our Los Angeles personal injury attorneys can help retrieve the financial compensation from the drunk driver's insurance company, including medical expenses, lost wages, pain and suffering, and more. If the intoxicated driver caused death, the deceased's family could file a wrongful death lawsuit against the negligent party.
A drunk driving car accident by a legally intoxicated person can create the need for punitive damages. Such damages deliver a financial punishment to discourage any illegal activities in the future. Before you file for a drunk driving accident claim after a motor vehicle accident, contact our experienced drunk driving accident attorneys immediately.
Insurance companies send insurance adjusters to undermine any drunk driving injuries to the victim and force them into taking low settlements for their personal injury claim. Having a qualified attorney can help evaluate the case, determine your claims, and get you maximum compensation for your losses.
Are Drunk Drivers Responsible for a Drunk Driving Accident?
For a successful auto accident case, a plaintiff must argue that the driver had a duty of care and, due to intoxication, they could not carry their duty of care. Any violation of the law designed to protect the public is negligence, and the plaintiff can argue that the breach of the duty of care made the driver negligent.
In the majority of drunk driving cases, the insurance company of the drunk drivers takes the financial responsibility of paying compensation. In contrast, in cases where a drunk employee caused an accident, an employer may be partially responsible for the damages.
Why Choose Our Los Angeles Drunk Driver Accident Attorneys?
Our attorneys have helped recover more than $150 million in compensation for more than 3,000 clients. We have over 15 law offices across California offering a free consultation for drunk driving crash victims.
We are a leading personal injury law firm with our lawyers contributing to the California Bar Journal and creating awareness of legal issues on different media platforms.
We work on a contingency fee basis meaning that we don't charge for cases until we win our clients the compensation they deserve. This helps alleviate the additional financial burden of hiring an attorney for legal representation.
How Can We Help?
Our lawyers maintain a solid attorney-client relationship ensuring that they take care of your legal battles without you worrying about anything. Our personal injury attorney can help you throughout this ordeal, from arranging the best medical care for treating your injuries and evaluating your claims to filing drunk driving accident claims and conducting aggressive negotiations with insurance companies.
Schedule a Free Consultation With Los Angeles Drunk Driving Accident Lawyers Today!
We will help collect the evidence by contacting witnesses and getting a police report, investigating the accident site and getting breathalyzer test results, checking out camera footage to determine fault, and building a case against the negligent driver.
Contact us at (213) 596-9642 for more information on how our law firm can help you get your life back on track. Speak with a personal injury attorney in Los Angeles today.
---
Michael Ehline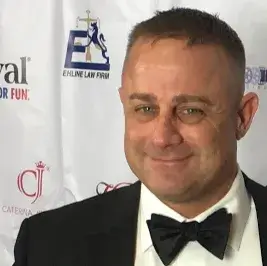 Michael is a managing partner at the nationwide Ehline Law Firm, Personal Injury Attorneys, APLC. He's an inactive Marine and became a lawyer in the California State Bar Law Office Study Program, later receiving his J.D. from UWLA School of Law. Michael has won some of the world's largest motorcycle accident settlements.
---
Recent Personal Injury News
Check out our most recent auto defects, accidents and more, including the famous, infamous and everyday people wounded by at fault parties around the world.