Types of Personal Injuries as a Result of Someone's Negligence
A personal injury case usually involves negligent acts of others that cause injury, which makes Nevada County injury attorneys handle different types of cases.
They include:
Automotive Accidents
These are injuries sustained due to negligent actions of other drivers on the road that resulted in an accident. Some of them include motorcycle accidents, truck accidents, bike accidents, and bicycle accidents, among others. Dealing with the insurer can be tricky when injured and out of work. Don't let them grind you down knowing you are desperate for money! Let us present your side of the case. We can even help you find doctors and other experts to help you get better and deal with out of pocket costs in most cases.
Premise Liability
In such a situation, the property owner of a particular premise didn't exercise his duty of maintaining the property he owns, which in some way caused an accident for public visitors. Some examples where they created or allowed a hazard include slip and fall accidents, negligent security, dog bites, and attacks.
Other Personal Injuries
An excellent Nevada County personal injury lawyer can also handle other types of injury cases, including sexual assault, elder abuse in a nursing home, and other forms of negligent accidents. Don't make the mistake of going it alone. Call us today and trust us to answer the questions at no upfront cost as you browse around for a lawyer.
Proving Negligence in a Personal Injury Lawsuit
A personal injury lawyer in Nevada County has to prove four elements of negligence in a court of law for the plaintiff to be awarded compensation. Under personal injury law, a claimant has the burden of proof and must show the court that the four elements of negligence occurred in their situation.
They include:
Duty of Care
A properlyscreened, excellent personal injury lawyer will convincingly show the court that the defendant owed the plaintiff duty of care. A good example is motorists on the road; all road users have a duty of following traffic rules set in place to protect them and other road users from accidents. If a Nevada County personal injury attorney fails to correlate duty of care between the two parties, then the plaintiff will not receive compensation. Understanding this is just part of the job a great lawyer will navigate in pursuit of maximum compensation for you or a loved one harmed by negligence.
Breach of Duty of Care
A Claimant proving the defendant owed them the duty of care is not enough to win a case. They must prove that the duty of care was breached. A personal injury attorney must prove that a defendant's action was negligent against life, limb or property. In instances where an automotive accident occurred due to negligence, the at-fault driver knew about traffic rules concerning particular speed limits but chose to drive over the designated speed, which in turn caused the accident. The defendant breached his duty of care to other road users when he chose to drive over the speed limit.
Negligent Actions Caused Injuries?
From the start, our CA personal injury lawyers are tasked with proving that the defendant's negligence caused personal injuries. It's vital for the Nevada County injury lawyers to show that it's more likely than not that the defendant's negligent actions caused direct harm to the claimant. A personal injury attorney will have medical reports from a reputable physician to showcase as evidence that the negligent actions of the at-fault party caused harm to the claimant. All this information helps a California jury decide how much you get.
Damages
Lastly, the injury attorneys must show that the plaintiff suffered damages from the injuries. This can either be economic or non-economic damages. Failure of your lawyer to prove these four elements would mean that a plaintiff wouldn't receive his rightful monetary award.
Personal Injury Lawyers Help Claimants Secure Damages
After successfully proving the elements of negligence, plaintiffs have a chance of securing various damages. A Nevada County personal injury lawyer can help their clients get various compensations for damages incurred. As stated earlier, they can either be economic or non-economic damages. An adjuster, defendant or jury will determine how much to pay on your damages claim.
Economic Damages
This compensation directly has some objectively verifiable monetary losses. They include:
Past medical expenses
Lost wages
Future medical bills
Lost earning capacity.
Non-economic Damages
It refers to compensation for subjective non-monetary losses. They include:
Pain and suffering
Loss of companionship
Emotional distress
Loss of consortium.
Punitive Damages?
It's an additional compensation given to the plaintiff for the purposes of punishing the defendant. The judges award the plaintiff punitive damages to deter intentional and reckless behavior. They are neither economic nor non-economic damages as they're not awarded to compensate for any loss.Usually, the defendant's insurance company will not want to pay the settlement claim.
This will prompt the claimant's side to move to court. A personal injury attorney in Nevada County can represent claimants to secure what they rightfully deserve. Personal injury attorneys serving various parts of Nevada City, CA, can help claimants get fair settlements.
They understand personal injury law like the back of their hands. When claimants have legal issues, including wrongful death matters, contacting personal injury lawyers from Ehline Law Firm is essential. They bring knowledge, experience, and skills to personal injury cases. Claimants should schedule a free consultation today to start their lawsuit journey.
Acts of a Personal Injury Attorney in California
Specific functions of personal injury lawyers in Grass Valley, Nevada County CA will depend on their specialty area, where they're in the case process, and the type of case.
Here are some of them:
Investigation of a claim: Since most injury attorneys work on a contingency basis, they usually finance a case before a settlement is attained. Therefore, they take great care in screening a case plus its merits to avoid taking on a case that won't win on trial.
Gathering evidence: Once the claimant and an injury attorney establish a client-attorney relationship in a free consultation. The expert will start working on the case by gathering evidence for the wrongful death case. They have the right resources to ensure they get all evidence pertaining to the case, including medical reports, witnesses, and pictures of the crime screen, among other things.
Negotiating with the insurance company for a settlement: Injury experts are highly skilled when it comes to negotiation skills. Moreover, they have your best interests at heart; therefore, they will try to ensure their clients get fair settlements.
Sending demand letters: The injury attorney will send a letter to the defendant informing them of the claim and the demands the plaintiffs are seeking. This letter will outline the facts about the accidents and the amount of damage needed to offset the injuries sustained by the accident.
Preparing pleadings: When an insurance company refuses the plaintiff's demands, the lawyer can prepare a complaint against the defendant. It usually outlines a legal argument on why the defendant is responsible for damages. A defendant has 30 days from the date he receives the complaint to prepare an answer for it.
Conducting discovery: Afterwards, the attorneys in San Francisco may start the discovery processes. This may include sending interrogatories to the at-fault party to inquire about certain information. It also entails disposing experts, and witnesses, among other things.
Representing plaintiffs in court: If the case moves to court, the attorney can equally represent you in court. These experts are familiar with court customs and proceedings and will ensure all steps are followed to the latter. Moreover, they understand the cunning ways of the defendant trying to pin the blame on the plaintiff. The experts will develop strong evidence to beat the at-fault party in their own game.
Therefore, a claimant must speak to attorneys specializing in personal injury law in Grass Valley, Nevada County. They'll give clients legal advice concerning their legal issues in a free consultation.
Therefore, contact Ehline Law Firm at (833) LETS-SUE today and get that free consultation! Check out what past clients we have represented say about our superior, reliable legal services here.
Statute of Limitations?
Various states follow different stature of limitations under personal injury law. It usually refers to the timeframe a claimant has to pursue compensation.
In California, the statute of limitations is two years from the date of the accident and one year from the date the injury was discovered; any failure to do it and the plaintiff will be barred from pursuing damages.
It's, therefore, important for a plaintiff to talk to an attorney in a free consultation as soon as possible when they have any personal injury issues like automobile accidents. A personal injury attorney can hold the other party's insurance company liable for damages.
Other Reasons to Hire Us
Complex rules regulate personal injury laws with differing government claim forms in the cities and counties you might need to sue. Usually, they vary from state to state; it's, therefore, important for claimants to speak to attorneys specializing in this particular practice area.
If clients hire our top team, these individuals will be able to receive valuable legal advice and representation from San Diego to Texas to Sacramento. Don't face a complex case without Ehline helping by your side. Our people win big justice at reasonable prices with humble service! Obtain a risk free consultation from a pro at our law office before blowing your time to make claims against the liable parties involved. Hiring us will give you the confidence you need to meet any problems that arise.
Our licensed attorneys are the best in the business and victims choose us for this very reason. Don't settle for less than you deserve and speak to a committed professional at our office who will treat you and your family with the professionalism and courtesy you all deserve. We are available 24 hours a day, seven days a week to help defend your claims once represented.
Contact an Experienced Personal Injury Lawyer in Nevada County Today
A swift, competent lawyer who has been trained in a reputable law school will bring experience, skills, and knowledge to a case. They know how to gather facts and information, deal with law enforcement, plus understand all litigation laws. That's their business, and they are pros. It's, therefore, vital to contact reputed law firms today if an individual has any personal injury issues. They have attorneys that work around the clock serving all California counties to offer quality legal services each time for each issue presented for disposal or resolution.
Moreover, they work on a contingency basis, which means they'll strive hard to get a claimant a fair settlement. Schedule a free consultation with teh superior, world-class attorneys from Ehline Law Firm by calling (833) LETS-SUE; they're always happy to help you win a landmark verdict or settlement today. So connect by phone or with our webmail contact form to get started.
---
Michael Ehline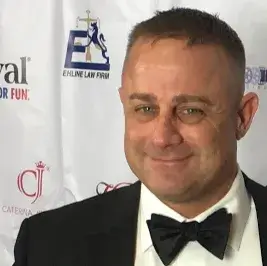 Michael is a managing partner at the nationwide Ehline Law Firm, Personal Injury Attorneys, APLC. He's an inactive Marine and became a lawyer in the California State Bar Law Office Study Program, later receiving his J.D. from UWLA School of Law. Michael has won some of the world's largest motorcycle accident settlements.
---
Recent Personal Injury News
Check out our most recent auto defects, accidents in Fremont and more, including the famous, infamous and everyday people wounded by at fault parties around the world.