If we don't win, you don't pay.
Speak to the Attorney.
Born to serve.
633 W 5th Street #2890
Los Angeles, CA 90071
(213) 596-9642.
Date Modified: June 13, 2023
Former U.S. Marine Trial Lawyer and California Personal Injury Firm * We Fight For Gas Station Accident Victims * Zero Fee Guarantee!
Gas station or convenience store accident injury claims are an everyday occurrence in Miami, Florida, Dallas, Texas, and Los Angeles, California. The duty of care for visitors has increased while the care constituents receive has decreased. Gone are the days when full-service gas station employees cleaned your windshield while pumping gasoline.
The modern filling station employee is more of a convenience store operator than an attendant. Property owners largely ignore filling station customer protection around service areas despite increased traffic demands at the scene.
Our Los Angeles injury attorneys, including the right property owner, sued negligent defendants. We take multiple actions to hold them accountable for inadequate security or safety measures. Our talented staff can help any victim recover the cost of medical treatment and lost wages from negligent operators.
You pay no attorney's fee unless we create an attorney-client relationship and recover a compensation result for your injury claim. Schedule your free consultation by making a phone call for legal advice at (213) 596-9642. Or you can send a text message using our contact form tool.
Other Reasons To Hire Us?
Our peer and client reviews don't lie. Here is why we deserve your trust anywhere in the state:
A free case evaluation of your situation.
We gather evidence, including causation and parties at fault.
We handle the insurance company negotiations.
Over 30 combined years of experience.
Award-winning premises liability attorney.
Over $150 million was recovered for financial losses, pain, and suffering expenses.
Our Managing Attorney, Michael Ehline, serves his community as a consumer rights lobbyist.
Run by a biker lawyer in the veteran community.
Bilingual in both English and Spanish.
The guidance includes a no recovery, no fee promise.
Come to you 24-7 promise anywhere in the county, including Los Angeles and San Diego.
What difference With Service Station Accidents?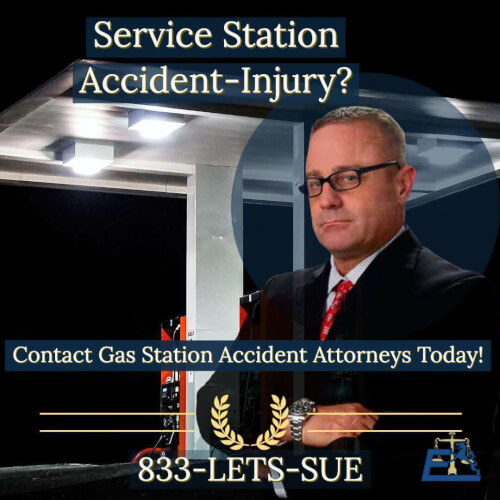 A modern service location may include an electric charging grid, soapy on-site car washes, a self-service diesel or regular filling station, air, water, and restrooms. The adjacent convenience store generally has aisles full of engine lubricants, cookies, soft drinks, snacks, beer, wine, and alcohol.
Homelessness and panhandling problems place customers at risk of dangerous conditions, including stabbings or abduction. The risk of a gas station slip and fall or gas nozzle/slick oil spill is magnified by toxic gases or fuel vapor inhalation.
Occupational hazards and transient assaults occur near gas station pumps. Serious personal injury or wrongful death caused by gas station accidents requires top-notch legal services. Our law firm can help you recover damages.
Most Common Gas Station Incidents
Poor Convenience Store and Pump Area Lighting
In fIn contrast, inadequate lighting at night contributes to many sexual assaults and slip-and-fall injuries. It's irresponsible for store owners to notice potential dangers, not to prevent attacks at their location.
The station operator must illuminate dark or unsafe parking lots. This is a non-delegable duty. It is an additional security measure and a way to keep the property safe from negligence and explosions.
Lack of illumination at the pump dispenser area may cause a fall accident or worse. (For example, spilling fuel, improperly configured pumps, poorly maintained electronics). Gas station owners, companies, and even drivers can be held liable if they failed to exercise reasonable care and you were negatively affected.
Who Can I Sue For California Gas Station Injuries?
Gas Station Owners
You can file a lawsuit against a negligent manufacturer, property owner, and anyone else who breaches their duties. The principal defendants, for example, include over 160,000 filling stations. (US Census Bureau). We hold these parties liable to cover your damages compensation.
Gas station and convenience store owners on notice owe people a duty. These ensure premises occupants, customers, and everyone else stays safe. When a gas station employee or manager is abusive or negligent, court cases can result.
In the USA, the more popular gas station owner defendants include:
ARCO (AM/PM Mini Market)
Speedway LLC
Sheetz, Inc.
Exxon Mobil
Race Trac
Marathon
Chevron
Circle K
Sunoco
Costco
Valero
Shell
Citgo
7-11
Gulf
BP.
Free Consultation
---
Parties Involved in Service Station Accidents Can Schedule An Appointment Today For A Free Consultation. Provide the information below.
Comments. Please message us from anywhere in the State of California. Describe your case with detailed information about any motor vehicles involved. * All Fields Required. Please include your first name, last name, email address, and phone number. This field is for validation purposes and should be left unchanged. Compatible with internet explorer, Firefox, and Google Chrome.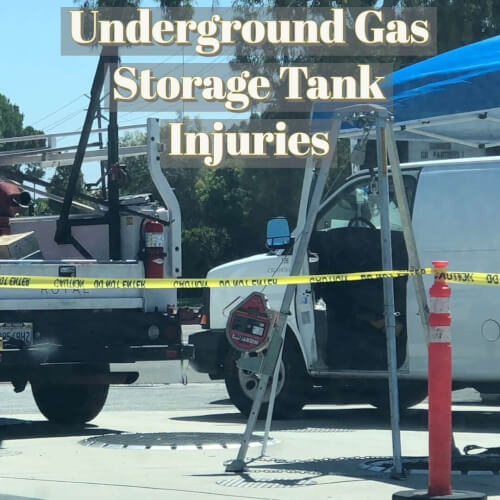 Common Injuries
A health condition can last forever or process healing with time as follows:
Slip and fall, broken bones injuries
Disfigurement
Blindness
Burn Injuries
Gas Station Slip and Fall Accidents.
Slick, slippery ground surfaces cause gas station slip and fall:
Poorly designed and maintained pumping stations endanger everyone. Our slip and fall lawyers know what to do after a gas station slip and fall claim. We can provide a free consultation over your gas station slip and fall case through our website.
Spilled fluids near the restrooms or car wash.
I spilled lubricant on the aisle.
Fuel oil puddled up at stations and pumps.
Slippery ramps that make it difficult to exit the store shed food and drink on the floor.
Gas tank lids (loose or on the floor).
Holes in the ground and throughout the surrounding grass.
Cracked or uneven pavement.
Our experienced gas station slip and fall attorneys are ready to help you in your case today! Could you chat with us 24/7?
Negligent Security – Why Are Gas Station Attacks So Common?
Marketing would make you think you're not in danger at service stations. But these notorious crime magnet scenes. In many personal injury cases, various types of crimes contribute to the injuries at these sites, unlike other business locations.
It may be liable if the business does not take in-store security measures or fails to prevent criminal activity. The industry standard is employing a situational crime prevention plan.
If you are injured in an auto accident or damaged property at a gas station, our office can help settle your claim or file a premises liability lawsuit. Our staff has recovered millions for work-related or other premises liability condition issues.
Defective Gas Pump Nozzles/Hoses
You may be eligible for a design or product defect claim from the equipment manufacturer. The metal portions of gas pumps can malfunction and cause cuts, wrist, arm, or shoulder injuries. A defect can make the filling hose break loose at high pressure.
The gas station must inspect and maintain or replace nozzles and hoses for patrons.
Explosions and Fires Causing Gas Burns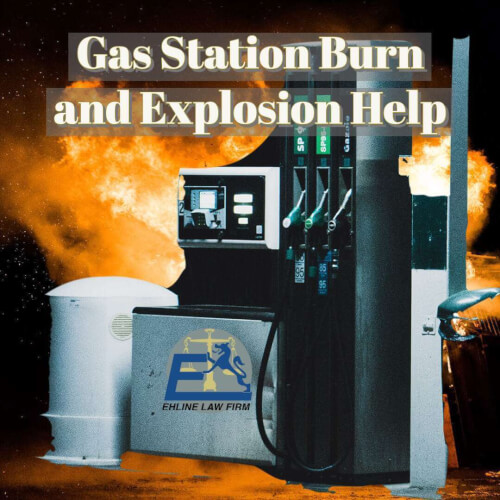 Fuel burns occur through exposure to diesel or gasoline and can be caused by flaws in hoses and gas nozzle handles. Fire incidents in or around gas stations are frequent, with the average incident occurring every five seconds.
Fires kill two people annually and will injure 48 others. One issue is accidental ignition, accounting for 12% of all flames.
Car accidents: Facts show that between 2004 and 2008, an average of 5,020 gas stations compiled fire data. The majority involved passenger cars (82%). About 28% of vehicle fire incident types happened outside service buildings, with some outdoors. Fuel carrier trucks are full of explosive material as they refill underground storage tanks. Fuel hoses and couplings can be compromised. The result is fuel spills and eruptions on the grounds. The owner should be on constructive notice of the condition.
Were you rear-ended in a gas station car accident? Perhaps a hit-and-run driver ran you or a loved one down, entering or exiting a gas station convenience store parking lot? Our compassionate car accident lawyers will tell the customer everything they need to know.
Sometimes failing to inspect for a dangerous condition implies notice and liability of a potential personal injury claim. Our Los Angeles attorneys will seek maximum compensation for one person or your entire family for the following claims.
Bad piping, filters, or flammable rubbish accounted for 18% of ignitions.
Poor electrical wire or cable insulation (including construction defects) accounted for 13%.
Wildfires: 42% of cases involved encroachment of flaming wild vegetation.
Smoking remains the most common outdoor heat source.
If you are injured or have lost a loved one due to a crash, gas station fire, or explosion, our personal injury lawyer can help. We'll thoroughly investigate how much notice the defendants had. We'll evaluate outcome factors like benefits versus risks of loss for your kind of case. Counsel can remove any doubt about your matter.
There is no guarantee you will recover compensation for your medical bills, lost wages, stress, and related injuries, but protecting your interests upfront increases settlements and case value results. Depending on the investigation results, you may have options to recover compensation for serious injuries or wrongful death before a trial.
You can also sue the gas station owner, private security, and third parties. Within Los Angeles County, San Francisco, Northern California, and Southern California, Ehline Law Firm's office will help you and your loved ones.
Steps To Take If Hurt In A Gas Station Convenience Store?
When clients are hurt in a car accident at a gas station, our office will recommend steps to protect their injury claim.
Talk to the manager or person in charge. For example, if you fell or were struck in a collision, the best thing you can do at a gas station is remain at the premises till you can get an accident report or police report. Tell the office, store manager, or employee what happened. (Ex: what led up to your slip, trip, or fall injury) Show them the problem as soon as possible. Get their names in case they can help solve your case while also protecting themselves from getting sued. Evidence of jurisdiction, times, services, or the patron's circumstances improves the settlement process on your behalf for the lawyer handling your case.
Request an incident report: The gas station should have safety policies and procedures to handle preventable customer injuries. If you were hurt or not, ask the store attendant for assistance. Ask them to fill out an incident report. Videotape the person writing down the information. In addition, request a copy of all written incident reports be reproduced and forwarded over immediately.
Take Pictures: Your best course of action when faced with an accident at a gas station is to take plenty of photos of debris, impact, and tire marks and gather the names, contact information, and social media profiles of any witnesses.
Call 911: After car accidents, get a police report if possible. If you need emergency medical care, ask for fire rescue or an ambulance. Insurance companies always ask how long it took the "allegedly" injured claimant to see a doctor. Adjusters will question your injuries and damages unless treated immediately. This is one of the ways they escape paying damages. Sometimes a plaintiff is more seriously injured than believed. Getting medical care and treatment documents everything. The case result for patrons may be a higher settlement or jury verdict amount.
Create a checklist: Include these five questions: Who was involved? What happened? Where did it happen? When did it happen, and why did it happen? If witnesses exist, try and get their names and phone numbers. Ask for a witness's phone number and name. You could even text them your name. Friends and family can help, but independent, impartial observers can maintain objectivity.
Identify surveillance cameras. Almost all gas stations and convenience stores have on-site surveillance cameras. Their goal is to prevent shoplifting and document criminal acts. Injured victims may benefit from this type of case footage by following up with the store owner or insurance company, or it may be destroyed. Your attorney can mail each defendant a letter requesting the preservation of evidence by anyone involved.
Preserve financial loss bills: Collecting proof of harm isn't easy. Save any medical bill, lost time receipt, and worker's comp documentation. Organize your paperwork right to make it easier to level the playing field.
Contact fall attorneys experienced in CA Law: When an insurance policy is at risk, professionals typically defend the gas station, owner, or operator. This firm will defend if someone gets injured at the insured's a gas station or convenience store localities. To protect your rights, you'd be wise to contact our personal injury lawyers in Los Angeles. Make an appointment for potential court case representation. Your lawyer will want you to document any change in your life, typically by journaling in a book or Kindle.
All of this is potential evidence that can help you and our law offices establish legal liability later on down the road. Don't wait to get help, as evidence will disappear, and witnesses can even die. If you want to get properly compensated, you must act quickly. Never deal with an insurance company or defense attorney alone. Never let them obtain your statement without your lawyer present.
California Premises Liability Lawyers Serving the United States
The costs of self-representation in an accident case can be high. If you want to know more after being injured in a gas station or convenience store, call our personal injury attorney at (213) 596-9642 for a free consultation and viewing.
Our licensed counselors can answer questions about your issues. Each team member wants nothing more than to serve diligently and treat you with the respect you deserve during this challenging, uncertain bodily repair period.
Compensation Damages Available
Were you crashed into while filling up your car, or did you slip on a puddle of gasoline mixed with oil and water? Personal injuries can tremendously impact people and their families – financially, emotionally, and physically. After being hospitalized, you could lose time from work, lose your job, or your ability to make a future living. You need to understand that a serious injury to your body can irretrievably damage the quality purposes of your life.
Ehline Law Firm has represented clients injured at gas stations in California in this sort of case, including the following localities and communities of Sacramento, Orange County, and Inland Empire. Don't miss out on your chance for a free consultation to discuss your unique case and learn about your rights as an accident victim.
About Our Attorney Awards, Reviews, and Accolades
The Superlawyers Rising Star Award was awarded multiple times to Michael Ehline from 2006-2015.
Newsweek Magazine awarded its "Premier Personal Injury Attorneys" award to Ehline Law Firm's attorneys in 2015.
CNN interviewed Michael Ehline about cruise ship law, and he was a guest on NBC discussing limousine law practice areas. Michael was also interviewed by Nancy Grace on CBS, discussing his expertise in California dog bite law.
Our years of experience can help you hold all the negligent parties liable for causing your damages.
How Victims Injured At Gas Stations Get a Free Consultation From An Attorney?
Our superior attorneys are also available by appointment in our California offices to discuss your event. Our firm now has an office in Bakersfield, CA. We will address your concerns with skill, no matter your status or class.
Our firm will never charge you a dollar unless we acquire financial compensation. We offer full representation experience to all victims of negligent behavior, including slip and fall injuries.
Call a gas station liability injury lawyer. Every detail of your confidential and sensitive information will be safe. Dial (213) 596-9642, or try sending a text message. You can also use our online message contact form to send the details. Or use our toll-free 24-7 attorney information hotline in the sidebar.
We Proudly Serve These Los Angeles Locales
Proudly serving the following Los Angeles zip codes: 90001 / 90002 / 90003 / 90004 / 90005 / 90006 / 90007 / 90008 / 90009 / 90010 / 90011 / 90012 / 90013 / 90014 / 90015 / 90016 / 90017 / 90018 / 90019 / 90020 / 90021 / 90023 / 90024 / 90025 / 90026 / 90027 / 90028 / 90029 / 90030 / 90031 / 90032 / 90033 / 90034 / 90035 / 90036 / 90037 / 90038 / 90039 / 90041 / 90042 / 90043 / 90044 / 90045 / 90046 / 90047 / 90048 / 90049 / 90050 / 90051 / 90053 / 90054 / 90055 / 90056 / 90057 / 90058 / 90059 / 90060 / 90061 / 90062 / 90063 / 90064 / 90065 / 90066 / 90067 / 90068 / 90069 / 90070 / 90071 / 90072 / 90073 / 90074 / 90075 / 90076 / 90077 / 90078 / 90079 / 90080 / 90081 / 90082 / 90083 / 90084 / 90086 / 90087 / 90088 / 90089 / 90090 / 90093 / 90094 / 90095 / 90099 / 90189 / 90210 / 90211 / 90213 / 90230 / 90232 / 90247 / 90248 / 90272 / 90290 / 90291 / 90292 / 90293 / 90294 / 90295 / 90296 / 90402 / 90501 / 90502 / 90710 / 90717 / 90731 / 90732 / 90734 / 90744 / 90748 / 90810 / 90813 / 91040 / 91041 / 91042 / 91043 / 91214 / 91225 / 91303 / 91304 / 91305 / 91306 / 91307 / 91308 / 91309 / 91311 / 91313 / 91316 / 91324 / 91325 / 91326 / 91327 / 91328 / 91329 / 91330 / 91331 / 91333 / 91334 / 91335 / 91337 / 91340 / 91342 / 91343 / 91344 / 91345 / 91346 / 91352 / 91353 / 91356 / 91357 / 91364 / 91365 / 91367 / 91371 / 91388 / 91393 / 91394 / 91395 / 91396 / 91399 / 91401 / 91402 / 91403 / 91404 / 91405 / 91406 / 91407 / 91408 / 91409 / 91410 / 91411 / 91412 / 91413 / 91416 / 91423 / 91426 / 91436 / 91470 / 91482 / 91495 / 91496 / 91497 / 91499 / 91504 / 91521 / 91522 / 91601 / 91602 / 91603 / 91604 / 91605 / 91606 / 91607 / 91608 / 91609 / 91610 / 91611 / 91612 / 91614 / 91615 / 91616 / 91617 / 91618
.
Michael Ehline is an inactive U.S. Marine and world-famous legal historian. Michael helped draft the Cruise Ship Safety Act and has won some of U.S. history's largest motorcycle accident settlements. Together with his legal team, Michael and the Ehline Law Firm collect damages on behalf of clients.
We pride ourselves on being available to answer your most pressing and difficult questions 24/7. We are proud sponsors of the Paul Ehline Memorial Motorcycle Ride and a Service Disabled Veteran Operated Business. (SDVOB.) We are ready to fight.