If we don't win, you don't pay.
Speak to the Attorney.
Born to serve.
633 W 5th Street #2890
Los Angeles, CA 90071
(213) 596-9642.
Date Modified: April 9, 2023
Ehline Law Firm's superior Rancho Palos Verdes car accident attorneys serve South Bay accident victims.
Our auto accident attorneys promptly provide crash victims with status reports, keeping them in the loop on a contingency fee basis since 2005.
Did you suffer Rancho Palos Verdes car accident injuries in a rear-end collision or another traffic wreck?
If you sustained injuries in a Rancho Palos Verdes car accident, call our personal injury firm at (833) LETS-SUE.
Rancho Palos Verdes Car Accident Attorneys
Legal Support for Accident Victims Across California.
---
Why Choose Our Top Rated Rancho Palos Verdes Team?
Our experienced Southern California car accident attorneys are respected in the local community and have won multiple awards for our years of service. We represent clients injured and their loved ones injured in auto accidents in many ways.
We have one goal, getting you the best results. The cost to cope with intrusive medical treatment, hospital medical expenses, rentals, lost wages, repair bills, and painful, steep debt stress can ruin your life.
How Our Local Lawyers Help
Our Southern California auto collision attorneys remain 100% committed to lowering accident victim tension and further injuries throughout the legal claims process. These award-winning lawyers have been acknowledged for their years of car accident case experience.
We have helped thousands of injury victims in motor vehicle crashes stabilize their lives. We can win any type of traffic accident claim against an at-fault party. Our attorneys aggressively handle claims for damages. Our legal services include attending meetings, filing lawsuits, and fighting for favorable jury decisions.
Additionally, our team members have won millions in verdicts and settlements. An accident victim who follows our law firm's attorneys every step of the way reduces their risks of receiving a lower money damages recovery from the vehicles involved. (Commercial trucks, buses, taxis, etc.) We'll make all at-fault parties involved cover the accident claim for injured victims.
Proven Track Record
Our highly compassionate team maintains a proven track record of success in other cases, winning over $150 Million in verdicts and settlements.
Our contingency basis lawyer has deep legal knowledge.
Our work lobbying congress for traffic safety and litigating tort claims lets us push for better solutions.
Our volunteerism advocacy helps us stay abreast of the latest statutory law changes for people injured in an accident.
We're on the cutting edge of transportation and safety laws related to Rancho Palos Verdes car accidents.
Leadership And Convenience
Our top Rancho Palos Verdes Car Accident Attorney team will personally explain everything to car accident victims step by step. After you accept our legal representation, you'll have strong, diligent legal representation by your side.
We maintain multiple fully-staffed offices throughout the United States, including Southern California, San Francisco, San Bernardino, Riverside, and San Diego, with full shuttle service. Our best lawyers can even help injured victims in Greater Los Angeles County recover damages from Orange County locations like Santa Ana.
Our private eye and team members will travel to Playa del Rey, Long Beach, or Torrance. We have the trial advocacy know-how and money to meet any challenge 24/7. Contact our law firm today for a free consultation.
Many victims can learn whether they want to hire us for Southern California legal representation or not right over the phone. (833) LETS-SUE.
Car Crashes, Survivor Guilt, And Auto Collisions?
You can counter your depression by retaining a turbo-charged car accident legal representative after your motor vehicle accident injuries. Our car accident lawyers have a keen grip on the survivor's guilt many auto accident victims face.
Our skilled lawyer and staff will create a guilt-free trajectory, guiding you and your loved one's car accident to recover compensation for a more significant amount.
We've handled hundreds of damages cases with many vehicles involved in a car accident.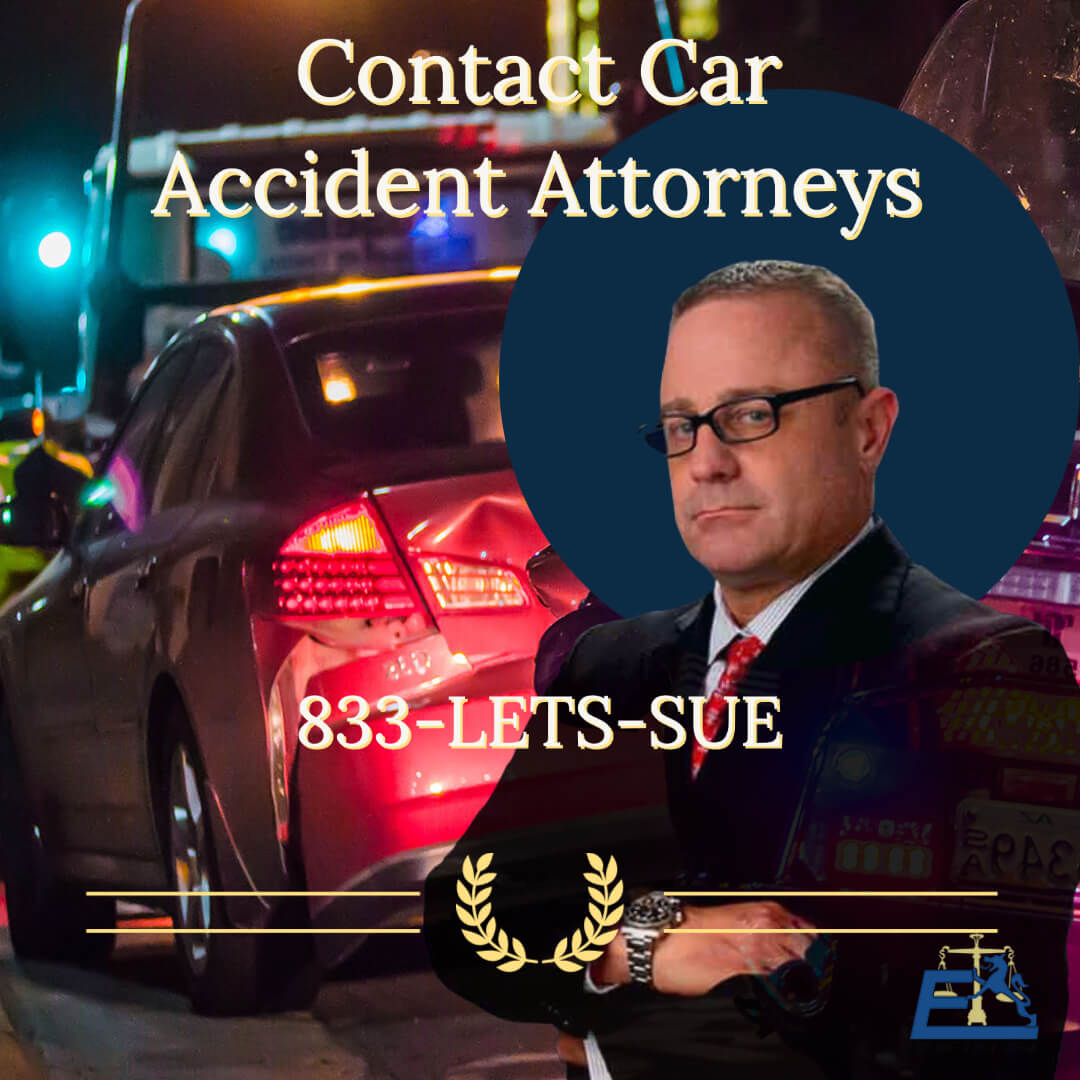 (Different types of car accidents, including bicycle, pedestrian, skateboard, or motorcycle accidents). Were you or your family members rear-ended in a drunk driving incident? Want the best possible outcome for your circumstances? Before recovering damages, determining fault is your first step.
Win compensation for your car accidents. Call us today. Speak with an accident lawyer in Rancho Palos Verdes who is willing to give you the personal attention you deserve is a good idea. Clients love us for a reason. Insurance carriers hate us. Don't let insurance companies give crash victims a raw deal.
After treating your doctor for ongoing medical care, call us by dialing (833) LETS-SUE for more information about car crashes. Get the compensation you deserve in all types of motor vehicle accidents.
Most Common Causes Of Automobile Accidents
Our most experienced lawyer doesn't just handle driving under the influence hit-and-run cases on a contingency fee basis.
We recover compensation in the following types of car and road traffic accidents:
T-bone / Side Impact Crashes
Drunk Drivers
General Negligence
Single Car Accident Claim
Sideswipe accident Rear-end Collisions
Head-on Collision
Vehicle Rollover
Speeding Car Accidents.
More Rancho Palos Verdes Practices Areas
Statute of limitations For Car Accidents
Your bodily injury deadline requires you and survivors to sue someone within two years from the crash date. Exceptions may apply to shorten or lengthen this two-year time.
Car wreck survivors have three years to file a lawsuit for damaged property. But unfortunately, suing the government shortens the period. (usually six months). You can trust our auto accident lawyer to determine everything on your behalf.
Common Injuries In Car Accidents
Our Greater Rancho Palos Verdes area injury attorneys have the legal expertise to help crash victims with motor vehicle fatalities and common car accident injuries, including:
Open fracture femur breaks, broken ankles, skull or pelvis cracks
Missing digit: nose, ear, fingertip, or foot amputation
Deflation injury/collapsed lung
Open cuts, scars, and wounds
Facet Joint Syndrome
Edema swelling joints
Hairline fractures
Whiplash/cervical lordosis
Migraines
Friction Burns
Scrapes or cuts
Cracked ribs
Aching Joints
Slipped disk
Bruising
Scratches
Bleeding
Head Injuries, including traumatic brain injuries.
Claims for Permanent Injuries
You Must Seek Medical Attention
Never self-diagnose your injuries, even if you think you received only minor, common car accident injuries like whiplash caused by your car crash. Talk to our best car accident lawyers in Rancho Palos Verdes, CA. Our team will stress the importance of you receiving medical treatment right away for all car accidents.
Now you'll have medical bills and documentary evidence of the crash. You will never recover maximum compensation when you wait multiple weeks before visiting a physician or medical professional for symptom treatment. Proving your whiplash injuries that arose during the car accident will be significantly hindered without incurring medical expenses.
Additionally, whiplash can cause severe spine injuries, nerve damage, internal organ damage, or paralysis. It's in your best interest to hire car accident lawyers to help you every step of the way.
Your doctor's orders may be to visit another physician and other medical professionals. We represent injured clients seeking reimbursement from the other driver or at-fault party.
Our superior advocates fight for reasonable care and damages covering your doctor's appointments, using their financial resources and legal system to your advantage.
We help clients obtain money for medical bills and expenses like:
Prescription drugs
Surgery, hospitals
Rehab, mental health
Chiropractors
Massage therapy
Physical therapy, or
Valuable items like neck braces, walkers, crutches, or wheelchairs are prescribed by a medical professional.
Damages?
Following your doctor's advice helps you obtain maximum financial compensation for damages.
Lost Wages from Car Crash?
Be prepared to suffer a huge loss in the past, and future lost wages in all minor and major collision cases. Lost income, especially future earnings, can bankrupt families. We'll do an amazing job on your accident case immediately.
Additionally, we can help you file claims for unemployment and even SSI for an extended period.
Property damage claims include vehicle damage compensation even if you weren't hurt. This helps replace or repair vehicle accidents.
Special Damages In Vehicle Accidents
Sometimes punitive damages are paid for personal injury claims.
An educated attorney can help estimate your total losses so you can recover payments you made by adding up bills, receipts, pay stubs, proof of self-employment income, surgery, and car repairs.
Pain And Anguish from Crashes
We help clients recover general damages and other expenses like:
Mental anguish or emotional distress non-economic damages
Loss of enjoyment of life
Disfigurement
Bother.
Suppose you or a loved one suffered an ongoing catastrophic injury or someone passed away from wrongful death. In that case, you need legal counsel's help dealing with the other driver, their employer, or government agency. Don't say anything about your case until you retain legal counsel at Ehline Law.
We help people in Rancho Palos Verdes, CA, seek compensation. We help prevent clients in car accidents from taking less than the actual financial value of their auto collision cases. We are also Rancho Palos Verdes motorcycle accident attorneys and bicycle crash lawyers. Hiring our first-rate staff today will provide faith you hired the best Rancho Palos Verdes car accident lawyers for the job.
If you lost a loved one from a negligent driver's actions, we'd guide any accident victim through the scary California law insurance claims process. Our very best personal injury attorney won't let the defendant ignore your serious car accident claim. We'll even come to the accident scene. Find out about an attorney-client relationship today.
Third-Party Payment Options
When government entities created dangerous conditions like an unsafe roadway, a trained Rancho Palos Verdes car accident lawyer can explain whether the City of Rancho Palos Verdes faces roadway hazard liability.
Third parties might contribute financially if a car part manufacturer's faulty product defects or recalled product was the problem (defective airbag, etc.). Our top Rancho Palos Verdes area trial lawyer reviews the evidence, explaining potential financial outlets providing product liability payments.
Particular Problem: Not having basic auto insurance can prevent you from securing pain and suffering damage payments.

Awards, Reviews, Accolades
The Southern California Super Lawyers Rising Stars award was awarded multiple times to Michael Ehline from 2006-2015.
Newsweek Magazine awarded us its "Premier Personal Injury Attorneys" award in 2015.
CNN interviewed Michael Ehline about cruise ship law, and he was a guest on NBC discussing limousine law practice areas. Michael was also interviewed by Nancy Grace on CBS, discussing his expertise in California dog bite law.
Our years of experience can help you hold all the negligent parties held liable for causing your damages.
Get A Free Consultation From A Car Accident Attorney In Rancho Palos Verdes
Were you injured in a car accident? Our compassionate team stands ready to offer you legal assistance first thing. Our business is making lives better. Whether you suffered a head-on collision, were sideswiped, T-boned, or were on foot and need a pedestrian accident attorney, our firm works 24-7 in nearby cities.
Don't accept the first offer. Never try to recover any amount of compensation from the insurance claims adjuster without receiving legal advice explaining the entire legal process.
After your free case evaluation, our best lawyers meet you at the crash site and negotiate accidents with the responsible insurance carriers. You and your legal options remain our top priority. Speak with a professional attorney. Dial (833) LETS-SUE. Call us today for a free consultation.
Or use our online website contact form to report motor vehicle accidents. Clients throughout L.A. can transmit your detailed contact information for your free consultation online.
Proudly serving the following Rancho Palos Verdes zip codes: 90001 / 90002 / 90003 / 90004 / 90005 / 90006 / 90007 / 90008 / 90009 / 90010 / 90011 / 90012 / 90013 / 90014 / 90015 / 90016 / 90017 / 90018 / 90019 / 90020 / 90021 / 90023 / 90024 / 90025 / 90026 / 90027 / 90028 / 90029 / 90030 / 90031 / 90032 / 90033 / 90034 / 90035 / 90036 / 90037 / 90038 / 90039 / 90041 / 90042 / 90043 / 90044 / 90045 / 90046 / 90047 / 90048 / 90049 / 90050 / 90051 / 90053 / 90054 / 90055 / 90056 / 90057 / 90058 / 90059 / 90060 / 90061 / 90062 / 90063 / 90064 / 90065 / 90066 / 90067 / 90068 / 90069 / 90070 / 90071 / 90072 / 90073 / 90074 / 90075 / 90076 / 90077 / 90078 / 90079 / 90080 / 90081 / 90082 / 90083 / 90084 / 90086 / 90087 / 90088 / 90089 / 90090 / 90093 / 90094 / 90095 / 90099 / 90189 / 90210 / 90211 / 90213 / 90230 / 90232 / 90247 / 90248 / 90272 / 90290 / 90291 / 90292 / 90293 / 90294 / 90295 / 90296 / 90402 / 90501 / 90502 / 90710 / 90717 / 90731 / 90732 / 90734 / 90744 / 90748 / 90810 / 90813 / 91040 / 91041 / 91042 / 91043 / 91214 / 91225 / 91303 / 91304 / 91305 / 91306 / 91307 / 91308 / 91309 / 91311 / 91313 / 91316 / 91324 / 91325 / 91326 / 91327 / 91328 / 91329 / 91330 / 91331 / 91333 / 91334 / 91335 / 91337 / 91340 / 91342 / 91343 / 91344 / 91345 / 91346 / 91352 / 91353 / 91356 / 91357 / 91364 / 91365 / 91367 / 91371 / 91388 / 91393 / 91394 / 91395 / 91396 / 91399 / 91401 / 91402 / 91403 / 91404 / 91405 / 91406 / 91407 / 91408 / 91409 / 91410 / 91411 / 91412 / 91413 / 91416 / 91423 / 91426 / 91436 / 91470 / 91482 / 91495 / 91496 / 91497 / 91499 / 91504 / 91521 / 91522 / 91601 / 91602 / 91603 / 91604 / 91605 / 91606 / 91607 / 91608 / 91609 / 91610 / 91611 / 91612 / 91614 / 91615 / 91616 / 91617 / 91618.
Michael Ehline is an inactive U.S. Marine and world-famous legal historian. Michael helped draft the Cruise Ship Safety Act and has won some of U.S. history's largest motorcycle accident settlements. Together with his legal team, Michael and the Ehline Law Firm collect damages on behalf of clients.
We pride ourselves on being available to answer your most pressing and difficult questions 24/7. We are proud sponsors of the Paul Ehline Memorial Motorcycle Ride and a Service Disabled Veteran Operated Business. (SDVOB.) We are ready to fight.