If we don't win, you don't pay.
Speak to the Attorney.
Born to serve.
633 W 5th Street #2890
Los Angeles, CA 90071
(213) 596-9642.
2323 S. Voss Rd, Suite 244
Houston, TX 77057
(832) 592-1260.
Date Modified: May 28, 2023
Hello, I am Michael Ehline with Ehline Law Firm. I help victims involved in bicycle accidents who need help getting money from the insurance company. I ride bicycles in the San Francisco Bay area, as well as Orange County and Redondo Beach, CA. As a parent and avid rider, I knew that victims injured while riding could never possibly be able to interrelate with a non-riding attorney. And this is why we set up this blog. We are the California bicycle riders' friends when they must bring bicycle accident cases and need help as they seek medical attention and fair compensation.
The Ehline Law firm has recovered money damages in the multiple millions of dollars for victims of serious injuries. If someone ran a stop sign and ran you over, we are the law firm you contact in Torrance, Fresno, San Diego, and Downtown Los Angeles. We are not just lawyers seeking liability coverage for a bicycle accident case. We go for just compensation and will take our time to do it right! Our most experienced attorneys and talented staff are into physical fitness and California law experts in obeying traffic laws and avoiding car accidents.
We feel what our clients go through when they are down and out due to a tragic wreck they did not cause. We have had several close calls too. Hence, accident lawyer Ehline set up this landing page to answer some of the most frequently asked questions injured riders have about insurance policies and recovering damages. In the end, you will be given a chance to schedule a free consultation about obtaining financial compensation.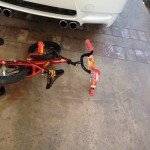 BMW runs over the bicycle with training wheels
Here Are Our Relevant Bicycle Law FAQs
There are some common questions that many cyclists have after an accident on a two-wheeled vehicle, which most often needs answers. Contact a bicycle attorney to answer more questions, but read the comprehensive list below first.
Q: What should I do after a bicycle accident?
A: Your safety should be your top priority after a bicycle accident. Seek medical attention if necessary, and call the police to report the bicycle accident. Gather information from the other parties involved, including their names, addresses, phone numbers, license plate number, and insurance information. Take photos of the scene, including photographs of the damage to your bicycle or other vehicles, including intersections, any pothole, or other obstacles you may have struck during the bike accident. Contact an experienced attorney to discuss your legal options to pursue the party at the blame for causing your serious injuries or fatalities.
Q: Can I recover compensation for my injuries?
A: If you were injured in a bicycle accident due to someone else's negligence, you may be able to recover compensation for your medical expenses, lost wages, pain and suffering, and other damages. An experienced bicycle accident attorney can help you navigate the legal process and determine your eligibility to recover damages for compensation. A governmental entity may also be liable, so make sure a lawyer is ready to answer questions.
Q: Who can be held liable for a bicycle accident?
A: Liability for a bicycle accident may rest with the driver of a motor vehicle, the manufacturer of a defective bicycle or bicycle part, a government entity responsible for maintaining roads and bike lanes, or other parties. An attorney can help you identify all potentially liable parties and pursue compensation from them.
Q: How long do I have to file a bicycle accident claim?
A: The statute of limitations for filing a bicycle accident claim varies by state and jurisdiction. In California, for example, you generally have two years from the date of the accident to file a personal injury claim. However, the sooner you contact an attorney, the better your chances of securing a favorable outcome.
Q: How can a bicycle accident attorney help me?
A: A bicycle accident attorney can provide valuable legal advice and representation throughout the claims process. If necessary, an attorney can investigate the accident, gather evidence, negotiate with insurance companies, and advocate for your rights in court. An attorney can also help you understand your legal options and make informed decisions about your case.
Q: How Much Is the Consultation?
The initial consultation by a Los Angeles personal injury attorney is usually free of charge. And if there is a legal case, the attorney works on a contingency fee basis.
Q: What is a Contingency Fee in a Bicycle Case?
Personal injury attorneys work on a contingency fee. In other words, a percentage of the monetary compensation goes to the lawyer instead of paying the lawyer upfront. The rate your advocate typically gets is between 33 1/3% to 40% for their services. Learn more about contingency fee agreements and pay structures here
Q: How Much is My Bicycle Injury Case Worth?
Each case is different. And the injuries always vary depending on the victim. As such, so will the length of time it takes to heal. The damages awarded depend on several things. The injuries themselves are categorized based on whether there will need to be ongoing care or surgery. Such is the case with broken bones, head injuries, and spinal injuries. Some injuries cause permanent scarring and even torn cartilage. So all of those factors into the compensation awarded. More severe injuries will include loss of earnings and possible disability that can be permanent.
Q: How Long Will My Case Take?
Important: As many as 90% of Ehline Law's cases become resolved in the client's favor within nine months of the accident. Of course, this sounds like a considerable amount of time. But the claims that proceed to trial can take three years or longer before finality.
But the property damage portion of the case takes much less time. It remains possible this part of the case will resolve within six weeks. Most of all, this allows cyclists to replace their damaged bicycles.
Q: Will it be Necessary to Testify in Court?
Testimony is heard when claims end up in court. However, most personal injury cases for injured cyclists get settled before filing a lawsuit. So it remains important to investigate the bicycle accident as soon as possible. Most of all, you must monitor the insurance adjuster. Staying on top of things now will help to build a strong claim. Also, it encourages the defendant to settle the claim without going to court.
A bicycle injury claim can get resolved in a "Mini-Trial" or "mediation"/ "arbitration." So if it is heading toward a court hearing, this may end it. This is a process where a retired judge or practicing attorney hears the claim, reviews witness statements (did anyone admit guilt, are the expert reports over design defects?), and evidence like medical bills and evidence of emotional pain. In most cases, testimony is received from key witnesses. Other evidence can be submitted in documents. So this means items such as medical reports and other personal records typically.
This does not permanently mean the other party will settle a claim; some will proceed to a full trial. But most applications can be resolved this way and avoid court. They may take between two and three hours instead of four or five days in court and their findings of fault, or lack thereof remains confidential whether the case settles or not.
Q: Can Attorney Ehline Represent an Injured Cyclist in Another State?
Yes, bicycle accident attorney Ehline works in association with lawyers outside of California to help with any bike accident. And this is lawful, even though his law license is only valid in California. Some laws allow attorneys to work in association with attorneys from other states. As a personal injury lawyer, Michael P. Ehline, Esq., has participated in claims in Florida, Nevada, Washington, and other conditions. We can help you pursue a government entity for poor maintenance of a bike path, which caused you to have head injuries or other problems caused by the negligent party.
Q: Why is it Important to Hire this Law Office?
When injured, it is essential to have the representation of an experienced cyclist who also represents victims as counsel.
Ehline is a lawyer who rides a bicycle down the Venice Beach bike path in California at least three days per week. He understands how accidents can occur from the rider's point of view rather than from a motor vehicle driver's point of view.
The experienced traffic injury lawyer, Mike Ehline, has a proven track record in representing bicyclists against government entities and any responsible party who hurt bicyclists.
Hiring A Legal Representative
Did you get run over by a hit-and-run driver and think you cannot get compensation? Are you confused about the complicated legal process in California or how much compensation you can obtain? Call now to contact a bicycle lawyer if you wish to obtain an award of maximum compensation. Our talented team of professional and aggressive bicycle accident lawyers will review your medical treatment and discuss your chances of victory in your individual case.
Get justice now with help from a proven bicycle accident lawyer. Never delay in getting help for injuries on a bike from an experienced lawyer immediately. Any delay can ruin your chances of pursuing the parties involved if you wish to seek financial compensation. But be swift and don't procrastinate, as evidence and witnesses can disappear, and the statute of limitations can expire can expire in a bicycle accident case. Don't leave money damages on the table. Our attorney hotline is (213) 596-9642 and we can also be contacted for a short, risk free virtual consultation online for our first client meeting.
Accident Resources:
Here are some additional answers to frequently asked questions:
Michael Ehline is an inactive U.S. Marine and world-famous legal historian. Michael helped draft the Cruise Ship Safety Act and has won some of U.S. history's largest motorcycle accident settlements. Together with his legal team, Michael and the Ehline Law Firm collect damages on behalf of clients.
We pride ourselves on being available to answer your most pressing and difficult questions 24/7. We are proud sponsors of the Paul Ehline Memorial Motorcycle Ride and a Service Disabled Veteran Operated Business. (SDVOB.) We are ready to fight.