If we don't win, you don't pay.
Speak to the Attorney.
Born to serve.
633 W 5th Street #2890
Los Angeles, CA 90071
(213) 596-9642.
2323 S. Voss Rd, Suite 244
Houston, TX 77057
(832) 592-1260.
Date Modified: November 19, 2023
When we think of stabbings at sea, many of us think of swashbuckling pirates, not a drunk cruise ship passenger shaking other aboard. There has been more than one Federal Bureau of Investigation into the passenger stabbings aboard a cruise. A passenger was stabbed on a return voyage to Norfolk, Virginia, just a few days ago. Carnival Cruise Lines owns the cruise ship in question, the Carnival Magic. This is the place where the stabbing happened. The cruise ship passengers had been aboard the Carnival Magic. At some point, they were stabbed by an assailant multiple times in the ship's theater.
I am a Los Angeles-based cruise ship lawyer and lead attorney, Michael Ehline. I used to live on a ChrisCraft cabin cruiser, and I was also a U.S. Marine. I grew up surfing Huntington Beach and Newport Beach, CA, and am connected to the water in my soul. I understand the attractions of adventure and the dangers some crewmembers and guests seek of being at sea.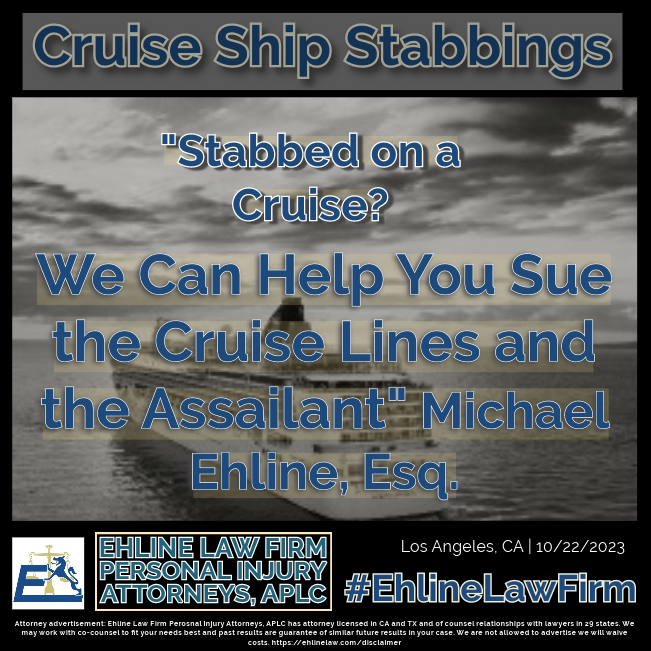 As a personal injury attorney, I also understand how free-flowing alcohol, bikinis, wet floors, and children can end up in a mass disaster. I used to assist the late Ken Carver of ICV, lobbying Congress on behalf of International Cruise Victims, and assisted in writing informative parts of the Cruise Ship Safety Act as a lawyer.
I have over 18 years of experience as a California maritime law lawyer and personal injury attorney. I have been speaking at events involving Traffic Safety and Law Office Study since 2005 and am internationally recognized for my knowledge and professionalism as a cruise victim's advocate. In my work as a personal injury attorney in the USA, I have litigated cases against Princess Cruises in Los Angeles and co-chaired cases against Carnival cruise ships and others on behalf of injured victims. I have won some landmark verdicts and settlements, even for car accident claims offshore, not just cruise ship accidents.
If it involves a brain injury or spinal cord injury, Ehline Law Firm Personal Injury Attorneys have been involved, and we have the resources to score decisive victories. Together with my staff and legal team, I have recovered millions for crew members, car accident victims, and pretty much anyone else hurt in Southern California.
We are highly elite and highly motivated to use our skills to win you maximum compensation under the law when you get hurt at sea, or someone passes away. I wrote this article to help potential victims not become real victims before leaving the shores of Los Angeles, CA, Miami, Galveston, or other ports. This piece will focus on fellow guests' stabbings against fellow guests while at sea.
Understanding Cruise Ship Stabbings
Besides rape claims, crimes of violence are among the best-kept secrets of the cruise industry world. When you embark on a cruise from Los Angeles or another jurisdiction, you seek relaxation, adventure, and memorable experiences. Unfortunately, no one ever boards a cruise ship expecting to suffer a slip and fall, face violence, being raped and thrown overboard.
But it happens on Princess Cruises and Carnival Corporation. And stabbings happen, too. In the rare event of a cruise ship stabbing, cruise ship injury victims probably assume that surveillance video, witness statements, and other info would be readily available. But alas, you will need legal advocates to help navigate the complex legal waters in and out of Los Angeles, California ports.
Our experience has been that the cruise defense bar does not always play fair. At Ehline Law Firm Personal Injury Attorneys, APLC, we specialize in providing legal support and guidance to victims of cruise ship stabbings in Texas and Downtown Los Angeles, California.
With our extensive experience and proven track record, we are here to ensure that you receive the justice and compensation you claim that you deserve from a personal injury lawyer.
Cruise Ship Stabbings in the News: A Growing Concern for the World
Since our personal injury law firm has handled these cases, one thing has gone up—alcohol-driven violence. As cruise ship vacations have surged in popularity recently, violent crimes such as stabbings have increased, too. These incidents can occur for various reasons, and holding those responsible accountable civilly and criminally for their actions is vital. Victims are often stymied by their ticket contract and the gamesmanship of the cruise ships themselves in playing hide the ball with valuable evidence.
At Ehline Law Firm, we have seen these incidents' devastating effects on victims and their families. We aim to provide support, guidance, and expert legal representation. We will hold your hand throughout the process. We will fight hard to hold the cruise line companies and others accountable for permanent injuries or wrongful death, or we take no attorney fees for our time.
2023 – The Carnival Magic Eight-day Cruise to Canada and New England Example
We typically think of men overboard when we think about wrongful death claims and cruise ships. From Star Princess to Crown Princess, the more common injuries injury lawyers handle are, in fact, fall injuries, pool drowning, child sexual assault, and man overboard cases. However, our venerable accident attorneys wanted to show you a few examples of cruise ship clients suffering knife attacks while at sea.
"There was an incident on Carnival Magic on Friday evening involving a guest attacking another guest with a bar glass while in the theater," said a statement by Carnival Cruise Lines sent by phone to Newsweek. "The victim received treatment from the medical team, and the assailant was confined to his room for the remainder of the cruise."
The victim's identity remains undisclosed to the public, and information regarding their condition and the extent of their injuries is currently unavailable. The FBI started investigating the stabbing, and they will enforce any laws. The passenger responsible for the stabbing has been permanently barred from embarking on any future Carnival cruise ships. Per the company's established protocol, a security team member should have been stationed outside the cabin.
"The FBI and local law enforcement were contacted and boarded the ship upon its arrival to Norfolk on Sunday morning to conduct an investigation." But the above statement in plain English does not give you a lot of faith in security."
Carnival Cruise Lines Cruise Ships Says:
"Carnival security and medical officials fully cooperated with law enforcement should the guest decide to press charges. We have zero tolerance for this kind of behavior, and the assailant guest has been permanently banned from sailing on Carnival in the future, but this is now a matter for law enforcement."
Carnival Cruise Lines, among the worst when it comes to crime, made an earlier announcement this year about better security services. It plans on pursuing more professional security measures on its vessels to deal with the rise in incidents of unruly passenger behavior. Our best accident attorney, Michael Ehline, has been lobbying for years to stop needless losses of life, and he hopes this will be the straw that breaks the camel's back.
A spokesperson for the FBI told Newsweek:
"I can confirm FBI Norfolk is investigating an assault on the cruise ship. The FBI typically has jurisdiction to investigate incidents on the high seas and works to collect the evidence and facts of cases. I have no further details beyond that to provide at this time." (Source, Newsweek.)"
This particular cruise marked the final voyage of the year for the Carnival Magic departing from Norfolk. The ship is scheduled for one more trip to the Caribbean this year before its hiatus until 2025. A fellow passenger who was on board during the incident at the ship's theater shared her account, characterizing the episode as "terrifying."
"Out of nowhere, we heard this horrifying scream, multiple screams, louder than the production itself," she stated as she recounted the incident to the television station, specifying that it occurred during a production onboard the ship.
"When they turned on the light, everybody on that side of the theater was scampering around trying to get out of the way," according to the passenger. We were on the opposite side of the theater and had no idea what was happening over there. Still, I knew it wasn't anything good."
How many cruise ship murders happen a week?
While cruise ships have detention facilities, their presence does not guarantee the prevention of criminal activities or privacy breaches. With an annual passenger count of approximately $30 million, the reported 200 deaths equate to a ratio of 1 in 150,000 passengers. Statistically, this translates to an average of around 3 to 4 deaths per week. Although most cases we help with are in Texas and Florida, the risks are the same for all parties involved from Europe. The sad part is that winning your case largely depends on your crew member, passenger, or bystander status.
It's important to emphasize that while cruise ship murders are sporadic, they are not nonexistent. In most cases, these tragic events involve perpetrators with a pre-existing relationship with the victim, often characterized by escalated arguments or a history of abuse. This serves as a reminder that safety precautions and conflict resolution measures are paramount in ensuring passenger well-being at sea. Emma. (n.d.). What Happens If You Die on a Cruise Ship? Emma Cruises. https://emmacruises.com/die-on-cruise-ships/
Common Injuries From Stabbings?
Common injuries resulting from stabbings can vary in severity depending on the attack's force, the wounds' location, and the type of weapon used. Bringing lawsuits on behalf of a client for assault, battery, or death won't be a problem. However, jurisdiction and venue must be established, and it must be done within the time limits.
Some typical injuries include:
Puncture Wounds: Stabbing injuries often result in puncture, deep, narrow wounds caused by a sharp object piercing the skin and underlying tissues.
Bleeding: Stabbings can lead to significant bleeding, especially if major blood vessels or organs are affected. Severe bleeding can be life-threatening.
Damage to Organs: Stab wounds can damage internal organs, which may lead to severe complications, infection, or organ failure.
Infection: Any penetrating injury, including stabbings, carries a risk of infection. Bacteria from the skin or the weapon can enter the wound, potentially causing a localized or systemic infection.
Nerve Damage: Stabbings can damage nerves, resulting in loss of sensation or function in the affected area. But a stabbing can also sever nerves and cause spinal cord injuries, affecting balance and motor skills. Nerve injuries may be temporary or permanent.
Scarring: Stab wounds often leave physical and psychological scars on the victim.
Psychological Trauma: Survivors of stabbings may experience psychological trauma, including post-traumatic stress disorder (PTSD), anxiety, and depression.
Muscle and Tendon Injuries: Stabbings can damage muscles and tendons, affecting mobility and function in the injured area.
Fractures: In some cases, a stabbing may result in broken bones if the weapon used is forceful enough.
Hematomas: Accumulation of blood in the wound site can lead to hematomas, which are painful and may require medical attention.
It's essential to seek immediate medical care if you or someone else has been stabbed. Prompt treatment can minimize complications and long-term damage. Additionally, reporting the incident to law enforcement is crucial for investigating and preventing future violence.
Older Examples of Cruise Ship Stabbings
2022 – Crewmate Stabbed at the Port of Long Beach
In an incident that occurred on October 26, 2022, at the Port of Long Beach, a dispute between two crewmembers took a dangerous turn. The Long Beach Police Department reported that the altercation escalated, ultimately resulting in one crew member stabbing the other at 1:45 AM on a Monday.
The victim sustained a stab wound on his upper body, although it was not life-threatening. Paramedics promptly attended to him, and he was transported to a nearby hospital, where his condition was later declared stable. The incident was reported to the police and occurred in the 1000 block of Pier G at the Port of Long Beach. The suspect, identified as Anali Nanto, a 48-year-old Indonesian national, has been taken into custody and is facing charges of assault with a deadly weapon. His bail has been set at $30,000.
The specific vessel on which both the victim and the perpetrator were employed remains undisclosed. https://www.fleetmon.com/maritime-news/2022/39977/man-stabbed-crewmate-port-long-beach/
2020 – MSC Ravena Stabbing Death in Los Angeles
In a tragic incident that unfolded in 2020 aboard the MSC Ravenna, a crewmember pleaded guilty to fatally stabbing a fellow crewmate while the vessel was sailing in the Pacific.
In September 2020, the crew member reportedly utilized two knives to carry out the stabbing, which resulted in the death of the crewmate. This unfortunate event occurred while the MSC Ravenna was en route to the Port of Los Angeles. Witnesses who observed the attack indicated that the two men had argued about crew changes shortly before the incident occurred.
2016 – Serbia Student Stabbed
The news source, Blic, has reported a distressing incident involving a 23-year-old Serbian student named Jovan Spasic, who suffered four stab wounds. The incident allegedly occurred on a Mediterranean cruise ship that had departed from Barcelona, Spain, in the early hours of a Tuesday morning. However, these details are yet to be officially confirmed.
According to reports, a confrontation occurred between a group of students and another passenger, also hailing from Serbia. It is suggested that alcohol may have been a contributing factor during an open deck party on board. Spasic intervened, attempting to defuse a situation involving an individual holding a knife. Tragically, the situation escalated when the attacker, identified as Aleksandar Stojanović, a 28-year-old from Krusevac, Serbia, embraced the victim before inflicting four stab wounds to Spasic's abdomen. After the attack, Spasic was immediately transported to the ship's medical center for urgent medical attention.
The victim's father Dragan Spasic told the Blic site the following:
My Jovan received four stab wounds in the stomach with a knife, he hurt his liver and because of the large loss of blood and severe injury is an emergency surgery. From the moment when he was wounded to the hospital has been more than 20 hours, he lost a liter and a half of blood! At least seven days will not be able to be transported for further recovery in Serbia. The ship which is currently unknown was sailing towards Civitavecchia, Rome as part of a Mediterranean cruise from Barcelona, Spain.

Spasic was transferred to a Hospital in Rome and then later transferred to his home country of Serbia. The victim lost a lot of blood and damaged his liver but thankfully is out of danger and in a stable condition. This incident occurred during a graduation cruise involving approximately 1,500 students from various regions of Serbia. The cruise had been organized through a local travel agent. Cruise Hive has contacted the cruise line to obtain any additional information and will provide updates to this post as soon as we receive a response. https://www.cruisehive.com/student-stabbed-onboard-cruise-ship/11990
2015 – John Banner Kills His Wife and Himself
Newlyweds John Banner and his wife, Darla Mellinger-Banner, tragically met their end in a blood-soaked cabin during their second cruise in San Juan, Puerto Rico, on April 2, 2015. The investigation revealed that Banner had fatally stabbed his wife before taking his own life with the same weapon. It was a devastating and heartbreaking incident.
Strangely, police had been called to the couple's home in Ohio shortly after their return from their first honeymoon cruise, which took place just five months earlier in December of 2014. During the 2014 incident, the wife had suffered a stab wound to the center of her chest, with her husband as the purported cause.
The couple explained that it happened when the husband attempted to show his wife an old military dagger but tripped on a rug. Though the explanation seemed dubious, it was accepted as plausible and corroborated by both Banner and Mellinger-Banner. Consequently, no further action was taken at that time. https://www.ranker.com/list/scariest-cruise-ship-crimes/l-zane-pinnock
2022 – Two Germans Stabbed – Shore Excursion
On December 8, 2022, two German cruise passengers, Wolfgang Duysen Gurkasch, 79, and Werner Duysen Gurkasch, 81, became victims of a violent robbery while sightseeing in Recife, Brazil, during a stopover of their cruise ship, the Norwegian Star. The incident occurred near the Nossa Senhora do Carmo Church in the Santo Antonio neighborhood.
The senior couple was exploring tourist sites when two robbers approached them. Wolfgang sustained superficial injuries during the confrontation, while Werner was stabbed in the head. The attackers took their cell phones and glasses. Werner, the stabbing victim, was rushed to Hospital Santa Joana in Pernambuco's capital city for treatment and remains hospitalized.
Local witnesses reported that one of the victims fell and hit his head on a snack bar's step during the crime. The police indicated that the couple was attacked while taking pictures. https://crew-center.com/senior-cruise-passengers-violently-attacked-robbed-recife-brazil#google_vignette
1991 – Cruise Ship Worker Stabbed in Argument
On January 12, 1991, a tragic incident unfolded on the luxury cruise ship Dawn Princess. An altercation between two crew members escalated, resulting in the fatal stabbing of a 35-year-old Portuguese man, Alexander Xisto. This tragic event occurred shortly after the ship departed from Ensenada on its way back to San Pedro, California.
The violent incident occurred near the crew's mess hall just before 8 p.m. on Thursday while the ship was approximately 20 miles off the coast of Mexico. Despite the presence of 890 passengers onboard, many of them remained unaware of the tragic event until the ship's arrival in San Pedro.
Los Angeles police clarified that the ship was under international law at the time of the stabbing. As a result, the United States had no jurisdiction to prosecute or investigate the case. Both the victim, Alexander Xisto, and the alleged perpetrator, Leonardo Cruz, 52, were Portuguese nationals. Therefore, Los Angeles authorities decided to turn the matter over to Portuguese officials for further handling. https://www.latimes.com/archives/la-xpm-1991-01-12-me-7085-story.html
Can I File My Princess Cruise Injury Case in California State Court
Filing a Princess Cruise injury case in a California state or federal court depends on various factors. The "educational needs article" you mentioned isn't a common legal term related to jurisdiction, so I'll provide some general guidance.
Jurisdiction: Whether you can file your case in state or federal court often depends on jurisdictional issues. Unless specific federal laws apply, you can file in state court for most personal injury cases involving cruise lines.
Forum Selection Clause: Many cruise contracts include forum selection clauses that require any disputes to be litigated in a specific jurisdiction. These clauses often specify the location where you can bring a lawsuit. Princess Cruise contracts may specify California, as they operate from there.
Federal Jurisdiction: Federal courts can handle cruise ship injury cases involving specific federal laws, like the Death on the High Seas Act (DOHSA) or the Jones Act. If your case falls under federal jurisdiction, it will likely be filed in federal court.
State Jurisdiction: If your case doesn't involve federal laws, you can typically file it in a California state court.
Choice of Law: The choice of law can affect where you file your case. If the incident occurred while the ship was in international waters, maritime law may apply. If it occurred while the ship was docked in a California port, California law may be more applicable.
Venue: You may need to consider where the cruise line's principal business place is. Princess Cruises, for instance, has its headquarters in California. This could influence the court's determination of jurisdiction.
It's crucial to consult with an experienced maritime attorney who can evaluate the specific circumstances of your case. They will help you determine the appropriate jurisdiction and guide you through the rest of the legal process, whether it's in a California state court or federal court.
Your attorney will also consider any contractual obligations outlined in the cruise contract. Remember that this is not legal advice but rather general information. Please consult an attorney for guidance tailored to your situation. For example, if you were in a car accident, and it was not a shore excursion, that law would be different. Get it? Either way, Ehline Law offers a free case review so you can confidentially discuss any injuries sustained after you set sail and how we might be able to protect your interests.
Accident Lawyer Expertise in Maritime Law
Cruise ship stabbings are complex legal cases, often falling under maritime law. It's crucial to work with attorneys with extensive knowledge in this area. Most cruise ship accident cases against Princess Cruise Lines are handled in Los Angeles, California. Cases against major cruise lines in Texas are often handled in Miami Flordia.
So make sure Ehline Law Firm has a team of skilled attorneys with a deep understanding of maritime law in Texas and California. We offer a free consultation to help you understand it before pursuing any injury claims against the cruise company or the person who attacked you.
Your Advocates in a Challenging Time
After a cruise ship stabbing, you may be left with physical injuries, emotional trauma, and financial burdens. Ehline Law Firm Personal Injury Attorneys, APLC, understands your unique challenges. We are dedicated to providing unwavering support and fierce advocacy for you as you seek justice and fair compensation.
Compassionate and Aggressive Legal Representation
At Ehline Law Firm, our legal professionals are committed to handling your cruise ship accident from day one. We approach each case with compassion for our clients while aggressively pursuing justice. We leave no stone unturned in our quest to secure your best possible outcome.
Contact Ehline Law Firm Today
If you or a loved one has been a victim of a cruise ship stabbing in Texas or California, you don't have to face the legal process alone. Contact Ehline Law Firm Personal Injury Attorneys, APLC, today for a free, no-obligation consultation. We are your trusted cruise ship stabbing attorneys, ready to fight for your rights.
Our Proven Track Record
Ehline Law Firm has a long history of successful personal injury cases. Our extensive experience in cruise ship stabbing cases means we can secure the best possible outcome for you. With our representation, you will have the confidence you need to sleep well at night.
We Don't Get Paid Unless You Do
We understand that victims of cruise ship stabbings often face financial difficulties. That's why Ehline Law Firm operates on a contingency fee basis built on trust and integrity. We only get paid when you receive compensation for your case, so there's no financial risk for you.
Choose the responsive Ehline Law Firm Personal Injury Attorneys, APLC, as your trusted advocates in the aftermath of a cruise ship stabbing. We are dedicated to your well-being, justice, and swift financial recovery. Contact us today to discuss your case and learn how we can give answers to questions and help you through these challenging times.
Citations:
Michael Ehline is an inactive U.S. Marine and world-famous legal historian. Michael helped draft the Cruise Ship Safety Act and has won some of U.S. history's largest motorcycle accident settlements. Together with his legal team, Michael and the Ehline Law Firm collect damages on behalf of clients.
We pride ourselves on being available to answer your most pressing and difficult questions 24/7. We are proud sponsors of the Paul Ehline Memorial Motorcycle Ride and a Service Disabled Veteran Operated Business. (SDVOB.) We are ready to fight.