If we don't win, you don't pay.
Speak to the Attorney.
Born to serve.
633 W 5th Street #2890
Los Angeles, CA 90071
(213) 596-9642.
2323 S. Voss Rd, Suite 244
Houston, TX 77057
(832) 592-1260.
Date Modified: November 20, 2023
Welcome to Ehline Law Firm Personal Injury Attorneys, APLC, your trusted national trial lawyers right here in Galveston, Texas. Finding the best lawyer to represent you in a personal injury case requires more than just someone who knows the law. It requires a team that understands you, has extensive experience, wields unassailable authority, and radiates trust on a daily basis. We represent individuals who want the best possible outcome for accidents like passenger car wrecks or some other motor vehicle accident, like a motorcycle collision, cruise ship entrapment, etc.
Although we handle criminal defense matters in Galveston County,
"Ehline Law firm is second to none when it comes to personal injury cases in League Citymotor vehicle accidents. Their expertise, care, and professionalism stood out in every stage of my case. They turned what could have been a stressful experience into a seamless one." – John K., Yelp!
At Ehline Law Firm, we focus on providing trustworthy, authoritative legal representation for personal injury victims. Based in Galveston, Texas, our personal injury lawyer team is renowned for its expertise and vast experience in handling personal injury lawsuit claims and legal issues of varying complexities.
With our diverse team of Galveston personal injury lawyers, we bring a combined repertoire of skills and knowledge backed by successive years of experience in the field. This allows us to handle many different types of personal injury practice areas with superior ability and elan. Cases we take do include insurance bad faith, as well as certain real estate law concerns. But again, if you were in an auto accident, our law office excels in these cases and has done so since law school.
When it comes to practicing law, we take the right steps IMMEDIATELY to build a strong case when you hire us. So, we attack where other law firms might initially falter or procrastinate. We are just better, and that is why you should consult us FIRST to minimize your potential losses and shore up your front first time out the gate! Speak directly to a Galveston personal injury lawyer or a dedicated team member today with experience handling cases like yours for a decade or more by dialing (833) LETS-SUE.
With Ehline Law, you have no better friend and no worse enemy. Our personal injury lawyers in Galveston County promise the best results because our associates have a proven track record of obtaining them by hook or crook. When you need a great personal injury lawyer, you call an accident lawyer on our team.
So, why should you choose our personal injury law firm?
Expertise: Our knowledgeable personal injury lawyer team is versed in the nuanced complexities of personal injury law, ensuring you always get the most informed legal advice and representation to your benefit.
Experience: With years of successful representation and countless clients served, our seasoned Super Lawyers know every nook and cranny of the justice system. Most people know we desire to get you more money than any other personal injury lawyer.
Authority: From local to state-wide cases, our brand of legal practice commands respect and credibility from peers and adversaries alike. Our local and familiar face is ready to help you resolve this life-changing experience by turning Texas lemons into lemonade. We can answer and solve most legal questions over the phone to help you minimize your stress at no upfront cost!
Trust: We know how clients feel. We understand that trust is earned, and as our client testimonials show, we're an established, reliable partner regarding personal injury representation.
Expertise – Press and Media
Don't just take our word for it. Let's take a look at some of our latest verdicts and settlements:
Case Settlement: Estate of Clare v. Estate of Clare. Auto Defect / Wrongful Death Case Involving Complex Issues. $1,220,000 in financial compensation.
Case Settlement: Pfeiffer v. Gallaghers Nightclub. Bouncer Attack on nightclub patron $50,000 in financial compensation.
Awards and Accolades




Choosing the Best Personal Injury Lawyer
Choosing the best personal injury attorney doesn't just rely on who has the flashiest advertising or the most giant billboard. When entrusting your case to a personal injury lawyer, you want to know they have the requisite knowledge, experience, and reputation you can trust. We pride ourselves on those fundamentals in Galveston, Texas.
Our team has handled countless personal injury claims, from car accidents to slip and fall claims and medical malpractice to wrongful death suits. The kind of experience that helps us anticipate the obstacles before filing a wrongful death claim or personal injury lawsuit. If there were a hit-and-run or murder case, we would make sure to attend the felony or misdemeanor criminal proceedings with you so we can seek restitution from the at-fault party as well.
For many clients, though, the most important factor is trust. We believe in providing a transparent and honest service, keeping communication open throughout your case. Because we understand how impactful personal injury can be on your life, we treat every consumer and group as a person, not just a case number.
Personal Injury Attorney Reviews
Reviewer Review: "Ehline Law Firm was a beacon of hope to my family when our options appeared limited… They worked diligently and effectively, resulting in an outcome that surpassed our expectations." Jane Smith
"They were always there to answer my questions and made me feel comfortable throughout the process… Their professionalism and sincere concern for my well-being was obvious and greatly appreciated." Howard S.
Personal Injury Claims Are What We Do Best
Don't just settle for the most convenient option when looking for representation. Find Galveston, Texas, personal injury lawyers with the expertise, experience, authority, and trust to navigate the process. We are aligned with these principles and commitments at Ehline Law Firm in Galveston, Texas.
Choosing the most experienced personal injury attorney can make all the difference in your recovery process. Not all firms are created equal. Choose Ehline Law Firm, where every case matters and every client is valued by ever personal injury lawyer on our legal team.
Our best Texas lawyers proudly serve the residents of Galveston, Texas, providing top-notch legal services in personal injury cases. With decades of experience under our belt, our team of dedicated attorneys brings a wealth of knowledge, skill, and a deep commitment to achieving justice for our clients, especially with insurance claims.
Our excellent team understands the severe physical, emotional, and financial burden placed on you due to someone else's negligence. We know dealing with the insurance company is not something you want to do after a car accident or slip and fall on a cruise ship, for example. That's why we are determined to fight tirelessly to secure the compensation you deserve from the insurance company, government agency, or private organization through the whole process.
Our national law firm has the money, resources, and skills to help accident victims with no upfront legal fees. If you have suffered severe injuries, call us for a free case evaluation to get the recovery process started. We also have a proven track record of compassionately helping wrongful death victims. Our lead counsel, Michael Ehline, is a world-famous expert in litigating traumatic brain injuries. If you are ready to get the compensation you deserve, call (833) LETS-SUE to speak directly with a top-rated Galveston, Texas, personal injury attorney today.
What Types of Injuries Do People Suffer In a Galveston Personal Injury?
Boating accidents can result in serious injuries, each with unique troubles and complications. Understanding the kind of injury you have sustained is critical because it lays the groundwork for calculating damages and compensation amounts.
At Ehline Law Firm, we have dealt with a range of cases involving different kinds of injuries resulting from maritime accidents:
Head and Brain Injuries
Head and brain injuries are often the result of a traumatic blow or jolt to the head. These can lead to concussion, contusions, and, in severe cases, traumatic brain injury (TBI). Symptoms can vary from headaches, memory problems, and balance issues to speech and mobility impairment, which can significantly affect the quality of life and even result in life-long disability. Establishing liability and damages is often contested in such significant cases, so you need a helpful personal injury lawyer to give you the advantage over all aspects of your personal injury claims.
Spinal Cord Injuries
A boating accident can cause spinal cord injuries, leading to partial or complete paralysis. Damage to the spinal cord can result in losing mobility or sensation below the injury. In addition to physical pain, sufferers may also have to deal with psychological trauma and financial strain.
Broken Bones and Fractures
Broken bones and fractures are common in boating accidents, caused by severe impacts or falls. These injuries may require surgery and a prolonged period of rehabilitation, and complications like infections and non-healing fractures can occur, posing serious health risks.
Burns
Explosions or fires on vessels can lead to severe burn injuries. These are not only incredibly painful but can also result in permanent scarring and disfigurement and pose a risk of infection. Regardless of the nature of your injury, we at Ehline Law Firm understand the pain, confusion, and fear that victims face after a traumatic event.
Rest assured that we are committed to guiding you through the complex legal process and fighting till the end to ensure you receive fair compensation for your suffering. We will work hard to make sure the judge and jury hear your side of the story so you can obtain the biggest award possible.
Wrongful Death
Deaths are pretty challenging. When the person dies suddenly, it can cause considerable distress in the family. In cases where a negligent act injures the family, the family is often entitled to compensation. The case seeks evidence of negligence and financial losses for funeral and burial costs and loss of business support. In some circumstances, noneconomic damage is available for loss of a partner's relationship, loss of care support, or mental anguish.
A surviving spouse or child may file lawsuits for the death when the intangible losses and tangible ones are higher than the surviving loved one was offered during settlement negotiations.
Our excellent team is compassionate, and our ultimate goal is to get you paid the most while helping you endure grieving each problem every step of the way. Hence, we will be involved and committed from litigation to courtroom to verdict and distribution. From Houston to Austin to Galveston, put our vast experience and high success rate handling civil cases to work for you, too! Call today to discuss the details of your case secretly and in confidence at (833) LETS-SUE.
What Types of Accidents Do People Suffer In a Galveston Injury Case?
Premises Liability Accidents
Injuries that occur on someone else's property due to unsafe conditions.
Slip and Fall Accidents
Accidents involve those that occur due to slippery or hazardous conditions on someone else's property.
Workplace Accidents
Construction Accidents
Injuries that occur on construction sites can range from a sprain to a serious injury leading to death. You can't waste time. Set up a claim today!
Industrial Accidents
Injuries that happen in factories or industrial settings are our specialty. But the longer you delay, the harder it is to get you paid!
Workplace Slip and Falls
Accidents occur in the workplace due to unsafe conditions. We are experts at pursuing damages from the at-fault party, property owner, or another third party responsible for your broken wrist, knee, or head injuries.
Medical Malpractice
Injuries are caused by the negligence of medical professionals, including doctors, nurses, hospitals, or other party's negligence. These are patients who were seeking medical attention, many for work injuries.
Product Liability
There are specific duties people in the manufacturing and distribution industry have to consumers and their loved ones. When you buy products, they must ensure things operate correctly. They must not harm anyone when used for their intended purposes. Some goods and services may be defective and cause injuries to the consumers. Whenever this happens, manufacturers and suppliers should also be redeemed.
Get in touch with a Texas Product Liability attorney. Injuries resulting from defective or dangerous products are something our professional team can handle in your best interests.
Dog Bites
Injuries caused by dog attacks and bites.
Assault and Battery
Injuries resulting from intentional harmful actions by another person.
Maritime Claims We Help With?
With over a decade in maritime law, we've honed our skill sets to help clients with various issues. Whether navigating the complex seas of negligence claims or steering through the turbulent waters of personal injury cases, Ehline Law Firm is your trusted companion in the maritime legal landscape.
Seaman Injuries and Jones Act Claims
Ehline Law Firm has significant expertise in handling seaman injuries and Jones Act claims. If you've been injured while serving aboard a vessel, we have the knowledge, experience, and dedication to secure the compensation you deserve.
Cargo Ship and Tanker Accidents
Cargo ship and tanker accidents often result in severe injuries or loss of life. We understand the complexities of investigating such cases and navigating maritime laws to ensure justice for the injured and their families.
Offshore Oil Rig Accidents
We also specialize in offshore oil rig accident cases, holding negligent parties accountable to provide rightful compensation for physical, emotional, and financial suffering.
Cruise Ship Injuries and Assaults
Having a legal background in cruise ship injury cases, we advocate for passengers who fell victim to the negligence of the ship's crew or faced assault, battery, or rape aboard. Stabbings on cruise chips are becoming more common, so beware and hire the right lawyer when the ship lets it happen.
Boating and Personal Watercraft Accidents
Occurrences on smaller vessels, like Texas-registered boats and personal watercraft, are also within our purview. Whether it's a collision, equipment malfunction, or operator negligence, we step in to protect your legal rights.
Oil Refinery Accidents
The oil and gas industry injuries are common in Texas due to its significant oil production.
Traffic Accidents
Car Accidents
Collisions involving cars, trucks, motorcycles, and other motor vehicles.
Pedestrians Accidents
As a pedestrian crossing a parking lot, there's always the quiet dread of a collision with a vehicle or bumping into a fellow pedestrian. Ceiling-shattering injuries are often unfortunate, with most incidents occurring in broad daylight. A Pedestrian Accident Attorney in Texas stands ready to assist you with your queries.
Explore further in our Practicing Areas section.
Rideshare Accidents
Ride-sharing services like Uber have become integral to our daily commute. Despite their convenience, there's an undeniable risk involved since drivers aren't necessarily professionals. We firmly believe that ride-sharing accident victims should receive appropriate compensation for their damages. Don't hesitate to reach out for a free initial consultation. Please continue reading for more on our areas of expertise.
Bicycle Accidents
Collisions involving bicycles and motor vehicles are our maintsay.
Public Transportation Accidents
Injuries sustained in accidents involving buses, trains, or other public transportation are part and parcel of the cases we take on a daily basis.
Recovering from an Injury in Texas
When you're injured in Texas, you'll likely need medical treatment. And if the injury is severe, it might mean losing your job and undergoing months of physical therapy. Over time, the mounting medical bills can become daunting. But don't despair. The personal injury trial attorneys at Ehline Law Firm are ready to champion your cause. It would help if you never bore the financial burden for someone else's negligence.
What Types of Damages Can You Get for a Galveston Personal Injury?
Understanding the scope of compensation for personal injury cases in Galveston can be daunting. The trial lawyers at Ehline Law Firm in Texas are committed to helping you decipher the potential reparations you may be eligible for.
Your awarded damages generally come in two categories: economic and non-economic damages.
Economic damages
Texas law defines economic damages as "compensatory damages meant to compensate the plaintiff for actual economic losses; the term is not included in exemplary or non-economic damages."
Those can be mounting medical expenses for medical treatment and other procedures incurred by you or a family member that are tangible and related.
Summary: Economic damages cover actual, out-of-pocket expenses such as:
Medical bills (and costs of retrieval of verified medical records for use at trial)
Rehabilitation costs
Lost wages
Property damage.
While non-economic damages refer to less tangible but equally significant losses such as:
Pain and suffering
Emotional distress
Loss of enjoyment of life
Loss of consortium.
We believe in maximizing your compensation and will draw upon our years of experience and expertise. Ready to seek compensation? Injured Texans can call our 24-hour attorney hotline anytime, 24/7, to reserve a seat to discuss their financial future. This is what you rightfully deserve and what we want for you, especially in cases of wrongful death, spinal cord, or severe brain injury in Texas.
Discuss your legal options today by dialing (833) LETS-SUE. If we click, we will take over negotiations with the insurance adjuster and work toward a fair settlement as you rest up and lick your wounds.
Who Will Pay for My Damages?
Launching a legal case without a clear understanding of who's responsible for your accident can leave you in jeopardy. Pinpointing the appropriate party is crucial in your case, as this can allow you to recoup the damages you've endured due to your injury. Typically, it's the defendants' insurers that shoulder the responsibility. However, compensation can also come from your own company, personal assets, or the insurance policies of your employers.
Understanding the "Fault" Car Insurance System and Rideshare Regulations in Texas
If your vehicle is involved in an accident in Cypress, Texas, or anywhere else in the state, it's crucial to comprehend the legalities that may influence your claim. Under Texas Transportation Code Section 601.051, Texas law enforces a system of "insuring a vehicle for fault."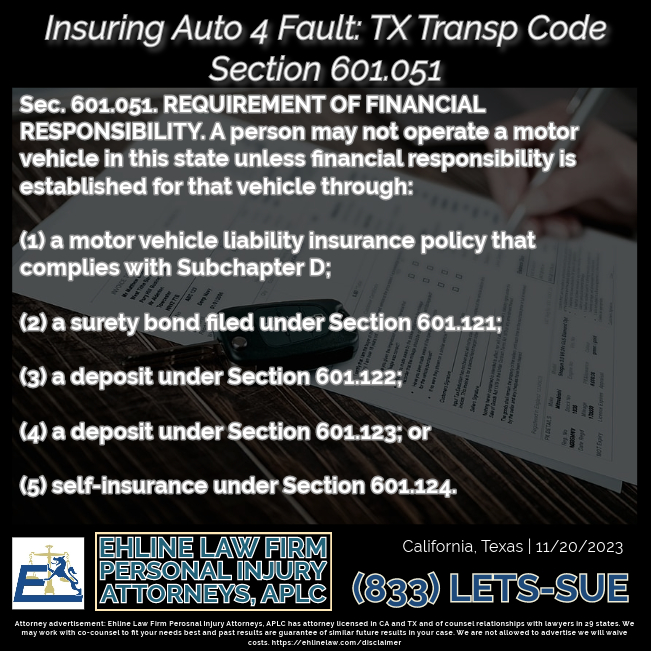 This means the driver at fault for the accident is responsible for any injuries. If you happen to suffer an injury while using a rideshare service like Uber, rest assured that their insurance policy steps in to ensure your protection. This complies with Texas Insurance Code Section 1952.100, et. seq.
Your Fight, Our Expertise
Dealing with commercial, home, and auto insurance companies can often be daunting. But don't worry; our experienced team of personal injury attorneys at Ehline Law Firm, Personal Injury Attorneys, APLC are here to fight for your rights. We have steadfastly opposed numerous insurance companies, securing victories for our clients. Our attorneys are fully equipped with the requisite knowledge and expertise to understand the strategies and tactics employed by insurance companies.
Do I Need to Attend Court Sessions?
You know how confusing it can be if you watch court proceedings in courtrooms; you may be interested in not having to attend a trial to settle your case. Luckily, hiring a Humble lawyer means that there will be no court appearances for your case. Your personal injury lawyers will handle all necessary matters, ensuring you only appear at the crucial point and the required date.
Our Deep Commitment to Your Cause
At Ehline Law, we don't just represent you legally—we commit to your cause. We believe investing time and energy in understanding your story isn't a choice; it's necessary. So when we accept your case, we are with you till the end, determined to secure the best possible outcome. Please choose us and let our expertise, experience, and dedication make a difference in your injury claim. Let's get started today!
When Do I Contact an Accident Lawyer?
Understanding that time is critical in personal injury cases, acting promptly is vital. Different factors such as defendants, jurisdiction, and venue coexist with your quickly dwindling time. Texas personal injury law sometimes grants you two years to initiate legal proceedings. However, this is not uniform across all situations.
Claims involving the county or city often necessitate competent law offices knowledgeable about administrative procedures. Having a prominent personal injury lawyer from our firm on your side is essential, particularly when not all of us have the means or time to pursue a law degree. If an accident has caused you injury, our leading legal advocates are ready to offer you professional legal help.
How Do I Pay My Personal Injury Lawyer?
At Ehline Law Firm, client-centered policies enable us to represent you under a contingency fee agreement. This structure ensures that our payment depends on your victory; we only receive our legal fees if we win your case. The personal injury attorney's fee is typically expressed as a percentage of the total compensation won.
What percentage does a lawyer get in a settlement case in Texas?
Contingency fee agreements are commonly used in personal injury cases. Under these agreements, lawyers are paid a specific percentage of the client's potential compensation if they win the case. While these fees vary, most Texas personal injury lawyers typically charge between 33% and 40% of the recovered amount.
The breakdown of Percentage Rates
The percentage a personal injury lawyer gets from a settlement or verdict depends on various factors, such as the case's complexity, the risk involved, and the stage at which the case is resolved. Here's a typical breakdown:
33.33% (or one-third) – This is the typical rate if the case is resolved before a lawsuit is filed or settled in the early stages.
40% – This is often the fee if the case goes to trial or is settled during the trial.
Understanding Legal Fees in Maritime Cases
Remember, legal fees are designed to ensure that you can pursue justice even if you can't afford to pay the upfront legal fees of your personal injury lawyer. The Ehline Law Firm works hard to reduce costs and expenses as much as possible and strives to maximize your compensation.
Other Fee Considerations
It's also important to keep in mind that personal injury lawyer legal fees are negotiable. At the Ehline Law Firm, we understand each case is unique. We often work out fee agreements that cater to our client's specific circumstances and needs. We believe in providing quality legal representation that's also financially accessible for everyone.
No Win, No Fee
It would help if you also remembered that many maritime lawyers, like those at the Ehline Law Firm, operate on a 'No Win, No Fee' basis. This means you don't owe them anything if they don't recover compensation for you. Such an arrangement reduces your financial risk and ensures your attorney is motivated to win your case.
Free Consultation: Get Started on Your Galveston Personal Injury Claim Today
Ready to get legal assistance from a top-notch Texas lawyer? Hopefully, you now have the necessary information to move forward and hire the right lawyer. You better believe the best lawyers money can buy in the country y are representing insurance companies through the entire process. If you want maximum compensation for your severe injury, you should, too!
We thoroughly understand that taking the first step can be daunting, especially when dealing with the aftermath of an unfortunate accident. That's why we offer a free consultation to help you kick-start your personal injury claim. This is your opportunity to share your story with a skilled team that cares. Our best personal injury lawyer will listen, understand, and, more importantly, know how to fight for you, your family, and your children with integrity.
We have won millions of dollars for other victims. They were glad they called our personal injury lawyer first and felt protected. From explaining the legal maze in plain English to developing strong cases that maximize compensation, we stand with you throughout the journey. Remember, from the Greater Houston area, Montgomery County, and Galveston, we work on a contingency fee basis. We can help visitors injured in Galveston from places like Arkansas, New Mexico, California, Nevada, and remote parts of Texas. Additionally, you owe nothing unless we win your injury case on a contingency fee basis.
Michael Ehline is an inactive U.S. Marine and world-famous legal historian. Michael helped draft the Cruise Ship Safety Act and has won some of U.S. history's largest motorcycle accident settlements. Together with his legal team, Michael and the Ehline Law Firm collect damages on behalf of clients.
We pride ourselves on being available to answer your most pressing and difficult questions 24/7. We are proud sponsors of the Paul Ehline Memorial Motorcycle Ride and a Service Disabled Veteran Operated Business. (SDVOB.) We are ready to fight.