If we don't win, you don't pay.
Speak to the Attorney.
Born to serve.
633 W 5th Street #2890
Los Angeles, CA 90071
(213) 596-9642.
2323 S. Voss Rd, Suite 244
Houston, TX 77057
(832) 592-1260.
Date Modified: August 25, 2023
Did you suffer a common Princess cruise ship injury like a slip and fall but have now discovered the cruise line has zero interest in amicably resolving your claim? Maybe you were assaulted or lost a loved one at sea, presumed dead? Would you like to file a lawsuit, but not sure if you have to file a lawsuit in Miami Dade County federal court or California state court.
We Fight Hard For International Cruise Victims As Princess Cruise Ship Attorneys
Princess Cruises sells travel insurance, but when the time comes to cash in, good luck. If you suffer an injury at the hands of a third party, you'll soon discover Princess is self-insured, so they have no interest in paying you anytime soon.
No matter how guilty the cruise ship companies were in creating your harm or strong, they must cover your claims; most cruise ship victims soon realize they've been victimized twice.
First, the passenger or surviving family member is belittled by the travel agency or the person who sold the ticket ("It's your fault you fell," etc.), telling you to follow the instructions on the passage contract (1. six months to bring a cruise ship claim, 2. personal injury lawsuits filed in the proper court and state, etc.). Stick around to hear more from our cruise ship attorneys.
Besides being told they didn't suffer bodily injuries, pain, suffering, and financial losses, the second insult likely begins. (E.g., the captain, crew, and defense attorneys are playing hide the ball, erasing videotapes, losing vital liability evidence, etc.). Sound familiar? Ready to create an attorney-client relationship so you can get fair compensation?
Since 2005, our top, most experienced cruise ship attorney, Michael Ehline, Esq., has assisted cruise ship passengers and crew injured on Princess ships and other major cruise lines. The firm is certified in Los Angeles, California, and is a member of the State Bar. Our Los Angeles, personal injury advocates, specialize in Maritime and Admiralty Law claims against the cruise industry.
Are you ready to schedule a free consultation with a contingency fee attorney specializing in making claims for cruise ship injuries? If incensed cruise ship passengers wish to file a personal injury claim, we can listen to your problems, explain the steps and guide your path. To learn more, make a toll-free call by dialing our Los Angeles cruise ship attorneys at (833) LETS-SUE.
Why Should I Hire a Cruise Ship Lawyer to Represent Me Against Princess Cruises?
Princess Cruises hires experienced maritime lawyers to defend it against passengers who file personal injury claims against the cruise line. Ehline Law Firm's history of handling maritime personal injuries means our Princess Cruise injury lawyers are well-equipped to combat the cruise line's attorneys, granting clients the much-needed relief they deserve.
Our cruise ship accident lawyers have vast experience suing and settling delicate cases against the Princess Cruises fleet located in Long Beach and Los Angeles, California. (Examples include adults and minor passengers raped, assaulted, and thrown overboard by crew members or drunken passengers) Our critical job is to help your loved ones after being afflicted with a cruise ship injury.
We Sue Princess Cruises
Injured passengers soon discover that cruise ship accident cases are no fun. Although the Princess Cruises business is registered in Bermuda, its United States business is domiciled in Santa Clarita, California. Princess Cruise Lines is renowned for being one of the first to provide luxury cruise services in the U.S. and the Golden States.
Insurance companies don't usually represent Princess, as they are self-insured. But sometimes insurance companies represent third parties hired by Princess Cruises to provide ancillary services.
Our Cruise Ship Accident Lawyers Have Beat The Cruise Industry Before
Our local, Los Angeles-based law office has gained a reputation for successfully handling hundreds of injury claims linked to Princess Cruises. Our lead attorney assisted Ken Carver of International Cruise Victims in drafting and editing portions of the current Cruise Ship Safety Act.
Millions Recovered From the Cruise Industry as Compensation
During the settlement negotiation process, we have won satisfied survivors over $150 Million in verdicts, settlements, mediation, and arbitration awards. Most of our past clients received a fair trial and settlement by leveraging the knowledge, skill, and trust our experienced law group brings to the Captain's Mast!
We have also successfully helped investigate departures from Miami, West Palm Beach County, Florida, to San Francisco, Hawaii, and Europe. We have assisted with passenger claims against Carnival Cruise Lines, Princess Cruise Lines, and Royal Caribbean and resolved several wrongful killings, including man overboard, cruise ship rape, and other criminal proceedings turned into fugitive from justice cases with the FBI.
We now handle many personal injury cases concerning the pandemic against cruise lines. We hope you get the money you need, whether in court or on a contingency basis.
What Should Victims Seek When Choosing a Princess Cruise Line Injury Lawyer?
Cruise ship cases are incredibly complex because they involve maritime law that most lawyers are unfamiliar with. Choosing a legal professional to work for you can have a far better chance of success. A little search can also be helpful in selecting the proper lawyer.
You can feel safe enough to see how it works to protect your interests in such a case. Can you have a good lawyer who can provide exceptional representation if an accident occurs on a cruise ship? Call a Princess Cruise Line injury law firm today at (833) WIN-CASE for confidential assistance. We will protect the wounded cruise passenger's personal or sensitive information and keep it between us.
Reputation for Suing International Cruise Lines And Lobbying
Michael Ehline is among a few law firms suing cruise ships mentioned in CNN, Newsweek, Personal Injury Warriors International, and more. Ehline was also named Cruise Ship Attorney of the Year by Hollywood Weekly Magazine and is a multiple "Super Lawyers Rising Star," according to Thomson Reuters.
Our stellar reputation with news agencies and the United States Congress has propelled our firm as America's number one advocate. Our top lawyers are consulted and hired by broadcast news as expert analysts, covering cruise line issues and news.
Our Successful Results against Princess Cruises
Ehline Law Firm Personal Injury Attorneys, APLC, has had success in hundreds of cases against cruise ship companies, including Princess.
Examples of cases we've won include multiple confidential settlements involving women and children who have alleged rape and sexual assault, drownings, man overboard claims, and others. We have won millions of dollars from the cruise ship industry.
We have also assisted disgruntled, underpaid, and wounded cruise ship employees and their close family members when the cruise company fails to meet its obligations to provide a secure workplace place.
Princess Offers a Wide Range of Cruise Services, But None Are Accident-Proof
Princess Cruises brag in radio ads, online, and on television about their spectacular customer service and meticulous itineraries to fun, exciting places. Princess' current fleet maintains 17 vessels, including the lighter Pacific Princess and the Ocean Princess liners.
How Does Princess Deal With Complaints By Cruise Passengers?
If you suffer an injury at sea, your passenger ticket contract, cruise ticket, or passage contract determines your rights, duties, and obligations. If Princess Cruises fails to perform its obligation, someone aboard or on a shore excursion gets harmed. As a result, the company generally issues an apology and perhaps a coupon for another cruise. They will rarely offer fair compensation unless you sue them!
Sadly, this runs counter to their phony ads. Cruises have specialized in offering unrivaled travel experiences such as spas, casinos, movie theatres, live performances, and themed parties.
With so many exciting things on board, the cruise line is responsible for doing all it can to keep guests safe while they have fun. But history says they have not. See More Information here at https://www.prts.gov
The Princess Cruise Fleet fleet remains one of the major cruise lines available for passengers seeking luxurious, fun sailing tours departing California ports.
(5 Out of 5 Stars)
(5 Out of 5 Stars)
The helpful attorneys from Ehline Law Firm provide superior car accident lawyer-legal services.
(5 Out of 5 Stars)
Short History of Princess Cruises?
Princess is owned by the world's largest cruise ship operator, Carnival Corporation & PLC brands. Princess Cruises is among three West coast based cruise lines in the United States. This Santa Clarita, California location and operations remain under the control of The Holland America Group.
In 1965, Stanley McDonald founded Princess Cruises, which began with the chartering of Canadian Pacific Ltd.'s Princess Patricia from 1965 to 1966 and Italia (which sailed as Princess Italia) shortly after that in 1967.
The first was a brochure named "Alaska From the Inside Out." It started as a California charter but eventually sailed for Costa Cruises when the Princess charter was canceled in 1973; Carla C. left Costa to join the Princess fleet as Princess Carla in 1968, remaining with Princess until 1970.
In 1974, after nine years of operation, P&O Cruises bought the line. In return for using the original Sun Princess till 1988, P&O Cruises received ownership of the ship. (P&O Cruises acquired the present Sun Princess in 1995.)
Love Boat (1975-2002)
Most GenX ers remember watching The Love Boat.
Yes. There were two Love Boats, and both sailed for Princess Cruises.
There was the Pacific Princess and the Island Princess. The Pacific Princess (which sailed from 1975 to 2002) and Island Princess (which sailed from 1974 to 1999), which were used as the main settings for the hit TV show "The Love Boat," was acquired by P&O in 1980. The series was based on a book partially written on board by Princess Carla in the 1970s.)
Both sailed for Princess Cruises' fleet from 1975-2002. After being used by smaller cruise companies, the Pacific Princess of The Love Boat was retired in 2013 and sold for scrap.
"The news service says the 42-year-old vessel, recognizable to millions of Americans as the "Love Boat" of 1970s television, will be dismantled for its metal and parts." (https://www.usatoday.com/story/cruiselog/2013/08/08/love-boat-cruise-ship/2630821) So there you go, the love boat was turned to scrap.
The same fate befell the sister of the Love Boat, Island Princess (now called "Discovery") in 2015, where she was "broken up." P&O acquired another ship in 1978, which sailed until 1981 under the name Sea Princess before Princess Cruises were replaced by a vessel with the same name.
Note: When a Princess cruise ship ages, more extensive cruise lines lease or sell their liners (See Love Boat example above) to the smaller cruise line. Sometimes the boat will be funneled down the food chain during its evolution leading to the scrapyard.
Smaller companies are left with ships with inadequate running water, broken elevators, slippery decks from hydraulic leaks, etc. Usually, routine inspections by the U.S. Coast Guard will reveal the ship's safety drills and crew vessel familiarization is wholly inadequate.
Newer Vessels On the Princess Cruises Roster?
The Royal Princess is one of the Princess cruises the industry awaits. The Royal Princess remains a proving ground for innovative cruise line engineering solutions among the world's newest and most technologically advanced cruise ships.
Princess Marina, Countess of Kent, the boat was named after it was completed in memory of Prince George Alexander. Two Cunard cruise ships were added to the Princess fleet in 1988 as Dawn Princess and Fair Princess. (Before departing, a new Dawn Princess joined the fleet in 1997 and sailed for P&O Australia's Pacific Explorer cruise line for over 20 years.)
In 1988, Princess Cruise Line received Fairsky (Sky Princess) and three new-build ships due to P&O's purchase of Sitmar Line: Star Princess in 1989, Crown Princess in 1990, and Regal Princess in 1991. Regal Princess departed the fleet in 2007 and now sails for P&O Cruises Australia's gaggle of cruise ships.
White Funeral Route?
The Princess Cruise Line route, known as the "White Funeral" because it featured that ship, was shortened from several cruise ships to just one in 1993. (It now sails for Fred. Olsen Cruises as Boudicca.)
Adults Only Accident Magnet?
The Grand Princess, the first ship in the Royal Caribbean fleet, launched in 1998, signaling a new era (and class) for Princess. During the 1996 Oceania Cruise, two now-classic Grand Princess signature items debuted: Movies Under the Stars (commonly called "MUTS"), an adults-only sun deck. Alcohol flows freely, and some people get violent, sexually deviant, or just plain stupid drunk with scantily clad ladies lying around the sun deck.
Besides inadequate security, believe it or not, distracted swimmers and workers often slip and fall in these wet areas of the ship, a significant source of broken bones and mild traumatic brain injuries while afloat. But not just swimming pool accidents cause injuries or drowning deaths.
Criminal crew members and other passenger rapists favor it to throw cruise ship rape victims overboard. Remarkably, none of these ships had man-overboard systems last time we checked. The Golden Princess (2001), Star Princess (2002), Diamond Princess (2004), Caribbean Princess (2005), Sapphire Princess (2005), Crown Princess (2006), and Emerald Princess were all Grand-class ships built in the 2000s.
Compliance With the Cruise Ship Safety Act and New Princess Builds
Cruise ship injury claim avoidance has become part of any Princess Cruises build. The Cruise Ship Safety Act requires Man Overboard Systems and more straightforward methods for cruise ship injury victims to report crimes like rape or assault to the FBI and Coast Guard.
Our law firm's lead counsel, attorney Michael Ehline, assisted the late Ken Carver and the International Cruise Victims volunteer organization (ICV) in drafting this now-positive law. Princess Cruises has been gobbling up and joining other foreign corporations for years.
From Holland to West Palm Beach, Florida, cruise ship injuries, murder, and death follow the cruise line no matter how many new names they operate under. Imagine the human toll if factors like volunteer organizations hadn't lobbied Congress and other countries and localities working hard to keep passengers safe.
2003 – Carnival Obtains Interest In Princess Cruises?
In the face of the cruise industry's cover-ups of crimes, the cruise industry moved full steam ahead, using its political clout to ignore the concerns of ship passengers. Instead, it kept building ships with poor security camera coverage, and even when there was video evidence, the cruise lines refused to turn it over.
In any event, in 2003, the world's largest cruise company, Carnival Corporation, joined forces with Princess' parent firm, U.K.-based P&O Cruises. This cruise line alliance put personal injury claims on ship front and center on national news when volunteer organizations like ICV pointed out that crew members who assaulted passengers would be removed from the ship.
This aiding and abetting of a fugitive happened at least once by helicopter, so the FBI could not arrest or investigate crimes against victimized cruise ship passengers.
The Royal Class was dedicated and launched in 2013 with Royal Princess, followed by Regal Princess the following year. Many ships rolling out offer new attractions. The Royal Class is the first-ever SeaWalk (a cantilevered, glass-enclosed walkway). Princess Live! is an interactive television studio among the distinctive features of this ship's evolution's newest ship: a high-cost larger Piazza is among the resources associated with passenger excitement while aboard.
The newest Princess lines – three additional new-builds in the works (a last Royal-class ship and two new-class ships), are scheduled for delivery in 2021, 2023, and 2025. TV commercials present cruises as dream vacations to other countries with plenty of free alcohol, gambling tokens, and shore excursion. Most people think they will be safe.
No Disclaimer About Death and Man Overboard?
No disclaimer on the Princess website mentions people missing at sea, the negligent record of captains, or recycled crews. Deciding to take a cruise may mean the opposite of peace and instead lead to illness or death.
Often a body gets thrown overboard in the dead of night! Since they won't warn you, we will. And if you still depart land via a cruise and are injured, our helpful, compassionate, and caring law group is here to handle the complicated legal process.
We will take your calls 24 hours a day, seven days per week, to give you security, confidence, and trust in our services. We will passionately pursue any negligent or intentional act. We will seek evidence of anything associated with holding Princess Cruises liable for harming you or your loved one.
We Can Help Florida Victims Those In California, or Another Situs?
Yes. Your best course of action should not be to file lawsuits right away. Trust us; you must act quickly. But you need a cruise law expert if you expect to receive compensation in an amount sufficient.
So don't fear paying a hefty fee to obtain professional, competent legal counsel. We can serve injured victims and help them navigate federal courts pro hac vice in Fort Lauderdale, Florida, to state court in downtown Los Angeles, California.
We have fought hard for victims from the following localities, ports, or homesteads:
California, Los Angeles County, including Orange County and Port of Long Beach areas.
Georgia
Hawaii, including Oahu
Massachusetts
Clearwater, FL; Aventura, Coral Gables, Doral, Fontainebleau, Hialeah, Homestead, Kendall, Key Biscayne, Miami Beach, Miami Lakes, North Miami, Tamiami, Westchester, and North Miami Beach; Broward County including Fort Lauderdale, Hollywood, Cooper City, Coral Springs, Hallandale Beach, Oakland Park, Pembroke Pines, Plantation and throughout Miami, FL.
Seattle, Washington
Slovakia
The United Kingdom and more.
Any victim injured while simply wishing to enjoy cruise options they paid for can hold the company to answer for the dangers they created. Our law firm can make dangerous ship operators pay for the damage toll that could have been prevented with reasonable care. Whatever you suffered during your visit, no cheap passenger, especially a woman, expects to be raped or physically attacked on their once-in-a-lifetime dream cruise vacation.
A person on vacation would expect no incident that would change the outcome to anything but positive. Although we can't give you a coupon for a better experience at sea, we can hold defendants anywhere on the globe responsible for your lost wages, love, affection, and time, among other items of financial recovery.
Are you seeking monetary recovery? Please keep reading to learn more about accidents on cruise ships, or call us toll-free at (833) LETS-SUE. If you have the good sense to contact us, you can discuss your injury claim by filling out our sidebar free consultation form box.
What Various Classes of Princess Cruise Ships Does Ehline Law Sue?
Some cruises are cheap, others more expensive depending on the ship and package purchased.
We Claim and Sue For Injuries on Princess Cruises:
Grand Class (make h4)
Caribbean Princess
Crown Princess
Diamond Princess
Emerald Princƒess
Grand Princess
Golden Princess
Sapphire Princess
Star Princess
Ruby Princess
Royal Class
Majestic Princess
Regal Princess
Royal Princess
Coral Class
Coral Princess
Island Princess
Sun Class
Sun Princess
Sea Princess
R Class
Did you suffer an accident on a Princess Cruise Ship? Our Princess Cruises accident attorneys have the knowledge and dedication to fight for your rights and achieve the compensation you deserve.
Types of Princess Cruise Ship Accidents We Take?
The cruise ship takes people out of their comfort zone. Free-flowing drinks, childcare helpers provided by the ship, and crewmembers hired from countries where women are culturally treated as chattel property all coagulate to complete a chain of death and injury after being found to be causing significant injuries to passengers.
Different types of accidents are suffered, each with various laws and regulations depending upon the limited jurisdiction of the U.S., admiralty, maritime law, and treaties.
Contact a personal injury attorney in case of a Princess cruise to sue for the following injuries:
Crewmember Accidents: We also represent cruise ship crewmembers injured while working.
Shore Excursion Accidents: The cruise lines are often found vicariously liable for injuries caused ashore while on a pre-planned excursion. Common injuries include getting legs and ankles crushed between unsteady tender boats in medium to rough waters at the dock and port of departure/arrival location. Princess faces liability for boat and skiff accidents, bus accidents, Segway tour crashes, electric scooter wrecks, and other severe, life-altering injuries to passengers enjoying excursions. These also include car, truck, shuttle, and tour bus accidents.
Man Overboard (MOB): Falling off a ship could be by accident, but many fall into the sea from a boat are caused when a criminal rapes a woman or child and throws them over the side. Bad actors do this to destroy evidence of the criminal act. We serve clients seeking financial compensation, including bereaving family members and many passengers. Even when the FBI won't help those injured aboard ship with their criminal matter, we go after ships operated by Princess and hold them accountable to you and your loved ones.
Medical Doctor Negligence: The ship's doctors, nurses, and medical staff can fail to diagnose, misdiagnose, or align themselves as parties supporting negligent crew and staff. They must be held accountable when they place their oath over passengers.
Slip, Trip & Fall Injuries: Slip and fall accidents are most common on decks and near elevators located by the swimming pool and Jacuzzi areas of cruise vessels underway. Most of the time can be avoided with proper warning and better supervision to prevent over-serving alcoholic drinks.
Sexual Assault & Rape: We have assisted multiple minor children, both boys and girls, who are alleged to have been assaulted by a cruise crew member or fellow passenger. Even the childcare personnel offered by the ships have been suspected of being abusers. Our cruise ship rape lawyers are standing by to help any victim raped under sail.
Covid 19, NOROVIRUS, or other Coronavirus Pandemic: We can help you sue for a wrongful suicide or other losses associated with food-borne illnesses and pandemics famous for occurring on large cruise vessels. If your loved one was trapped aboard a cruise vessel as part of a lock-down or mandatory onboard isolation/quarantine, we could help victims anywhere in Los Angeles County, the country, or the world an accident can happen. If you have difficulty finding help, we offer a no recovery, no fee guarantee, so there is no risk to you in pursuing a free consultation to discuss your legal matter.
Burn Injuries: Fires aboard in kitchens, engine rooms, or even a mixed drink with a fire in it do occur on and off the ship. We can help you bring the claim and help the Coast Guard investigate.
Wrongful Death: Unfortunately, international treaties can make your wrongful death claim practically worthless.
Cruising is a potentially dangerous activity. If you were brave enough to take a cruise knowing this, you might still be exceptions to get maximum compensation. But sleeping on your rights subjects you to the mercy of companies with a history of covering up rapes and crimes at sea.
Our skilled cruise ship attorney can assess your unique circumstances if you are among the many people who've suffered a similar accident. As defined by the passage contract, a hurt person's rights are usually curtailed by certain statements and disclaimers involved with the trips you take. Don't jump on these cheap deals until you finish reading these warnings. During your free case review, we can explain things and help with the unique type of legal claim you must pursue against your ship to pursue monetary damages. We'll cover the subject of time limits associated with the injuries sustained.
We can provide any other information about limitations, localities, and free help from all-volunteer support organizations like International Cruise Victims after you set sail and become injured.
Proving Cruise Ship Negligence?
Cruise ships are common carriers of persons and things for hire. As such, they owe a special duty of care beyond a typical person taking you for a "rip" down the block in their pick-up truck vehicle.
Because of this, liability for your damages is generally easier to prove against a cruise liner. The cruise ship captain, and by extension, Princess Cruises, can be held strictly liable for stranding a passenger, battery the crewmembers commit against a passenger, etc. However, in cases where negligence is at issue, your cruise ship lawyer must prove the ship owed you a duty to prevent your injury and they breached their duty. Finally, you receive compensation, and your lawyer has the burden of showing the breach caused your injuries and that the injuries were a likely result of this type of breach. This is called the damages phase of a personal injury case.
Damages Compensation For A Cruise Gone Bad
Yes! Luckily, in California state court, cases against Princess Cruises can be brought under California ordinary negligence principles against the crewmembers and the company itself.
We have a strong track record for successfully bringing and winning claims for the following damages:
Economic Damages
These are also known as tangible, special damages. We have helped clients recover damages against Princess and other cruise lines for lost wages, income, attorney fees, and medical bills. We often allowed people to exercise their legal options where no other firm would help. Put our combined experience to work for you.
Non-Economic, General Damages
This compensates the victim or the victim's estate for losses from pain and suffering, including other intangibles caused by the cruise ship-related injury or death.
Although you can seek punitive damages for wrongful death, rapes, and intentional acts, they are rarely awarded in California personal injury cases. Again, the ticket contract limits your rights, so you must call an attorney immediately or risk losing valuable compensation.
TIPS: What Do You Do If You Suffer An Injury on a Princess Cruise Ship?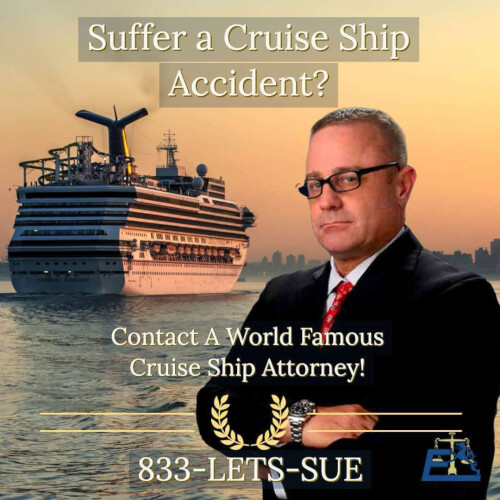 Princess Cruises is highlighting its dedication to visiting exotic locations as part of its rebranding efforts. They are also promoting its new website and radio and TV propaganda ads.
Their leisure activities, shore excursions, and the environment onboard can cause certain risks. In such cases, you must stand up for your rights and the right to compensation.
It would help if you never represented yourself whenever you suffer a medical emergency or severe injuries. Ehline Law Firm can help you understand the unique laws and details surrounding your accident. Working as part of our team, we can build the most robust case with the largest payout.
What Are There Deadlines for Bringing a Cruise Ship Claim?
As discussed, the Princess Cruise tickets contract requires all injured passengers to notify the cruise line in writing of a claim within six months and file a lawsuit within one year of the accident. Once you or your loved one becomes our client, our maritime lawyer will abide by the deadlines stated in the ticket and defend your claim in either federal or state court.
In What Court Must My Injury Claim Be Filed?
All personal injury lawsuits against Princess Cruises or a crew member must be filed in Federal Court located in Los Angeles, California. Other cruises may require bringing your case to Fort Lauderdale, Fl. This is true no matter where the injured passenger is from or which port the cruise departed and returned to.
Many cases we take involve suing attorneys for malpractice, assuming there was a two-year statute of limitations to sue or because their lawyer brought a lawsuit in Florida instead of Los Angeles, California.
RECAP: You Won't Have Long to File an Injury Claim!
If you want to file an injury claim against Princess Cruise Line, you must first read and comply with the terms and conditions of their Ticket Contract, which are available on their website. You must act promptly if your goal is to submit an injury claim against Princess Cruise Line.
You'll have the following:
Six months to file a cruise ship injury or luggage loss claim from the date of loss
12 months to file a lawsuit in a federal or state court
Los Angeles, California, as the central superior court, to file a negligence claim.
Our commitment is to make sure you don't get owned by Princess Cruises. We will give you control back and ensure you are on track to success with helpful tips, tricks, and legal maneuvers.
Schedule a Free Consultation With A Princess Cruise Ship Accident Lawyer Today!
Get a free, no-deposit consultation with a no-recovery no, fee promise from our multilingual staff today. Our superior Princess Cruise ship accident lawyers in Los Angeles, CA, can help with any injury or death. If harmful activity occurred aboard a Princess Cruise Ship and you suffered, call (833) LETS-SUE to speak with top-notch maritime injuries attorneys from our offices today. Let's begin the process of recovering maximum compensation. Se Habla Espanol.
*The above contact form sends transmissions via email without being encrypted (not secure.) Sending a text message, making a phone call, or leaving a voicemail does not establish an attorney-client relationship.
Michael Ehline is an inactive U.S. Marine and world-famous legal historian. Michael helped draft the Cruise Ship Safety Act and has won some of U.S. history's largest motorcycle accident settlements. Together with his legal team, Michael and the Ehline Law Firm collect damages on behalf of clients.
We pride ourselves on being available to answer your most pressing and difficult questions 24/7. We are proud sponsors of the Paul Ehline Memorial Motorcycle Ride and a Service Disabled Veteran Operated Business. (SDVOB.) We are ready to fight.