If we don't win, you don't pay.
Speak to the Attorney.
Born to serve.
633 W 5th Street #2890
Los Angeles, CA 90071
(213) 596-9642.
Date Modified: August 7, 2023
It was all about fitness gyms in the 80s and early 90s, including Golds, Family Fitness, and LA Fitness. I grew up working out with my dad at Orange County Athletic Club, OCAC, and eventually got into membership sales at the same gym after it was purchased by LA Fitness (Santiago Canyon Road). As the Inland Empire director of corporate wellness for Bally's Total Fitness, I handled multiple fitness centers. I ultimately worked for many health centers, including Reflex Health Club, Dana Point, and smaller gyms across the Golden State.
Fitness centers and I have become inextricably linked, as I still train at Powerhouse Gym in Torrance as well as Las Vegas with my wife. Even though I am a busy lawyer, my Marine background can't bear the idea of me being a "disgusting fat body." In my over 30 years of consistent workouts, I have never filed a personal injury claim for myself. However, as a lawyer, I have filed many legal actions against unreasonably dangerous or insecure health clubs and have won. In a little over a decade, my legal team has racked up an impressive $150 million + in personal injury verdicts and settlements, including California and Texas victims as well as tourists.
Devolution of The US Fitness Gym?
Starting around 2020, began a nonstop, for-profit media campaign portraying fitness as racist or even white supremacist. However, I have never seen a successful lawsuit against gyms for failure to honor BLM, etc. Although pharma and the food industrial complex have supported campaigns to socially accept morbidly obese as "inclusive," eating healthy and exercising remains popular with free-thinking fitness fans. Avoiding severe injuries at gyms is something a well-seasoned bodybuilder does by virtue of their education in both proper form as well as sufficient rest, great nutrition, and proper hydration.
Obviously, with California gym owners, pro FREEDOM, pro parent influencers like Gavin Louis Uridel, it is easy to see how some people would love to sue a health club for any tiny infraction. Brave gym owners like hero Dave Fisher of Powerhouse Gym, Torrance, CA, stood up against unfair COVID-19 lockdown mandates, and no one got sick. So big government advocates naturally dislike these testosterone-filled operations, right?
Cancel Culture and Fitness
Fortunately for fitness fans, it's not easy to sue a health club and win. Cancel Culture aside, I wouldn't say I like the idea of suing a health club. In any event, many gyms, like churches, morphed into high-end mega gyms like Equinox, where the ladies seem to like sitting on equipment while they text or talk to others "working out." Also modernly, there are condominium gyms, workout facilities on cruise ships, and more. For example, there are hotel and resort gyms, as well as private school gyms. Many of these places did not exist prior to Arnold, Conan and Commando movies and Rambo, First Blood Part Two!
The time of Sampson's Gym on East Chapman in Orange, CA has clearly passed. But the risk of gym accident injuries injuries is still the same at large gym as it is at a small gym. Many people complain that designer, or megagyms (aka workplace and office gyms) seem more like social clubs than serious work out centers, which can easily lead to a shouting match, or blows thrown. So every case is different and each defendant will vary based on culpability and even insurance coverage. I personally won't handle certain lawsuits against gyms, depending on my relationship with the trainer or club owner. For example I will never handle a case against Ms. Olympia, Iris Kyle. She trains my wife and I doubt a jury would ever find in my favor. She has a phenomenal gym and the cleanest gym EVER! And I would know.
That's the true gym culture I came from, where we regularly asked, "how much you benching, bro," as a normal part of our vocabulary.
Suing for Gym Accidents
Even when I do accept a case, suing for gym accidents is no walk in the park either. There will be voluntary assumption of the risk issues, as well as waivers. But that doesn't mean you don't have a case. But not all health clubs are created equally. For example, when I helped start 24 Hour Fitness after selling memberships at Family Fitness, which it became, Ray and Packy Wilson got stuff fixed. Their staff knew to immediately place signs on broken equipment. They were big on cleanliness and getting the "gross up" too. Chin and Luis did their best to keep their pools, and equipment up to snuff, as well, after they bought out OCAC and made into one of the first LA Fitness Centers.
But with explosive sales, due in part to my number one in status status, it was always a challenge. Since their successful gym facility venture into other states, they have seen some of the weirdest gym accidents.
Filing a Personal Injury Lawsuit is No Walk in the Park
However, when I was working at many different [now defunct] Ballys Total Fitness stores in the Inland Empire, I noticed it was not the same. The sauna would go unrepaired for prolonged periods, at any number of stores, etc. Occasionally severe injuries will be caused by the negligence of the fitness equipment manufacturer, the gym operator or private trainer. Other times, the bodybuilder made a mistake and it was on them. [Hernia, etc.]
Hazards a Personal Injury Attorney Looks For?
The hazards can be incredibly obvious for many gym goers. Dangers at gyms include heavy lifting, or pulling a muscle due to improper workout techniques. These are generally considered assumed risks unless a third party's actions or inaction led to the harm.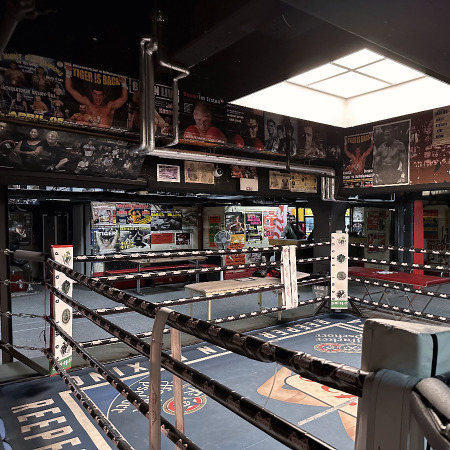 When Can a Personal Injury Lawyer Succeed?
There are other specific incidents where a gym can be held liable for injuries.
Listed below are some of the gyms, fitness centers, and health clubs scattered across the LA and Texas area, where you could suffer a gym injury:
24-hour Fitness
360 Health Club
Anytime Fitness
Crunch Fitness
Equinox Sports Club
Gold's Gym
LA Fitness
Lifetime Fitness:
Orangetheory Fitness
Planet Fitness
Powerhouse Gym
SoulCycle
Spectrum Health Club
The Bay Club
UFC Gym
YMCA.
As well as being able to identify where your accident occurred, it is incredibly important to prove the injuries you suffered. Even Jiu Jitsu dojos can lose big if their teachers suck. Gyms are expected to provide a reasonably safe environment for their members. When there is a failure to meet this expectation, the gym can be held liable for the damages inflicted. When suing a gym for injury, seeking legal representation from a health club or gym injury lawyer is highly recommended.
At Ehline Law, our Los Angeles gym and health club accident attorneys have a wealth of experience in representing those who have suffered injuries as a result of the negligence or misconduct of gym or health club owners. If you have any questions after reading this article, please feel free to contact our law offices in Los Angeles, California, for a free consultation from our well-versed legal advisors.
Gyms, Health Clubs, and Fitness Centers offer spaces for members to work out using their equipment or attend athletic classes usually provided by the location's owners and managers. When members visit these places, they are often made aware of the risks that come with using their services and equipment.
However, many of the injuries that these members experience are not caused by the gym and, as a result, cannot result in legal action. For example, if you suffer a pulled muscle at a gym while using equipment or twist your ankle on a treadmill, you cannot file a claim for compensation.
What Are Examples of Negligence Resulting in a Gym Injury?
Owners should ensure their premises have adequate protection and security. They can be negligent for an attack in the parking lot, or malfunctioning weight machine causing an injury, that was not in good working order. Courts have held any injured people over 15 years old may have a claim. In many cases, product manufacturers have a liability to compensate the consumer for their goods or services.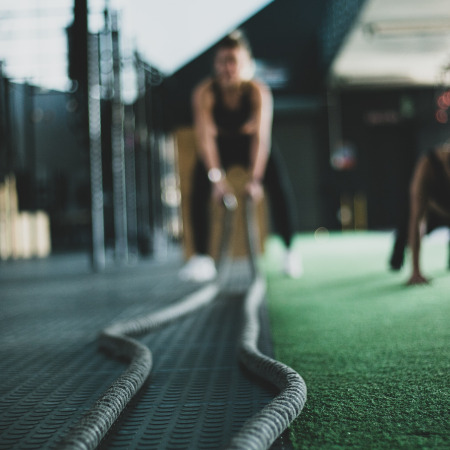 If a new product is not functioning properly, the owner is liable to compensate you for the cost. As mentioned, you will need to be able to prove the negligence of the gym management, staff, or owners. Using the evidence gathered, you must show that the gym's actions were negligent and directly led to your injuries from an accident on a given day. Let's look at some other examples.
Gym, Health Club, and Fitness Center Accidents
Gyms, health club or fitness centers have spaces in the vicinity to exercise using fitness equipment. The gym member may attend sporting classes like basketball, or aerobics. The owners or managers hire the instructors and maintain the areas they teach or play solo. When a member travels to such places often, he is supposed to be reminded of the risk associated with service or equipment. Injuries were not attributed to gym activity are to be expected, while others can lead to litigation.
Example: For example a person suffering from muscle pain during a workout while using equipment can not claim their own stupidity as a basis for reimbursement from the gym. But a slip and fall caused by a wet floor could be the basis for litigation. The best life decision you can make when faced with this, is speak with a lawyer.
Common Reasons for Gym Accidents?
As noted below, members and guests can face poisoning and allergies, muscle overuse or from poorly placed equipment. Rust from a dumbbell can be rubbed into your eye, you could be hit or kicked by a roided out member, cables can snap as the other equipment is falling apart or dislodged .
Among the many causes of fitness accidents are:
Trying to negotiate with insurance companies and privately held gyms can be tenuous and harrowing. Gyms love to waive their liability waiver around as a total defense. But it's not! Gym accidents resulting from negligence on the part of operators, trainers, and manufacturers can be particularly concerning as they may lead to severe injuries. And if they were intentional or negligent, the parties may become embroiled in negotiations. This is not always in their best interest, but we have included many different types of examples to aid your understanding of a decent claim for financial reimbursement.
Some of the common causes of such accidents include:
Inadequate Work Out Equipment Maintenance: Gym equipment requires regular inspection and maintenance to ensure it is safe for use. When I was younger, it was Cybex and Bodymaster, as Nautilus phased out. Each new piece came with its own risks and benefits. Negligence in maintaining such equipment can lead to accidents, including malfunctions, broken parts, or loose bolts at a hotel or resort gym, for example.
Lack of Safety Checks: Gym operators should conduct routine safety checks on all equipment to identify and rectify potential hazards. This includes slip proof mats in locker rooms and mopping up floors to avoid steam room accidents. Failure to do so can create unhappy accident victims forced to deal with a less than cooperative insurance company or HR person.
Improper Equipment Setup: Incorrect gym equipment installation or setup can pose serious risks to users. This includes improperly setting up weight machines, benches, or racks, leading to instability and accidents.
Insufficient Staff Training: Gym staff, including trainers, should be adequately trained in equipment usage, safety protocols, and emergency procedures. Lack of training can lead to improper instruction or response during accidents.
Inadequate Supervision: Trainers should actively supervise clients to ensure they are using equipment correctly and safely. Lack of supervision can result in clients attempting exercises beyond their abilities or performing exercises with incorrect form.
Failure to Provide Safety Instructions: Gym operators and trainers should provide clear safety instructions to members regarding equipment usage, exercise techniques, and potential risks. Neglecting to do so can lead to accidents caused by user error.
Lack of Emergency Preparedness: In case of an accident or medical emergency, gyms must have proper protocols to handle the situation promptly and efficiently. Failure to be prepared can exacerbate injuries or delay medical assistance. A lack of clear emergency procedures in case of accidents or injuries can lead to delays in providing assistance. Gym owners with offices and even public school gyms must all have some plan to act quickly and triage victims in a given time frame.
Pre-existing Medical Conditions: Employees may have medical conditions or injuries that they are not aware of or have not disclosed, which could lead to complications as they assist others in exercise training, etc. Members, too, can have these problems, making emergency preparedness vital.
Defective Equipment: Accidents can occur if gym equipment is manufactured with design flaws or defects. The local public school gym is one example of poor maintenance of old universal machines that can harm people by getting a body part caught in the equipment, etc. Schools may have 1,000 or more students using machines during each school week. Hence, underfunded schools may not keep them cleaned and maintained to ensure the safety of all users. In addition, faulty equipment can cause problems that fall outside of product liability for equipment manufacturers. But besides maintenance, the original manufacturers should ensure their products meet safety standards and address any potential risks by issuing a recall and fixing the problems. Gym accident lawyers often face non-suits when it is decided the equipment was used improperly, as opposed to the equipment having been defective.
Inadequate Facility Maintenance: Perhaps a problem with fitness studio owners was that their facilities were not kept clean, which could be considered liable in a premises claim. Neglecting the maintenance of the gym premises can result in hazards such as slippery floors, faulty lighting, or damaged surfaces, leading to a serious injury or the beginnings of a serious injury or wrongful death lawsuit. In changing rooms, an older person may never recover from slipping, especially if they suffer from broken bones. All this is another reason property owners should actively seek out dangerous conditions on a case-by-case basis within a given time frame. Bunched-up towels left to sponge up standing water can be negligent actions when someone trips over them in a wet area. for this reason, the entire facility should be meticulously maintained, like the Powerhouse Gym run by Iris Kyle in Nevada. According to California negligence laws, an injured individual who has been negligent could have liability for injuries.
Inattentive Trainers: The gym makes the choice of who is allowed to train people at their premises. Trainers who are not fully engaged or attentive to their clients may miss potential safety issues, leading to accidents during workouts at gym facilities. Because of this, the health club and the trainer could be on the hook, even if you signed a waiver. We offer all new gym injury victims a free legal consultation to review documents, medical bills, etc.
Overcrowded Facilities: Overcrowded gyms can create an environment where accidents are more likely to occur, such as collisions or equipment misuse due to limited space and supervision. If you need legal assistance to discuss whether you have a case, our injury attorneys are available 24/7 to discuss helping you obtain an award of full and fair compensation at (213) 596-9642.
Special Problem – Hotel, Motel, Office, and Workplace Gyms
These accidents, such as the Equinox model, can also happen at a regular gym but can be magnified when you bring clients into your office gym. Some gym facilities offer workspaces and even a full bar and eatery menu. Megagyms need to account for people not there to work out and make sure they are warned of problems inherent in many gyms, including standing water from pools, steam rooms or hot tubs, etc. Hotels and motels also offer lesser used facilities.
Here are some additional gym accident cases that can happen to visitors and gym attendees.
Slippery or Hazardous Surfaces: Of all the accidents at a gym, falling remains the most common. Wet or slippery gym floors, especially in shared spaces with showers, can increase the risk of slips, falls, and related personal injuries like a traumatic brain injury or broken wrist.
Lack of Safety Signage Accidents: Proper signage warning employees about potential risks and safety guidelines can help prevent accidents.
Gym Sexual Assault: Gyms should be safe spaces, but sexual harassment and assault can occur. Women, in particular, could be forced to share the female locker room with a biological male predator to be "inclusive." Women are easily assaulted in a dimly lit locker room or parking area. If you experience such incidents from trainers, staff, or others at the gym, you have the right to seek compensation through a lawsuit. Prioritizing safety is crucial for all gym-goers.
Other Assault and Battery: High emotions and anabolic steroid use at gyms can lead to physical altercations and serious injuries. The gym must prioritize safety for customers. If you experience assault and the gym lacks proper policies to prevent fights, you may have the option to sue the gym along with the perpetrator.
In Summary, You Can Suffer:
Tripping and falling over unracked equipment
Falling or slipping in the changing rooms
Slip and falls in a shower
Tripping over bunched-up mats left on the floor
Landing hard and twisting or breaking an ankle
Body parts getting caught in broken equipment
Assaults and attacks.
To reduce the risk of gym accidents resulting from negligence, gym operators, trainers, and manufacturers must prioritize safety by conducting regular equipment inspections, providing proper training to staff, implementing safety protocols, and maintaining a clean and hazard-free environment. Additionally, fostering a culture of safety awareness among staff and members can help prevent accidents and injuries and the associated costs of rehabilitation. We offer free consultations and take most cases on a contingency fee basis to help you get a fair settlement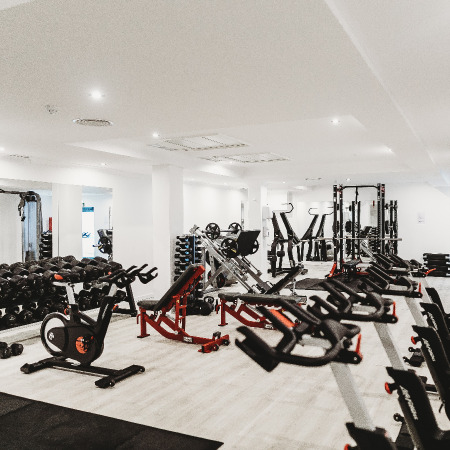 Common Injuries From Gym Accidents?
While the injuries caused by gym accidents can vary dramatically, certain injuries occur more commonly than others. Weight-related injuries, including a resistance band snapping or breaking, can take out an eye or break bones. You could also suffer an amputation from horrific treadmill injuries.
Listed below are some of these common injuries:
Head Injuries:
Head injuries can range from minor contusions (or brain bruising) to more severe traumatic brain injuries or TBIs. Some TBIs can cause ongoing seizures, mood changes, cognitive impairment, and other debilitating symptoms. Head injuries usually require emergency room treatment or hospitalization and can result in death in more severe cases.
Hip Fractures:
Hip fractures often require surgery and extended hospitalization. In some more severe cases, surgery may be necessary to implant an artificial hip. Unlike a strained leg, one of every five hip fracture patients dies due to their injuries, forming the basis of a wrongful death case after a tumble breaking the hip. Trash on pavement tripping someone is also not uncommon. Refusing in the parking lot could conceal grease or a wet patch so that you could get hurt on your way too, or out of the gym to and from your car!
Back and Spinal Cord Injuries:
a back injury or other injury to the spinal cord can lead to permanent paralysis, temporary paralysis, and other severe neurological and sensory impairments. Tripping on a floor of wet tiles, landing awkwardly, or striking your head on a low-hanging barbell or some other stand-alone units is a risk we face despite warning signs. Back injuries can be among the greatest financial losses in terms of missed work and medical care due to their connection to brain and nerve function.
Shoulder Injuries:
Accidents caused by faulty gym equipment or poor supervision can result in shoulder dislocations or more severe forms of shoulder injuries called Brachial Plexus injuries or a torn Labrum. The Brachial Plexus is a network of nerves that connect the shoulder, arm, and hand to the spinal cord. These injuries are usually caused by sheer overuse and are often treated with surgery followed by extensive physical therapy.
Sprains and Fractures:
Gym accidents can also result in minor to severe bone injuries. In some cases, the impact of the ground could cause minor sprains, in others; it could cause debilitating bone breakage that may result in temporary disability.
Some of the common fractures that victims suffer include hip, spine, forearm, leg, ankle, pelvis, upper arm, and hand.
Other injuries:
Broken noses
Wrist injuries
Toe injuries
Finger Injuries
Chest trauma – resulting in Pulmonary injury to the lungs and sternal fractures
Poisoning or Allergy
A poisoning or allergy due to a contaminate foreign metal in the handle of workout equipment can infect a person or make them break out in hives. The manager must seek out rust and metal deterioration from rust and also ensure the equipment was delivered rust-free after delivery by the product manufacturer.
With the help of a gym injury attorney, you could find a satisfactory settlement for your case that can be used to cover damages such as medical expenses, a loss of wages, and even a potential loss of future wages.
Other allergies:
Acne Mechanica
Blister Injuries
Turf Burns
Athlete's Foot from fungus.
As mentioned, suing a gym, health club, or fitness center for damages caused by an accident can be incredibly challenging because many places require members to sign liability waivers.
How To Sue A Gym, Health Club, or Fitness Center For An Accident
Usually, when you join a gym, health club, or fitness center, they will ask that you sign a liability waiver to protect them from any accidents that may occur on the premises. If you rented an Air BnB with a workout room, your contract would have a similar release of liability provision. As a result, if you signed a liability waiver, it is unlikely that you will be able to sue the owner for any accidents like a pulled muscle or an injury caused by improper use of gym equipment or another member's failure to secure weights properly.
Is Reliance on a Liability Waiver Reasonable?
Not always. Most injured people shy away from pursuing the fitness center. This is because members are asked to sign gym liability waivers, protecting the gym from most potential claims in a given time frame for certain known dangerous conditions inside. However, if your injury was caused by defective gym equipment, or the gym's failure to supervise the use of weights, etc., the victim may be able to file a suit against the gym in question. When filing your claim, it is incredibly important to finely tune your evidence finely. You must be able to identify the gym owner properly. However, the waiver can be invalid if your injuries are caused by an accident resulting from the blatant negligence of the gym staff or owners.
For example, if your accident was caused by a weight falling on your head as a result of faulty gym equipment, you could sue the gym for the injuries. This is also true if there is a hazard at the gym that the gym failed to remedy within a reasonable amount of time. Under premises liability, a property owner can be found liable for the damages of an accident caused by their negligence or misconduct, liability waiver or not.
With every lawsuit involving premises liability, you must be able to prove that the following was present in your case:
There was a hazardous condition or potentially dangerous condition on the property, like faulty workout equipment or a slippery floor, which presented an unreasonable risk of harm
The property owner should have been aware of the dangerous condition
The property owner failed to either warn guests of a reasonable condition and did not take reasonable action to remedy the issue.
The hazardous condition resulted in the injury of a tenant or patron.
The same goes for a sexual assault at a hotel resort gym or dimly lit parking lot. The apartment owner could be liable for guests, even if they did not sign a contract to work out.
TIP – EVIDENCE: Unfortunately, proving liability, discussed more below, is only one aspect of filing a successful personal injury lawsuit against a gym. When you suffer a gym accident caused by the staff or management's negligence, you must not hesitate to swiftly collect all the evidence you can to support your claims.
Evidence can take the form of:
Photographs
Medical records
Eyewitness testimonies.
The plaintiff must be able to prove that the defendant's actions or lack thereof caused the plaintiff's injuries and Damages. Regardless of the evidence you collect, it is crucial that you report your accident as soon as possible. If you wait to report your accident to the management or staff, their defense attorneys may be able to deny your claims of liability. Another large aspect of filing a lawsuit against a gym is the statute of limitations. The statute of limitations is the time limit imposed by individual states, which indicates how long an injured party has to bring their case to court.
If the injured individual fails to adhere to this statute, their case will likely be dismissed from court. For example, in the state of California, victims of personal injury have two years from the date of the accident to bring their case to court.
How to Prove Negligence Against a Sports Club or Health Club?
Listed below are the critical components of a claim of negligence:
Duty:
The plaintiff (injured or damaged party) must be able to show that the defendant (gym owner or property owner) owed a legal obligation to the plaintiff under the particular circumstances of the case. They may need to inspect equipment. Foreign bodies, like rust from sweat deep in the cavity of a workout machine, could weaken a machine and make it crush someone during gym class, such as during circuit training, etc.
Breach:
The plaintiff must be able to show that the defendant breached said legal duty through specific actions or failure to act appropriately. The supremely confident lawyers at our law office are experts in meeting this burden.
Causation:
The plaintiff must be able to show that they endured some specific, actual harm, which we lawyers call damages. Even nuisance damages are considered damages. The defendant's insurance agent is an expert at asking loaded questions to record you over the phone, saying it was your own negligence, not the personal trainer's or other defendants.
Damages:
This aspect can usually be shown through the presentation of medical records, a loss of wages, or a loss of potential income. In some cases, the gym can be found only partially liable for the injuries. Our liability lawyers understand you can face a significant financial burden with medical bills, hospital deductibles, and lost wages, etc.
Special Problem – Products Liability
For suits involving faulty gym equipment that injured you at a gym, the manufacturer could be liable for the damages instead of the health club. Under product liability law, product manufacturers are expected to keep defective products out of the hands of consumers.
This legal theory also states that if a defective product ends up in the hands of a consumer and that consumer is injured, they have every right to sue everyone in the chain of commerce for the damages. Regardless of the specific aspects of your case, having a skilled attorney by your side can mean the difference between filing a successful claim for compensation and having your case dismissed from court with or without prejudice.
What to Do if Someone Got Injured at Gym?
I created this list for health clubs as well as school gyms as an educational guide. It is not personal injury attorney legal advice. But it is intended to help mitigate risk when followed properly after someone gets injured while visiting the gym.
Here is my ultimate guide on steps to take if someone gets hurt at the gym:
Assess the Situation: Stay calm and assess the severity of the injury and the need for medical treatment. If the person is in distress, seek immediate medical attention by calling emergency services (e.g., 911) if necessary.
Provide Comfort and Reassurance: Now is not the time to worry about the legal process. Stay with the injured person. Try and provide comfort and reassurance by telling them help is on the way. Just do your best to keep them calm and prevent further injury.
Move the Person to a Safe Area: If the injury is minor and the person can move without worsening their condition, help them to a safe area away from any potential hazards.
Do Not Move if Spinal Injury Suspected: If you suspect a spinal injury, do not move the person unless they are in immediate danger. Stabilize their head and neck and wait for medical professionals to arrive.
Control Bleeding: If there is bleeding, apply gentle pressure with a clean cloth or bandage to control it. If possible, avoid direct contact with the person's blood to reduce the risk of infection.
Use First Aid Supplies: If the gym has a first aid kit, use it to address minor injuries or stabilize the person before professional help arrives.
Seek Medical Attention: Encourage the injured person to seek medical attention even if the injury appears minor. It's better to be cautious and get a proper evaluation from a healthcare professional.
Notify Gym Staff: Inform gym staff about the accident so that they can take appropriate actions, such as documenting the incident and reviewing safety procedures.
Follow Gym's Emergency Procedures: If the gym has specific emergency procedures, follow them accordingly. This may involve contacting management, filing an incident report, or contacting the gym's emergency response team.
Maintain Privacy and Respect: While assisting the injured person, respect their privacy and refrain from sharing details of the incident with others unless necessary for safety or medical purposes.
Offer Support: If the injured person needs assistance contacting family members or friends, offer to help make those arrangements.
Prevent Similar Incidents: After the incident, take steps to prevent similar accidents in the future. Address any equipment issues, improve safety measures, and provide additional training to staff and gym users if necessary.
Although California has Good Samaritan laws, providing first aid to an injured person should only be done by a person with adequate training, knowledge, and skill. If you do not know how to handle a specific injury, consider waiting for the ambulance or crying out for a doctor who is there working out. No matter what, prioritize the well-being and safety of the victim as you wait for additional medical attention.
Importance of Gathering Evidence?
After you've suffered an injury in the gym, you may not be sure what caused the accident. Several factors probably influenced the accident which injured you. Investigating swiftly can set you up for the best possible outcome in the least amount of time. Our lawyer will have a responsibility to fight and help settle your case much faster or set it up for a trial on the merits. That way, you can undergo your physical healing and recovery process.
Now you have breathing room to determine your next steps with less emotional stress and baggage. We will worry about the money and advance the costs. When you schedule your free consultation, we will review your success chances. In the meantime, here are some things customers should focus on before their initial consult to get paid.
Can You Receive Coverage for a Fatal Gym Injury?
Yes. If a person died after being hurt during a gym activity, they may be able to sue in a wrongful death court claim.
If you properly file a timely claim through our Los Angeles law firm, you could obtain some, if not all, of the following compensable damages:
Past & Future Medical Expenses
Lost Wages
Potential Loss of Future Wages
Pain and Suffering, including Emotional Distress from anxiety, depression, PTSD, etc.
Punitive Damages.
Our Los Angeles attorneys have a wealth of experience in fighting for the rights of injured gym patrons and can help you sue the gym responsible for your damages. While our law firm is based in Los Angeles, our lawyers also practice in San Diego, San Francisco, Riverside, Oakland, Fresno, and throughout the entire state of California.
How Ehline Law Firm Can Help?
If you or a loved one has suffered some form of gym accident injury, you may be eligible to file a claim for significant monetary compensation for your damages. Although when pursuing legal action against a gym owner, it is highly recommended to have an attorney on your side that knows the ins and outs of premises liability law and gym injuries.
At Ehline Law Firm, our skilled Los Angeles gym injury attorneys can walk you through the whole process, from filing a claim to collecting compensation for the damages suffered.
Free Second Opinions Here
Other attorneys will sign you up for their firm but will disappear once your name is on the paper as they are busy signing up more cases. In these instances, their business is based more on volume, and they will attempt to sign up as many cases as possible. In turn, they will spend less time on cases resulting in severely reduced settlements. Our firm will not treat you like a number.
We will communicate with you throughout our lawsuit and treat you like family. So if you already have an attorney, don't worry; we'll give you a second review of your case 100% free of charge.
Zero Fee Guarantee-No Upfront Fees Ever
If you contact our law offices today, we can answer your questions swiftly and competently. Even if you think it's your fault, call us. Our best personal injury attorney can walk you through the complicated process of filing your claim completely free of charge. As a show of our loyalty and commitment to you and your case, we offer our clients the added assistance of a zero-fee guarantee policy. Under our zero-fee guarantee policy, no clients pay for our legal services unless their case is won during negotiations or trials. If you feel in need of a second opinion, second opinion case reviews are also free under this policy.
Speak with a Fitness Center Injury Lawyer Today
Don't hesitate to give us a call. Our team can typically guide you to obtain proper compensation for your damages and losses in less than 20 minutes over the phone. But you must contact our fitness center accident lawyers for free advice before beginning the representation process.
If you suffered a fitness center or gymnasium catastrophe, our health club safety lawsuit attorneys are ready to fight on your behalf. We will not rest until all negligent health centers, offices, and restaurants provide the necessary safety and security and pay you for their failure to provide you with the same. Call Michael Ehline or one of our talented personal injury lawyers today at (213) 596-9642.
Citations:
Michael Ehline is an inactive U.S. Marine and world-famous legal historian. Michael helped draft the Cruise Ship Safety Act and has won some of U.S. history's largest motorcycle accident settlements. Together with his legal team, Michael and the Ehline Law Firm collect damages on behalf of clients.
We pride ourselves on being available to answer your most pressing and difficult questions 24/7. We are proud sponsors of the Paul Ehline Memorial Motorcycle Ride and a Service Disabled Veteran Operated Business. (SDVOB.) We are ready to fight.