Although all children are at risk of playground injuries, girls are at a higher risk of sustaining injuries, and children between the age of 5 and 9 are the most affected by these personal injury cases.
Examples of School District Injury Claims
Most school accidents occur because of negligence by the school, the officials, and the administrators. The school may bring other outside parties to supervise students who may also be responsible for failing to maintain a reasonably safe environment for the students.
Some examples of school district injury claims include the following:
Assaults and bullying: School districts may fail to control or address such issues leading to depression and suicide.

Sexual abuse and harassment: Failing to properly take action against school officials, administrators, and other employees accused of sexual assault and abuse.

Violence and physical harm: School districts fail to provide sufficient security to prevent firearm abuse, school shooting, violence, and other types of physical harm to the students.

School bus accident: School officials failed to conduct background checks on their drivers or maintain their school buses leading to serious school bus accidents.

Playground injuries: Negligent coaches fail to realize initial injuries and force injured students to continue playing can lead to severe traumatic brain injuries.

Wrongful death: Failure to supervise students at swimming pools, on playground equipment, and during other school activities can lead to injuries and, in worse cases, death.
Many other accidents can occur at school, physically and emotionally harming young children. Not only do these accidents cause the students to suffer, but they also impact the lives of the parents who get to witness their child's emotional distress firsthand. Those at fault must be held liable. We can make sure you meet the legal deadlines like the statute of limitations. We stand ready to assist you 24/7 if you wish to seek compensation and want to pursue legal action against the parties responsible with help from our law firm.
Hazards Present in Schools and on Playgrounds
Most school-based injury incidents occur at the playground. As mentioned by the CDC, there are over 200,000 children treated at hospitals for playground-related injuries, with most students below the age of 15 years. A major reason for such injuries is poorly maintained grounds.
Injuries and deaths at a school playground can occur from falls, moving equipment, entrapment, sharp edges, collapsing equipment, and negligent school district employees.
Can You Sue Private and Public Schools for Injuries to Your Child?
A school district must ensure a safe environment and protect students from harm. That includes conducting background checks on their employees and providing them with the necessary training to reduce the risks of accidents. 
However, accidents can occur on school grounds, including classrooms, bathrooms, playgrounds, and other places, due to the negligence of school district employees.
When a school district employee fails to exercise reasonable care, they may be responsible for your child's injuries, for which you may be able to bring a civil action.
Recoverable Damages from Private and Public School Injury Claims
All types of accidents can occur on a school property for which parents can pursue a school district claim or lawsuit to recover damages.
The damages can vary from one case to another, so it is crucial for parents to reach out to experienced private and public school accident attorneys to understand their legal options.
Typically, there are two types of recoverable damages from private and public school injury claims, including the following.
Economic Damages
An accident at public or private schools can lead to injuries, directly affecting the parents' financial status. 
Affected parents have to pay thousands of dollars in medical expenses, which may include medical treatment costs, surgeries, future medical bills, rehabilitation, therapy, and more.
Non-economic Damages
A child injured at school may face subjective losses directly affecting their life, including pain and suffering, reduced earning capacity, mental anguish, emotional distress, and reduced quality of life.
Calculating non-economic damages following an accident can be challenging. Parents must contact experienced school district accident lawyers to help assess and calculate the damages to ensure maximum compensation.
Who is Liable for a School Bus Accident?
A negligent school bus driver can result in a school bus accident, causing injuries to the students aboard the bus. However, there may be other liable parties, including another negligent driver or the bus manufacturer.
Parents must speak to an experienced personal injury attorney to help determine the liable parties and hold them accountable for the damages incurred.
Can You Sue for Injuries at the Child's School Playground?
Suing for injuries at a playground is trickier than you would imagine. When children play sports in the playground or represent their school district in sporting activities, they assume a certain level of risk attributed to that activity. They cannot bring a civil case against the school district or its employees in such cases.
However, if the school district, its employees, or any other person was negligent at the playground that resulted in harm to your child or if anyone intentionally hurt them, you may be able to bring a civil case to recover compensation.
Establishing the elements of a negligence claim may be challenging, which is why parents must reach out to skilled school district accident lawyers for legal representation.
Statute of Limitations for Public and Private School Injury Claims
The statute of limitations may vary depending on the school and the state. For California public schools, the statute of limitations is six months, but if your child got hurt at a California private school, you have two years following the date of your child's injury.
Speaking to experienced school district accident injury lawyers can help parents know their legal rights and options despite defenses like qualified and sovereign immunity relied on by many pernicious teachers and other parties.
Schedule a Free Consultation with Ehline Law's School Accident Lawyers in Los Angeles, California
Was your child, employee or teacher injured at school? Do you wish to seek legal action and pursue compensation for negligent acts or sexual abuse at a public or private school in Los Angeles County, California? Our skilled investigators can conduct a thorough investigation against private and public entities who failed to keep your children safe.
Our superior injury attorneys can offer the legal help you need if you or a child was injured due to a foreseeable consequence. If your child's injuries were due to school district negligence, contact us at (833) LETS-SUE for a free legal consultation with our personal injury lawyer. You deserve the best lawyer and our award winning team is ready today to help you obtain maximum recovery for your ailments and suffering.
---
Michael Ehline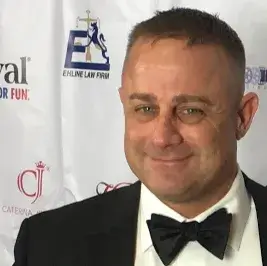 Michael is a managing partner at the nationwide Ehline Law Firm, Personal Injury Attorneys, APLC. He's an inactive Marine and became a lawyer in the California State Bar Law Office Study Program, later receiving his J.D. from UWLA School of Law. Michael has won some of the world's largest motorcycle accident settlements, and he can help you get the compensation you deserve for sure.
---
Recent Personal Injury News
Check out news about the most recent premises liability accidents and more, including the famous, infamous and everyday people wounded by at fault parties around the world. Follow us on social media to learn more about pain and suffering damages and getting paid the most. At Ehline Law Firm, we're clearly different.