If we don't win, you don't pay.
Speak to the Attorney.
Born to serve.
633 W 5th Street #2890
Los Angeles, CA 90071
(213) 596-9642.
2323 S. Voss Rd, Suite 244
Houston, TX 77057
(832) 592-1260.
Date Modified: August 17, 2023
This is the Ultimate Guide to Compensation for personal injuries in Contra Costa, CA.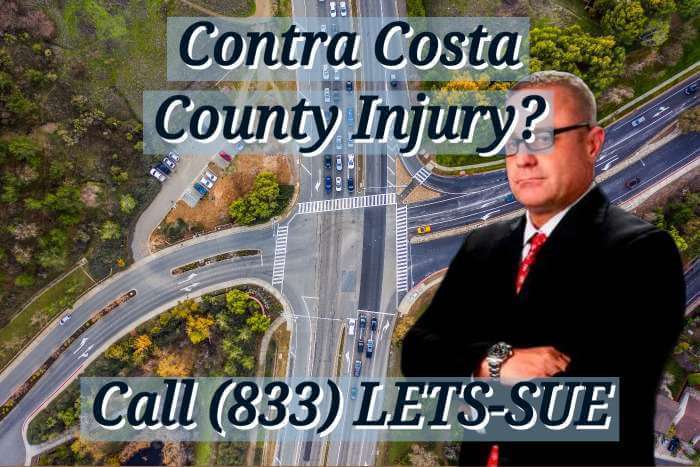 Personal Injury Lawyers Helping Victims in California
Were you or a loved one hurt in an accident that was the other person's fault? Tired of dealing with the insurance company on your own?
The consequences of an accident on a victim and their quality of life onwards are often dire, including emotional, mental, physical, financial, social, and economic burdens.
When it comes to personal injury claims, one will find that they are both challenging in terms of litigation. Most victims often do not have the knowledge of how one would go about taking legal action after an accident has taken place.
Usually, those victims without the necessary legal personal injury representation end up suffering the most. People who have incurred catastrophic injuries due to an accident caused by somebody else's negligence should contact an experienced personal injury attorney. Ehline Law Firm is standing by to take your call as soon as possible to schedule a free consultation.
Our top personal injury attorney, Michael Ehline, handles personal injury claims on a contingency fee basis. So call us for a free consultation today at (833) LETS-SUE.
Common Types of Personal Injury Accidents That Happen in Contra Costa County, CA
Contra Costa County, CA, is one of the United States of America's most popular states, and with a dense population, these residents are no strangers to personal injuries and accidents. However, Ehline Law Firm has identified the need for experienced personal injury representation in the area. As a result, you'll have a team of skilled attorneys practicing personal injury law.
Ehline's Contra Costa County personal injury attorneys have the necessary expertise to handle the following personal injury cases:
Car Accident
Bicycle accident
Truck accident
Motorcycle accident
Slip and fall accidents
Catastrophic injuries
Medical malpractice
Sexual abuse cases
Nursing home abuse
Wrongful death.
Common Types of Personal Injuries Suffered by Victims in Contra Costa County, CA
Every serious personal injury suffered is unique to the client, and a premium personal injury lawyer at Ehline Law Office will treat it as such.
During an accident where one has suffered serious injuries, they may have suffered any of the following:
Spinal cord damage
Traumatic brain injury
Cervicalgia
Muscular or neurological damage
Internal bleeding
Burns
Bone fractures
Loss of vision or hearing
Psychiatric disorders such as PTSD
Injury to internal organs.
Statute of Limitations for Personal Injury Claims in Contra Costa County, CA
Victims should be aware that there is a statute of limitations for filing a personal injury lawsuit when it comes to personal injury law in Contra Costa County. This is generally a time period of two years from the time the injury was incurred but can be longer or shorter depending on other influencing factors.
A premium personal injury lawyer who is a member in good standing with the California State Bar handles our personal injury claims daily. Our law network has extensive experience and can help victims with civil litigation.
What Steps Should a Victim Take After an Accident Has Occurred?
The actions taken by a victim immediately after an accident will play a huge part in their medical recovery and the outcome of their personal injury case. A personal injury lawyer serving Contra Costa County will first advise their client to call 911 after an accident and physical injuries have been sustained.
#1 Alert Medical Staff and Police to the Incident
By alerting a group of medical professionals to the accident scene and supplying the police with a description detailing the number of vehicles involved in the accident and the location, victims will be able to get an official police report. It is essential that, during this time, the victim does not accept any blame for the accident and that they remain both factual and honest.
#2 Collect Evidence
The next step entails the victim to document the accident scene and collect all the necessary evidence. This includes capturing pictures of the intersection, visible skid marks, traffic lights, and any vehicle or public property damage. Victims should also collect the other driver's license plate number, contact information, and insurance company details. Those that are too injured to do so should contact a personal injury attorney at Ehline Law Firm.
#3 Seek Medical Help
After all the details have been obtained and evidence collected, the victim should begin to seek medical assistance. Generally speaking, victims often don't feel injured once an accident has occurred due to the adrenaline surge. However, any delay in injury can be extremely detrimental to one's health, and crash victims should always see a doctor as a precaution.
#4 Notify the Insurance Company
The last step requires a victim to notify their insurance provider about the incident, irrespective of who was at fault. For victims to protect themselves against any future personal injury claims, their insurer will need all the information regarding the incident.
The Damages Awarded to Victims in Contra Costa County Personal Injury Cases
Damages awarded to victims in personal injury cases commonly fall into two categories, namely varying degrees of economic and non-economic damages.
Economic Damages
Economic damages are referred to as calculable expenses, and they include:
Lost wages
Property damage
Rehabilitative costs
Medical bills.
Non-economic Damages
On the contrary, non-economic damages compensate for the pain and suffering of a victim and are not easily assigned a dollar amount.
Non-economic damages include the following:
Physical pain and disability
Emotional distress.
Punitive Damages
Sometimes, injured individuals are also awarded punitive damages. Punitive damages are specifically designed to punish the other party's reckless, intentional, or malicious behavior. It also discourages other individuals from behaving in the same way.
These damages are typically awarded in wrongful death cases, especially when the criminal defense case has resulted in a non-guilty verdict against the defendant.
Comparative Fault
California is known as a comparative fault state, meaning that an individual may still be able to recover damages for their injuries even if they were partially to blame for the accident. However, the compensation awarded to these individuals is reduced by the percentage of fault the supreme court will attribute to one's own negligent actions.
An example of comparative fault can be when an individual is seen to be driving way over the speed limit when a car accident occurs. Even if the other driver was impaired by alcohol, the party might still be found to be partially at fault for the injuries that have been suffered.
What Should Be Considered When Hiring a Personal Injury Attorney?
When it comes to a personal injury claim, people who have suffered injuries should ensure that they are hiring the best lawyers. When deciding whether the personal injury lawyer has the skills and extensive experience to take on your case and related practice areas, personal attention should be paid to understanding the following things.
Respect
Reputation is critical when it comes to hiring the right lawyer to assist your case. Both peers and previous clients should respect the attorney an individual is considering hiring. Individuals can establish whether a lawyer is respected or not by skimming through the reviews on their profiles and law network online.
Readiness
Sometimes, an agreement is not reached. When this happens, the case is required to be taken to court. Therefore, any lawyer hired to take on a personal injury case should be ready to represent clients before the judge or the jury. Any attorney who does not seem confident in representing clients in court indicates that they may be willing to settle for less compensation than their client deserves during a negotiation.
Our national trial lawyers have meeting places across California, including the San Francisco Bay Area. We also service Antioch, Berkeley, Davis, Oakland, Fairfield, Walnut Creek, Santa Clara, Alameda County, San Mateo, San Ramon, and Contra Costa County to learn more about forming an attorney-client relationship.
Our consumer attorneys can handle California state and federal district court cases with utmost resolve and compassion. If you were a pedestrian run over in the street, or a shopper who fell on a banana peel in a grocery store, you'd be treated fairly as expected in a comfortable, low-stress environment.
Results
Another way of determining if a lawyer is worthy of the job is by looking at their previous settlements and verdicts. Super lawyers generally have their previous successes listed on their website, but clients should also be able to touch on this during their free consultation.
An attorney who is good at what they do will have no problem discussing this with potential clients. These experts should be prideful in how they have helped change past clients' lives. That's us and the reason past clients trust our courteous staff and lawyers. Are you ready to discuss your options?
How an Ehline Personal Injury Lawyer Serving Contra Costa County, CA, Can Help
The personal injury lawyers at Ehline Law Offices will do everything they can to legally help their clients seek maximum compensation for all economic, non-economic, and punitive damages. A personal injury attorney's job is to build a case for their client that will result in them receiving the remuneration they deserve. A personal injury lawyer at Ehline Law Firm will ensure that their client is being compensated for emotional, financial, and health losses.
Ehline's personal injury lawyers leave no stone unturned, so rest is assured to clients that hiring a personal injury attorney from Ehline will result in the collecting of evidence and the investigation of resources to determine liability that will cover lost wages, property repair costs, medical bills, as well as rehabilitation.
A personal injury lawyer at Ehline will not allow their clients to suffer the consequences of the negligence of the other driver or party. Their aggressive legal representation always protects the legal rights of their thousands of clients.
Clients recommend us for our service and result over the cases we've handled. Insurance companies hate us for the same reason.
Victims Should Call The Personal Injury Lawyers in Contra Costa County at Ehline Law Today for a Free Consultation!
Those who have recently been injured in an accident in the Contra Costa County area should contact Ehline Law to schedule a free consultation with knowledgeable attorneys. These dedicated Contra Costa County personal injury lawyers are ready to take on and fight for any personal injury case. We can help you get the settlement you deserve for your particular set of circumstances.
We stand by 24/7 to answer any potential client's questions with the utmost integrity in a confidential setting. We will give you clarity during your free consultation. Even those who do not want to take their injury claim to trial can still seek justice with the help of the professional lawyers at Ehline Law.
Call us today at (833) LETS-SUE to discuss the next steps. Feel free to fill out our online website contact form, or consider video conferencing with a top, licensed Contra Costa County, CA, personal injury lawyer today.
Michael Ehline is an inactive U.S. Marine and world-famous legal historian. Michael helped draft the Cruise Ship Safety Act and has won some of U.S. history's largest motorcycle accident settlements. Together with his legal team, Michael and the Ehline Law Firm collect damages on behalf of clients.
We pride ourselves on being available to answer your most pressing and difficult questions 24/7. We are proud sponsors of the Paul Ehline Memorial Motorcycle Ride and a Service Disabled Veteran Operated Business. (SDVOB.) We are ready to fight.