If we don't win, you don't pay.
Speak to the Attorney.
Born to serve.
633 W 5th Street #2890
Los Angeles, CA 90071
(213) 596-9642.
2323 S. Voss Rd, Suite 244
Houston, TX 77057
(832) 592-1260.
Date Modified: June 11, 2023
Did a close family member of yours become disabled or die from injuries caused by a heavy crane failing when lifting large pieces of heavy materials used for building?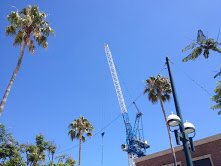 Award-Winning Attorneys Ready to Fight for Your Rights
Were you a bystander hit in the head by a flying or falling object on a construction site?
Were you or the household's primary wage earner employed by a private or public contractor when the damage or death occurred? Whether repairing failing public infrastructure, constructing new buildings, private projects, or upkeep existing projects, construction work is rampant across Los Angeles, Southern California area.
Human Error and Death to Bystanders
The humans behind the machinery are leading these construction project accidents in the City of Los Angeles. If a crane operator makes one mistake or a defective boom fails, there are bound to be many victims injured or killed.
According to labor statistics, even one human error involving heavy materials lifted overhead could lead to a devastating or deadly construction accident. There are dozens of machine accidents taking place every year. When they do, our crane accident attorneys help the victims.
Why Choose Our Southern California Lawyer for Your Personal Injury Claims?
Ehline Law Firm and our Los Angeles crane accident attorneys have:
More than a decade of experience handling personal injury cases
Recovered more than $150 million in money damages compensation for our clients
Multiple Super Lawyers Rising Star Awards
AVVO Elite Lawyer Status
Won the Newsweek Los Angeles Litigator Award
Offer a Free Case Review
You might be eligible for compensation if you or a loved one suffered injuries in a crane accident. Would you like to confidently discuss your legal options with or firm at no risk or cost? Contact us now 24/7 to receive a free consultation from our legal team over your fatal accident or injury case in Los Angeles, California.
More than just one company or other entities may be liable to cover paying back your lost wages, medical expenses like physical therapy costs, and the feasibility of taking legal action on your behalf. We can explore whether you are eligible to recover damages and identify the potentially liable parties, including your employer, the manufacturer of a negligent product, the city of Los Angeles, or another responsible private party.
Once you contact us, we'll explore whether proper safety rules were followed and give you the best possible legal advice based on the information presented. We've handled hundreds of construction accidents against various companies and manufacturers. If you, a fellow worker or your loved one were struck or injured in a crane accident, we might be able to win the case against the person or persons with deep pockets to cover everyone's losses. Reach our caring and compassionate team today by dialing an aggressive attorney at (213) 596-9642.
Crane Regulations in California
The Occupational Safety and Health Administration (OSHA), a large regulatory agency of the United States Department of Labor, has detailed guidelines and specific requirements for constructors to follow for construction sites and their workers. The regulatory body also ensures safety standards on power lines, fall protection, machinery certifications, and more.
Depending on the type of equipment used to carry loads, there are also permits that a construction company must receive before starting work on construction sites. For example, under California law, a tower crane erection permit is the type of permit required when using full tower cranes exceeding 36 feet in height.
Many laws center around what would happen if the boom was to collapse. People in the area deserve to be protected. A vehicle roof, for example, won't stop a hazardous falling crane or loads from crushing anything below.
Failure to follow the requirements and safety guidelines drawn up by OSHA can lead to the constructor's liability in the event of an accident. But you must hire dedicated experts to investigate and protect your claims.
The road to damage recovery requires intensive research and painstaking case evaluations in each and every individual case to recover maximum compensation. Our aggressive lawyers usually come out on top in cases involving machines.
Crane Accident Statistics
According to OSHA, there are 125,000 cranes in operation across the United States daily and an additional 80,000 in the maritime industry. As per the accumulative 1992 to 2006 crane accident statistics, there are, on average, 42 crane accidents annually. More than 60% of all crane accidents involve a tower crane, while the rest involve mobile cranes, loader cranes, and other types.
In 2008 alone, there were 58 deaths resulting from crane accidents. Currently, there are no published statistics for crane injury incidents in the past five years, but there are regular reports of injuries and deaths associated with crane operations.
Types of Cranes
There are different types of cranes and regulations pertaining to them. Understanding the type of crane in your accident is crucial to determine whether you have a personal injury case.
Some of the common types of cranes include hammerheads, telescopes, towers, and bulk handling.
Causes of Crane Accidents
Cranes are large and dangerous types of equipment, which is why they are responsible for more accidents than other types of equipment on a construction site.
Some of the common causes of crane accidents include:
Employers use the wrong type of crane for a project.
The constructor/owner fails to follow the intended manufacturer's specifications.
A crane collapses due to improper setup like unstable ground, etc.
A crane collapses due to harsh weather conditions.
Crane strikes an overhead electrical line, electrocuting the operator or other worker.
An unsafe environment around the crane and conditions such as too much wind or flying debris can play a role in mechanical failure affecting the crane operation.
There are many different causes and costs of crane accidents. Most of these instances occur due to sheer negligence on behalf of the crane operators or the constructors/owners who fail to provide the necessary safety gear or implement OSHA guidelines.
Common Los Angeles Crane Accident Injuries
An inappropriately manned crane can lead to all types of injuries, including:
Traumatic brain injuries and spinal cord injuries from falling objects that the crane is holding
Crushing and compression injuries to a construction worker run over by a crane
Head injuries
Electrocution and burns
Concussion
Broken bones
Lacerations and bruises
Wrongful death.
Treatment of Crane Accident Injuries
The injuries may vary depending on the type of crane accident, and so does medical treatment. Your doctor will advise you on the best medical treatment aimed at helping you recover from your injuries.
Typically, medical professionals recommend pain medication, ointments, and standard first aid for treating minor cuts and bruises.
For moderate and severe injuries, doctors will require further examination in the form of X-rays, CT scans, and even MRIs to determine the extent of the damages before recommending medical treatment. Severely injured construction workers may require invasive surgery, therapy, and even rehabilitation as part of their medical treatment.
Medical costs from crane accidents and lost wages for not showing up to work due to injuries can financially strain construction workers. If someone was instantly killed or dead on arrival (DOA), there might be little to no medical bills. Fortunately, our experienced, trustworthy Los Angeles crane accident attorney can help you recover the compensation you need to regain your life and resume your employment. Phone us to discuss your legal options today.
Types of Damages Recoverable after Construction Site Crane Accidents
Crane accident victims are eligible for various damages depending on their personal injuries and the uniqueness of their case. You might be entitled to an award of economic and non-economic damages if you suffered injuries in a crane accident.
Economic damage refers to tangible financial losses an accident victim experiences after getting involved in an accident, including medical bills, lost wages, property damage, loss of future earning capacity, and more.
Non-economic damages refer to the intangible damages arising from emotional trauma, and it is challenging to put a dollar value on them. Non-economic damages include loss of quality of life, pain, suffering, loss of companionship, and more.
In certain situations, the court may allow punitive damages, a type of damage awarded, to punish the negligent party.
With the help of medical experts, a skilled Los Angeles crane accident lawyer can help assess the damages and calculate the value of your claims.
Wrongful Death in a Crane Accident
A crane accident could be fatal, resulting in the death of a crane operator or a bystander.
If that ever happens, surviving family members or the deceased's estate have the right to file a wrongful death claim against the responsible party for damages, such as:
Funeral bills
Burial expenses
Medical expenses
Loss of consortium
Future lost wages
Pain and suffering, and more.
If you lost a loved one in a dangerous crane accident, speak to our Los Angeles crane accident lawyer to learn more about your death claim.
Establishing Liability in a Crane Accident Lawsuit
Determining the responsible party for your crane accident injury is more complex than you'd think.
Typically, there could be four parties accountable for a crane accident, and these include:
The company operating the crane – could create a dangerous situation.
Crane operator – carelessness.
The company overseeing crane safety (were there high winds? etc.)
Crane manufacturer – Poor or inadequate warning or dangerous equipment.
Victims must hand in important documents and evidence about their crane accidents to determine the at-fault party. With the help of accident recreation specialists, our experienced crane accident lawyers can help assess the evidence and determine the party responsible for your injuries or fatalities.
Under California's comparative negligence law, since there could be more than one party responsible for your injuries, the liability for the incident will be split according to the degree of fault. We provide free consultations to address any other concerns you may want to discuss in detail. Our experts can answer your questions and help protect your interests. We can even help you get your damaged car fixed.
Proving Negligence in Crane Accidents
An essential part of establishing liability in a crane accident is proving negligence.
The injured victim or their crane accident attorney must prove the following four elements to prove negligence:
The defendant owed the plaintiff a duty of care
The defendant breached that duty of care
The defendant's reckless actions resulted in the plaintiff's injuries
The defendant's negligence resulted in damages to the plaintiff.
Average Crane Accident Settlements in the United States
There is no average settlement available for construction accidents, as the amount recoverable from crane accidents depends on the circumstances of your crane accident case and who must pay.
Some of the factors that affect the settlement amount include the expertise of your crane accident lawyer, the resources allocated by your law firm, the type of injuries sustained, the extent of injuries, and the ability to resume your old job, depending on your situation.
Here are the settlements for some of the significant crane accident fatalities in the United States:
Milwaukee crane collapsed in 1999, resulting in three dead workers – $99 million.
A 200 feet tall crane collapsed in 2008 in New York – 24 injured and seven dead – $96 million.
A Seattle crane collapsed at a construction site in 2019, resulting in three dead – $122 million.
Crane-related accidents are grave dangers in the construction industry. One crane defect or poorly trained employee action can lead to complete and devastating injuries. Our Los Angeles crane accident attorneys understand how a serious injury can turn a victim's life around.
Did a heavy load fall or struck you? We are ready to help you handle your workers' compensation, third-party, and bystander claims while recovering from losing a loved one or your own bodily injuries.
If we can't settle for a fair and just amount from the at-blame defendants, we will file lawsuits in a variety of cases and take your case to trial. Calling us after you suffer a crane machine-related accident is smart to get the best outcome in the majority of cases.
Schedule a Free Consultation with Crane Accident Lawyers in Los Angeles County, CA
The risks of dealing with the insurance company on your own are catastrophic to your future recovery. Our attorneys maintain a positive and strong attorney-client relationship, understanding their pain and suffering and how the accident has complicated their daily lives. We are always ready to fight for our personal injury clients and workers' compensation clients so they don't have to worry about finances after their life-altering injuries.
It would help if you acted swiftly or risk blowing the applicable statute of limitations (normally two years but can be as little as six months.) Schedule a visit to our Los Angeles office for a free consultation on your crane accident case. If you suffered injuries from a crane accident that was not your fault, contact us at (833) LETS-SUE.
Get a free case evaluation with our charismatic, winning personal injury attorneys to learn your rights as an injured worker or bystander in a Los Angeles construction accident. If unable to phone us, feel free to fill out our convenient website contact form to communicate with Ehline Law Firm by email.
Michael Ehline is an inactive U.S. Marine and world-famous legal historian. Michael helped draft the Cruise Ship Safety Act and has won some of U.S. history's largest motorcycle accident settlements. Together with his legal team, Michael and the Ehline Law Firm collect damages on behalf of clients.
We pride ourselves on being available to answer your most pressing and difficult questions 24/7. We are proud sponsors of the Paul Ehline Memorial Motorcycle Ride and a Service Disabled Veteran Operated Business. (SDVOB.) We are ready to fight.