Los Angeles Injury Attorneys / Practice / Complex Regional Pain Syndrome
We will fight for the compensation you deserve because we understand that living with Complex Regional Pain Syndrome may be a physical, emotional, and financial strain. Whether you were injured in West Covina, or anywhere else in the United States, we charge nothing to hear your side of the story with empathy and compassion.
What Is Complex Regional Pain Syndrome?
Reflex Sympathetic Dystrophy (RSD), also known as Complex Regional Pain Syndrome (CRPS), is a chronic pain syndrome that typically affects the victim's arms, legs, and feet. The unusual response of the body to an injury as a result of injury to either the central or peripheral nerve system is thought to be the cause of CRPS.
It has been connected to a variety of injuries, including:
Furthermore, Reflex Sympathetic Dystrophy is divided into two categories. Type 1 CRPS is persistent pain that develops after an accident in the arms or legs, but Type 2 CRPS is caused by a direct nerve injury, which is often caused by surgical errors. In both cases, the pain is usually long-lasting and severe and is out of proportion to the original injury.
Symptoms of Complex Regional Pain Syndrome
Since there are no precise tests to detect Complex Regional Pain Syndrome, it is particularly dangerous; if left untreated, CRPS can spread to other body sections.
Doctors usually diagnose CRPS after symptoms have been present for an extended period of time, such as:
Prolonged pain or a burning sensation in the arms, legs, and feet

Stiffness or swelling of the joints

Decreased mobility of the affected region

Muscle spasms

Heightened sensitivity or temperature

Changes in skin color or texture

Changes in hair or nail growth
There is currently no known cure for CRPS. Doctors instead offer nerve blocks, pain medicines, physical therapy, and pain management as alternatives. Failing to diagnose and treat CRPS in its early stages can result in lasting damage, including skin, bone, and muscle degradation.
If you've been experiencing persistent pain due to an accident or surgical procedure, you should seek medical help immediately. Contact Ehline Law personal injury attorneys once you've started controlling your CRPS symptoms for a free consultation. We have a confidential attorney-client relationship and the resources to successfully represent you in a CRPS lawsuit.
Chronic Pain Syndrome Resulting from Surgical Errors
In the United States, medical negligence, such as surgical errors, is a leading cause of CRPS. An act of negligence can be demonstrated when the practicing physician's activities that resulted in the damage deviated from the medical community's standard of care.
For example, it is standard procedure to fasten the medial nerve during knee replacement surgery to avoid being cut. A claim for medical malpractice might be made if the surgeon failed to secure the nerve. This could result in the nerve being cut and resulting in CRPS.
CRPS Resulting from the Negligence or Wrongful Acts of Others
Complex Regional Pain Syndrome can be caused by bodily trauma, such as car accidents, job injuries, deliberate damages such as assault and battery, slip and fall accidents, dog bites, and child abuse.
The most common method for proving liability on the part of an at-fault party is to use the legal theory of negligence. An experienced attorney with CRPS litigation experience can assist you in establishing a responsible individual's negligence.
Failure to Diagnose
Circle of Legal Trust can also assist you if you have CRPS and your doctor has failed to identify or treat you promptly. Chronic pain disorders can be challenging to identify. Still, your skilled doctor should take the necessary steps to accurately diagnose you by using a McGill Pain Index, evaluating your medical history, speaking with you about your symptoms, and order any necessary tests.
Do You Have a Social Security Disability Claim?
You may be able to file a Social Security Disability claim for CRPS if your pain is severe enough to keep you from working. Monthly reimbursements from Social Security Disability might help you cover your basic costs. It's also to help you regain control of your life if you cannot work due to health issues.
However, you must demonstrate to the Social Security Administration that you have CRPS and that it is severe enough that you cannot work. Medical documentation will be required, such as physical exam reports, blood test results, and other test results.
CRPS Lawsuits Are Subject to the Statute of Limitations
The statute of limitations is the time restriction in which you can make a claim and seek compensation; if you don't file your personal injury claim, seek compensation within that time frame. You won't be able to obtain any compensation for your injuries, and you'll be on your own to pay off any debts. Any negligent actions will effectively be absolved from the liable party.
Furthermore, the statute of limitations in personal injury cases is two years from the date of the injury. This is the most common sort of litigation, and it encompasses a wide range of accidents. On the other hand, medical malpractice claims have a statute of limitations of one year from the date of discovery of the harm or three years from the date of the injury, whichever comes first.
This can be complicated; you have one year to sue the doctor or hospital if you notice the CRPS. If, on the other hand, the Complex Regional Pain Syndrome did not arise until after a year, you will have the remaining time to file a lawsuit because you did not show symptoms.
The statute of limitations can, however, be extended under certain circumstances. If you were a minor at the time of the damage, for example, your statute of limitations will not begin until you reach the age of 18. Although minors cannot sue, a parent or legal guardian can act on their behalf in advance.
If there is a large gap between their current age and their birthdate for the legality, it may be wiser to sue early on behalf of a child. Furthermore, you may become disabled or unable to operate intellectually due to an occurrence. The statute of limitations may be suspended until you regain your health or awareness.
Essentially, the main reason why many people do not sue is that they are unaware of the applicable statute of limitations. They may not realize how much time is left and believe they can sue whenever they want. Come to our law firm for more information if you want to guarantee that your lawsuit is filed on time and that no important dates are missed.
Therapy and Medical Treatment for CRPS
While there is no cure for Complex Regional Pain Syndrome, several treatments and therapies can help manage the physical pain and progression of the disease.
The following are examples of common therapies and treatments:
CRPS Ketamine Infusion Therapy
CRPS Physical Therapy
CRPS Cognitive Therapy
CRPS Drug Therapy (drug pumps, etc.)
An implant of a motor cortex electrical stimulator near the base of the spinal cord or the affected limb is another treatment for CRPS pain and suffering.
The stimulator prevents pain signals from reaching the brain by sending low-level electrical stimulation to certain nerves. This painful and expensive treatment is designated for CRPS patients with severe or advanced symptoms. CRPS cases often require future medical expenses for pain management and physical therapy to improve blood flow.
You could develop even more devastating conditions if you don't treat your Los Angeles CRPS injury with pain management therapy, such as:
Chronic nerve pain
Loss of dexterity
Muscle atrophy
Permanent disability
How Do I Know If I Have CRPS?
Since no single test can definitively diagnose CRPS, doctors must rely on a physical examination, your medical history, and a variety of procedures (such as x-rays and bone scans) to make a diagnosis.
You should visit a doctor immediately if you're having chronic, severe pain in a limb, especially if it's making it difficult to touch or move the affected body part. Because the symptoms of CRPS can become irreversible at a certain point, it's essential to diagnose and treat with spinal cord stimulation and other methods as soon as possible. The goal is to prevent or avoid nerve damage and more pain signals and sympathetic nerve blocks with extreme sensitivity.
How Can an Attorney-Client Relationship Help?
One of the most excruciating conditions a person can have is CRPS. CRPS lawsuits are difficult to prove. Unfortunately, because the condition is difficult to diagnose, situations involving more straightforward injuries like fractured bones and torn ligaments can be more challenging than these greatest chronic pains.
Our legal team recognizes that CRPS cases can progress and the pain caused can worsen over time with the high cost of therapy. We can assist in getting you adequately evaluated by experienced medical specialists and determine the extent of your losses and long-term medical expenses.
Our Los Angeles office has recovered millions for our clients. Our positive, 5 star client reviews prove our stability and loyalty. Give our law offices a call today to get a free, risk-free consultation.
Contact a Reflex Sympathetic Dystrophy (RSD) Personal Injury Attorney Today
Sadly, the great severity of the agony caused by CRPS, also called RSD, often results in the terrible death of a loved one. In some jurisdictions, deceased relatives have the right to initiate a wrongful death lawsuit seeking financial compensation from all at-fault or liable parties. You can call our personal injury law firm for a free consultation and additional information about wrongful death cases. Give us a call now at (213) 596-9642.
---
Michael Ehline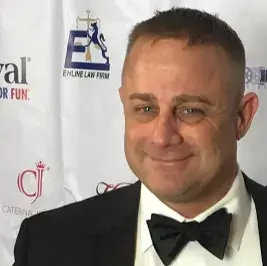 Michael is a managing partner at the nationwide Ehline Law Firm, Personal Injury Attorneys, APLC. He's an inactive Marine and became a lawyer on the California State Bar Law Office Study Program, later receiving his J.D. from UWLA School of Law. Michael has won some of the world's largest motorcycle accident settlements.
---
Recent Personal Injury News
Check out our most recent injury law accident blog posts.