[Updated 3/22/2021] Elevators revolutionized the industrialized world, allowing massive vertical transport along dozens of floors in high rises cruise vessel decks, commercial buildings, and structures. (Some hoists are specialized for vertically lifting heavy freight). Since we started practicing law in 2005, our elevator accident attorneys in Los Angeles have seen great lift technology advances. For Example, some modern elevators convey passengers sideways as well as travel up-and-down. Many modern elevators are safer than past models (albeit older structures still use old elevators). Below, our top-notch lawyers discuss your "stuck in elevator lawsuit" needs.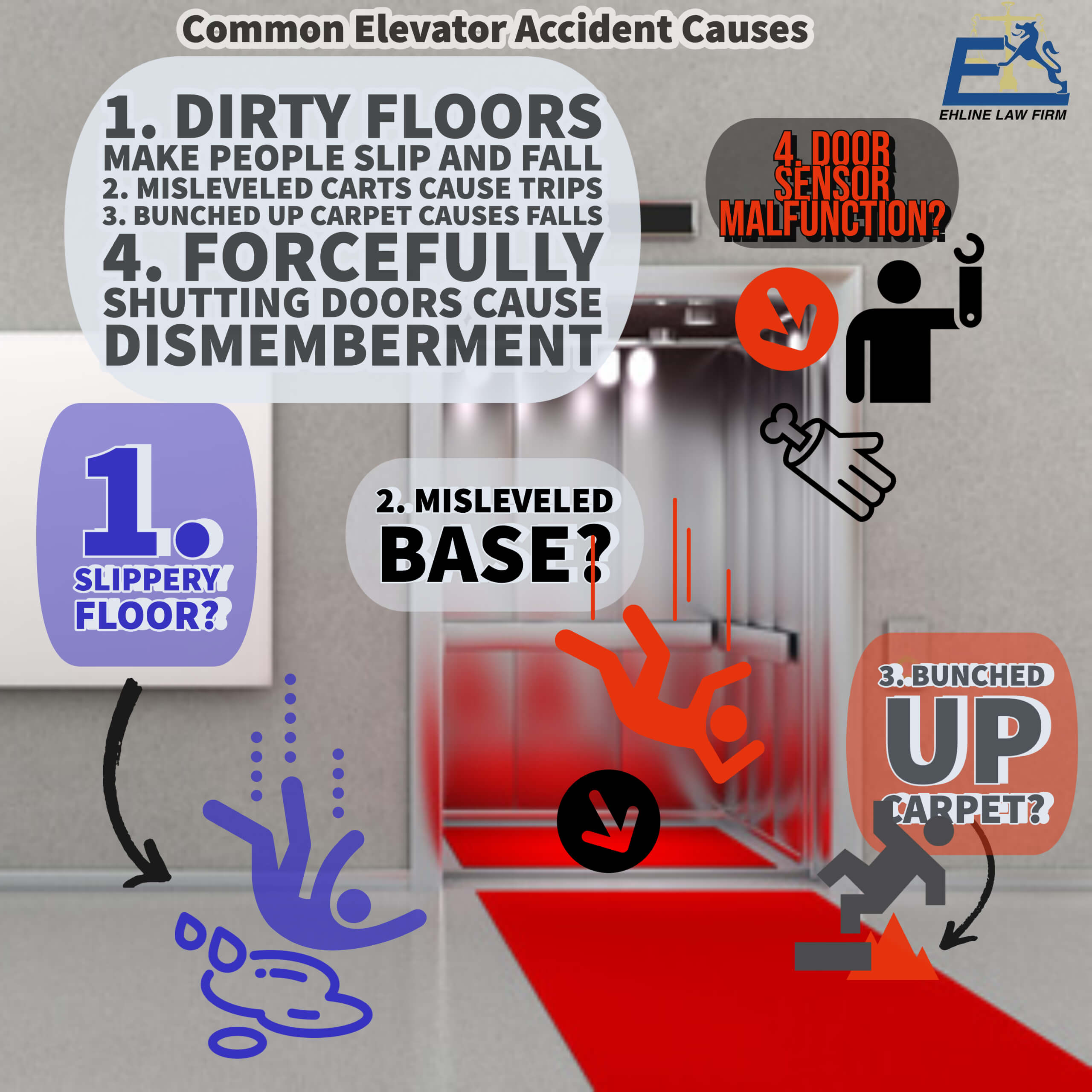 While technology has helped increase elevator convenience, it still has bugs and remains costly. Most cases we help with involve older, run-down elevators. Most of you already know these ubiquitous machines can cause severe injuries or massive-scale wrongful death.
Like an escalator injury accident, your low-hanging clothing article, dress, pant leg, shoelaces, arm, or leg can become entrapped. But different from an escalator accident are victims often become trapped by malfunctioning sliding doors. (Click here for escalator accident help). Also, passengers, tiny children trapped while riding inside elevators risk severe crush injuries, injuries to fingers, hands, broken legs, dislocated joints, or head injuries. Imagine the elevator moving with your limb trapped between floors.
Dozens of people riding elevators become trapped, fall, or get thrown to the ground every year riding these machines. Some trapped elevator riders face isolation, stuck inside an elevator bank for hours or days. Our award-winning Los Angeles elevator accident lawyers understand you may have been trapped. (imagine being claustrophobic with no lights, restroom, or heater, freezing). We are sympathetic that women, in particular, may face sexual assault when negligent security fails to account for localized criminal activities.
Other victims, including people who use wheelchairs, are denied safe access under the Americans With Disabilities Act. (ADA). Our Los Angeles injury lawyers have a solid reputation for litigating and winning cases for victims injured by vertical lift ride incidents.
Our years of valuable, hands-on experience as charismatic Los Angeles elevator accident attorneys helps victims file insurance claims against negligent people. People we help you make claims against include persons responsible for inspecting, documenting, and addressing equipment malfunctions. (Ex: Was janitorial cleanliness in place. If so, was it designed to prevent slips, trips, and falls, especially during rainy weather?)
If you or a loved one suffered a Los Angeles malfunctioning elevator catastrophic loss, online sources would present you with many helpful options for legal counsel. But when you want the best Los Angeles elevator attorney, you will heed the below information.
Table of Contents:
What Are The Legal Rights Of Elevator Accident Victims In Los Angeles, California?
Your rights to compensation and assistance can be many. (For example, if you are already an anxious victim, courts will instruct jurors to consider this when counting your damages amounts). But Los Angeles has a lot of lawyers, and some suck. And you're probably not a trained lawyer.
But the good news is, we are highly trained, compassionate lawyers. We will stop at nothing when it comes to meeting your client's needs. But you must know your legal rights, duties, and obligations. You already know only an attentive, caring lawyer will be positioned best to help you decisively win.
And that means you must immediately contact a legal expert and explore your options before the time your statutory time to sue runs out under the applicable statutes of limitations. Luckily, a specialized Los Angeles accident attorney that deals with elevator injuries can make sure that your dealings with insurance companies and others are on the up and up. By and by, this assures you won't receive less money than deserving personal injury case compensation.
Am I Entitled To Elevator Accident Money Damages?
Yes. Victims of terrible elevator accidents or related injuries will face many future financial and personal challenges. Hobbled victims must endure long and painful physical and emotional recoveries. Victims with missing digit cases will require reparative surgery. Their medical expenses and unpaid medical bills stack up as wounded; displaced victims endure years of patient re-adaptation and outpatient medical care.
Often, personal injury lawyers must seek payments from government agencies like Social Security while the case moves forward. Our job includes helping victimized clients receive total and fair compensation for job-retraining and lifetime psychological care. (Read more below about Personal Injury Compensation)
Why Must I Hire Ehline Law Firm's Experienced Los Angeles Elevator Accident Attorneys For My Elevator Lawsuit Claims?
Ehline Law takes on many elevator-related accidents. Our founder's years of experience in law practice dealing with multi-story lift claims and a complex litigation paralegal will be advantageous. What are some other reasons we are your best choice for a local, Los Angeles accident law firm?
We offer a free consultation

before beginning our attorney-client relationship,

We have won over $100 million for happy clients,

No win, no fee promise,

Our lead attorney, Michael Ehline, has over 20 years of legal experience,

Our elevator injury law firm employs specialists handling more fabulous L.A. area premises liability claims,

Our California-based associates maintain the localized experience.

We are famous for better settlement acquisition,

Our world-famous, stellar reputation is known in local courts and by liability insurance adjusters.
How Will Ehline Law Firm Comprehensively Investigate Your Rights To Money?
If you choose us to be your advocates, the Ehline Law Firm will pull out all the stops to help you win. We will start with a precise examination of your case and include all elements of a strong negligence claim.
And this will include comprehensive research of police reports and witness reports, gathering medical records, traveling to accident scenes, taking witness testimony, and determining how your case stacks up.
Suppose your Injury Protection (PIP) Insurance does provide coverage. In that case, the responsible party causing your injury must offer you the actual cost of your pain and suffering, especially when undergoing mangling-type injury damages caused by malfuntcioning elevator rides.
Do Statistics prove the dangers of working around or on elevators?
Yes. Statistics can be staggering when you look at all the missing digits cases from these events, let alone deaths.
At least 21 people working on or near elevators are killed per year over the last nine years.
In the construction industry, people who repair or install elevators are rated 5th highest for suffering work-related injuries and deaths.
A 7-year study by George Washington University showed that common elevator injuries include traumatic brain injuries, severe head injuries, cuts, and sprains.
From 1992 to 2001, there were a shocking 207 wrongful deaths related to elevators, including 146 deaths on or near elevators.
During the same period, another 61 persons were killed while riding, entering, or exiting elevators.
Over six years, a total of 83 died while installing or repairing elevators. Of these, 27 persons died while working on elevator shafts or cars. And 36 were killed while working next to an elevator.
Other causes of chronic injuries included objects that fell from an elevator onto people.
What Are Some Causes Of Elevator Accidents And Related Injuries?
#1 Human Error
The number one cause of elevator accidents is human error. Statistics show that at least 27 people get killed, and 10,000 receive injuries annually in elevator accidents. (read more). And some of the injuries being far-reaching. Human error causes most elevator accidents, including negligent maintenance and repair, leading to mechanical defects. For example, elevators not adequately aligned with the floor can mean irregular leveling. Defective wiring can cause electrocution and door defects.
Sometimes elevator riders act carelessly or recklessly. We have seen many Los Angeles elevator mishaps, so we know the other side has defenses. Plus, building owner neglect causes accidents sometimes. (Ex: Wet and greasy floor results in slip and fall at or near a cruise ship or hotel lobby). The good news is, our superior L.A. personal injury attorneys can handle all of this fact-finding work on your behalf.
Negligence, Negligent Hiring/Negligent Supervision: Most human error cases causing elevator accidents are from building owners or controllers failing to supervise building maintenance or repairs or vet workers properly. But sometimes, the building owner will reasonably rely upon outside contractors, including manufacturers, to upkeep their vertical lifts. Many parties may have some fault. Your injury lawyer will need to identify who should be sued as a potentially liable party.
Negligent Elevator Maintenance/Repair: Every day, vertical building lifts make hundreds of trips up and down for agricultural workers, building tenants, and visitors to structures. Any machinery and equipment undergoing effective use will see mechanical parts wear down frequently. (especially elevator shafts). When responsible parties fail to maintain essential component elevator repair parts on hand, bodily injuries will surely follow.
IMPORTANT: Elevators are usually their housing structure's age or older. (Ex: Sometimes, in newer buildings, old elevators are installed to save money).
Manufacturing Defects/Failure To Warn: Negligence attributed to manufacturers include:
Not testing and inspecting for defaults before selling the elevator,
Severe design flaws,
Failure to warn of risks and hazards related to using elevator carts. (learn more about defective products here).
Misleveled Elevator Car Floor Ridges: Many of these types of injuries happen when the partitioned chamber, known as the "cage," fails to remain flush building floors/levels. This ridge is typically not noticeable but creates a trip, slip, and fall risk to the commuters boarding or exiting elevator cars.
Elevator Door Traps: We have all seen the gentleman stick his arm or leg out, using the elevator sliding door sensor to hold the elevator doors open for the lady or small child coming inside. But this socially-expected act can cause your loose clothing, fingers, and hair to be trapped when the emergency sensor malfunctions. Regular inspections would prevent most of these injuries. (As noted below, a suddenly accelerating elevator will override the door sensor, forcing doors closed while rising or falling) Ouch!
Open Elevator Shaft Falls: If a person walks into an open shaft, which has no elevator and survives the fall, they will suffer severe injuries and emotional trauma. But these victims usually succumb to their injuries in falls more than 50 feet to the ground.
Falling Cages. A falling elevator with a broken or frayed elevator cable can be a death sentence. Mechanical errors causing sudden stops, or acceleration, coupled with rare cases of frayed or weakened elevator trolley cables snapping, including

safety brake systems failure

,

means a free fall to the lowest floor– crushing or killing the occupants.
Electrocution.
Stuck Between Floors.
Sudden Stops. This malfunction causes elevators to stop between floors or collapse altogether suddenly.
Common Types Of Elevator Accident Insurance Claims We Take?
We have assisted victims wounded riding escalators, chain and bucket elevators, including agricultural grain auger screw conveyors and horizontal belt driven transports. (Archimedes' screw, chain, or hay elevator paddle and fork type lifts are our specialties).
Most cases we help victims with involving negligent maintenance, repair, or failure to replace a failed or defective:
Electric motor,
Frayed drive traction cable.
Defective counterweight systems we help with include:

Hoists leaking hydraulic fluid,
Failing cylindrical jack pistons.
What Are Some Common Elevator Injuries We Help Victims Win?
You already know that trapped arms or legs, including hands caught in moving elevator doors, could cause loss of the limb and even death. Examples of cases we take include arms stuck in elevators and limbs lacerated or amputated.
We help victims suffering terrible elevator injuries, including:
Wrongful Death,

Skull Fractures,
Crush Injuries,
Broken Bones,
Amputation,
Lacerations,
Deglove.
Of particular interest, some common injuries remain associated with elevator failures, including head injuries or back injuries. Many elevator crash victims will suffer severe back pain and injuries to their legs, knees, elbows, and wrists.
What About a Wrongful Death Due to An Elevator Accident?
Our Los Angeles elevator wrongful death attorneys have seen breadwinner fatalities leave surviving family members bearing tremendous burdens. Not only must survivors face emotional distress, but they must also bear the cash cost of burial while simultaneously suffering a loss of income and emotional stability. When severe accident victims are left faced with such a crisis, the helping hand of a legal expert remains crucial to getting your life back on track.
Who Can My Elevator Accident Attorneys Sue For Causing My Damages?
Examples of people we would sue include store owners or controllers in the South Coast Plaza or Del Amo Mall in Torrance. Other examples may include farms, warehouses with lifts, including forklift mechanical devices.
Under California Negligence Law, The Liable Party Failing To Keep You Safe Must Pay Your Compensation Damages
Here Is A List Of Potentially Liable Parties For Most Elevator Accident Claims In Los Angeles
Elevator maintenance company repair people responsible for installing and maintaining elevators may share the blame,

Building maintenance company department workers may share accountability,
Government agencies, including those overseeing parks and monuments,
Employers, including warehouses, agriculture, and farming sectors,
Elevator and elevator parts manufacturers,
Elevator sales companies,
Elevator manufacturers,
Building managers,
Property owners,
Building owners,
Cruise lines,
Landlords,
Engineers,
Architects.
A great lawyer will assist OSHA and other health and safety agencies, including police, in their criminal or worker's compensation case. We may be able to argue res judicata, or negligence per se if the DA gets a plea or criminal liability conviction. Also, we can pressure criminal defendants to pay the victim's restitution, enforceable as contempt of court.
In the legal community, "negligence" law means we can file a lawsuit seeking reparations from anyone with a duty to keep you safe who didn't, causing your suffering and injuries. At the top of the list of persons, we file lawsuits against the company hosting the elevator. Our top-notch elevator accident attorneys in Los Angeles have experience suing these defendants for failing to keep their elevators in proper working order.
However, we may also need to hold the elevator maker or designer accountable for their role. The wounded person or the family of a loved one has the right to file a lawsuit, naming the responsible party(ies), seeking compensatory recovery for injuries, suffering, or death.
Under What California Negligence Law Theories May I Sue For My Elevator Accident?
You may have other causes of action theories besides negligent hiring or negligent supervision mentioned above. Sometimes, the premises owner or operator is on notice that there is a problem. So apparently, they know of the possible tragic events related to the operation of the lift device. Other times, they should have known but failed to pay attention or make reasonable inspections. Either way, the plaintiff can hold them liable under California negligence laws.
General Negligence: Most California personal injury claims will fall under negligence causes of action. The plaintiff must prove their burden by showing:
The defendant(s) owed the plaintiff a duty of reasonable care;
The defendant(s) breached their duty of proper care by acting carelessly or failing to act at all; and
The defendant's negligence was a substantial cause causing the plaintiff's injuries or death.
Negligent Infliction of Emotional Distress:

Getting stuck in an elevator? One of the most common problems people riding elevators face is getting stuck inside a broken-down elevator. Suppose you suffered direct negligence by suffering severe emotional distress or your perceived injury to a close loved one. In that case, you might be able to sue the liable parties under California's negligent infliction of emotional distress (NIED) laws. (See also, Thing v. LaChusa)
Negligence Premises Liability: A defendant landlord or premises owner may be held legally liable to the injury victim for negligent property use or maintenance. Under California premises liability laws, plaintiff's the burden includes proving:
The defendant had ownership, occupancy, or control over the property,
The defendant was careless in their property's maintenance or use,
The plaintiff suffered tangible harm;
The defendant's negligence was caused the plaintiff's damages.
Our premises liability lawyer has won cases like these before and stands ready to help you too.
Manufacturing Negligence: Your lawyer may need to file claims against the elevator manufacturer using California's product liability laws. Ehline Law Firm will typically sue a negligent product designer, manufacturer, or seller under strict liability-products for failing to warn of product dangers causing someone's injury or death.
False Imprisonment. In egregious or reckless elevator claims, you may be able to sue defendants for trapping you, allowing you no reasonable means of escape.
Who Has A Duty To Keep You Safe From Lift Machine injuries?
A Civil Defendant's Duties Will Vary Based On Duties Owed
Although the prosecutor may hold some parties criminally liable, our job as civil negligence law attorneys means seeking money. Everyone involved in keeping the failed elevator safe for everyday use may bear some financial liability. The party responsible for overseeing the operation typically has the most legal liability.
In some cases, the building owner or maintenance person's employee caused the mishap. But low-level employees won't have sufficient assets to cover accident claims. Your elevator accident attorneys must sue using "Respondeat Superior" laws, holding their employer vicariously liable for their employee's negligence.
What Are Some Duties Owed By Certain Parties?
A building owner or manager must:
Maintain elevators up to local, state, and federal safety code standards, including posting proof of proper maintenance and inspections for elevator riders. When a mechanic or person in charge fails to follow protocols, people get hurt.
Follow and implement emergency or elevator rescue plans during emergencies.
Train employees in all required and necessary injury prevention methods.
Elevator service companies will be liable when they:
Start repairs without completing their job,
Perform poor repairs.
Who Is Liable For "Common Areas" And Elevators
There are common areas where lifts are installed in office buildings, shopping malls, government buildings, hotels, schools, factories, worksites, and private residences. The landlord is liable for negligence in common areas they own or control.
What About Employees Who Get Hurt Riding Elevators? Who Pays?
Employees, such as waiters and janitors, can be hurt by these machines. As seen with the statistics, many of these severe harm types can be fatal, including in California.
Plaintiffs such as this are left pursuing work comp insurance but may also need to hire Ehline Law Firm for any third-party liability. Facing down a severe injury court case alone is nearly impossible. Having a skilled advocate on your side is vital for receiving your deserved settlement, especially when you're dealing with multiple negligent parties.
What Can Compensatory Damages My Elevator Accident Attorneys Collect From The At-Fault-Defendants?
To achieve your goal of receiving maximum compensation, your lawyer must hire damages calculation experts and conduct intense evidence discovery during pre and post-litigation case proceedings. The settlement may account for the financial losses suffered by the victim and compensation for non-economic harm. These compensatory damages may include:
Compensation Available To Elevator Accident Victims
Your lawyer will file a personal injury insurance claim or lawsuit seeking accident-related money damages compensation. Compensation "damages" payments are how lawyers resolve civil negligence cases. After jurors consider the victim's role in causing their injuries, the jury will award that party their reasonable money damages, less their portion of shared contributory negligence. If the other parties are 100% liable, they must all play their full apportioned share. Calculating your damages remains largely dependant on work your lawyer did up front, evidence gathering.
Elevator accident victims are entitled to receive three types of damages:
Special Economic Damages

General Pain and Suffering Damages
Punitive Damages (rarely)
Injunctive relief (rarely) (to make defendants do or not do something regarding their elevators)

Special Economic Damages Compensation
The mounting medical treatment bills and related expenses remain a small part of the long personal injury damages recovery process after an elevator accident. When you are dealing with lost income or increased living costs, your bills will quickly rise.
Plaintiffs can seek money for:
Reputation injuries,
Repayment for past and present medical charges, including medication and medical supplies,
Compensation for pain management and long-term therapy care treatments.
Payment for past, present, and future lost earnings/wages and lost the ability to continue earning.
The serious accident victim's expenses can spiral out of control, becoming unsustainable, emptying their pocketbook, further harming their physical and mental health. Last, once you are broke, you may seek bankruptcy protection. A top-notch personal injury lawyer can be your guiding light during this crucial recovery period, protecting your valuable credit score.
General Pain, And Trauma Damages Compensation
When an elevator incident occurs, the injured person suffers pain and psychological problems, and expenses can intensify their suffering. An individual trapped in an elevator, stuck between floors, remains in a terrifying spot. A case such as this may result in severe emotional shock or suffocation.
Payments for past, present, and future pain and suffering.
Remuneration for extreme psychological and mental harm.
What About Wrongful Death Damages In A California Elevator Accident?
The same parties responsible for an elevator injury may also be liable for a fatal elevator accident. When someone dies in an elevator, their eligible surviving family members can file a wrongful death claim.
A wrongful death lawsuit allows certain family members to seek compensation when a loved one is killed in an accident. Whoever was responsible for causing the fatal accident, including the manufacturer, property owner, or elevator service company, is liable for damages.4
Damages in a wrongful death lawsuit are different than those available in a personal injury lawsuit. In a wrongful death claim, damages are for the loss to the family members related to the death of a loved one, including:
Wrongful Death Special Damages:
Repayment for last rites and funeral ceremonies,
Funeral and burial costs,
Loss of financial support,
Loss of service.
Wrongful Death General Damages:
Loss of consortium,
Loss of companionship,
Loss of support; and
Loss of affection.
Not all the decedent's survivors maintain wrongful death lawsuit rights.
Generally, family members entitled to file a California wrongful death will include decedents:
Surviving spouse, civil or domestic partner,
Surviving children or adopted children;
Surviving grandchildren (Assuming no surviving children exist); or
Any other person granted

California

intestate succession rights under our laws.
Elevator Accident Attorney Safety And Survival Tips
TIP: Staying Calm Saves Lives
Typically, this type of out-of-the-blue event occurs to a rider without any warning. Elevator Mishaps Are Arbitrary, so stay calm.
TIP: Passengers Stuck Between Floors
Firstly, if the elevator car gets stuck between floors, remain calm, and do not attempt to spread the sliding doors and leave the elevator. You must receive assistance from professionals. Furthermore, if the elevator doors are forced open, be sure they will not close before leaving. By not panicking, it can help to reduce or even prevent injuries. Seek immediate legal assistance.
You can take some precautions, but avoiding catastrophic events is not always possible. Common sense, like not rushing into an elevator just because the doors are closing, can save your life.
Tips for All Elevator Accident Attorneys And Victims
Whether you are a new lawyer just learning or an older lawyer inexperienced in elevator injury claims, you must recognize cruise lines and other government agencies have different rules insofar as suing. The traditional two-year statute of limitations will not apply. You must hire a lawyer who knows these rules, or you will lose your case.
How Do You Receive Your Free Consultation With An Elevator Accident Lawyer Today?
All you need to do is pick up your phone! A lawyer with knowledge of personal injury law, the local court system, and specialization in elevator injuries remains vital in winning your insurance or court claim. Suppose you or a loved one suffered an injury. In that case, you must seek a skilled attorney to help you receive payments from the at-fault building owner, manufacturer, or elevator repair company.
Our reputation speaks for itself–winning hundreds of cases worth millions in settlements. The severe injury attorneys at Ehline Law Firm stand ready to work with accident victims and families 24/7, helping them endure this difficult time. To receive your free consultation explaining your legal rights, call us anytime at (213) 596-9642. If you seek faster service from an attentive, listening Los Angeles elevator accident attorney, use our above online contact form.