If we don't win, you don't pay.
Speak to the Attorney.
Born to serve.
633 W 5th Street #2890
Los Angeles, CA 90071
(213) 596-9642.
2323 S. Voss Rd, Suite 244
Houston, TX 77057
(832) 592-1260.
Date Modified: August 18, 2023
Did someone you love die or get hurt using a jackhammer on a construction site or while doing home driveway repairs? When we think of construction accidents, many think of falling from scaffolding or electrocution. But there are many more unique scenarios, and not all of them occur building homes or commercial structures.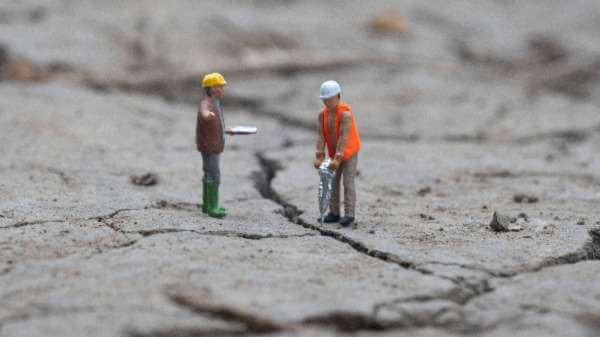 The Many Causes and Concerns
Add electrocution or explosion burn from a mechanical malfunction due to a design defect or flaw, and a wrongful death lawsuit, disfigurement, or severe traumatic brain injury is sure to follow the struck-down victim of a poorly designed or maintained jackhammer. Litigation may be necessary to protect the accident victims. We may be able to get the catastrophic injury or fatal accident victim their fair share under California tort law.
It's important to consult with a lawyer who offers a free case review before giving official statements. Read this article to discover your rights as a jackhammer injury victim. If you were harmed, don't ignore what we say as you navigate your case yourself. Ultimately, we will share some secrets about getting compensation and finding a qualified lawyer.
Construction Site Injuries and Jackhammers
Whether the proper provisions weren't made or defective equipment is at play, it's not uncommon to hear that a construction accident occurred. This can leave the victim(s) in terrible condition, undergoing immense pain and suffering, and potentially unable to work—injuries like lacerations, sprains, burns, and more. You could be killed.
Such personal injury cases in Los Angeles, especially when they leave a construction worker with catastrophic injuries, must be handled effectively to ensure that insurance companies provide the maximum compensation possible. This is what tort lawyers call "justice."
Construction Accident Attorney-Client Relationship
It would help if you had a Los Angeles construction accident attorney on your side. Ehline Law Firm is veteran-run and has an incredible team of lawyers versed in many personal injury cases, from settlements to verdicts. We represent accident victims in cases such as deadly warehouse forklifts, motorcycle accidents, other vehicular accidents, and, most importantly to this topic, construction accident claims.
We offer a free consultation to any Los Angeles construction site accident victim who may have suffered from a jackhammer and other equipment accidents. You could be entitled to significant compensation from contractors or other businesses like the machinery manufacturer.
Cost, Risk-Free Consultation With A Jackhammer Injury Lawyer
To schedule your comprehensive, cost-free case examination, contact us to discuss your case. Dial (833) LETS-SUE! We have a combination of methods to contact us, so feel free to use our convenient online contact us form.
Construction Site Injuries from a Jackhammer
Any personal injury attorney who has dealt with enough cases of construction site injuries is well aware of the common injuries that injured workers need help to seek compensation. Our legal team is all too familiar with some of these from jackhammer incidents. Since failure is not an option, you should hire our winning team today to handle deaths, falls, and other serious injuries caused by using a jackhammer.
Traumatic Brain Injury
Contrary to what some may believe, these brain injuries are not only the result of an impact. A traumatic brain injury can also occur if violent vibration causes the brain to rattle in the skull. Employees may end up with lifetime brain injuries from day-to-day jackhammering.
Given how a piece of heavy machinery such as a jackhammer works, this is undoubtedly a concern, especially since the results can be devastating and potentially permanent for the surviving family. That's not what they deserve.
Hand-arm Vibration Syndrome
This is arguably the most popular jackhammer-based injury, and many construction workers deal with it because of the repetitive motion that the machine generates. Even with anti-vibration gloves, the level of vibrations can lead to bone, nerve, and muscle damage as time passes. In extreme cases, amputation may ensue. Workplace cases like this happen. When they do, you need the strength of our proven, charismatic attorneys by your side.
Hearing Damage and Loss
As is the case with other types of heavy equipment, jackhammers happen to be quite loud. Consider that to the person operating the unit; a rock concert may be quieter. Again, even with the right safety equipment present, medical conditions such as hearing damage and loss are still very possible. You will need money to deal with your doctor and hearing aids for your newfound deafness. And you will need money for the future worsening of conditions too!
Material-specific Injuries
Unfortunately, Los Angeles construction workers don't always know what they're digging into. There could be an electric conduit, gas lines, water pipes, etc. Severe injuries can result from a work-related accident involving dangerous chemical exposure, flying debris, etc. as a result.
Other Potential Injuries from Construction Sites
A Los Angeles construction project typically involves more than a jackhammer, which means a mild to severe injury could come from any other piece of heavy equipment or even a lack of proper safety measures. Here's a look at some of the common ones.
Wrongful Death
A wrongful death lawsuit is typically an injury claim filed by a loved one of a construction site worker who died from a catastrophic injury. The financial compensation we seek in this case can extend economically, as the worker who died may have been the breadwinner in the home.
Falling Objects
Construction sites are notorious for falling objects, often resulting in severe and permanent injuries. This is a huge occupational safety consideration; as Los Angeles construction accident lawyers, our duty is to assist our injured clients in filing and successfully gaining just compensation from a personal injury claim.
Broken Bones
Dealing with heavy equipment and debris can also lead to a need for medical care for fractures and bone breakage. Of course, any such injury sustained on a construction site could lead to an inability to work.
Spinal Cord Injury
Spinal cord injuries in the construction industry are not exceptionally uncommon. Unfortunately, the injured party could experience partial or full temporary or permanent paralysis.
Establishing Liability for Construction Workers' Injuries
After we finish your free consultation, we may determine that legal action must be taken so the relevant party can be liable.
Determining fault is one of the essential matters to any Los Angeles construction accident attorney, as doing so establishes which party is meant to handle compensation and which insurance company negotiations should be with.
The at-fault party is not always the employer, though it may seem so in the vast majority of cases. Here's a look at a few potential fault candidates.
The Employer
Sometimes the employer also happens to be the property owner. Regardless, however, the employer must ensure the relevant safety precautions are taken. Should a personal injury be the result of negligence in doing so,
Heavy Equipment Manufacturers
Sometimes, the blame for injuries on construction sites lies on heavy equipment manufacturers. General contractors use this kind of equipment in all sorts of construction jobs, so it's paramount that everything functions as intended.
The machines should work as the accompanying documentation indicates, and the components used to build heavy equipment should always be shipped in good working order.
Experienced lawyers know how to handle defective equipment cases to ensure that the creators are held responsible for the injuries they may have caused.
OSHA Requirements and Construction Accidents
Whether you're in Southern California or another location in Los Angeles, the chances are that the number of accidents happening is more significant than you realize. More severe injuries mean higher medical bills and the possibilities of long-term disability and even death are great.
The Occupational Safety and Health Administration (OSHA) provides a series of guidelines to help prevent construction site injuries from occurring. Unfortunately, these are not always followed as they should be.
Provided that a violation of one or more of the compliance areas leads to a construction accident, a claim of negligence can be made by your Los Angeles construction accident lawyer.
Note that the presence or absence of workers' compensation benefits plays a part too. Don't forget that Caltrans could have some liability if they were using a jackhammer during road repairs or construction. Your construction accident attorney from Ehline Law Firm will fight on your behalf to secure fair compensation on your behalf.
Getting Medical Attention Is the First Priority After an Accident on a Construction Site
Regardless of what else you do after a construction accident, getting medical treatment should be one of the first things you pursue. Even if you aren't entitled to any particular medical benefits, doing so achieves two essential things.
First, there's the matter of taking care of your physical well-being. Construction accidents can have terrible implications on your ability to move, work, or complete other tasks. Allowing a medical team to attend to your injuries increases the likelihood that your physical outcome will be the best, given the situation.
The second benefit concerns your construction accident personal injury claim—compensation for the medical expenses you incurred as part of the settlement being sought. Whenever heavy equipment accidents occur, negotiating the medical portion of your payment requires proof that you needed treatment and the associated cost.
Seeking medical attention makes it much easier for our law firm to acquire and use that information to help build your case against the negligent party.
When to Call Your Construction Accident Lawyer
As a rule of thumb, your attorney-client relationship should be one of the primary things you leverage while seeking compensation for lost wages, brain damage, or whatever other personal injury damages may be applicable.
This means being honest with your attorney about any part you may have had to play and, more importantly, reaching out as soon as possible for support.
You can get your important legal questions answered, and we can begin to evaluate your case and work on a potential action plan. Additionally, we can advise you on what not to do after construction accidents. For example, you never want to engage an insurance company before speaking with your personal injury attorney. Los Angeles insurance firms will put you at a greater risk of getting no compensation for your construction site injuries, though they pretend to be on your side.
What Else to Do After a Construction Accident
Beyond getting treatment and contacting your personal injury attorney, you also want to collate any information or evidence that could help your case. Some of the most common types include pictures of the scene and equipment and any relevant parties' contact information, including witnesses, etc.
The more information present to indicate what led to a jackhammer and other equipment accidents, the better we can serve you by negotiating for the maximum compensation possible.
The Third-party Consideration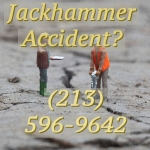 This is where the waters can get a little muddy in Los Angeles, CA, construction site accidents. Depending on employers and the proactive steps that may have been taken, injured workers could potentially be covered by workers' compensation under specific scenarios.
If such coverage is afforded to injured construction site workers, then any employee involved who benefits loses the ability to bring forward any personal injury claim.
However, even with this coverage, construction accidents involving third parties follow a different rule and may still be open to personal injury claim filing.
We would advise you to reach out to our construction site accident lawyers for a proper evaluation of your situation so you have an appropriate understanding of your legal options.
How a Construction Accident Lawyer in Los Angeles Helps After You've Been Injured on the Job
We've reiterated several times that you should contact Ehline Law Firm at the earliest possible convenience to ensure that injury cases involving equipment accidents or other construction site incidents are handled professionally and thoroughly.
To this end, you may be wondering how our expert lawyers help you avoid a worst-case scenario where you get no compensation and potentially cannot do your job.
Here's some of what we do:
Formulating an action plan based on experience, knowledge of personal injury law, and your unique circumstances
You are doing the required research to gain relevant insights on the parameters of your accident, including the equipment involved, adherence to OSHA guidelines, etc.
Assisting you in getting medical care after you have been injured
Negotiating on your behalf to seek an applicable settlement for your injuries on the job.
Representing you in court if your challenging case happens to go to trial
Committed to winning and have recovered millions.
Frequently Asked Questions
What if I Don't Have Serious Injuries After My Jackhammer Accident?
Sometimes, the extent of an injury following construction equipment accidents is not immediately visible. Furthermore, only a medical assessment can accurately indicate your physical situation.
In any case, you may still be entitled to a financial settlement. Therefore, we advise you to speak with us for definitive information.
Other Premises Claims We Handle
How Much Do I Have to Set Aside for My Construction Accident Lawyer?
We take personal injury cases on a contingency fee basis. In other words, we don't charge you a penny unless we win your case. Therefore, you don't need to worry about how you will pay for the work we do following your equipment accident.
Am I Required to Get a Los Angeles Construction Accident Lawyer?
You don't legally have to retain the services of a lawyer after a jackhammer accident. However, if you want the best chance of getting a fair settlement, it's recommended that you reach out to us.
Allow an Expert Los Angeles Jackhammer Accident-Injury Lawyer to Fight for Maximum Compensation on Your Behalf!
Construction sites are incredible sights, as they are typically indicators of development and a source of employment for those who work on them. Unfortunately, a construction accident can occur at any time with the use of jackhammers or other forms of heavy equipment.
If you have been at the center of any such equipment accidents, there's no reason you should suffer alone. Failing to take advantage of a free consultation with Ehline Law Firm could result in you signing away your rights! Schedule a free case analysis with Ehline Law Firm today! We will not stand for another party's negligence messing up your life with no repercussions. Contact us at (833) LETS-SUE!
Michael Ehline is an inactive U.S. Marine and world-famous legal historian. Michael helped draft the Cruise Ship Safety Act and has won some of U.S. history's largest motorcycle accident settlements. Together with his legal team, Michael and the Ehline Law Firm collect damages on behalf of clients.
We pride ourselves on being available to answer your most pressing and difficult questions 24/7. We are proud sponsors of the Paul Ehline Memorial Motorcycle Ride and a Service Disabled Veteran Operated Business. (SDVOB.) We are ready to fight.