Although vehicle accident figures have slowly fallen, they have gotten more violent over the years resulting in an increase of 7% in fatal crashes from motor vehicle accidents. 2018 statistics show that there are more than 280 deaths per 100,000 population in San Diego, almost similar to the entire state's averages.
What Types of Injuries Can You Get from a Car Accident?
A San Diego, CA car crash can deal minor and major injuries to the victim depending on the severity of the accident. The injuries in a San Diego, CA motoring collision also depend on where the impact occurred, for example, a rear-end collision is more likely to cause whiplash injuries while side collisions can cause fractures.
Our car accident attorney is ready to take your call 24/7 to help get your stressful, painful situation under control. Injury victims will be pleased and confident that our very best San Diego car accident attorney can handle all aspects of their motor vehicle collisions and even obtain witness statements to get the ball rolling.
Here are some of the most common injuries from San Diego, CA auto accidents:
Traumatic brain injuries
Spinal injuries
Back and neck injuries
Fractures and dislocations
Wrongful death
And more.
Can You Get Financial Compensation for Your San Diego, CA Car Accident Injuries?
San Diego, California is a fault-based state, where the comparative negligence law ensures that the compensation awarded depends on the degree of each party's fault in a case like this, including yours. If you're 50% at fault in San Diego, CA, then your own insurance company will have to pay 50% of the damages to the other party while you can also recover some compensation for your loss.
San Diego, CA car crash cases fall under personal injury law (law of negligence) and the jury gets to decide the degree of fault of both parties assuming the liability insurance settlement process was fruitless and a deal could not be struck to amicably resolve your San Diego, CA motor vehicle accident case. Our car accident lawyers in San Diego will fight tirelessly to pin the fault 100% on the other drivers, or their bosses, etc. Call our venerable car accident law firm to learn more before putting your foot in your mouth and blowing your liability, or uninsured motorist coverage claim. It all starts with a free case evaluation, so you have nothing to lose by speaking with our top car accident attorneys in San Diego.
Get More than Just Medical Bills with Our Attorneys
Typically, many lawyers in San Diego, CA will help you recover compensation for your medical bills. However, very few have the resources and experience to get maximum compensation for the damages done to you physically.
Oftentimes, the damages far exceed the bills that one incurs. There are other factors that one must account for to get a bigger picture of the extent of the damage. A vehicle accident can leave a victim without a job resulting in lost wages or causing emotional trauma leading to pain and suffering.
Our experienced auto accident attorney can help you get compensation for emotional trauma, bills, surgery costs, loss of enjoyment, loss of companionship, punitive damages, property damages, and more. We'll advance costs to order the police report and see what the California Highway Patrol or San Diego PD has to say about the accident scene. We'll also have investigators look at all car accident cases painstakingly, with a fine tooth comb, including extra sources of insurance coverage. (Ex: Did someone run a red light and flee the car collision scene?)
How Long Do You Have to File Claims in San Diego?
According to the statute of limitations, car accident victims in San Diego have two years following the auto accident to file for a personal injury car accident claim. After the two years period passes, the victim does not have the right to pursue any claims. This two-year period reduces to six months if a government agency or local municipality is the reason for the victim's personal injury.
Although two years may seem like a long time, the claims process can take longer resulting in delays or even cancellation of claims. Unfortunately, insurers are in the business to make money, and delaying claims or canceling them means more profit for the organization.
You Don't Want to Deal with the Insurance Companies
When you're injured in an accident or lost someone to it, it may be heartbreaking and stressful to deal with the insurance company for compensation. Many are often tempted to take the first offer the insurance company gives them just to end all the interactions with the company, however, these are low settlements that won't even cover your bills. This can put a financial strain on you affecting your recovery process after the accident. Remember, once you accept a settlement, you can't ask for more.
Having our experienced law firm and car accident lawyers representing you is just the sort of legal support you need while you recover from your injuries. An insurer is more likely to cooperate if the accident victims bring on a reputable law firm to deal with their personal injury case against the other driver's insurance or your own uninsured motorist insurance.
Why Choose Our Car Accident Lawyer to File Claims?
There are many law firms that you may consider choosing but having a law firm that specifically operates in San Diego is your best bet to getting fair compensation. Ehline Law has offices in more than 15 locations across California providing personalized legal services fulfilling every client's injury attorney needs.
Our personal injury law firm has successfully provided legal representation to over 3,000 clients and retrieved more than $150 million in compensation. A car accident attorney from Ehline Law works on a contingency fee basis meaning we don't get paid unless we win the case for you.
Our law firm has won several achievements and awards such as Superlawyers Rising Star, Best Attorney of America, Top 100 Trial Lawyers, and more. Achievements like these make Ehline Law a force to reckon with for insurance companies, working well in favor of auto accident victims.
Schedule a Risk Free Consultation Over the Phone With Superior San Diego Injury Lawyers
Did you or a loved one suffer a severe injury after being in a San Diego car crash. We can help you and offer swift, personable attention to help you make sense of it all in real time. We respond immediately and we can also text you and do whatever it takes to make you comfortable while you get back on your feet. We fight like banshees even Siouxsie would be proud of.
Want to hire the best injury lawyer for a San Diego Car Accident and max out the insurance limits with State Farm or some other nightmare insurance company? Let's find out about any insurance policy payment options to cover insurance claims including rehabilitative costs, before it's too late!
 Contact us at (619) 312-6050 to get in touch with our superior, swift, aggressive, compassionate San Diego car accident attorneys for legal advice on your car accident case today.
---
Michael Ehline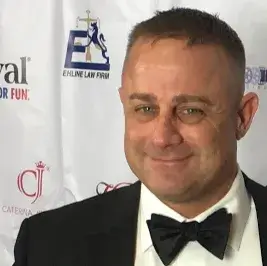 Michael is a managing partner at the nationwide Ehline Law Firm, Personal Injury Attorneys, APLC. He's an inactive Marine and became a lawyer in the California State Bar Law Office Study Program, later receiving his J.D. from UWLA School of Law. Michael has won some of the world's largest motorcycle accident settlements.
---
Recent Personal Injury Attorney News
Check out our most recent San Diego accident news and legal analysis, including the famous, infamous and everyday people wounded by at fault parties around the world and seeking an award of compensation reparations in Chula Vista, Ocean Beach, Pacific Beach, Mission Beach, and more cities.
Our San Diego Car Accident Lawyers help in all San Diego court zip codes, including:
San Diego, CA 92101, 91911, 92154, 92592, 91910, 92126, 92105, 92114, 92115, 91977, 92020, 91950, 92071, 92130, 92057, 92027, 92117, 92111, 92024, 92129, 92084, 92028, 92056, 92025, 91913, 92026, 92113, 92064, 92127, 92069, 92128, 92109, 92104, 92122, 92040, 92102, 92078, 92009, 92019, 92101, 91942, 92054, 92037, 92083, 92065, 92672, 92139, 92131, 92103, 91915, 92058, 92124, 91941, 92123, 92116, 92081, 92120, 92107, 92110, 92173, 92008, 91932, 91945, 92108, 92029, 92119, 92011, 91902, 92082, 92118, 92106, 92055, 91901, 92010, 92014, 91978, 92075, 91914, 92007, 91935, 92121, 92067, 92136, 92003, 91906, 92004, 92036, 91962, 92140, 91917, 92061, 91916, 92059, 92086, 92152, 92091, 91905, 92182, 91963, 92070, 92145, 92066, 92155, 91934, 92147, 92158, 92132, 92060, 91931, 92134, 91903, 91908, 91909, 91912, 91921, 91933, 91943, 91944, 91947, 91946, 91948, 91951, 91976, 91980, 91979, 91990, 91987, 92013, 92018, 92022, 92023, 92030, 92033, 92038, 92039, 92049, 92046, 92052, 92051, 92068, 92074, 92072, 92079, 92085, 92088, 92090, 92093, 92092, 92096, 92112, 92133, 92135, 92138, 92137, 92143, 92142, 92150, 92149, 92153, 92159, 92161, 92160, 92163, 92162, 92165, 92164, 92167, 92166, 92169, 92168, 92171, 92170, 92172, 92175, 92174, 92177, 92176, 92179, 92178, 92184, 92187, 92186, 92191, 92190, 92193, 92192, 92195, 92194, 92197, 92196, 92199, 92198.
California injury law firm with locations in Northern, Southern, and Central California. Speak with a licensed member of the State Bar of California about your injury claim today! Our consumer attorneys are waiting for your important phone call or email us from anywhere in the United States.
4445 Eastgate Mall, #200
San Diego, CA 92121
(619) 312-6050