Rapid Response

Being Marines, you know we make it happen swiftly. This is a plus if you run your own business and don't have time for flakes and narcissistic college boys.
The elite of the Veteran-Owned Small Business Communities
Accordingly, our employment includes going the extra mile to answer questions and return calls promptly.
Service Disabled Seeking Justice For The Nations Personal Injury Victims
We are a California Law corporation run by a service-disabled veteran dedicated to seeking and obtaining justice on behalf of the world's oppressed and afflicted.
We will aggressively pursue corrupt government agencies and officials just as dutifully as we pursue a cruise ship rape or man overboard claim while at sea. We have pursued claims against Lloyd's of London on behalf of personal injury victims. You may have heard about us in business news publications like Newsweek, Forbes Magazine, or CNN.
We are among the few world-famous small businesses owned in the legal field. Making us more elite is it is owned by a proven fighter who read law in a law office, similar to how Abraham Lincoln did it to earn his law license. We will leave no stone unturned when it comes to getting you, including military spouses left behind the financial compensation they deserve. We are the elite of veteran-owned small businesses.
About Our Lead U.S. Marine Corps Injury Lawyer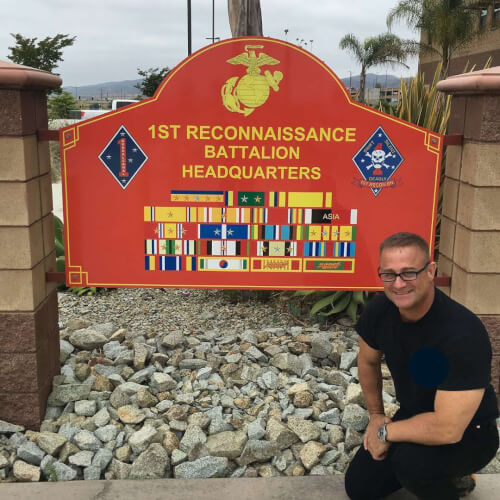 Michael believes in the concept that you join the California militia, national guard, air force, army, navy, and coast guard. But you BECOME a Marine. Michael supports all veterans, of course. But he stays close to the few, the proud who earned that Eagle Globe and Anchor as part of the brotherhood and the fraternity. And this is precisely why so many soldiers have retained Michael.
Michael Owned and Operated Several Small Businesses Before Enrolling in the LOSP
Attorney Ehline has expertise in the following fields beyond being a licensed attorney, including:
Land Development General Manager of a West Shores Development Construction Company
State California C-47 Contractor
Sales Manager, LA Fitness La Mirada, LA Fitness, Anaheim West
American Limousine Service – California Common Carrier For Hire – was Rodney Dangerfield's Chauffeur from Los Angeles and Las Vegas (Limousine Company).
When you call our injury law firm for a free consultation about your accident claim, you will see why our service-disabled veteran-owned business has won so many peer awards and received so many five-star client reviews and testimonials, including:
Hollywood Weekly Magazine – Cruise Ship Lawyer of the Year Award 2012
LA Times Litigator Awards 2015
Newsweek Magazine Personal injury Litigator 2015
Hollywood Weekly Magazine 2016 Personal Injury Lawyer of the Year
Personal Injury Warriors, Injury Attorney of the other Year 2016.
Do or Die
Other veterans have explicitly hired Michael from other branches because they know Marines are imbued with a personal sense of honor, bearing, and prowess that makes them exceptional in small business. Like the Black Rifle Coffee Company owner, Michael wants his military career to have meaning beyond wearing a uniform.
Accordingly, Michael will go the extra mile and go to the world's most dangerous places. It's part of his personal mission to fight in and alongside the company of heroes. Michael puts his experience and training to work worldwide to help victims of abuse and carelessness. Michael's organization stands head and shoulders above any other veteran business in its class.
With Michael's help, the firm has won millions of dollars on behalf of personal injury victims, including active duty servicemembers.
Veterans Who Support the Veteran Community
Ehline Law is heavily involved in the Miltary Veteran Non-Profit, [Sergeant] Paul Ehline Memorial Ride. It leads the effort to open West Coast Marine bases to PACT Act protections against service-related cancers. The firm also helps with sexual harassment claims involving women service members.
Helping Active and Military Veterans Business Development
We want vets to build their businesses. As part of our practice, we help to transition service members, particularly West Coast EAS Marines seeking veterans' business development and introduction to entrepreneurs in civilian life. Michael Ehline has provided EAS education at Camp Pendleton to educate military families about becoming a lawyer with no law school in California. Check out the Law Office Study Page here to learn more about our in-person classes and training programs.
Need a Business Reboot?
We can help businesses owned by eligible veterans, including active duty service members, with many types of support. Even if you have a business now, we can help you with a business reboot and introduction to the law so you can manage risk and avoid personal injuries to your customers and employees.
Ehline Law Firm is not a federal government contractor defined by the Small Business Administration (SBA) SDVOSB designation. We are not affiliated with the Department of Veterans Affairs either. We are a veteran-owned small business based in Southern California, a law firm. As noted, there are also Army Ranger-run businesses like Combat Flip Flops and Black Rifle. These are the types of relationships our law firm seeks and the types of business ownership we promote.
Ehline has broken records in other areas of his practice and real life. Ehline joined the Corps to help others be free.
Whether it is the jackboot of an oppressive government or Fortune 500 corporations, Ehline Law Firm Personal Injury Attorneys run toward the sounds of battle.
Overreaching executives and public servants know about our "do or die" attitude. Are you ready to speak with a Los Angeles-based injury lawyer today?
How Has Military Service Made Ehline Law "A Cut Above" the Rest?
---
"The Marines, as well as my dad (also a Marine) taught me to live and fight for causes bigger than myself"
We make the government and people who put profits over safety pay for their abuse and neglect. Honorably discharged U.S. Marine Michael Ehline will use his muscle and superior tactics to surmount any obstacle in pursuing justice.
Plus, we offer significant firm results with a small firm service. As discussed, we take on all comers, no matter how large or small their entrenched defense.
Michael also helps disabled vets understand law school and the path to becoming a lawyer. He wants to help you as your wrongful death attorney or even with a veteran's related issue.
Ready To Let Us Tell Your Story?
Our military training and prowess have helped us since 2005. We want to tell your story in a way that gives you a human face. Our staff of uncompromising, excellent, and skillful lawyers has amassed a war chest of legal briefs, resolved dockets, and industry contacts.
This means we can hire the best and most skilled case experts and investigators to help you win the maximum financial compensation. As discussed, these claims are fact-specific. Because of this, we use our on-site private investigators to take photos and conduct site inspections.
When we present your claim to the court or insurer, we will be prepared to tell your side of the story. That way, we can demonstrate to the adjuster that you remain a living, breathing person rather than a nameless, faceless victim.
They will know about your prior military experience, charitable work, and everything else. The insurer will also see you are broke, hurt, and put out of work by their insured. Next, they will learn the story of the threats their life faces from this event.
And all of this is because of someone's negligence. We also promptly try and interview witnesses within days of the sign-up. After all, the city may make efforts to repair the damage, and the witnesses could pass away, or forget important facts, for example.
You are in the victorious poll position with resources and training like this.
Ehline Law is an award-winning personal injury law firm in California headquartered in Los Angeles. Satisfied clients know our superior injury attorneys have more than a decade of experience winning and maximizing their damages compensation awards. Ehline Law firm's lawyers serve people injured in accidents involving a passenger car, motorcycle, dog bite, bicycle, cruise ship, wrongful death, and physical injuries caused by a defendant's negligence.