If we don't win, you don't pay.
Speak to the Attorney.
Born to serve.
633 W 5th Street #2890
Los Angeles, CA 90071
(213) 596-9642.
Date Modified: August 17, 2023
While air medical services are essential, there continues to be concern about the safety of medical service flights.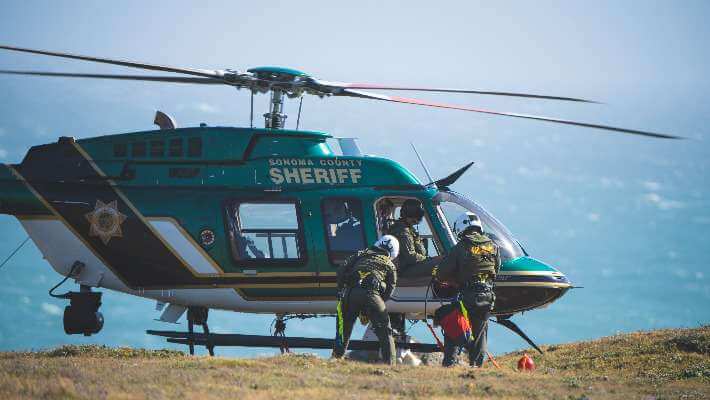 Injured by an air ambulance?
Many things cause members of the flight crew and wounded patients to find themselves severely injured or fatally wounded.
A medical helicopter crash is not the most common occurrence in the world. However, when they happen, they can completely alter the lives of those involved and their loved ones. You may be entitled to compensation if you or one of your loved ones has been injured in an air ambulance crash in Los Angeles.
You need professional legal advice and representation to get the settlement you deserve if there are any entitlements. Michael Ehline, with his vast experience spanning over a decade and a half, can evaluate your case and expertly plan the way forward.
Reach Out to Ehline Law for Help
Initiate a free initial consultation with Ehline Law Firm in California by calling (833) LETS-SUE!
The Lines of Liability in Air Ambulance Accidents
Whenever air ambulances result in accidents, it's not always straightforward to determine who is at fault. Ground ambulances make it simple since typical car accident rules apply. However, when air transportation methods are used, things take a more complicated turn.
Typically, the responsibility lies with the following:
The pilot, who may have made an error in judgment or may have been negligent in controlling the aircraft
Air traffic control exhibited negligence, which led to the crash
Air ambulance manufacturers may potentially be the problem if the crash was the result of faulty components
Ground paramedics and the police may also be the negligent parties at play.
A combination of these groups can be held liable. If the patient dies, a surviving family member can initiate a suit. Speak with an experienced air ambulance accident attorney like Michael Ehline to understand your situation.
Air Ambulance Accident History
As indicated, airborne emergency medical service flights have presented a cause for concern based on documented incidents. Below is a look at some of the unfortunate situations that have occurred in the past.
"Mercy Air 2" Cajon Pass Crash of 2006
The Los Angeles Times, alongside other news outlets, covered this heart-wrenching occurrence, leaving three crew members employed at Mercy Air Service dead. Mercy Air Service Inc., which falls under parent company Air Methods, Corp., was and continues to be the largest among medevac providers in the United States.
After flying a woman injured in a horse-riding accident to Loma Linda University Medical Center, a service helicopter with the "Mercy Air 2" call sign crashed into a Cajon Pass peak south of Hesperia that was masked by fog.
When the weather is good, pilots fly under visual flight rules instead of being handled by air traffic control. This was how Mercy Air 2 flew leading up to the incident. The San Bernardino sheriff's and fire departments, the FAA, and the National Transportation Safety Board would be investigated.
The NTSB's eventual report on the Mercy Air helicopter crash would indicate that the crew members likely met their untimely demise because of night conditions, dense fog, and mountainous terrain, which meant the pilot failed to maintain the required clearance.
The company grounded most of its Southern California helicopters a day after the ordeal. Craig Yale, vice president of corporate development of the parent company, described the tragedy as a significant loss of very good people.
Federal Aviation Administration Cessna 414A Report of 2006
This time, it would be a plane rather than a helicopter crash. This incident took place in Hawaii. No problems were reported during the flight. However, based on a Honolulu Advertiser article, a statement by the Federal Aviation Administration indicated that the air ambulance lost engine power before it crashed.
Confirmation was also provided that the flight had been cleared for landing before crashing. Three people were on the aircraft, and none survived the ordeal.
N600CE Bell 407 Crash of 2009
This Texas-based incident saw no casualties. But the incident did injure the crew. The NTSB provided the report on this air ambulance matter. Shortly after taking off from the Decatur, Texas XA57 Wise Regional Health System Helipad, a Bell 407 helicopter would have a hard landing because of a sudden loss of engine power.
The flight medic and the commercial pilot sustained severe injuries. The flight nurse, while injured, only sustained minor damage. This was a single-engine helicopter.
N417AE Eurocopter AS 250B2
Georgetown, South Carolina, was the size of this September 2009 accident. Omniflight Helicopters Incorporated owned the Eurocopter unit at the center of the crash. Based on the information provided by the NTSB, the helicopter crashed near Georgetown County Airport.
This demonstrated what can happen when there's negligence by air ambulance companies. The organization stated that the helicopter had no autopilot functionality, terrain avoidance warning program, or night vision system. Furthermore, it was not approved for operation in inclement weather.
The Stance of the National Transportation Safety Board
With the best interest of public safety in mind, the NTSB called for a stricter set of safety measures where the medical air ambulance industry was concerned back in 2006. It would go on to make similar comments about the service providers' operations in the future.
Between 2002 and 2005, for example, there were 55 air ambulance accidents, 20 of which happened with a patient on board.
Typical Air Ambulance Accident Causes
One of the biggest challenges with these medical air methods is that they don't have flight plans and schedules conducive to permanently ensuring that favorable conditions are present. Therefore you often find that takeoff and landing conditions are less than ideal.
A lump that in with the potentially liable parties highlighted above and your list of typical reasons for these accidents are as follows:
Negligence by air traffic controllers
Inclement weather conditions for flying
Lack of an adequate maintenance calendar for the aircraft
Defective design or manufacture
Pilot errors
Ground paramedic or police errors.
The Danger of Air Ambulances Crashing Compared to a Ground Ambulance
Los Angeles has laws governing how car accidents are handled, and these statutes have largely been left unchanged.
Therefore, when a ground ambulance takes a patient to the hospital crashes, evidence is taken for validation purposes, and medical attention is provided where necessary ahead of compensation negotiating.
While death is certainly possible for the victims, there is a high likelihood that they will survive. Conversely, air ambulance accidents are more likely to have fatal implications. Even if they don't, injuries tend to be severe.
You may find that your quality of life takes a complete nosedive. It may be so bad that family members must take care of you. Greater risk for permanent damage is at play, so lawyers are essential. Remember, you can contact Ehline Law Firm for a free case evaluation.
Air Ambulance Crash Statistics
Even for experienced pilots and crew members, it's scary to think that an air ambulance, which is supposed to save people by flying these hurt patients badly to the hospital, could be the reason for a life-ending.
Several references were made to the NTSB earlier. A part of what the body does is catalog data on each case where medevac planes or helicopters that transported patients were fatal for the victims.
You could think of this as being for general information and taking action from an informed standpoint in the disconnected and continental United States.
Interesting Statistics
Here are a couple of statistics to pay attention to:
There were 217 deaths reported because of helicopter crash incidents from 1998 through 2015
These reports came from a total of 81 helicopters
Most people died in 2008 from these helicopter crashes, with 28 deaths being reported in that year alone
During the same period, there were 220 non-fatal injury incidents during the same period
77% of incidents were from crew errors in bad weather and other collision incidents
17% were from mechanical malfunctions
Unknown factors accounted for 5% of helicopter crashes.
Air Ambulance Ride Safety Concerns
Private companies are incentivized because air ambulance reimbursements are pretty high. Concerns have been raised about the fact that the for-profit element of the industry has increased so much over the years.
There are no Medicaid provisions for medical helicopter flights, meaning private companies are more likely to use cheap and old helicopters alongside minimal maintenance and training. By cutting cost centers, they increase their profits.
Flying in these ambulances is getting patients and crew members killed is also a concern because of how complex the cases are, requiring extensive investigation. That means attorneys representing victims and their families must be equipped to navigate the complexities involved.
Charges Handed Down By Air Ambulance Companies
Transporting victims to hospitals has enormous cost implications regardless of how quickly an air ambulance company responds to allow emergency teams to operate. For example, in 2018, Dr. Naveed Khan, a radiologist, ended up with a 6-inch wide flesh gap wound after having a two-seater all-terrain vehicle he was operating landed on his arm.
An immediate trauma center visit was necessary, but his arm could not be saved. While still in the hospital bed, not three days after the incident, he was informed of the $56,000 cost he had to take care of. His insurance only covered $11,972.
This number is just one example of the charges you contend with in these situations.
Retain an Experienced California-Based Air Ambulance Accident Lawyer
The incident reported by the Los Angeles Times was tragic, as were all the other crashes that occurred when an air ambulance company was meant to provide safe transportation to the hospital when there was limited time concerning the injury at hand.
You need an expert air ambulance accident attorney to recover compensation for yourself or a loved one. Only the best lawyers, not the FAA, can help those who may have been seriously hurt or killed during one of these incidents while aboard an emergency medical aircraft.
Lawyers like Michael Ehline are well-seasoned in these areas. They can expertly navigate the complex landscape required to get the negligent party's insurance company to pay whatever necessary cost. But insurance won't let you recover a dime without news of a proper investigation and evidence from doctors, a coroner, etc.
This is an offering intended to save people, and the responsible parties must be held accountable when they fail to do so. Your lawyer network is there to fight for a fair settlement on your behalf. Share all the information you can with your attorney group for the best results. Remember that the attorney-client relationship protects your confidentiality.
Conclusion
Doctors respond to emergency incidents consistently. That is their business by their Hippocratic oath. But patients must make it in one piece to do so. Unfortunately, those who need a doctor's attention and are being transported by air emergency services authorities may never make it because of an untimely accident during the transportation process.
Receive a Free Legal Consultation With Air Ambulance Accident Lawyers in Los Angeles
If you or a loved one were a victim of such an incident, you may be entitled to justice in the form of maximum financial compensation. For more information, fill in the Ehline Law Firm website contact form with your name.
Include a valid email address and the details of your incident, or call (833) LETS-SUE. Your first individual case consultation is free, so schedule it today! Your family is counting on you to hire the right team of lawyers. Don't let them down. Show them respect by keeping the pay flowing as you try to heal and get back on your feet.
Citations:
Helicopter Carrying Six People Crashes into Azusa Canyon
Michael Ehline is an inactive U.S. Marine and world-famous legal historian. Michael helped draft the Cruise Ship Safety Act and has won some of U.S. history's largest motorcycle accident settlements. Together with his legal team, Michael and the Ehline Law Firm collect damages on behalf of clients.
We pride ourselves on being available to answer your most pressing and difficult questions 24/7. We are proud sponsors of the Paul Ehline Memorial Motorcycle Ride and a Service Disabled Veteran Operated Business. (SDVOB.) We are ready to fight.