They'll throw around a couple of "life insurance policies" or even pressurize you.
The Ehline Law Firm Can Assist with Settling Your Life Insurance Claim
Death During the Contestability Period
Life Insurance Policy Lapse Before Death
Death Due to Unusual Circumstances
What to Do If the Insurer Denies Life Insurance Claims?
Let Ehline Law Deal with the Life Insurance Company
If you're facing difficulties with your insurance company, we recommended that you approach an expert life insurance attorney in Los Angeles County, for legal advice. Having a life insurance lawyer can relieve a lot of stress and help expedite claims if the company seems to be slowing down the claims process. A life insurance lawyer will put the right amount of pressure on insurance companies to pay benefits and get you the death benefit claim that you deserve.
There are many reasons that an insurance company can deny your claims but here are some common areas where a lawyer can help you contest the denial.
Death During the Contestability Period
According to Californian law, insurance companies have two years contestability period when individuals purchase a new life insurance coverage. During this period, life insurance companies have the right to scrutinize any documents given to the insurance company upon the death of the policyholder.
The two-year contestability period that starts upon the first premium payment is to secure the insurance company against any fraudulent document submissions or incorrect information.
For example, a policyholder is a heavy smoker and dies from heart failure following their insurance application. During the application, the policyholder does not even mention their smoking habits. In such cases, an insurance company has the right to revisit the documents, check if the information given is true, and deny life insurance claims on basis of insurance fraud.
However, the law also dictates that life insurance beneficiaries can challenge any insurance misstatements depending on the nature or severity of the material misrepresentation. A life insurance attorney can help negotiate with the insurance company and back your claims with solid evidence and information to ensure that you get the life insurance death benefit that you deserve.
Life Insurance Policy Lapse Before Death
For a life insurance policy to remain active, a policyholder must make regular premium payments without missing any. Any missing payments or incomplete payments can become grounds for refusal of life insurance benefits to the beneficiary.
However, there are still some conditions that can help you get a life insurance claim even if there were any missing payments. An insured's death occurring within 30 days of a life insurance policy lapse can constitute higher death benefits.
There may also be a chance where the insurer might be responsible for any missing payments by the insured. By law in many states, insurance companies need to notify their policyholder before and after they cancel their life insurance policies.
If you haven't gotten any notifications from your insurance company and the insured dies before the policy lapse, contact a life insurance attorney immediately to help you with getting a death benefit payout.
Death Due to Unusual Circumstances
Most life insurance companies refuse to pay claims if the insured commits suicide or the insured dies in homicide. Death occurring in such situations are often grounds for insurance companies denying claims. An insurance agreement includes all the clauses that might result in the refusal of claims.
Insurance firms can also refuse claims without looking at medical records if they feel that the life insurance beneficiary is a suspect in the death of the insured.
Life insurers deny claims for even the slightest of irregularities and this is why you need an expert attorney to defend a contested claim. This can start a legal process so make sure that you have the right attorney to defend the claim denial and get you a hefty cash value compensation.
What to Do If the Insurer Denies Life Insurance Claims?
The insurers are the ones making the rules and if the policyholder failed to follow the conditions in the policy terms, then you might find yourself struggling to get a claim out of the insurance company. However, it is always best to get to the bottom of the situation and find out why you're not getting your claim.
Contact the Life Insurer
Contacting your insurance provider is a great way to get to know some information on the refusal of your life insurance claims. An insurance agent will let you know the reasons for refusing your claim. You may need to hand in medical history and other additional documents to support your case against the denial. However, you may feel that the insurance provider is not fairly handling your case, in such cases contact a life insurance attorney.
Contest the Denial
Beneficiaries of life insurance can contest rejections if they feel that they've got the evidence against up unfair rejections. You can contest the rejection by getting in touch with your insurance providers. This may be the cheapest option available to pursue but it can be really time consuming going back and forth with a provider that is trying their best to deny claims.
You can also reach out to the California Department of Insurance that can look into the bad faith practices or unfair treatment of the insurance company towards you. This again is time consuming.
Reaching out to a lawyer to file an appeal or go for a lawsuit against the insurance provider is the fastest way you can get money.
Let Ehline Law Deal with the Life Insurance Company
Ehline Law and our California life insurance attorneys will review the insurance policy and your claims form to find out more information to file an appeal.
Our lawyers will build your claim, support it with evidence, and fight for the settlement that you deserve. For more information, call us at (213) 596-9642 or use our website contact form for validation purposes only, and get a free consultation today!
Michael Ehline
---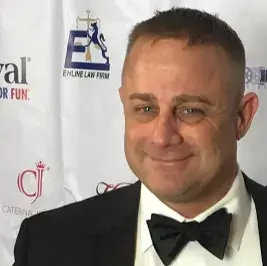 Michael is a managing partner
at the nationwide Ehline Law Firm, Personal Injury Attorneys, APLC. He's an inactive Marine and became a lawyer on the California State Bar Law Office Study Program, later receiving his JD from UWLA School of Law. Michael has won some of the world's largest motorcycle accident settlements. He compassionately helps clients recover after serious injuries.