If we don't win, you don't pay.
Speak to the Attorney.
Born to serve.
633 W 5th Street #2890
Los Angeles, CA 90071
(213) 596-9642.
Date Modified: July 2, 2023
Welcome to the Ultimate Guide to Compensation for Big Blue Bus Accidents. Have you ever been to Santa Monica, California, and wanted to use public transportation like the Big Blue Bus?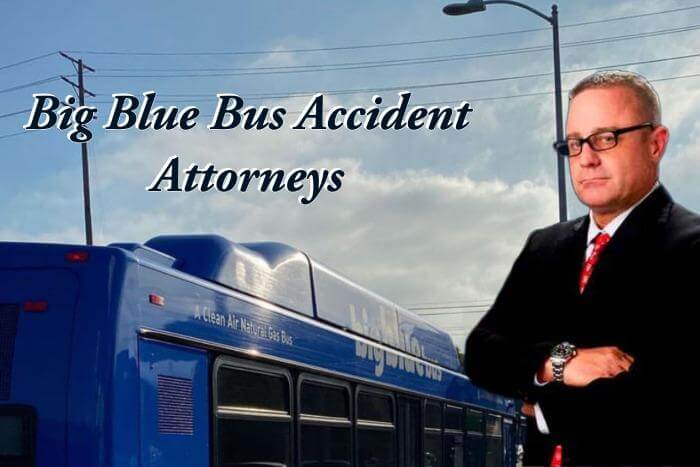 Nestled along the Pacific Coast Highway, tens of thousands and tourists, including a sizeable homeless population, make Santa Monica a favored destination.
Most out-of-towners are unaware that Santa Monica, besides great homeless encampments, rent control, and outrageous local taxes, has its own bus system to get folks around town.
Big Blue Bus (BBB) is run and controlled by the City of Santa Monica. It initially operated as Santa Monica Municipal Bus Lines as far back as April 14, 1928. Its claim to fame has been its blue color scheme, leading to the Big Blue Bus nickname, which has become its official name.
Big Blue Bus transports passengers from Santa Monica to downtown Los Angeles, CA. It also serves Beverly Hills, Century City, and various L.A. County destinations and operates out of the LAX City Bus Center. But even with Airport Police, when the mentally ill and others ride buses, crime, sexual assault, a drunken fight, and even distracted driving at the wheel accidents with life-threatening injuries are bound to occur.
Crowded Santa Monica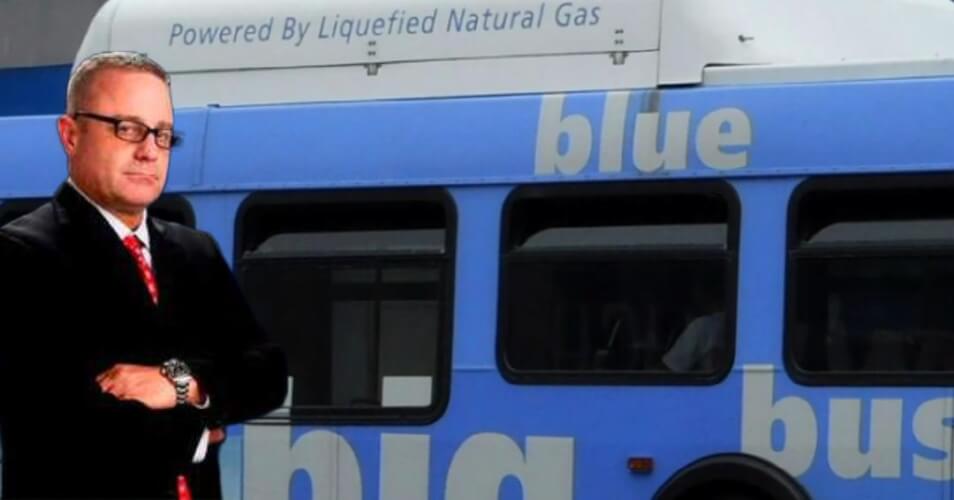 Santa Monica alone is crowded with mentally ill people on bikes, e-bikes, and intoxicated folks crossing the streets. A bus accident or assault is bound to occur in a zoo-like, often lawless environment.
First-hand Experience in Blue Buses?
I am Los Angeles bus accident lawyer Michael Ehline. I am a public transportation expert and even owned my own limousine company before becoming a lawyer. I am here today to discuss Santa Monica bus accidents because I have first-hand knowledge from riding it for several years as a student living and working in Santa Monica, CA. Some things I know about include being struck by or while riding the Big Blue Bus.
I also know how the sheer size of the bus alone can lead to a mass casualty event compared to small cars, bicycles, or motorcycle riders. But I also know how to manage carelessly run government agencies and ensure they are held accountable. My services are indispensable if you are serious about damage recovery resulting from a bus accident in or near Santa Monica, CA.
Knowledge of Maniacal Bus Operators?
I also have first-hand knowledge of vindictive, maniacal Big Blue bus drivers slamming recklessly on their brakes and even purposefully flinging and throwing passengers into the cabin. Was your driver running red lights and acting like a jerk? Sound familiar? Were you thrown out of your seat by a creepy bus driver? In these cases, public entities, including BBB, can be held liable for negligent hiring or even negligent retention.
If you're injured with medical bills and lost wages, want to avoid a catastrophic injury, or seek compensation, keep reading. We can serve and assist any plaintiff in their moment of crisis in their individual case! Pursuing dollars for you and giving you peace of mind is just part of what our talented, charismatic associates do.
Dangers of Bus Crashes in Los Angeles
First of all, the Big Blue Bus Company and its drivers are considered common carriers. This means they owe you a special duty that rises beyond the normal duty of all humans to avoid injuring a person.
Under California Civil Code Section 2011:
Bus drivers who fail to keep passengers safe, including boarding and departing, can be sued for negligence, despite their training. This duty does not apply to another car or pedestrian. Those plaintiffs are owed a duty of reasonable care with the responsibility to avoid placing numerous others in danger.
When you are paid compensation to drive people around town commercially, you will need the following:
A special license,
More insurance coverage
Follow different, more stringent safety regulations.
Why is this so important?
Bus accidents are dangerous for people of all ages since they can injure children, adults, and older adults. (Ex: A pedestrian crossing the Third Street Promenade, bicyclists on Olympic Blvd, Wilshire Blvd., etc.) They often result in fatalities or horrific injuries when they collide with objects, pedestrians, or other vehicles. Because of this, the medicinal and burial expenses can rip families or injured riders and others apart.
Insurance companies require higher premiums because there are lots of people who could be injured. Because of this, many municipal bus companies are self-insured or covered under the municipal charter by a government entity like the City of Santa Monica.
But riding buses can help reduce traffic and reduce smog emissions. So there are great things about buses. While studying to be a lawyer, I took the Big Blue Bus to and from the couch I slept on as I struggled away. Apart from that, hundreds of people take Big Blue Buses each day throughout L.A. As noted above, a bus accident could injure all bus passengers and others on the street.
Permanent Injuries or a Wrongful Death?
Although you don't deserve to get injuries after a bus accident, you didn't cause; you will still suffer from the injuries you get in the accident. Many cases result in permanent disability, severe injuries, and even a death claim on behalf of a decedent's survivors.
Covering all those expenses is not affordable unless you recover fair compensation from the at-fault party. The best you can do is to hire California bus accident lawyers on our team to file an accident claim against the person who caused the transport accident.
If you ever need an experienced bus accident attorney in Los Angeles or Southern California, you can always call a trial lawyer at Ehline Law Firm. Our Super Lawyers have recovered millions and have over 30 years of combined legal experience helping people obtain medical expenses. Additionally, we are considered the best lawyers by Personal Injury Warriors International.
Are you interested in learning more about bus accidents and what to do if you get into one? Do you want to recover compensation from a city or a deplorable insurance company? This is the page for you! Dive into this article to know more about the legal process in a matter against the Santa Monica Big Blue Bus.
Who Is Liable in Blue Bus Accidents?
Many parties can be liable in a bus accident, and you can even file bus accident claims against them all and receive compensation from different sources if that were to be the case. It's not always the government entities who will be liable. Faulty brakes could be the fault of an independent mechanic or a negligent parts manufacturer.
Nevertheless, bus accident attorneys must prove that all those defendants are liable for the accident. Ehline Law will immediately begin an independent investigation into any violations of California law to identify all responsible parties.
Because of our completely free and confidential, we make it easy for consumers riding the bus and injured to get reliable, competent legal advice from a top-rated personal injury attorney. For a free consultation, call (213) 596-9642 24/7!
These people can be liable for causing bus accidents:
Bus drivers
Other drivers
Pedestrians
Bus manufacturers
Bus company
Bus maintenance company
Bus passengers
The City of Santa Monica.
When bus accidents happen, it's more common for bus drivers or a bus company to be liable for what happened than the others on the list. But they can still cause an accident if they do anything negligent.
You can, for example, file a claim against the bus driver if they were drunk driving, distracted driving, or weren't mindful of traffic signals.
All those things can cause an auto accident. Still, since every bus driver should drive more safely due to driving a passenger vehicle, you can also use them if they didn't take enough safety measures to ensure everyone was safe from danger.
As for passengers or bus companies, they could be liable if they let a bus that wasn't ready to be driven hit the road. When a bus accident occurs, experts will check the state of the vehicle and the conditions it was being operated under before the accident happened.
If bus companies released it without being ready or manufacturers didn't implement all the safety features they could, California bus accident lawyers can file a claim against them.
You can also try and make a government claim and then sue the City of Santa Monica for allowing criminals and homeless people with mental disorders to live on the streets and in their homeless shelters. One could argue that sanctuary cities and refusing to prosecute violent felons represent a substantially changed condition under the California Government Code. Under the Greyhound case, your attorney can argue that the City was negligent in operating a bus for failing to install seatbelts, even though not required by federal law.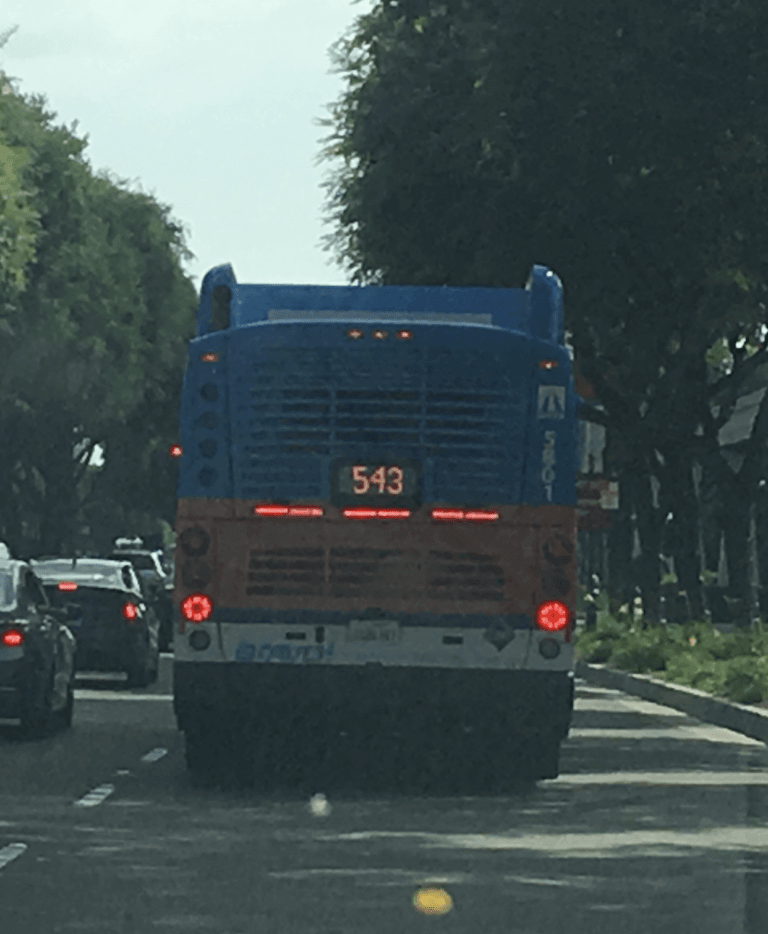 Any accident involving tour bus companies or big blue buses will need someone to check how the bus was, so be ready for that. Regardless, you can always schedule a free consultation with Ehline Law if you have any questions about how these processes work in Los Angeles.
Nonetheless, things change when another driver is the one who caused the bus crash since that's not something bus drivers can always prevent from happening. The same happens with pedestrians who get on the road without being mindful of traffic lights or passengers who willingly distract the bus driver. Someone will inevitably be hurt if the bus jumps a curb or blows through an occupied crosswalk.
How Do Bus Accident Claims Work?
Filing a lawsuit against the negligent party for bus crashes is the best you can do to cover medical bills and other economic damages the accident may have caused. But it's an overwhelming process if you don't have a decent personal injury lawyer helping you go up against an entity running an entire fleet of buses with no assistance of your own.
Hence, you can contact Ehline Law and schedule a free consultation of your case anytime you need to get financial compensation for injured victims in Los Angeles.
These are some of the things you can cover with compensation money:
Medical bills
Property damage
Emotional trauma/distress
Pain and suffering
Loss of income
Any other economic or non-economic damage the accident may have caused.
Whether a tour bus or a big blue bus, the Ehline Law Firm is ready to help you through the claim process from when you schedule a free initial consultation to when you claim your compensation.
We want you to be as comfortable as possible during that process, so here are all the stages for you to understand them better. Remember, you can call us anytime if you have any questions about the case.
Schedule a Free Consultation
The first thing to do if you want to start a legal process against the party liable for the serious injuries you got after the accident is to schedule a case consultation with an experienced personal injury law firm such as Ehline Law.
An attorney-client relationship is the same for all lawyers, so you can tell us all the details of your accident without worrying about us telling them to anyone. This even applies to national trial lawyers. If you were a bus passenger, we could also take other injured passengers as witnesses for the case.
Get Evidence
Collecting evidence is fundamental to getting compensation after a city bus or big blue bus crashes. This is because you need to prove you need money to pay for the medical treatment bills the accident caused you.
You must also prove that the person or company you are suing is liable for what happened. Hence, lawyers need to lead an investigation just after the first free case evaluation to collect as much evidence as possible for the trial.
The following evidence pieces can be helpful to prove the liability of another party after a Greyhound bus or Dash bus accident:
Witnesses (passengers, bus operators, and anyone who saw the accident happen and knows about weather conditions, faulty traffic signal phasing, etc.)
Pictures/videos of the accident
Medical records
Faulty parts from the bus
Police report.
You may need different pieces of evidence depending on who caused the accident since it's not the same to prove the liability of a bus manufacturer as to prove it was a bus operator who did it.
If the bus rear-ended you, you would want images showing the debris field patterns, as it tends to show impact, tire marks from skidding out on a freeway offramp, etc. It's in your best interest to have a bus accident lawyer who helps handle this process in your best interests with utmost care.
File a Government Entity Claim If Necessary
Negligent road maintenance can be a cause of injury or death. This means the bus operator and the road maintenance crews, including CalTrans, may be liable to help pay your loved ones in the form of separate settlements or joint and several verdicts in a Santa Monica trial court.
Making a Timely Claim Against the Big Blue Bus
Here, the focus is speed. Usually, the California Statute of Limitations gives a person two years to sue a private party for being injured. But government entities play by a different set of rules. Here, you generally have six months from the date of the injury or death to file a government claim with the correct agency or agencies.
For example, it would be legal malpractice for an attorney to file a claim against the Los Angeles Metropolitan Transportation Agency ("Metro" or "MTA") when the correct agency is BBB. This is because MTA is a different agency and is not at fault. Although BBB obtains some funding from Metro, it is run independently by Santa Monica City.
Summary: there may be more than one entity to pursue as they may have handled bus repair, road work, traffic signals, etc. And you had better file against the correct entity or waive your lawsuit.
File a Complaint
Personal injury lawyers must file a complaint in a court of law to let the judge know they are filing a lawsuit against another party.
That complaint must have all the accident details and whom you think is liable for it. If you want to get the maximum compensation you can get, you should include some evidence pieces in that document to let the judge and other parties know you are ready to go to trial.
Notify the Other Party
Naturally, the other party must know they are facing a personal injury lawsuit and respond to that claim before anything happens. If they plead guilty to what happened, you will get the compensation you deserve, but that doesn't happen often.
Negotiate with the Other Party
As national trial lawyers do in their cases, personal injury lawyers can negotiate with other parties to get to a fair settlement. Defendants attempt to negotiate if they think they can lose the case if they go to trial.
Despite that, you need a decent bus accident lawyer by your side because the defendant or their insurer may try to trick you into doing something that is not that beneficial for you.
Many also try to agree due to how much time trials take and how overwhelming they can be for the victim.
You should know that getting to an agreement will never get you the total compensation you could get if you won a trial. Hence, you can decide to go to trial if you are 100% you have a strong case and want to go through that process.
Go to Trial
Personal injury lawyers can also represent you in a trial and use all the evidence they collected to prove you need compensation for what happened.
What Injuries Can I Get After a Bus Accident?
As you know, significant blue bus accidents are not something to take lightly, and the injuries they may leave you can scar you for life.
Here are some of the injuries you can expect after one of these accidents:
Disfigurement
Wrongful death
Spinal cord injuries
Traumatic brain injuries
Facial fractures
Burns
Broken bones
Herniated disc.
What Can a Big Blue Bus Accident Attorney Do for Me?
Hiring a personal injury lawyer to take your case is one of the best things you can do if you ever get into a bus accident. However, you need to know everything an experienced attorney can do for you before you hire one.
This is what you can ask the accident lawyers at Ehline Law to do for you:
Explain every stage of the legal process to you
Help you file or correct an incorrect police report or help pay for and obtain one
Start an investigation (professional investigators successfully locate bystanders and video tapes.)
Collect evidence
Negotiate with the other party, including public entities acting as a common carrier
Represent you in trial
Make sure you get maximum compensation.
Why Should I Hire Ehline Law After a Big Blue Bus Accident?
Now that you know what a personal injury lawyer can do for you, it's time to understand why Ehline Law is the best option.
Need reasons to hire us for your case? Here are some:
We have experienced attorneys
We work 24/7
We work under a no-win-no-pay policy
We've won $150 million in compensation
We offer a free case evaluation.
Schedule a Risk-Free Consultation With Big Blue Bus Accident Attorneys in Santa Monica, CA
Are you confused or frightened about becoming a new client with us? Many are scared to file a lawsuit against the negligent part of an accident since they think they will lose time in a stressful process. True, these are complex cases with many pitfalls. But the best lawyers can make sure the at-fault parties are held responsible for paying you and other riders or victims money damages.
However, it's quite the opposite since you lose nothing since you don't have to pay us if we don't win and can get money to cover all the damage the accident caused if we win.
Don't let the bad guys put profits over people. Contact us now and speak with a motivated, compassionate personal injury lawyer. See how much we can help you or a close loved one by dialing our phone at (310) 237-6218. New clients can also reach out using our convenient online website and contact us form 24/7!
Citations:
Other Common Carrier Accidents
Michael Ehline is an inactive U.S. Marine and world-famous legal historian. Michael helped draft the Cruise Ship Safety Act and has won some of U.S. history's largest motorcycle accident settlements. Together with his legal team, Michael and the Ehline Law Firm collect damages on behalf of clients.
We pride ourselves on being available to answer your most pressing and difficult questions 24/7. We are proud sponsors of the Paul Ehline Memorial Motorcycle Ride and a Service Disabled Veteran Operated Business. (SDVOB.) We are ready to fight.