If we don't win, you don't pay.
Speak to the Attorney.
Born to serve.
633 W 5th Street #2890
Los Angeles, CA 90071
(213) 596-9642.
2323 S. Voss Rd, Suite 244
Houston, TX 77057
(832) 592-1260.
Date Modified: November 22, 2023
If you've been affected by a cruise ship accident on a Texas Cruise or have lost a loved one in such a tragedy, you're not alone. Here in Galveston, an experienced team of dedicated cruise ship accident attorneys is ready to help you find justice. This article will guide you through hiring a proficient team of Galveston, Texas, Cruise Ship Attorneys led by award-winning injury lawyer Michael Ehline. The intention here is to ensure all your concerns are addressed and you receive a confidential free case review. We'll cover everything you need to know in simple, understandable terms.
"The journey to justice may seem daunting, but with the right support, you can conquer this mountain!" – Michael Ehline.
About the Port of Galveston
The Port of Galveston remains a bustling hub for cruise ship activity, primarily hosting several notable vessels, including the Carnival Magic, Carnival Freedom, Carnival Liberty, Carnival Triumph, Royal Caribbean Liberty of the Seas, and Disney Cruise Line's Wonder. In 2015 alone, the Port of Galveston surpassed the million-passenger mark for the second consecutive year. Given the recent cessation of cruise company operations at the Port of Houston, it's reasonably anticipated that Galveston's growth will accelerate in the coming years.
Although the journey through this legal maze might look daunting, remember you're not left to wade through these complex maritime legal issues alone. Indeed, our highly respected team of attorneys, specializing in cruise ship accidents and maritime law, stand ready to accompany injured passengers and crew-members at every turn.
Let's delve into what follows, including:
How to identify potential defendants in your cruise injury case. This might include the cruise line, the ship's captain, or other crew members. Our seasoned Galveston, Texas, cruise ship attorneys know precisely where to look and who to hold accountable for your sufferings.
Preparing and submitting a detailed claim. This lays out the specifics of the accident, your resulting injuries, and its impact on your life. Our legal team has immense experience preparing comprehensive claim documents that resonate with the court's expectations.
Practical Support and Expert Counseling
Moving a step forward, we provide legal consultation and stand by you in difficult times to provide you with the emotional support you might need. Understanding the nuances of your injuries' impact on your personal life and the convoluted legal processes could be overwhelming. We are committed to alleviating as much stress as possible on your pathway to recovery.
Fighting for Your Rights in Court
Finally, our dedicated team is prepared to fight aggressively for your rights in the courtroom. We won't hesitate to take your case to trial if negotiations and settlements can't bring about the justice and compensation you're entitled to. We're experienced in crafting
Why You Need a Galveston, Texas Cruise Ship Attorney
If you are a prior victim, You may have experienced the importance of hiring a Galveston, Texas, cruise ship attorney. Not only can physical injuries and emotional trauma be devastating, but the legal complexities that arise from accidents can also be overwhelming. With that, several essential reasons explain why one must seek assistance from an attorney specializing in cruise ship accidents.
Understanding how to navigate the legal process is crucial and difficult, especially if you're dealing with injury or loss. The legal framework surrounding Texas cruise ship accidents is multifaceted and involves a mix of federal maritime and state laws. A specialized attorney will be well-versed in all these areas, assuring you that your case is in capable hands. For example, naval laws, in your case, could include Jones Act Claims or DOSHA claims. However, no Texas cruise accident in the Gulf Coast or Galveston Bay will be identical.
This is why it's essential to put our over 30 years of combined legal experience to work for you and your loved ones in West Columbia, Missouri City, Tiki Island, Sugar Land, Santa Fe, League City, Lake Jackson, Texas City, Nassau Bay, South Houston, or Southeast Texas proper. Whether you live in Jefferson County, Galveston County, Harris County, or work at our Texas port facilities, people get hurt when a Galveston cruise ship fails to exercise proper safety precautions.
Protecting your legal rights is another vital aspect that an attorney brings to the table for injured crewmembers and passengers. An expert attorney will guide you on all applicable regulations and statutes of limitations, ensuring that you take necessary actions to preserve your rights because they are just as crucial as the Texas economy as far as we are concerned.
When cruise ships place profits over people, Ehline Law is the lawyer you call to resolve the case. Hiring us can mean the difference between thousands or millions of dollars recovered in compensation for your or your loved one after a Texas cruise ship accident.
Fighting for rightful compensation and negotiating with insurance companies is a daunting task. This is where an experienced cruise ship attorney can represent you aggressively, ensuring you get the compensation you deserve. Lastly, let's talk about evidence collection and presentation.
Therefore, when you find yourself dealing with a negligent luxury liner or loss related to it in Texas, remember that you don't have to go through it alone. Hiring a competent Galveston, Texas Cruise Ship Attorney, like Michael Ehline, can offer you the necessary legal support and guidance with no money upfront.
Understanding Cruise Ship Accident Statistics
There are many different types of passenger ships. Cruise ships are the most popular type and they also see the highest incidents of fires when compared to other pure passenger ships.
Note: 51% of fatal cruise accidents involve machinery and hull damage!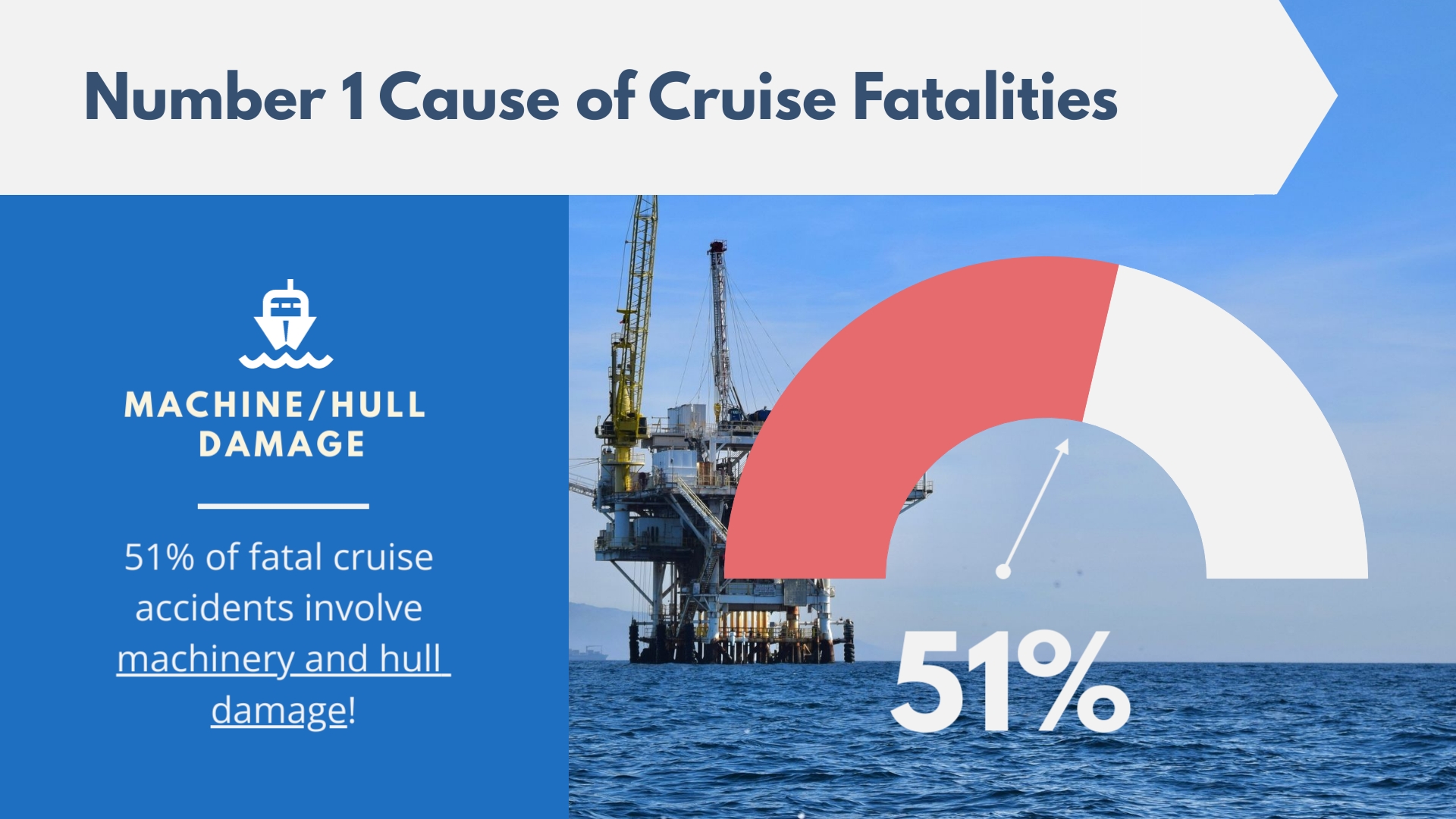 Statistics on Cruise Ship Collisions Between 2000 and 2021
Cruise ships were involved in 22 collision incidents from 2000-2021. Notably, the majority of these accidents, standing at 75%, took place within terminal areas or ports, primarily under adverse weather conditions, such as strong winds. Nevertheless, no total ship loss resulted from any of these collisions.
Furthermore, 34 contact incidents were recorded which consists of more than half (55%) of these occurrences taking place in terminal locations (port), with 78% happening under unfavorable weather scenarios. Instances of ships becoming stranded or wrecked made up 40% of navigational accidents (including collisions and contacts), with a breakdown of 49% in restricted waters, 30% in open sea, and 21% in terminal areas.
Of these, five ship losses were noted as a direct result of stranding in restricted or terminal regions or coastal waters, with all these incidences happening under seemingly favorable weather conditions.
Cruise Ship Fatality Statistics (2000-2021)
On the topic of cruise ships, a total of 48 fatalities were recorded from the year 2000 to 2021. Notably, one grounding event (the Costa Concordia incident) accounted for 67% of these deaths. The Costa Concordia, a ship with the IMO number 9320544, faced a stranding incident under favorable weather conditions on January 13, 2012.
Main Two Reasons for Cruise Deaths?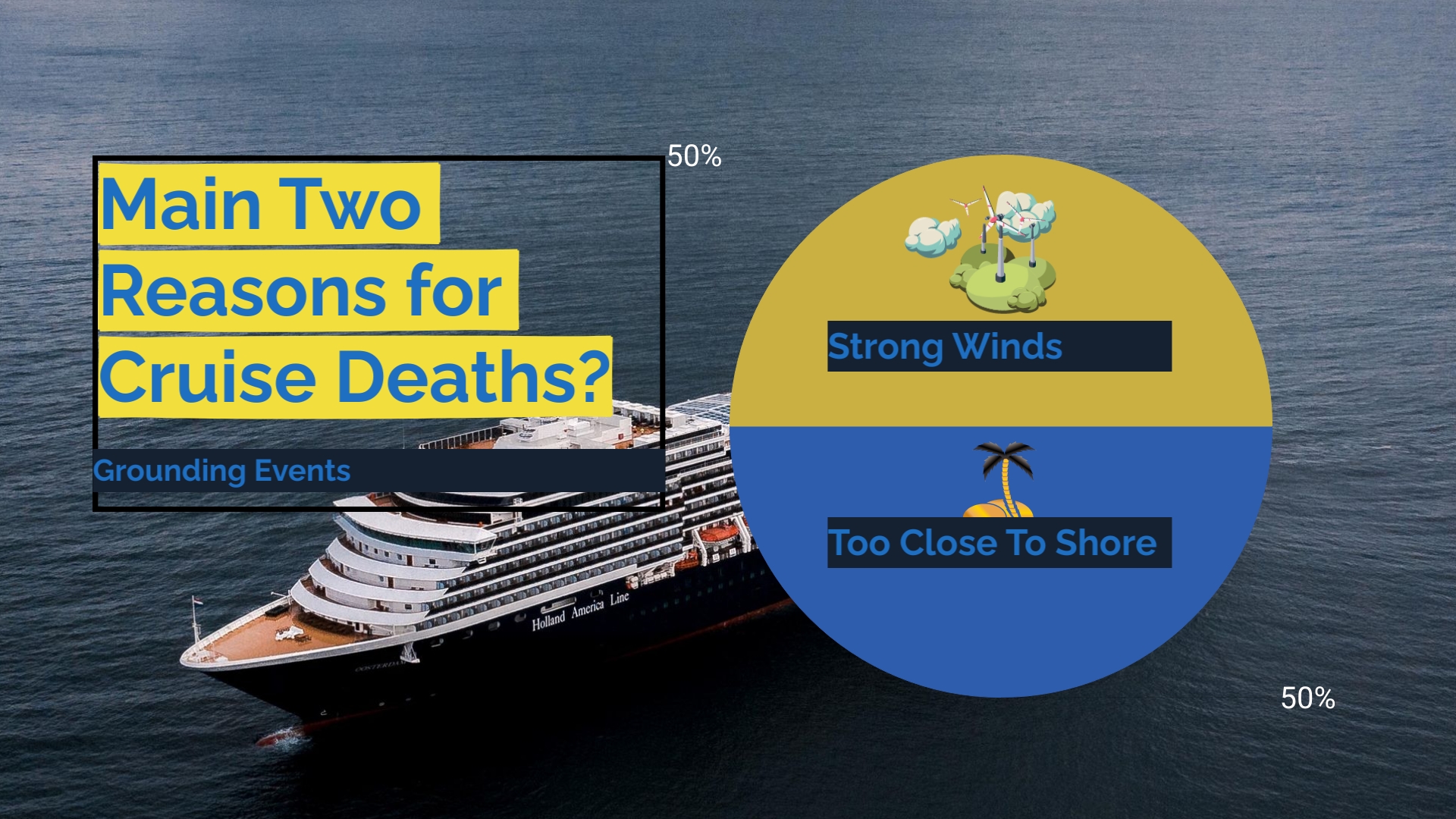 Grounding events on cruise ships often result in high fatality rates and this is primarily attributed to two factors:
Firstly, these vessels frequently operate in coastal waters
Secondly, environmental conditions such as strong winds and waves can significantly hinder the vessel's safe maneuvering and docking procedures.
Similarly, Passenger Ro-Ro ships that provide daily services in restricted waters like ports and coastal areas often face similar challenges. It's important to note that foundering events and the related fatalities usually take place during harsh weather conditions. These events are often closely related to the size of the vessel, and more often than not, it's the careless operation that's too blame.
Understanding Galveston Cruise Ship Accident Claims
Types of claims can vary greatly, and their complexity may spiral depending on aspects such as:
The nature and severity of injuries suffered
The location of the accident (in international waters, within the territorial jurisdiction, at the port, etc.)
Complexities in demonstrating liability
Limitation periods for filing claims.
Navigating the Legal Process After a Cruise Ship Accident
Going through the ordeal of a cruise ship injury is incredibly daunting, and undergoing a legal process can add further to the stress. Facilitated by a Galveston, Texas, cruise ship attorney, navigating this intricate process becomes easier. Let us break down the key steps in this process:
Steps Involved in the Legal Process
Seeking Medical Attention:
The first step after any accident, including a cruise ship accident, is to seek immediate medical attention. Attending to your injuries is of prime importance. This step is crucial for your health and recovery and is significant in your potential injury claim against the cruise lines for negligence.
Collecting Evidence
When you're safe and sound, begin gathering information. The more proof you have of the incident, the stronger your case will be. There are several ways to collect evidence, from taking photographs of the accident scene to gathering statements from witnesses. You should also keep tax records and payroll stubs handy to make sure the defendants are held liable for lost wages.
Witness Statements and Contact Information
Obtaining the contact information of any witnesses present during your accident is essential. These individuals can provide a detailed account of the incident, from how it happened to who was at fault. Some key details to capture include their name, phone number, and email address. If possible, ask witnesses to provide a statement or a summary of what they witnessed. This can become invaluable evidence in strengthening your claim.
Photographs of the Incident Scene
Taking clear and detailed photographs of the accident scene is crucial. These pictures should capture the area where the mishap occurred, any visible injuries you've sustained, and any potential safety hazards that might have contributed to the accident. The vicinity may change over time, and the photographic evidence can permanently record your accident's circumstances.
File a Report
You should notify the cruise line company about it as immediately as possible. A failure to do so could weaken your case and allow them to escape their responsibilities.
Stay Calm and Assert Your Rights
You'll likely be confronted with many complex and overwhelming situations. Stay calm, assert your rights, and never sign any document the cruise line provides without having it reviewed by your attorney.
Medical Records and Reports
Seek medical help immediately after the accident, even if you don't think you're seriously hurt. Some injuries don't manifest symptoms right away. A thorough examination from a healthcare professional can identify these injuries early on, and the medical report from this examination can serve as a vital piece of evidence. Carefully save all medical records, prescriptions, and receipts for medical expenses since they are proof of your injuries and related costs.
Additional Relevant Evidence
Beyond photographs and medical records, other forms of evidence can also be beneficial. This might include video footage of the accident, physical artifacts involved in the incident, or broken equipment that contributed to your injuries. All of these elements can help construct a compelling case and increase the likelihood of receiving the compensation you
Process for Free Case Review with Galveston, Texas Cruise Ship Attorneys?
The Free Case Review with a Galveston, Texas Cruise Ship Attorney is your initial step towards obtaining justice and potentially receiving compensation.
Here's a walk-through of what you can expect in this process:
Scheduling an Appointment
Your first task is to get into the attorney's office to arrange a time for your case review. Most law firms, including Michael Ehline's, aim to offer flexibility to prospective clients, so you'll likely have options for in-person, over-the-phone, or virtual appointments.
Preparation for the Meeting
Gather all the readouts about your case, including documentation such as medical reports, photos of injuries, eyewitness statements, or any correspondence with the cruise line or insurance companies. The more comprehensive the information you provide, the better our law firm will be able to assess your case on a Galveston cruise ship or other vessel like a tender.
Discussion and Evaluation
During the meeting, the attorney will discuss the case details, your legal rights and options and assess the potential viability of a lawsuit. This is your chance to ask questions about the legal process, fees, and expected timelines.
Remember, a Free Case Review does not obligate you to hire the Galveston, Texas Cruise Ship Attorney. It's an opportunity to understand the legal landscape of your case and make an informed decision about pursuing a lawsuit over the harm suffered.
Consult with a Galveston, Texas Cruise Ship Attorney
After a fatal accident, consult with a seasoned Galveston, Texas cruise ship attorney, like Michael Ehline. He can guide you through the process, fight for your rights, and ensure that you receive the justice and compensation you deserve from Ehline Law Firm.
Remember, each case is unique and will require a strategic approach tailored to the circumstances of the accident. Engaging a skilled lawyer will provide invaluable advice, help you navigate the complex legal waters, and ultimately, ensure the best possible outcome.
Track Record of Galveston, Texas Cruise Ship Attorneys
When choosing a legal representative, it's crucial to consider their track record in handling similar cases. Galveston, Texas Cruise Ship Attorney's track record concerning cruise ship injury cases is stellar. They have a long history of obtaining fair, comprehensive settlements and judgments on behalf of their clients.
Successful Settlements and Verdicts v. Cruise Lines
The attorneys in Galveston have successfully represented victims of various kinds of cruise ship accidents, from slip and fall injuries to food poisoning and even wrongful death claims. They have secured substantial financial compensation for their clients, enabling them to recover from their physical, emotional, and financial trauma. Their impressive record of verdicts and settlements speaks volumes about their commitment and capability.
Dedication to Clients' Needs
Beyond successful outcomes, these attorneys have proven their dedication and responsiveness to clients' needs. They understand that standing up against powerful cruise ship companies can be overwhelming for victims and their families. Therefore, they offer compassionate, comprehensive support throughout the entire legal process.
Recognition in the Industry
Michael Ehline, for example, has extensive experience handling cruise ship injury cases and has been distinguished with numerous awards and accolades from distinguished legal organizations in recognition of his expertise and accomplishments in this area. This ongoing acknowledgment of consistent success illustrates why Ehline is the right choice for your serious injuries in Galveston County.
Statute of Limitations for Filing a Texas Cruise Accident?
Usually, every state has a statute of limitations – a period within which the victim has the right to file a lawsuit. In Texas, the statute of limitations for personal injury cases is generally two years from the vessel accident date.
However, the whole process may be more complicated when you wish to pursue and prove a major cruise line mishap.
Consideration of Maritime Laws / Treaties
Since cruise ships generally operate in international waters, maritime law or a treaty, like the Athens Convention, may come into play. The port you depart and arrive at plays a role in your cruise ship injuries, too.
Influence of Cruise Line Tickets
The passage contract may stipulate the place and time it requires passengers to file lawsuits for personal injuries. Typically, the fine print specifies a shorter than the standard personal injury statute of limitations in Texas. This is known as the forum selection and statute of limitations clauses. These terms are enforceable and have been upheld by the courts as reasonable and not against public policy.
SIX MONTHS to Mail Damages CLAIM: Most cruise lines require you to file a cruise ship claim within six months of injury.
ONE YEAR TO SUE From Injury Date: Royal Caribbean Cruises, Norwegian, and others require that the lawsuit be filed in Federal Court in Miami, Florida, where they maintain their corporate offices. All major cruise lines, such as Princess, Carnival, and Royal Caribbean, mandate that any lawsuit be filed within one year from the date of the actual injury event.
Exceptions to the Rule
Keep in mind that there may be exceptions to these timelines. For instance, if the injured party is a minor or mentally incapacitated, the statute of limitations may be extended to your trip. Also, specific situations, such as fraudulent concealment by the defendant, may influence the statutes.
The Right to Switch Attorneys
If your G, Galveston, TX cruise ship injury attorney isn't handling this right, fire them! The legal system understands this. You are not obligated to stick with an attorney you are not satisfied with. Deciding to switch to Galveston, TX, injury attorneys is a consequential decision and must be made starting with careful thought.
Common Types of Accidents on Cruise Ships
Understanding the common types of Texas cruise ship accidents is the first step to determining if you may have a justified claim.
Defective Equipment: Gym equipment and broken-down transportation like an old tender boat can break down and ruin your collective experience as a family or couple on a cruise. Worse, some cases involving poorly maintained machinery have resulted in severe injuries and even deaths.
Slips and Falls: Due to a myriad of factors such as wet or uneven surfaces, poorly maintained facilities, or turbulent sea conditions, slips and falls on gangways and at terminals are among the most common types of accidents on cruise ships in and out of the Port of Galveston.
Foodborne Illnesses: Unfortunately, cases of food poisoning outbreaks are not uncommon for passengers to suffer fatalities on cruise ships, stemming from poor food handling and storage practices in close quarters.
Negligent Hiring: Major cruise lines are notorious for placing profits ahead of people. Sexual assault cases are lined to the decision to hire crew from third world countries where scantily clad women are open game as sex objects. There is often no way to verify who these people are, and the process used to hire them is often a mystery. Maritime cases like this must send a message to these large corporations to hire crew members with clean backgrounds and proper sensitivity training before someone else is killed in more far-off ports or destinations.
Swimming Pool Accidents: Without proper maintenance and supervision, swimming pools on cruise ships can become dangerous zones, causing severe injury or drowning while operating on the high seas.
Shuttle Accidents: Many cruise lines provide shuttle services for shore excursions and activities on shore. Accidents involving these vehicles can cause severe injuries to employees and passengers alike.
Fires: Although less common, fires aboard a cruise ship led to severe injury and widespread panic. They can stem from faulty wiring, poor maintenance, or other oversights for all on board.
Physical Assaults: Cases of physical assault do occur on cruise ships, often fueled by excessive alcohol consumption.
In every case, you should be able to expect a safe and secure environment during your cruise journey, not suffering. When this expectation is not met, and injury or damage to other vessels is sustained, the assistance of a Galveston, Texas, Cruise Ship Attorney like Michael Ehline becomes invaluable.
The Role of Expert Witnesses in Cruise Ship Accident Cases
An integral part of your legal team when dealing with cruise ship accidents, expert witnesses play a crucial role in substantiating your claims in court. They bring their professional experience and knowledge, elucidating complex cruise ship operations, safety standards, and incident specifics for your lawyer. The above could be pivotal to compensation awarded to maritime workers for cruise ship injuries against a central cruise line like Carnival Cruise Lines.
The Involvement of Expert Witnesses in Your Case
Well-established expert witnesses work closely with your Galveston, Texas, Cruise Ship Attorney right from the preliminary stages of your case. Our top lawyer may meet them at the cruise ship terminal in Miami, Florida, or another far-off port to inspect the area where you got hurt or where deadly illnesses started, etc. Fact-checking and accurate representation of events and circumstances are crucial to this coordination. The precise role of these experts depends on the specific nature of your case, but they can help with liability and other damages and obstacles. You can learn much during your free consultation, so pick up that phone and speak with a lawyer today!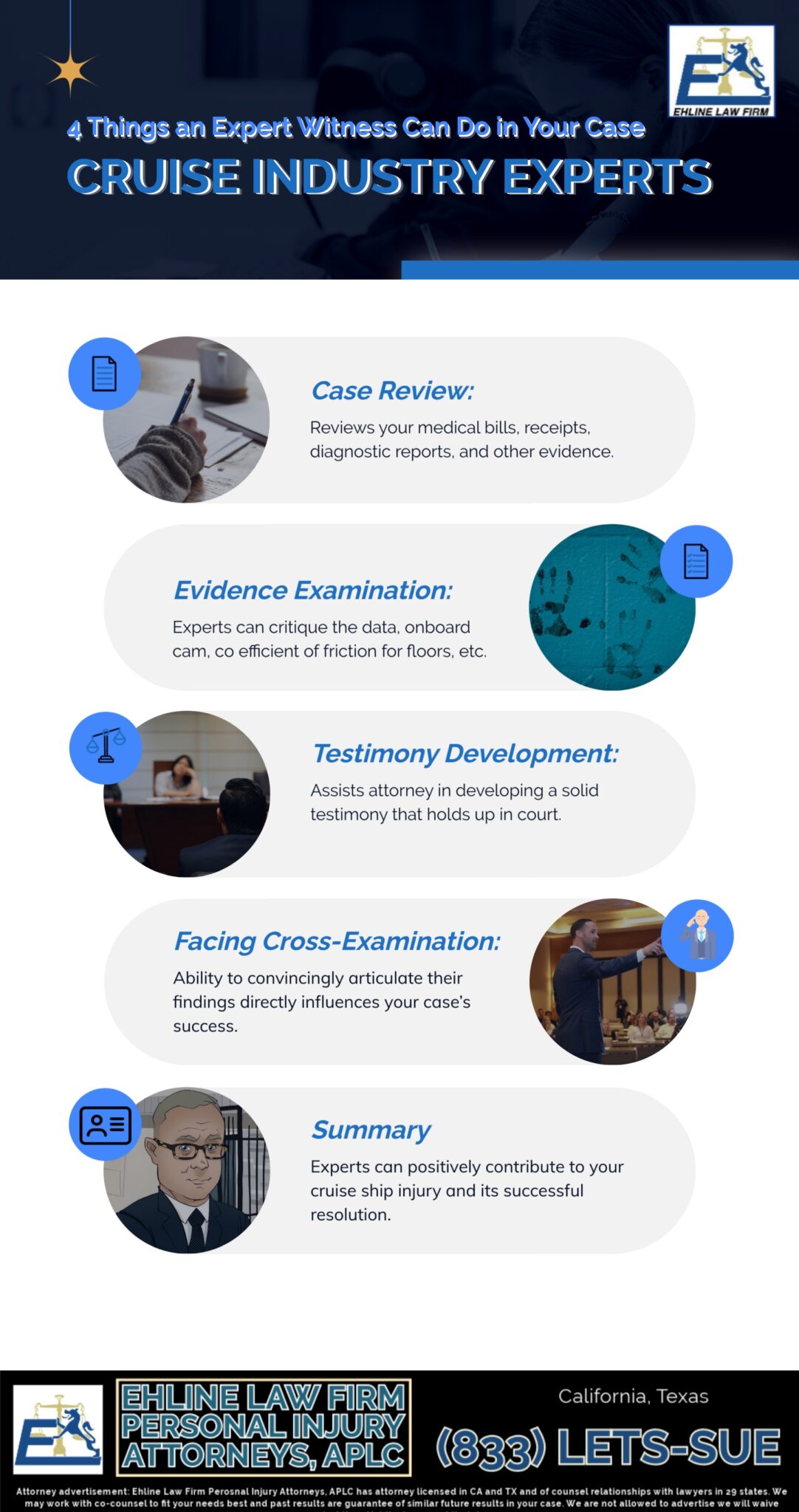 However, their involvement generally encompasses several vital stages:
Case Review: The expert initially reviews your medical bills, receipts, diagnostic reports, and other evidence and resources to understand the intricacies of your high seas excursion.
Evidence Examination: Their next step is thoroughly examining all evidence of carelessness associated with your case. They critique the data, onboard cam, if available, medical reports, witness accounts, ship logs, and any other pertinent information.
Testimony Development: Based on their findings, they assist your cruise ship injury attorney in developing a solid testimony that holds up in court. This is the service you deserve.
Facing Cross-Examination: Holding their own against cross-examination by opposing counsel is crucial to any expert witness's role. Their ability to convincingly articulate their findings directly influences your case's success.
Engaging expert witnesses demonstrates your commitment to getting justice and facilitates building a solid, unshakeable case. These professionals bring expertise that positively contributes to your cruise ship injury and its successful resolution. Today, we are ready to help any client fight the most well-established, well-liked cruise ship company.
Reach Out to a Galveston, Texas Cruise Ship Attorney
Consulting with a Galveston Cruise Ship Attorney is crucial in the immediate aftermath of an incident on major cruise lines. Remember, initial consultations are typically free of charge and confidential, providing you with an understanding of the potential legal actions most people can take based on their situation.
Renowned attorney Michael Ehline and his team not only understand the complexities of cruise ship accidents. Our serious injury lawyers have a proven track record for winning fall accidents, as well as assault, battery, and drowning claims against the responsible parties. We remain committed to a variety of victims getting the justice and compensation they deserve after rough travel at sea. Put our years of experience to work for you! If you or someone you love were injured on a cruise, call us today at (833) LETS-SUE for proven results and unparalleled professionalism in the Port of Galveston, Port Bolivar, and even Dallas.
Citations:
Marine Casualties Investigative Body, Report on the Safety Technical Investigation of the Marine Casualty of the Cruise Ship Costa Concordia, Italian Ministry of Infrastructure and Transport. 2012. Available online: https://www.mitma.gob.es/recursos_mfom/2012costaconcordia.pdf (accessed on 29 November 2022).
Gubian, P.; Piccinelli, M.; Bruno, N.; Giurlanda, F. The Disaster of Costa Concordia Cruise Ship: An Accurate Reconstruction Based on Black Box and Automation System Data. In Proceedings of the 2nd International Conference on Information and Communication Technologies for Disaster Management, Rennes, France, 30 November–2 December 2015. [Google Scholar] [CrossRef]
Michael Ehline is an inactive U.S. Marine and world-famous legal historian. Michael helped draft the Cruise Ship Safety Act and has won some of U.S. history's largest motorcycle accident settlements. Together with his legal team, Michael and the Ehline Law Firm collect damages on behalf of clients.
We pride ourselves on being available to answer your most pressing and difficult questions 24/7. We are proud sponsors of the Paul Ehline Memorial Motorcycle Ride and a Service Disabled Veteran Operated Business. (SDVOB.) We are ready to fight.