If we don't win, you don't pay.
Speak to the Attorney.
Born to serve.
633 W 5th Street #2890
Los Angeles, CA 90071
(213) 596-9642.
2323 S. Voss Rd, Suite 244
Houston, TX 77057
(832) 592-1260.
Date Modified: November 21, 2023
Are you tired of looking at every attorney directory in town and want recognized trial lawyers who were voted best before? Welcome to Ehline Law Firm Personal Injury Attorneys, APLC, spawned by attorney Michael Ehline (licensed with the Texas State Bar and California State Bar) in 2005, who has been enthusiastically practicing law ever since. As an employee or passenger injured at sea, your rights to seek and obtain can become drastically alerted.
A smooth sea never made a skilled sailor. – Franklin D. Roosevelt
A severe enough injury suffered can easily lead to bankruptcy or divorce. If an accident occurring near Galveston, TX, wasn't the victim's fault, and sometimes, even if the victim was partially at fault, they may have standing to sue for compensation.
We bring to you a professional, reliable, and committed team of Texas Admiralty Maritime Law Lawyers. Our highly aggressive, enthusiastic TX lawyers focus on protecting the rights of accident claims victims at sea. Our Texas lawyers can handle anything related to maritime incidents generated off the coast of Texas, Galveston in particular.
Skilled in Related Personal Injury Practice Areas
We are also skilled lawyers in related practice areas, including all transportation and livery litigation facets. Our firm's owner, Michael Ehline, is a veteran U.S. Marine and an advocate for nautical justice, having helped formulate sections of the Cruise Ship Safety Act on behalf of the International Cruise Victims (ICV) and the late Kendall Carver.
The sea, once it casts its spell, holds one in its net of wonder forever. – Jacques Yves Cousteau
Cruise Ship Lawyer of the Year Award
Michael Ehline also received the Cruise Ship Lawyer of the Year Award from Hollywood Weekly Magazine back in 2016. He has assisted many advocacy groups, including the Paul Ehline Memorial Ride and Disabled Veterans of America. He is also famous for his award-winning Cruise Law YouTube podcasts at Ask Michael Ehline. Michael and the people we represent are in the business of answering questions swiftly and winning Galveston maritime claims expertly.
"In the vastness of the sea, where nautical law cases remain as unpredictable as the waves, having a trusted and experienced admiralty and maritime attorney is not a choice, it's a necessity. At Ehline Law, we stand by that commitment, serving Galveston with esprit de corps." – Michael Ehline
With over a decade of dedicated maritime law experience, we are now focusing on TX, Galveston, and Houston.
We are focused on statistics as a basis to reduce future incidents and deaths on the high seas.
We have recovered millions for families of wrongful death victims and people injured at sea from cruise lines and insurance company policies.
Maritime attorneys serving Galveston with a profound understanding of the nuances of nautical law and international policies.
Dealing with losses or injuries at sea can be overwhelming without a powerful force on your side like Michael Ehline and his team of Galveston Maritime law colleagues and associates. Through our extensive experience and expertise, we aim to lighten that burden and guide you through the process. It's not just about the verdicts and settlements.
It's about ensuring justice and providing the peace of mind you need. For this reason, you can obtain a free consultation about your sensitive legal matters anytime, 24/7, as a new client. Our common interest is educating you and protecting your rights to receive full and fair compensation for Galveston, TX, injury cases.
Over a Decade of Trusted Experience
With over ten years of experience in the field, these legal stalwarts have dealt with various maritime and admiralty cases, proving their mettle as reliable and astute professionals. Over the years, they deemed it fit to improve and refine their legal acumen continuously. The top-notch legal advice and representation provided have proven instrumental in securing favorable verdicts and settlements for our clients.
What are the Texas Admiralty Law Injury Statistics?
Many victims are residents of cities in other states and countries, making statistics for Galveston proper near impossible to pinpoint.
Seaward Workers: A Statistic Snapshot
Another important aspect to consider is the demographics of nautical workers. Texas employs many seafarers with its expansive coastline and bustling ports, maintaining a constant workforce flow in this sector. The Port of Galveston is close to the mouth of the Houston Ship Channel. Renowned as the nation's most significant hub for waterborne cargo capacity, the Houston Ship Channel complex, including over 200 privately-owned and eight government-run terminals collectively termed the Port of Houston, is a crucial economic catalyst for not just the Houston area, but the entire state of Texas and the U.S. as a whole.
According to a 2022 survey conducted by research firm Martin Associates, the Port of Houston's business activities robustly reinforce an impressive 1.54M jobs within Texas and 3.37M roles across the nation. These pursuits aid in generating upwards of $439B in economic value statewide and a remarkable $906B economic value nationwide. In terms of tax revenue, the Houston Ship Channel is a significant contributor, adding nearly $10.6B to state and local tax coffers and a whopping $62.8B to the national tax revenue.
The Port of Houston itself employs at least 660 govt employees. The Houston Ship Channel represents a significant portion of the state's marine labor force. The channel sees more than 8,000 vessel calls and 200,000 plus barge movements each year. (Source.) As early as 2015, the Port of Galveston directly employed 3,912 personnel, but since its expansion it has more.
Oil and Gas Industry: Maritime Law Lawyers
It's also crucial to consider the impact of Texas's substantial oil and gas industry—much of it offshore—on maritime legal cases. With the state's 367-mile coastline peppered with oil rigs serving Galveston, accidents in this sector often become maritime law cases. This information, coupled with the industry's inherent risks, has presented another layer of complexity for legal advocates in various instances over the last 15 years or so.
According to the U.S. Bureau of Labor Statistics, maritime occupations have some of the highest incidences of injury compared to other industries.
Let's delve deeper into these statistics.
The sea, the great unifier, is man's only hope. Now, as never before, the old phrase has a literal meaning: we are all in the same boat.
– Jacques Yves Cousteau
A Look at the Facts and Figures
Working in the maritime industry, particularly in roles that involve direct contact with vessels and open waters, presents several unique hazards. Many factors contribute to high injury rates in this industry, including difficult working conditions, heavy equipment, and sometimes unpredictable weather.
Most Common Causes of Maritime Injuries
The U.S. Occupational Safety and Health Administration (OSHA) has conducted thorough investigations into maritime worker accidents. From their findings, they have compiled comprehensive fact sheets detailing the leading causes of injuries and fatalities among maritime workers.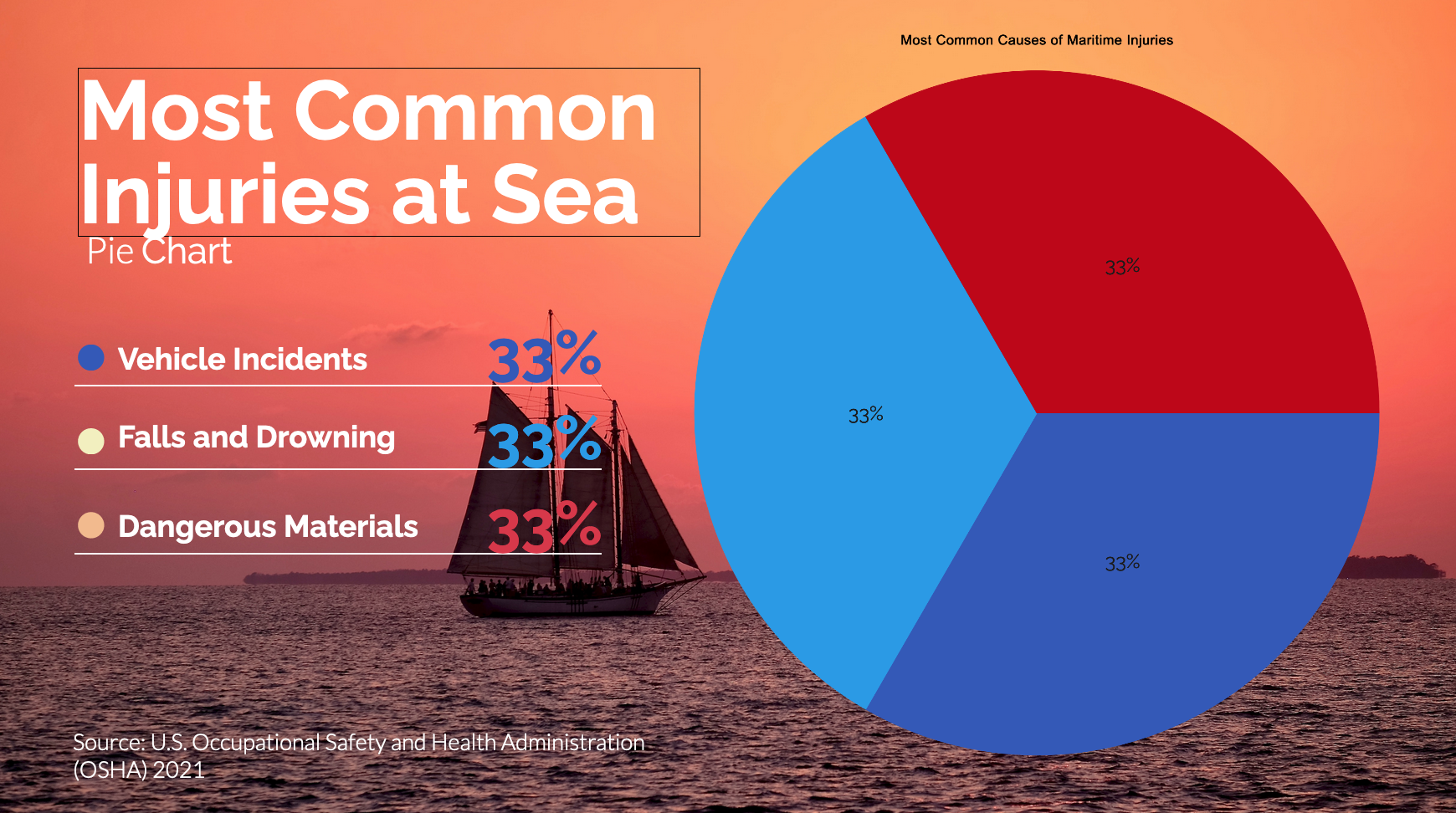 The most frequently occurring maritime mishaps, as identified by OSHA, include:
Incidents involving vehicles
Accidents involving falls and drowning
Mishaps related to handling materials.
Other Maritime Accidents By Percentage (2006-2017)
Fall onto surface – 450 (28% of total injuries + 34% most significant injuries.)
Strain or sprain – 285
Struck by moving object – 184
Line handling, caught in lines – 169
Collision with fixed object – 132
Crushed between objects – 132
Fall into water – 24
Exposure – 25
Other – 198.
Note: Source: USCG-AWO Annual Safety Report, July 31, 2018. The percentages mentioned in the table are estimates and can vary from year to year.
Insights on Recreational Boating
Between January and April 2021, there was a startling surge of 40% in boating fatalities, compared to the same period the previous year.
According to 2019 data from the Coast Guard, recreational boating accidents accounted for 4,168 incidents, leading to 613 deaths, causing 2,559 injuries, and resulting in approximately $55 million in property damages.
The top five most frequent factors contributing to these mishaps were lack of operator attention, insufficient lookout, inexperienced operators, high speed, and the influence of alcohol.
When information on instruction was available, it was found that 70% of the deadly incidents occurred on boats where the operator had not been provided any safety training.
Most drowning victims (80%) were found to be using vessels that were less than 21 feet long, according to the recorded boat lengths.
When the cause of death was determinable, 79% of recreational boating fatalities were ascribed to drowning. Disturbingly, for those victims whose life jacket usage was reported, 86% were found not to be wearing one at the time.
Paddle Sports Participation
In the United States, around 22.9 million individuals, accounting for 7.6% of the population, reported participating in at least one paddle activity.
The participation of people identifying as Hispanic has seen a 3% uptick since 2013, adding an extra 773,000 new paddlers.
Gender-wise, males represented 53% of paddle sport participants and females, 47%. However, these figures are balancing out gradually at an annual rate of 1%. In fact, females now dominate in the area of stand-up paddleboarding.

The gender gap on the water is closing by 1% each year.
Stand up paddleboarding now sees more female enthusiasts than male ones.
Shockingly, 30% of paddlers admitted they do not possess a lifejacket.
A concerning 15% of paddlers claimed they didn't perceive a lifejacket to be necessary. This implies that an estimated 3.4 million paddlers are unnecessarily putting themselves at risk.

This risky attitude means that an estimated 3.4 million paddlers are placing themselves in needless jeopardy.
Military Discipline and Reliable Representation
Michael Ehline, an esteemed former US Marine and emblem of trustworthiness, heads our firm. We firmly believe that the discipline, integrity, and ethos from his military background convert into the determination to fight for our client's rights in serious injury cases.
Significant Contribution to Maritime Laws
Our lead attorney, Michael Ehline, is not just a plaintiff advocate. He's an influential contributor to the maritime legal community, having played an instrumental role in drafting pivotal Cruise Ship Safety Act provisions on behalf of the ICV (International Cruise Victims), further exemplifying his dedication to ensuring maritime safety. This underscores his technical competence and expertise in maritime law, providing a distinct and advantageous edge for our clients.
Record of Impressive Verdicts and Settlements
Our impressive record in securing millions in recoveries for the victims and their families could attest to our clientele's satisfaction and the history of our successes. These settlements and verdicts become the live testimonials of our relentless determination and legal aptitude.
These victories underline the assurance our firm brings to the table:
"No matter how complex or challenging the maritime legal issue might be, we at Ehline Law Firm Personal Injury Attorneys, APLC stand determined to advocate for you."
It is essential to be meticulous while dealing with maritime cases, and our lawyers' tenacity ensures every case gets the dedicated attention it deserves, providing peace of mind to our clients in their hour of need.
Client Testimonials
Our clients' words speak volumes about our commitment and dedication. Our high client satisfaction rate is the testimony of our exceptional services and the results we deliver.
Here are some of the words spoken by them about Ehline's excellent legal services:
"The Maritime Lawyers at Ehline Law showed genuine concern about my situation right from the start. They were excellent communicators and went above and beyond in getting a fair settlement for my case." – John D.
"I felt very well represented by Michael and his team. They were skilled, diligent, and made the legal intricacies understandable for me. Their professionalism is unmatched." – Cindy R.
We know maritime cases are time-sensitive and that the suffering will demand immediate and unwavering attention. Hence, our firm is always ready to provide legal support and guidance. Reach out to us, and let's navigate these troubled waters together.
Ehline Law Firm Personal Injury Attorneys, APLC: your trusted ally in your fight. With our Texas admiralty and maritime lawyers by your side, you won't stand alone even in the face of the most daunting legal battles. Please don't take our word for it; let our track record speak for itself. We will represent you to obtain the most money for your past, present, and future potential pain and other losses.
What is the Cruise Ship Safety Act, and how does it relate to Ehline Law Firm's expertise?
The Cruise Ship Safety Act is a federal law enacted to enhance passengers' safety and security on cruise ships. It was introduced in response to several high-profile incidents and accidents on cruise ships, highlighting the need for improved regulations and standards.
The act aims to prevent accidents, crimes, and other incidents on cruise ships and to ensure that passengers have access to adequate medical care and emergency response. It sets forth various requirements for cruise ship operators, such as maintaining safety and security measures, conducting safety drills, and reporting incidents to the appropriate authorities serving Galveston.
The Cruise Ship Safety Act is particularly relevant to Ehline Law Firm's admiralty and maritime law expertise. Michael Ehline, a former US Marine and an experienced maritime lawyer, profoundly understands the legal issues surrounding accidents and injuries that occur at sea. His involvement in helping draft portions of the Cruise Ship Safety Act on behalf of the International Cruise Victims (ICV) organization demonstrates his commitment to improving safety standards and protecting the rights of cruise ship passengers.
This expertise allows Ehline Law Firm to navigate the variety and complexities of the Cruise Ship Safety Act. We'll effectively advocate for their clients who have been victims of accidents or negligence on cruise ships.
Expertise in Wrongful Death Cases: Seeking Justice for Families at Sea
At Ehline Law Firm Personal Injury Attorneys, APLC, the sense of loss felt by the families impacted by tragic maritime accidents is deeply understood. Despite knowing that no amount of compensation can bring back a loved one or erase the trauma, we relentlessly pursue justice to help our clients regain some semblance of normalcy. The aftermath of wrongful death can be overwhelming. Our expert attorneys work hard to ensure you do not have to traverse this difficult journey alone.
Beyond Legal Support: A Partner in Your Fight for Justice
Our firm, under the leadership of Michael Ehline, handles each case with the sensitivity, empathy, and thoroughness it deserves. We assist with all the legal aspects, including countering shady tactics insurance companies often resort to, and provide the necessary personal and emotional support throughout the process. You are not just a client; you become part of a family that walks with you every step of the way.
What types of maritime accidents does Ehline Law Firm handle?
The lawyers at Ehline Law Firm command a comprehensive understanding of Texas Admiralty Maritime Laws and have represented numerous clients in various complex maritime cases. Our legal team proudly advocates for various maritime workers who've been involved in accidents as well as for seamen covered under the Jones Act working on board diverse vessels such as drillships, tanker jack-up rigs, crew boats, semi-submersibles, submersible mini-subsubs), barges, helicopters, supply vessels, chemical ships, diving and research vessels, and shrimp boats.
If you or someone you hold dear has been injured in a maritime incident, do not hesitate to reach out to our dedicated injury and damages attorneys based in Galveston, TX. Utilize your right to a free consultation today and explore your potential case with us.
Our depth of expertise covers a broad spectrum of marine incidents, including:
Offshore Oil Rig Accidents: These may involve platform collapses, well blowouts, oil spills, or equipment failure incidents leading to injury or death. We also handle onshore oil refinery accidents in Texas.
Cruise Ship Accidents: Cases that range from slips, trips, and falls to cases of food poisoning, shipboard fires, or missing passengers.
Commercial Fishing Incidents: This encompasses commercial fishing vessel accidents and incidents related to long-lining, crabbing, trawling, etc.
Jones Act Cases: Representing seamen who have been injured due to negligence or the unseaworthiness of their vessel (cabotage).
Boating Accidents: Helm negligence or boating under the influence, leading to collisions, capsize incidents, or other maritime injuries.
Our knowledgeable legal team has a proven track record of successfully navigating the complex waters of maritime law to achieve justice for our clients. We understand that each case is unique and requires a tailored approach. If you or a loved one has been a victim in a maritime incident, trust us to go the extra mile to ensure your rights are protected, and the responsible parties are held accountable.
Your Maritime Accident Advocate
Being involved in a maritime accident can be a harrowing experience. Let Ehline Law Firm be your trusted partner in pursuing justice. Our skilled team is committed to providing compassionate legal representation with a sincere dedication to securing the best possible outcome for you. With Ehline Law Firm in your corner, you can rest assured your case will be handled with the utmost professionalism, diligence, and care.
Our Track Record of Success
Over the years, Ehline Law Firm has been instrumental in obtaining substantial settlements and verdicts for clients affected by maritime accidents. Our commitment to excellence in legal representation is reflected in the millions of dollars we have recovered for our clients. We invite you to join the ranks of our satisfied clients and experience the Ehline difference for yourself.
Pioneers in Maritime Wrongful Death Law
With vast experience informing our legal approach, we know exactly what it takes to win a maritime wrongful death suit. We have built an impressive track record, having secured many suitable settlements and verdicts for individuals and families affected by deaths at sea. Our deep understanding of maritime law and our unwavering commitment to our clients allow us to navigate the complex legal waters with precision and determination.
Results that Speak Volumes
Driven by diligence, compassion, and justice principles, Ehline Law Firm has recovered millions for survivors and families of wrongful death, personal injury, and other nautical-based cases. Over the years, we have proven our ability to handle complex maritime cases by relentlessly pursuing justice and fighting for our client's rights. Look at more of our attorney and staff profiles here to learn more.
Choosing the Right Maritime Lawyer: What to Look for and Why Ehline Law Firm Fits the Bill
When it comes to profiles in courage, respect, and follow-through as a standard, Ehline stands head and shoulders above the rest. Above, we just reviewed some Galveston area admiralty law information in the best interests of sea injury victims. If you were hurt or someone you love needs a wrongful death at sea advocate, you can trust that the bold Ehline Law will run toward the sound of the guns. Our professional team of crack advocates will navigate these difficult times.
Our seasoned admiralty and maritime lawyers are committed to achieving the best possible outcome for you and your family. Let us carry the legal burden so you can focus on healing. The journey towards justice is harrowing, and you need a guiding hand with expertise, authority, and trust. The checklist to select your maritime legal representative should involve several essential qualities. Ehline Law Firm brings all these to the table for all your Galveston naval law claim needs and more.
Citations:
Michael Ehline is an inactive U.S. Marine and world-famous legal historian. Michael helped draft the Cruise Ship Safety Act and has won some of U.S. history's largest motorcycle accident settlements. Together with his legal team, Michael and the Ehline Law Firm collect damages on behalf of clients.
We pride ourselves on being available to answer your most pressing and difficult questions 24/7. We are proud sponsors of the Paul Ehline Memorial Motorcycle Ride and a Service Disabled Veteran Operated Business. (SDVOB.) We are ready to fight.