If we don't win, you don't pay.
Speak to the Attorney.
Born to serve.
633 W 5th Street #2890
Los Angeles, CA 90071
(213) 596-9642.
2323 S. Voss Rd, Suite 244
Houston, TX 77057
(832) 592-1260.
Date Modified: November 22, 2023
With the largest cruise ship port located in Galveston, Texas, millions of tourists walk the gangways and set sail annually into the Gulf of Mexico and the Caribbean. Hundreds of crewmembers get liberty as they port as well. Offering diverse activities and attractions, cruises consistently attract vacationers of all ages and from many interests. But Galveston County also attracts thousands of bad people. Enduring sexual violence is a horrific experience that can leave victims or crew members feeling violated and traumatized, with medical bills piling up. In terms of dollars and cents, for the majority of people, pursuing a liability case alone is daunting at best.
It becomes even more complicated and traumatic when it transpires on a ma, an unconventional setting where the norms of domestic law might not directly apply. A passenger could easily blow a deadline, causing the court to dismiss your case. In such cases, cruise ship injury victims often tread uncharted waters. Galveston cruise ship victims will be uncertain of their right to justice or even how to pursue major cruise line or even get help. The same goes for a dockworker employee against their employer or a negligent third party.
If you or a loved one has faced cruise ship injuries like this, you are not alone in this battle. Besides receiving immediate medical attention and emotional support, it's crucial to contact a reliable Texas cruise ship abuse attorney to help you navigate through this challenging period. From Nassau Bay to North Houston, winning what you are entitled to in a timely manner is our business. – Michael Ehline, Esq.
Established in 2005, Ehline Law Firm Personal Injury Attorneys, APLC, understands your situation. We are committed to doing all we can to serve justice for your injury claims. With our comprehensive understanding of maritime law and remarkable experience handling cruise ship assault cases, we are prepared to advocate for your rights fiercely. After you get hurt, our team will relentlessly work on your cruise ship injury case with dedication and purpose. No matter the frustrating complications, we won't stop fighting until proving your case brings closure and justified compensation. Getting you properly compensated is our commitment to success.
A Cut Above!
One thing that sets us apart is that we have actively lobbied for and drafted boat traffic safety legislation to keep seafarers safer. But as you will see, Ehline, our office is always in the Port of Galveston or other active cruise port fighting: "… for accident victims in the air on land and sea."
Why Choose Ehline Law Firm Assaults and Cruise Ship Accidents?
Experience: With a decade-plus of experience, our team understands the various nuances of maritime laws (DOSHA, Jones Act, etc.) and the potential weak points in cruise ship security. This knowledge allows us to construct a powerful legal strategy to ensure the wronged get adequate compensation for their trauma.
Expertise: Our team is proficient in maritime law and fully understands its complexities, including jurisdiction and compensation claims against maritime workers associated with the Port of Galveston.
Empathy: We treat each Galveston cruise ship accident or assault with the sensitivity it demands, providing personalized and compassionate legal advice.
Expedience: We act swiftly to preserve crucial evidence and ensure the accountability of all parties involved.
No Win-No Fee: We do not charge our clients without a successful personal injury case resolution. We are motivated by justice, not by profit, unlike most people.
We offer legal services, support, guidance, and the road to recovery from illnesses and death. Our Texas cruise ship sexual assault attorneys are ready to assist you at every step. Reach out to us, and let's work together to restore your peace and justice.
The Alarming Statistics of Cruise Line Sexual Assaults
FBI's crime report data reveals a grim picture about the safety of cruise ship passengers. The Port of Galveston in Texas is a bustling hub for cruises. Unfortunately, amidst the excitement of these waterborne adventures, the dark underbelly of these sea-faring journeys often surfaces as a personal injury.
From January 2010 until September 2022, roughly 500 instances of sexual assault were recorded aboard 13 major cruise lines, with a staggering 70% of these unfortunate incidents occurring on Royal Caribbean or Carnival ships.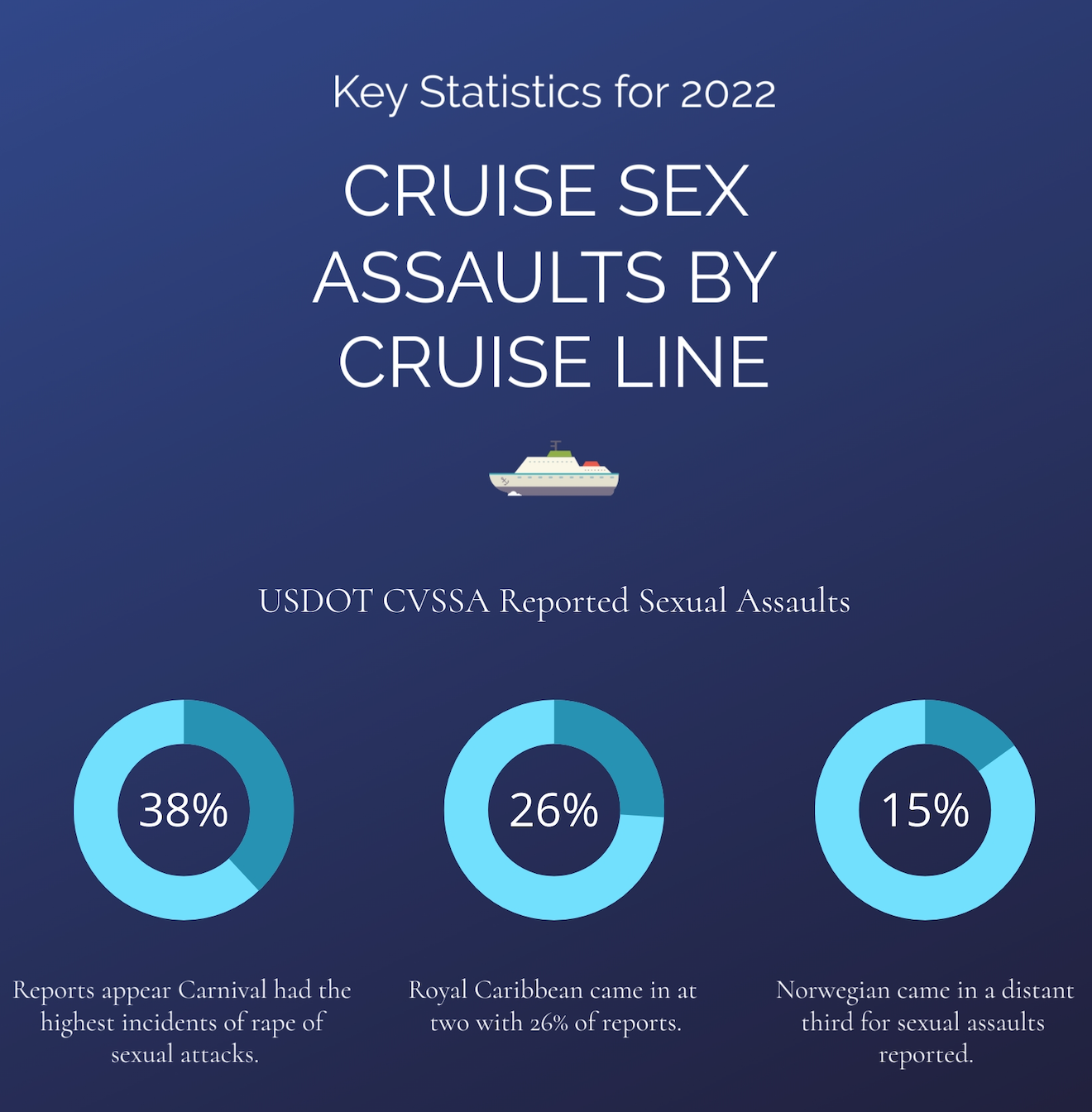 Both Royal Caribbean and Carnival boast 24 ships in their fleet. Disturbingly, since 2010, the number of reported sexual assaults on Carnival ships has nearly doubled in comparison to its counterpart Royal Caribbean.
Staggering Numbers Tell a Grim Tale
According to the U.S. Department of Transportation (USDOT), there were roughly 40 sexual assault cases reported by major cruise lines departing from the Port of Galveston in a single year. This indicates an alarming increase of over 70% from the previous year's statistics. Many cases aren't reported or written off as minor incidents, so that the numbers could be higher.
Demographics of the Victims
Children: Another alarming aspect is victim demographics. A significant number of these assault cases involve minors. It's heartbreaking that children, who should be enjoying a carefree vacation, instead become victims of such horrific acts in life.
Women: Another common demographic includes single women traveling in groups or alone. Most rapes occur at night, in isolated areas of the ship, or inside staterooms.
Some victims are thrown overboard after being assaulted. Unlike other cases, including auto collisions, they will need years of psychological treatment in most cases. If they survive, financial compensation is their only justice. There are no other damages unless you include criminal restitution.
Justice starts when we break the silence. Consult with us today by phone at (833) LETS-SUE. – Michael Ehline
The Impact of Assault Cases on Cruise Ships' Reputation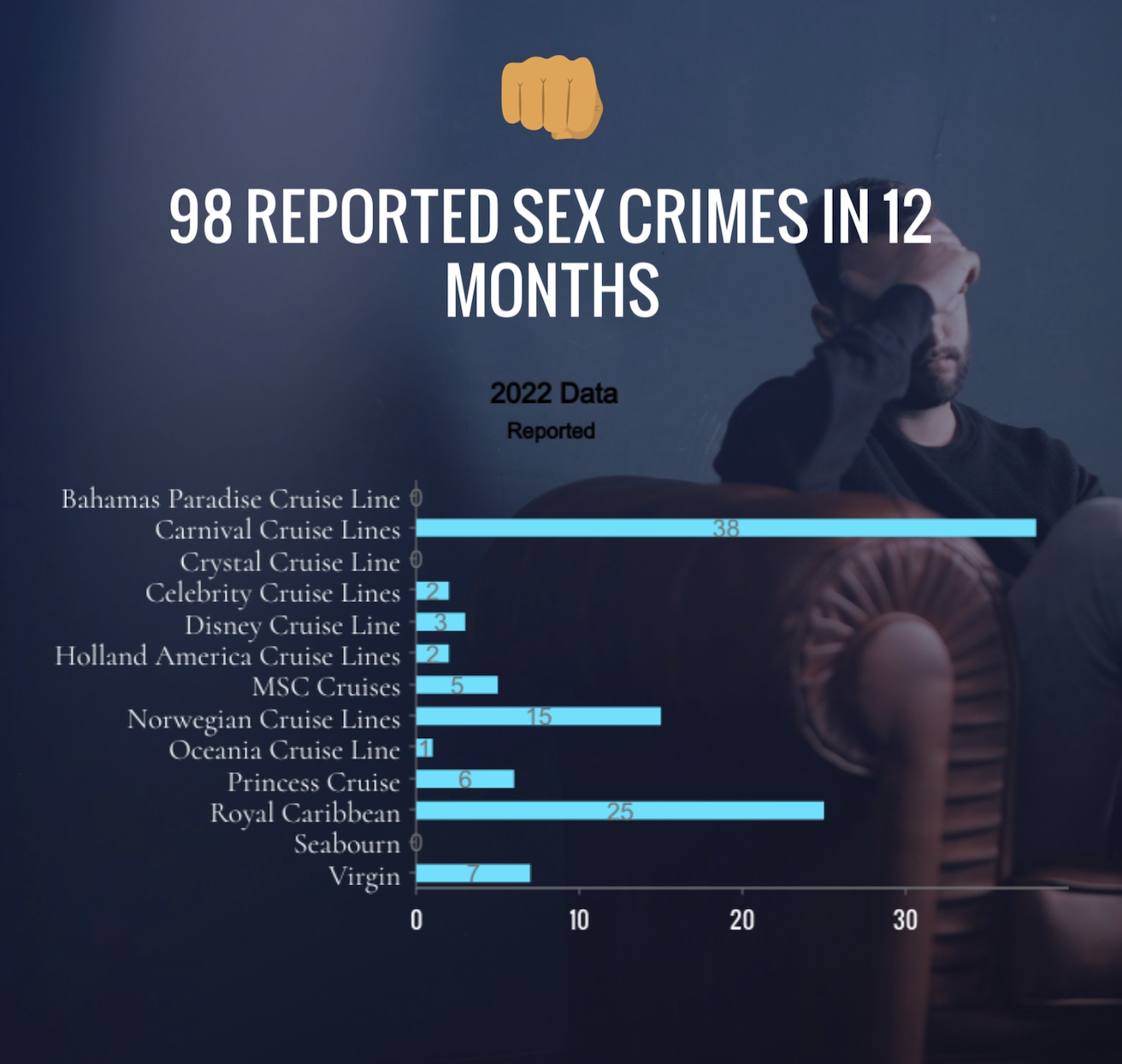 Given the increasing number of reported incidents, cruise lines face mounting criticism for their handling of sexual violence cases. Critics argue that the cruise industry often prioritizes their reputation over the safety and well-being of its passengers. Some cruise lines have indeed been found guilty of ignoring, downplaying, or failing to address or report illness (Norovirus, Coronavirus), rape, and dangerous conditions (fall accidents, etc.) adequately.
This lack of transparency and accountability only enhances the need for experienced Texas cruise ship sexual assault attorneys like those at Ehline Law Firm. They help survivors gather evidence and navigate the complex maritime laws. This is one of the ways we fight for the justice victims deserve and also why we offer a risk-free consultation to build that relationship.
The Tragic Under-reporting of Cruise Ship Accidents/Incidents
Several factors contribute to the under-reporting of non-consensual sexual contact cases on a trip. The victim might not report the incident out of fear of not being believed or worry of additional trauma. There might also be jurisdiction-related issues since cruise ships often travel in international waters or even in retaliation. As a result, victims are often unsure which law enforcement agency they should report their cruise ship injury to.
Whatever the reason for under-reporting, survivors must know they can turn to dedicated Texas cruise ship injury attorneys, such as those at Ehline Law Firm. They work tirelessly to ensure that survivors' voices are heard and perpetrators are held accountable.
What is the Risk of Sexual Assault on a Shore Excursion?
It's unlike any landlocked Texas city. Texas's Port of Galveston, in Galveston County (positioned at the entrance of Galveston Bay), is a bustling hub of activity on the Gulf Coast. This prime location accommodates a variety of nautical interests, including cargo shipping, commercial fishing operations, recreational sailing, and cruise ships.
As per the Texas Department of Transportation, this dynamic port registers approximately 1,000 ship visits, supports the transportation of five million tons of cargo, and welcomes over a million cruise passengers each year. Beyond commercial activities, the surrounding waters off Galveston Island offer locals and tourists alike ample opportunities for aquatic pursuits like fishing, parasailing, scuba diving, whale watching, and kayaking. This article will focus on serious injuries or death due to being raped or sexually assaulted by a passenger or crew member, as opposed to a typical Galveston cruise ship accident.
Even though shore excursion allows cruise ship passengers to explore exotic destinations, there is a risk of non-consensual sexual contact. Criminals often leverage the vulnerability of tourists. These are travelers unfamiliar with local surroundings, customs, and laws. However, at Ehline Law Firm, we believe that safety should never be compromised for adventure. For this reason, we work tirelessly to uphold victims' rights as they seek compensation for injured passengers. We have used our over 30 years of combined experience to litigate and win hundreds of such cases and recover compensation.
Steps to Take if Raped or Assaulted on a Cruise?
If such an unfortunate event occurs, the first steps would naturally be intense, fraught with anxiety and uncertainty. But remember, you have the power to take control.
Here's what you can do:
Ensure Your Safety: The first priority is always your well-being. As quickly as possible, get to a safe place and notify ship security or a trusted friend or family member.
Seek Immediate Medical Attention: Ship doctors are obliged to provide medical care. This also serves to collect important evidence that can be vital in any ensuing legal case.
Preserve Evidence: Try not to change clothes, shower, or clean up in any way before medical authorities arrive. Any physical evidence can be crucial, so take photos of everything in the vicinity and videos.
Report the Incident: As hard as this step may be, it's critical to tell the FBI and the captain. Confirm your report is officially recorded and reflects accurate events, dates, and times.
Contact Legal Assistance: When you can, contact a tier-one maritime lawyer. Our combined legal experience and knowledge in cases like this can provide guidance and help navigate the complex legal waters off Galveston, TX.
Note: Foreign cruise line companies have teams of lawyers protecting their interests in Amey. It would help if you didn't have someone on your side fighting for your rights. The Ehline Law Firm is here to push that effort.
Comprehensive Legal Support for Shore Excursion Victims
Our committed team of Texas admiralty maritime lawyers are well-versed in the complexities of maritime law. Led by Michael Ehline, a former US Marine who contributed to the drafting of the Cruise Ship Safety Act, we are fully equipped to fight tenaciously for the justice of non-consensual sexual contact victims on shore excursions. Residents and vacationers have benefited from our past representation and lawyers in our network.
Proactive Measures Against Non-Consensual Sexual Contact on Shore Excursions
Encourage proper background checks of local tour operators.
Press cruise ship companies to provide adequate security measures and aid to passengers on shore excursions.
Advocate for better information sharing about risks of serious injury (not just those suffered on wet or uneven surfaces) and precautions for passengers.
Proving Negligence: Building a Strong Case with a Texas Cruise Ship Sexual Assault Attorney
Proving negligence is an indispensable step in securing the rightful compensation for a victim. A Texas cruise ship sexual assault attorney with Ehline Law Firm can meticulously prepare your case to bring forth a successful claim.
Identifying and Establishing Negligence
Before delving into the process, it's vital to understand what constitutes negligence in this context. Usually, it implies that the cruise ship company failed to provide its passengers with a safe environment. More specifically, it might have acted or died twice in a way that facilitated the unwanted incident.
Your attorney at Ehline Law Firm will dive deep into the case facts, scrutinizing them to identify such elements of negligence. In addition, they will cross-verify the company's actions or lack thereof with the legal standards and establish a credible case of negligence.
Gathering and Presenting Evidence
Evidence plays a pivotal role in non-consensual sexual contact cases, including those that occur on a cruise ship. Whether that evidence includes video footage, witness testimonies, or medical records, it becomes crucial in proving negligence.
Expert attorneys at Ehline Law Firm are adept at conducting thorough investigations. They extract and preserve key evidence, further articulating them effectively in court to strengthen your claim.
Quantifying Damages
Another critical aspect that your cruise ship attorney will handle is quantifying the damages. This process involves calculating economic and non-economic damages resulting from the unfortunate incident. Monetary damages might include medical expenses or lost wages. In contrast, non-economic damages could account for pain, suffering, or emotional distress.
The expertise of our attorneys assures accurate damage assessment, maximizing the possible compensation you deserve.
You have to establish a prima facie case first. Even intimate partner violence (IPV) is involved. An experienced attorney at Ehline Law Firm will work diligently in presenting a negligence case, which the defendant (usually the cruise ship company) will find hard to refute.
Understanding the Time Limitations for Filing a Sexual Assault Lawsuit
As with any personal injury matter, timing is crucial when filing a case against a cruise ship operator. Knowing the limitations and legal timelines can significantly impact the outcome of your case. Understanding these restrictions isn't always straightforward, especially with maritime law's complexities. Still, with the dedicated assistance of Ehline Law, you can competently navigate this important legal factor.
What Is the Statute of Limitations?
The statute of limitations refers to the period a victim must file a lawsuit against an offending party. Once the statute of limitations expires, you lose your right to pursue compensation for your personal injury case, in this context, a sexual battery case. Therefore, acting promptly is not an option but necessary to secure justice and receive rightful compensation.
Time Limitation Specific to Cruise Ships
Most cruise ship companies are registered in foreign countries, subjecting them to different laws and regulations. But under contract, passengers departing from United States ports are generally given six months to file a claim with the cruise line. Then, there is typically a year from the incident to file a lawsuit in a Miami, Florida, federal court.
Exceptions to Cruise Line Statutory Periods
The statute of limitations is not an unyielding rule; exceptions could exist depending on the case. Sometimes, it might be extended to those who are minor or were mentally incapacitated at the time of the incident.
The Role of Media and Public Awareness in Holding Cruise Lines Accountable
The media holds a crucial role in shaping public opinion and perceptions, and this rings true even when discussing serious issues like cruise ship sexual batteries. As a primary source of information for many, carefully presented media narratives can influence the acknowledgment of these incidents and lead to a demand for increased accountability from cruise lines.
The Media as a Watchdog
Think of the media as a watchdog, a prime guarantor of transparency. When a sexual battery occurs aboard a cruise line, it's the swift action of the media that brings the incident to light. Simultaneously, it pressures the cruise companies to respond appropriately and take preventive measures.
Pressuring the Cruise Lines through Public Awareness
Awareness and staying informed remains a potent weapon against negligence. When a case receives public attention, it becomes much more challenging for a cruise line to brush it aside quietly. Media coverage ignites discussions, making it incredibly difficult for cruise lines to ignore the outcry and demands for justice. Consequently, this scrutiny compels them to handle situations with care and prevent such incidents from happening in the future.
Media Initiatives and Campaigns
Media channels often take initiatives such as conducting investigative journalism or launching campaigns to expose cruise lines' wrongdoings. These concerted efforts shed a more in-depth light on the negligence's gravity and the need for reform in this industry.
Support for Victims
Lastly, it's critical to note that the media's role isn't solely about increasing accountability. It also serves as a platform for the victims of these heinous acts. It allows these survivors the ability to narrate their stories, seek support, and demand justice, giving them a voice and ensuring their experiences aren't ignored.
While Texas cruise ship sexual assault attorneys must achieve justice for their clients, public awareness can be a significant ally, and the media serves to incite this. Together, these elements can exert enough pressure to hold cruise lines accountable for their actions or lack thereof.
The Importance of Confidentiality and Privacy for Cruise Ship Sexual Battery Victims
In the unfortunate event of a sexual battery on a crying victim, the victim's need for privacy and confidentiality can be paramount. This delicate issue is deeply respected and maintained by the Ehline Law Firm. Understanding the importance of confidentiality and privacy for violent assault victims is a cornerstone of our practice.
Handling Cruise Victims With Utmost Care
Sexual battery is a highly traumatic experience. It's something that no one should ever have to go through, let alone in a setting meant for relaxation and fun like a cruise ship. The public nature of these vessels can amplify the fear and anxiety of survivors. That's why at Ehline Law Firm's attorneys ensure that their case is handled with the utmost care and sensitivity. The details of your case and your personal information are kept strictly confidential.
Competence in Legal Proceedings
The legal proceedings following non-consensual Intercourse can often seem invasive and intimidating for the victim. At Ehline Law Firm, our principal goal is to protect your privacy. We recognize that transparency is essential in the attorney-client relationship, but so is respecting the boundaries of privacy. We strive to make the legal mediator comfortable and as secure as possible for you, ensuring that families ' personal information is used strictly in confidence.
Importance of Confidentiality in Therapy and Rehabilitation
Often, after a traumatic incident such as forced sexual activity, therapy and rehabilitation are crucial elements of the healing process. A victim may find it incredibly difficult to speak about their experience, particularly if they feel their privacy might be jeopardized. At Ehline Law Firm, we comfort you that all discussions, therapy options, and recovery information will remain confidential, safeguarding your emotional gentility during this difficult time.
Why Privacy Matters
Respecting a victim's privacy is not only a legal requirement but a matter of fundamental human rights. Harmful stigmatization, victim-blaming, and the fear of embarrassment can significantly increase the trauma for victims and discourage them from seeking help. Because of these reasons, maintaining a victim's privacy is crucial for their emotional well-being and the pursuit of justice. Your privacy matters to us at Ehline Law Firm because you matter.
Alternative Dispute Resolution Options in Cruise Ship Sexual Assault Cases
Considering all possible paths is critical in our journey toward resolution and justice. Beyond the traditional court litigation, there's another effective option you should be aware of – Alternative Dispute Resolution (ADR). ADR includes several methods of solving disputes outside the court's jurisdiction, like mediation, negotiation, or arbitration. It can considerably hasten the process, reduce costs, and offer a private and more flexible route towards resolution.
Understanding Mediation as an ADR Option
Mediation is confidential, with a neutral third party (a mediator) facilitating a dialogue between the victim and the cruise line. The mediator's role is to assist in the communication and negotiation, not enforce a judgment. As the victim, yocanto accept or reject the proposed resolution.
Negotiation – A Dignified and Controlled Process
Negotiation allows for a direct discussion between you and the accused under the guidance of your respective attorneys. It is best for lower-level disputes where both parties aim to resolve the issue quickly and quietly. The goal is to reach a mutually beneficial settlement agreed upon by both parties.
Arbitration – A Quicker Path to Justice
Sometimes, your cruise ticket contract might have a clause stating all disputes must be resolved through arbitration. In such cases, going through this route becomes inevitable. Like a judge, the arbitrator reviews the evidence and makes a binding decision. While it offers a quicker resolution than a protracted court case, the decision is final and generally not subject to appeal.
At Ehline Law Firm Personal Injury Attorneys, APLC, we support our clients through each process, ensuring they are prepared, informed, and able to make the best possible decision. Whether courtroom litigation or negotiation, we're committed to helping each client achieve justice.
The Role of International Laws and Regulations in Cruise Ship Sexual Assault Cases
Legal issues surrounding cruise ship battery cases often extend beyond national boundaries. International laws and regulations predominantly influence the jurisdictional complexities emerging from these cases. Understanding these laws is essential for any sexual abuse attorney while handling such cases, as it directly impacts the proceedings and the outcome of the case.
The Role of Flag-State Law
State law is one of the primary considerations in maritime litigation involving international waters. This term refers to the laws of the country where the ship is registered; these laws govern the ship and its operations. The relevance of the flag-state law in addressing assault cases depends mainly on the country's laws related to violent offenses against major cruise lines.
The Impact of Maritime-Treaty Obligations
Aside from flag-state law, another significant aspect is the maritime treaty obligations. These are agreements between countries to ensure the safety of everyone aboard a cruise ship. The responsibility to prosecute crimes lies with the federal authorities upon failing the obligations under these treaties.
The Importance of Place and Time of the Incident
The jurisdiction of a case can also be influenced by where and when the incident occurred – on board the ship or at a port, at a high height or within territorial waters, during the cruise, or while docked. Each variable can alter the applicability of various laws and their enforcement.
The Role of Private International Law
The principles of private international law also play a critical role in determining jurisdiction and the applicable law. These principles may influence which court hears the case and which laws apply, significantly impacting the case's outcome.
At Ehline Law Firm, our experienced Texas attorneys are adept at navigating these complexities. Despite the challenges posed by international regulations, we are committed to ensuring justice for the victims of such grave offenses, using our extensive knowledge and experience in this domain.
The Future of Cruise Ship Safety Measures in Preventing Sexual Assault
As cruise ship voyages become increasingly popular, the safety of passengers onboard has become a growing concern. In particular, many cruise ship companies are investing significantly more resources to strengthen their safety measures to prevent battery incidents.
Increased Security Personnel and Surveillance
One of the frontline measures cruise operators implement is increasing security personnel numbers to enhance surveillance. It ensures that there are representative law enforcers spread throughout the ship. By ensuring the constant presence of security personnel, the chance of sexual coercion taking place is significantly reduced.
Improved Vetting of Staff
In addition to ramping up security, cruise ship companies are intensifying the vetting process for potential staff. This involves an in-depth background check, rigorous interviews, and various training methods focused on appropriate conduct and passenger interaction. The goal is to hire individuals who not only perform their duties effectively but also value the safety and well-being of all passengers.
Installation of Surveillance Cameras
Modern cruise ships are beginning to include more surveillance equipment as part of their safety precaution measures. High-quality surveillance cameras are being installed in public areas of the ship. These cameras are critical in enhancing passenger safety, providing deterrent and evidence-collection functions.
Expansion of Sexual Abuse Policies and Procedures
Cruise ship operators are expanding their violence policies and procedures. This includes education on recognizing, preventing, and responding to batter and clear communication to passengers about what to do during an assault. The intent is to not only discourage potential perpetrators but also to provide victims with the information they need to navigate the aftermath of an assault effectively.
Swift and Effective Response to Reports
Upon receiving a report of a sexual attack, the ship's authority must address the situation appropriately. A swift and professional approach can secure evidence and ensure the victim's well-being. Many companies now provide specialized training for their staff to improve the response to reported incidents. While these measures represent notable steps in the right direction, it is imperative to remember that no system is perfect.
Major Cruise Lines: Our Cruise Ship Injury Attorneys Can Pursue
The Miami-based Royal Caribbean cruise company dedicated millions in a collaborative venture with the port of Galveston. These partners built a state-of-the-art terminal christened as "Pier 10." The expansive 161,000 square-foot cruise terminal anchors the colossal cruise ship— "Allure of the Seas." This Royal Caribbean Oasis Class Ship—one of the world's most giant cruise liners, tipping the scales at about 225,000 gross tons—will call it home. At total capacity, it has enough berths for nearly 7000 cruise vacation guests and a crew of about 2200.
Fast rewind to 2012: The Port of Houston had reportedly granted substantial incentives to the tune of $6.7 million to increase its appeal to Princess and Norwegian cruises. This welcome package wasn't only about the money; benefits like rent waivers and docking fee exemptions were also included. Despite such enticing conditions, by April 2016, these luxury liners had ceased affiliations with the Port of Houston.
Here is a cruise line list our Galveston area injury lawyers can pursue full financial recovery from when injured on a cruise line.
Carnival Cruise Lines
Disney Cruise Lines
Royal Caribbean and more.
Navigating the aftermath can be fraught with stress, confusion, loss, and despair.
Get a Free Legal Consultation From Cruise Ship Injury Attorneys Today
If abuse does occur, it is of vital importance to seek the services of a reliable and experienced Texas Cruise Ship Sexual Assault Attorney to obtain financial compensation. That way, we can ensure the victim has the necessary resources for their future recovery. Whether you live in League City, Tiki Island, La Marque, Houston Heights, Jefferson County, or Deer Park, if you depart or are destined with a Galveston Port, you could be assaulted. And we don't switch sides. We represent Americans against foreign-flagged vessels. Our legal team has experience in oil rig cases, food poisoning, fisherman's, and dockworker maritime cases. We can also help crew members with their claims, even for fall accidents.
At Ehline Law Firm, we prioritize your privacy and confidentiality above all. Our experienced and respectful Galveston Texas Cruise Ship Sexual Assault Attorneys are here to support you every step of the way, ensuring that you achieve the best possible outcome while respecting your privacy and confidentiality. Are you ready to confidently discuss your legal rights with a top-rated injury lawyer at no charge to you? We represent clients on a contingency fee basis, and we are ready to strike on your behalf and have done so for many passengers before you.
We can now give you a free consultation about your legal options and review the fine print on your passage contract. Just dial (833) LETS-SUE to get help for land, air, and sea transportation injury cases.
Citations:
Michael Ehline is an inactive U.S. Marine and world-famous legal historian. Michael helped draft the Cruise Ship Safety Act and has won some of U.S. history's largest motorcycle accident settlements. Together with his legal team, Michael and the Ehline Law Firm collect damages on behalf of clients.
We pride ourselves on being available to answer your most pressing and difficult questions 24/7. We are proud sponsors of the Paul Ehline Memorial Motorcycle Ride and a Service Disabled Veteran Operated Business. (SDVOB.) We are ready to fight.