If we don't win, you don't pay.
Speak to the Attorney.
Born to serve.
633 W 5th Street #2890
Los Angeles, CA 90071
(213) 596-9642.
2323 S. Voss Rd, Suite 244
Houston, TX 77057
(832) 592-1260.
Date Modified: November 23, 2023
Are you seeking an experienced Galveston, TX, personal watercraft (PWC) accident attorney? Do you have medical bills and past-due rent piling up since your disability? Look no further than Ehline Law Firm Personal Injury Attorneys, APLC. With an impressive track record of securing substantial settlements and verdicts as a boating accident lawyer, Michael Ehline stands out in Galveston Bay marine personal injury law. When you contact us, you will have several reasons to know why hiring us is the best course of action during this difficult time.
"At Ehline Law Firm, our Galveston personal injury lawyers are committed to expertly navigating the complex waters of watercraft accident laws, fighting relentlessly for the compensation our clients deserve in their personal injury claims from the liable party."
Our skilled attorneys understand the complexities of recreational marine accidents and thoroughly know state and federal maritime laws. When you choose to work with us, you're not just selecting a legal representative for your Galveston boating accident; you're roping in a personal injury attorney accustomed to swimming with the sharks.
Types of personal watercraft
Personal watercraft (PWC) are designed for a unique jet-propelled water-riding experience. PWCs are generally differentiated by how the operator rides them – sitting, standing, or kneeling.
Below are some types of personal watercraft our boating accident attorney has dealt with:
Jet Ski: The term "Jet Ski" is sometimes used interchangeably for all personal watercraft. Nevertheless, it's a signature brand by Kawasaki that produces both stand-up and convenient sit-down models. Michael Ehline has handled several of these cases as a PWC boating accident lawyer in California.
Sea-Doo: Crafted by Bombardier Recreational Products (BRP), Sea-Doo watercraft come in sit-down and stand-up variants, making the name synonymous with versatile personal watercraft.
WaveRunner: WaveRunner is a line of personal watercraft bestowed by Yamaha, known for its diverse sit-down models built for enjoyment by boaters for fun.
Aquabike: The term "Aquabike" is quite multifaceted. It can refer to any personal watercraft broadly or mainly denote stand-up models.
Sit-Down PWC: As the name suggests, sit-down watercraft are designed for operators to command the vessel seated. This category is prevalent and includes a variety of makes and models for drivers of all shapes and sizes.
Stand-Up PWC: These vintage personal watercraft let the operator stand while managing the movement. These were some of the earliest drafts of PWCs.
Hybrid PWC: Combining attributes of both sit-down and stand-up designs, hybrid personal watercraft offer more versatile riding options.
If injured, the financial recovery process for a personal watercraft injury is similar to a more significant recreational boating accident claim. Also, different manufacturers may label their PWC models with unique names or terminologies. Your personal injury attorney will look for recalls and defects if you were in a boat accident to seek compensation from more than one party for your PWC personal injury claim.
Why Choose Our Watercraft Boating Accident Lawyer?
Expertise in Maritime Law: Our top Galveston personal injury lawyer, Michael Ehline, is well-versed in all aspects of maritime law, including the challenges unique to recreational watercraft accidents.
Extensive Experience: We have successfully represented numerous victims of watercraft accidents, achieving notable settlements and verdicts in their favor.
Personalized Approach: Every client is unique, and Galveston boat accident lawyer Michael Ehline believes in delivering personalized legal services tailored to your specific needs and circumstances.
Commitment to Clients: Our priority is you – our client. We aim to recover maximum compensation to alleviate the financial burden associated with your injuries.
In the aftermath of a traumatic watercraft accident, the right legal representation can make all the difference. Let Ehline Law Firm Personal Injury Attorneys, APLC, be your steadfast ally in this difficult journey.
The water is your friend. You don't have to fight with water, just share the same spirit as the water, and it will help you move.
– Aleksandr Popov
Understanding Recreational Watercraft Accidents in Galveston, TX
Now, we will delve deeper into understanding the specifics of recreational watercraft accidents in Galveston. This knowledge is crucial for recreational boat owners and enthusiasts and anyone who might find themselves on Galveston's bustling waterways. After all, knowledge is your best defense, and preparation is your strongest ally.
The Common Causes of Watercraft Accidents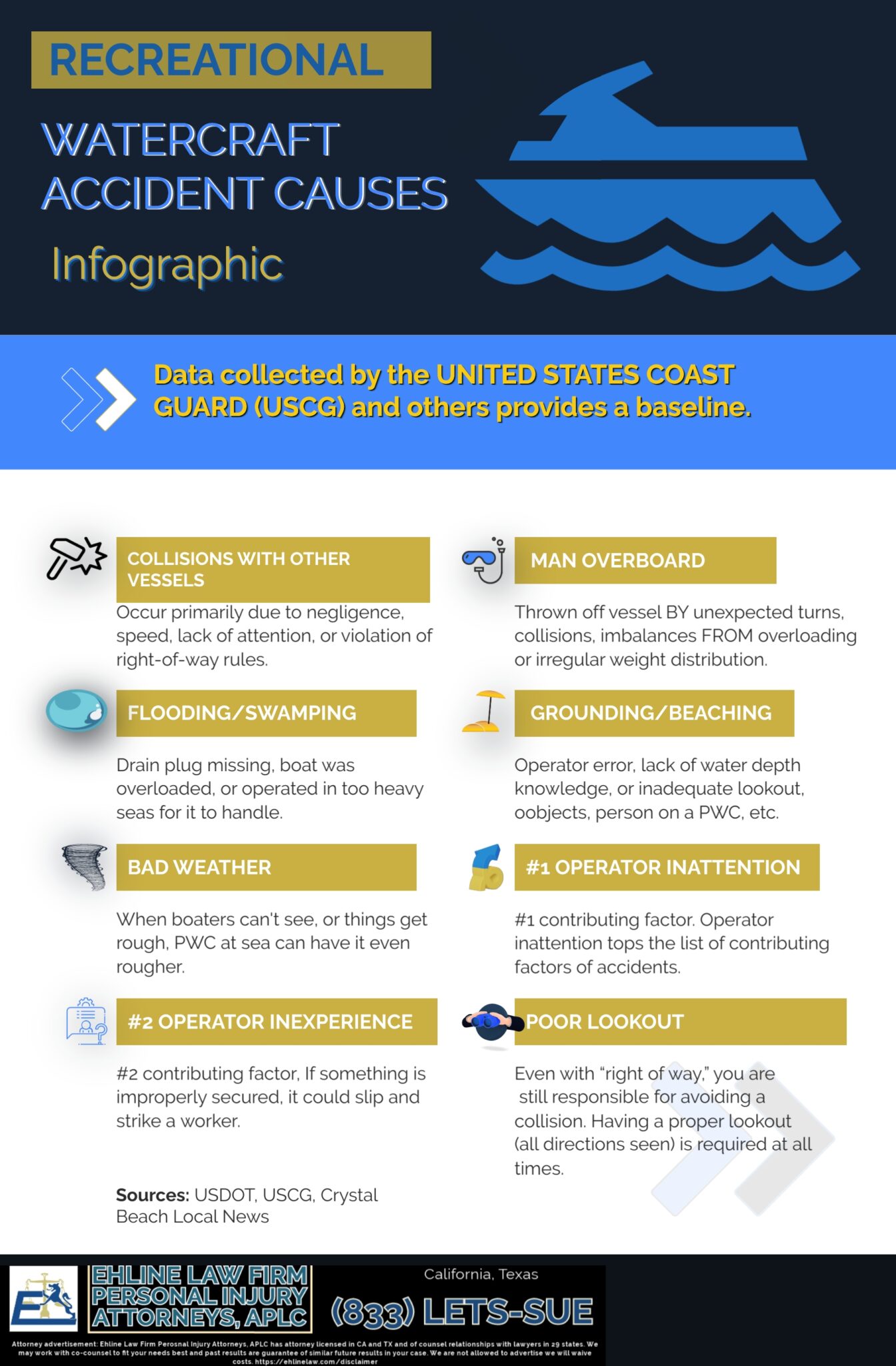 What often leads to these water-related incidents? There are numerous factors to consider. Some of these common causes include:
Inattention or Lack of Lookout: When operators, passengers, or even other vessels aren't vigilant, accidents can occur suddenly and without warning.
Operator Inexperience: A lack of understanding and experience operating watercraft can easily lead to mistakes and accidents.
Speeding: Like with road vehicles, high speeds increase the risk of accidents and the likelihood of more severe injuries.
Other factors can contribute as well, such as equipment failure, adverse weather conditions, alcohol use, and violating navigational rules.
The sea, once it casts its spell, holds one in its net of wonder forever.
– Jacques Yves Cousteau
The Potential Consequences of Watercraft Accidents
Unfortunately, the impact of a watercraft accident can be devastating and long-lasting. These accidents often result in substantial property damage, serious bodily harm, and even loss of life.
Victims may struggle with issues such as:
Medical Expenses: The medical costs can be staggering, from emergency treatment to long-term care and rehabilitation.
Lost Wages: Injury victims often need considerable time off work, resulting in lost income and financial insecurity.
Pain and Suffering: Beyond the physical injuries, victims may also struggle with significant emotional and psychological distress.
If you or a loved one has been involved in a watercraft accident, it's crucial not to underestimate these potential consequences. Be sure to seek prompt medical attention and legal help if needed.
What are the Galveston, TX Recreational Watercraft Accident Statistics?
Understanding the statistics is essential as they provide critical insight into the severity and risk associated with recreational watercraft activities. According to the Texas Parks and Wildlife Department, Galveston County, as a prime spot for water-based activities, unfortunately, also sees a considerable share of recreational watercraft accidents yearly. Although the figures vary, data across years offer valuable perspective.
Annual Watercraft Accidents and Fatalities in Galveston, TX
Year Accidents Fatalities
2018 21 4
2019 27 3
2020 35 6
These figures underscore the risks associated with watercraft recreational activities and reinforce the importance of safety procedures. They also shed light on the potential loss and trauma individuals may experience, emphasizing the crucial role of experienced personal watercraft accident attorneys like those at Ehline Law Firm Personal Injury Attorneys, APLC.
The Main Types of Recreational Watercraft Accidents in Galveston, TX
When exploring watercraft accident statistics, it's also essential to consider the common types of incidents. Here, we share the three most common types of accidents reported in Galveston, TX:
Collisions with other vessels: These are, unfortunately, the most common types of accidents. They occur primarily due to negligence, speed, lack of attention, or violation of right-of-way rules by one or both vessel operators.
Persons overboard: This refers to situations where individuals are thrown off a vessel due to unexpected turns, collisions, or imbalances caused by overloading or irregular weight distribution.
Grounding: This involves boats running aground in the Galveston area, generally due to operator error, lack of knowledge about the water depth, or inadequate lookout for objects like an offshore oil rig, person on a PWC, etc.
How Ehline Law Firm Personal Injury Attorneys, APLC can Help
At Ehline Law Firm, we're committed to helping those impacted by recreational watercraft accidents in Galveston. We provide a comprehensive range of legal services designed to support victims and their families as they navigate through the aftermath of these tragic incidents.
Our dedicated and experienced attorneys are ready to fight tirelessly for you, ensuring that you receive the fair and just compensation to which you are entitled.
We understand the complexities and nuances of watercraft accident litigation and have a proven track record of success in helping our clients achieve their desired outcomes.
Get in touch with us today, and let us show you why choosing Ehline Law Firm Personal Injury Attorneys, APLC, is a choice you won't regret.
Legal Requirements for Operating a Watercraft in Galveston, TX
Operating a watercraft in Galveston, TX, requires compliance with specific legal requirements. All operators must possess a valid boater education card issued by the Texas Parks and Wildlife Department, obtained by completing an approved boater education course. The course covers navigation rules, safety equipment, and Texas boating laws and must be carried on board the watercraft and presented to law enforcement upon request.
All watercraft operators in Galveston, TX, must also adhere to age restrictions. Individuals who are 13 years of age or older can operate a motor-powered vessel with a horsepower rating of more than 15 horsepower if they have a boater education card. However, individuals 13 to 17 years old can operate a vessel with a horsepower rating of 15 or less with no ID card. The caveat is they must be supervised by someone at least 18 with a boater education card.
Distinct PWC Regs!
Galveston, TX, has specific personal watercraft (PWC) regulations, such as jet skis. To operate a PWC, individuals must be at least 13 years old and possess a boater education card, regardless of the horsepower rating. Additionally, all PWC operators must always wear a U.S. Coast Guard-approved personal flotation device (PFD) while operating the watercraft.
Also, operating a watercraft under the influence of alcohol or drugs is strictly prohibited in Galveston, TX. The legal blood alcohol concentration (BAC) limit for operating a watercraft is the same as that for operating a motor vehicle, which is 0.08%. Violating this law can result in severe penalties, including fines, imprisonment, and the suspension of boating privileges.
Types of Recreational Watercraft Accidents and Injuries
Recreational watercraft accidents in Galveston vary in severity and type, affecting individuals differently and causing many potential injuries. It is crucial, therefore, to understand what might have occurred during an incident to help determine the best legal course of action.
Jet Ski and Personal Watercraft Accidents
Personal watercrafts such as jet skis often lead to high-speed mishaps due to their agile nature and high speeds. The consequences can result in head injuries, spinal cord damage, fractures, and, in some cases, death. Establishing who is at fault in these cases can be particularly challenging. That's why the expertise of an experienced attorney from the Ehline Law Firm, Personal Injury Attorneys, APLC is invaluable.
Recreational Boating Accidents
Boating accidents can involve multi-vessel collisions, collisions with a stationary object, or even boats capsizing. These accidents might lead to individuals being thrown overboard, leading to drowning dangers and possibly severe injuries such as skull fractures.
Fishing Accidents (Commercial and Private Charter)
While fishing itself can be a relaxing activity, it can spell danger when combined with the unpredictability of water. Fishing accidents can involve tackle injuries, falls overboard, or capsizing of small fishing vessels, with victims often suffering from drowning risks, lacerations, punctures, sprains, and strains.
Wakeboarding and Waterskiing Accidents
These adventurous water sports come with increased risk due to their high-speed nature and potential for falls. Wakeboarding and waterskiing accidents can lead to injuries ranging from minor sprains and fractures to severe brain injuries or spinal cord trauma.
A deep understanding of the types of recreational watercraft accidents is one of the reasons why Ehline Law Firm Personal Injury Attorneys, APLC, is proficient at building robust personal injury cases.
Proving Negligence in Recreational Watercraft Accident Cases
Proving negligence in recreational watercraft accidents involves demonstrating that the responsible party failed in their duty of care, leading to your injuries. At Ehline Law Firm, we are well-versed in maritime law and are adept at identifying negligence, even when it's not immediately apparent.
Four Elements of Negligence
Successfully proving negligence in a personal injury case necessitates demonstrating the following four elements:
Duty of care: The responsible party (defendant) had a responsibility or duty of care not to cause harm. For watercraft accidents, this could mean ensuring the vessel is safe for use and operating it responsibly.
Breach of duty: The defendant breached that duty of care through their reckless actions or inactions.
Causation: This breach of duty resulted in the accident and your injuries.
Damage: You suffered physical injuries, property damage, and financial loss.
Accident Investigation to Prove Negligence
Our team carries out comprehensive accident investigations, garnering the necessary evidence to establish these four elements of negligence. This can include acquiring boat inspection reports, testimonies from witnesses, medical reports, accident scene photos, etc.
Joint Liability in Boat Accidents
Cases of joint liability could include a boat manufacturer for making a defective product, a rental company for providing inadequately maintained equipment, or the boat operator acting negligently. Our attorneys will meticulously analyze your case to identify all responsible parties and hold them accountable.
Compensation and Damages in Recreational Watercraft Accident Lawsuits
You may be entitled to financial compensation when you've been injured in a recreational watercraft accident in Galveston, TX. The amount and type of these damages will depend on various factors, including the severity of your injuries, who was at fault, and whether you suffered any physical or emotional distress. Let's look at the different damages you might be entitled to.
Economic Damages
Economic damages cover the quantifiable monetary losses you have incurred due to your watercraft accident. This includes:
Medical Expenses: Reimbursement for the cost of hospital stays, medications, rehabilitation therapy, and any future medical heavy needed for your recovery.
Lost Wages: Compensation for lost income if your injuries forced you to miss work. If your injury affects your ability to earn in the future, you may also be entitled to recover for lost earning capacity.
Property Damage: If your watercraft was damaged in the accident, you can be reimbursed for repair or replacement costs.
Non-Economic Damages
Non-economic damages are designed to compensate for more subjective, non-monetary losses such as:
Pain and Suffering: This refers to the physical and emotional pain caused by your injuries. It's often calculated as a multiple of your economic damages.
Emotional Distress: If the accident left you with psychological trauma – like PTSD, depression, or anxiety – you might be compensated for this harm.
Loss of Enjoyment: If your injury prevents you from enjoying day-to-day activities or hobbies, you may get money for "loss of enjoyment."
Punitive Damages
In some cases, you may be eligible for punitive damages. These aren't meant to compensate you for your loss. Instead, they are awarded in cases of particularly egregious negligence to punish the offender and deter similar behavior in the future.
Resources for Recreational Watercraft Accident Victims in Galveston, TX
Experiencing a recreational watercraft accident may leave you feeling overwhelmed, distressed, and unsure where to turn for support and information. Luckily, a plethora of resources exist for victims in Galveston, TX. Below, we've put together a list of local and national organizations that can offer educational material, financial aid, or emotional assistance as you navigate post-boating injury claim life.
Galveston Island Beach Patrol
The Galveston Island Beach Patrol is not just a source of rescue activities for a boat owner or other watercraft enthusiast. Still, it also provides vital information regarding beach safety rules, first aid, and CPR classes that can be instrumental in a watercraft accident.
United States Coast Guard (USCG)
While the United States Coast Guard (USCG) may assist during the accident, they also provide educational resources on boat safety, regulations, and navigation. This can be vital in preventing future accidents. Moreover, they offer various boating safety courses and conduct vessel safety checks to ensure your watercraft complies with all federal laws and regulations. Navigating their website can provide you with essential knowledge that can keep you safe in the waters of Galveston, TX.
Galveston Boat Club
The Galveston Boat Club is another resource that you can turn to. This members-only club offers lessons in sailing and boating while providing opportunities to socialize with others who share the same interests. They also organize boating events that help engender a stronger safety culture among its members.
Texas Parks and Wildlife Department (TPWD)
The Texas Parks and Wildlife Department (TPWD) is vital in recreational watercraft safety. They are responsible for enforcing state laws and regulations relating to water safety. They also provide safety guides and boating education courses to help ensure everyone can enjoy water activities safely.
Furthermore, their website hosts a wealth of information regarding local wildlife, weather conditions, fishing and hunting licenses, and park reservations that can be handy for recreational watercraft enthusiasts. If you want to avoid a boating accident claim or serious injury, it's a great resource.
Galveston Yacht Basin
The Galveston Yacht Basin is a local marina providing year-round docking facilities. Besides, they offer various services like fueling, boat maintenance and repair, and amenities, including a bait shop, fish cleaning area, and laundry facilities. It can serve as a vital pit stop for recreational boating activities and first aid if you suffered a Galveston personal injury.
Galveston, TX Watercraft Rental Services
Numerous watercraft rental services in Galveston, TX, allow you to indulge in recreational water activities without owning a watercraft. They typically offer a variety of vessels to choose from, including power boats, sailboats, jet skis, and canoes. Most of these rental services also provide safety instructions and equipment alongside the vessel, ensuring renters' safety while enjoying water activities safe from boating accidents.
The Importance of Timely Action in Recreational Watercraft Accident Claims
Time is of the essence when you've been involved in a recreational watercraft accident in Galveston, TX. Not only is it crucial to seek immediate medical attention for your injuries, but it's also vital to take swift legal action. Taking prompt action can significantly impact the success of your claim and the compensation you may receive.
Here's why:
The Erosion of Essential Evidence
Precious evidence can quickly be lost or degraded if action is not taken promptly after a watercraft accident. Elements such as water currents, weather conditions, memory lapses, and even deliberate attempts to tamper with evidence can all contribute to the loss of proof crucial in supporting your case. By engaging the services of Ehline Law Firm Personal Injury Attorneys, APLC quickly post-accident, you ensure the vital evidence is preserved.
The Statute of Limitations
Like every other state, Galveston, Texas, operates under statutes of limitations, which set time limits for filing different types of lawsuits. For personal injury cases, time begins ticking from the accident date. If you fail to file your claim within this period, you risk losing your rights to pursue compensation.
We understand the importance of timely action in recreational watercraft accident claims, and our team is ready to fight tirelessly for the swift justice you deserve.
Tips for Choosing the Right Recreational Watercraft Accident Attorney
Finding the right attorney to represent you in a watercraft accident case is essential.
Here, we detail the steps to selecting the right recreational watercraft accident attorney for you:
Evaluate Experience and Expertise
Your attorney should have extensive experience handling recreational watercraft accident cases like yours. Be sure to inquire about the number of cases they have dealt with, how many were successful, and whether they have significant courtroom experience, as cases may sometimes advance to trial.
Check Client Reviews and Testimonials
Investigate their reputation by reading client reviews and testimonials. This can give you a direct insight into their approach, success rate, and how they treat their clients. Positive reviews and testimonials are key indicators of a reliable and skilled attorney.
Assess Communication and Accessibility
Good communication is crucial in any attorney-client relationship. Your attorney should be accessible, provide regular case updates, and be willing to answer all your questions promptly and clearly.
Understand the Fee Arrangement
Before signing on with an attorney, understand their fee structure. Most personal injury attorneys, including recreational watercraft accidents, operate contingently. This implies you don't pay unless they successfully recover compensation for you.
Frequently Asked Questions About Recreational Watercraft Accidents
Understanding the intricacy of recreational watercraft accidents, their causes, consequences, and your legal rights can be overwhelming. To aid in understanding, we've compiled some of the most frequently asked questions about these accidents and their respective answers.
What Should I Do Immediately After a Recreational Watercraft Accident?
Firstly, ensure the safety of yourself and others; prompt medical attention is crucial, even in minor injuries. Secondly, alert the authorities. Detailed reports from law enforcement and medical professionals will become invaluable evidence. If feasible, gather any available evidence, such as photographs or witness information.
Who Can Be Held Liable in a Recreational Watercraft Accident?
Identifying the liable parties in a recreational watercraft accident strictly depends on the incident's circumstances. Responsibility can lie with a variety of individuals and entities.
The operator of the watercraft: If the operator was reckless, intoxicated, or violating maritime laws, then they may be held responsible for the accident and its consequences.
The owner of the watercraft: In some cases, the owner of the boat or watercraft, who might not have been operating the craft at the time, neglected their responsibility to maintain the watercraft in a safe condition or knowingly allowed an incompetent person to use it, then they might be held liable.
Product manufacturers: If a watercraft or its parts were defectively designed or manufactured, leading to the accident, the company that made, sold, or distributed the defective product could be held responsible.
Other passengers: Passengers who act irresponsibly and cause an accident (by distracting the operator, for example) could be found partially or fully at fault.
Rental companies: Where watercraft are rented out, the company leasing them could be held responsible if they did not provide appropriate safety equipment or failed to adhere to safety laws.
In every personal injury case, the combination of multiple factors often leads to an accident. As such, multiple parties could be held accountable. At Ehline Law Firm Personal Injury Attorneys, APLC, we work relentlessly to determine the liable parties and hold them accountable for their actions.
Understanding Wrongful Death Claims
A wrongful death claim is a particular type of personal injury lawsuit that arises when someone dies due to another party's negligent or intentional act. This may include a wide range of situations, such as negligence in operating a recreational watercraft, failure to maintain safety standards on the vessel, or even intentionally dangerous behavior.
Who Can File a Wrongful Death Claim?
The right to file a wrongful death claim is generally reserved for close relatives of the deceased. This often includes:
Spouses
Children
Parents (if the dead was unmarried and had no children)
Sometimes, other relatives, such as siblings or grandparents
Compensatory Damages Available in a PWC Wrongful Death Claim?
In a wrongful death claim following a recreational watercraft accident, the surviving family members may be compensated for a variety of damages.
Each wrongful death claim is unique, but common damages include:
Funeral and burial expenses
Loss of financial support and benefits that the deceased would have provided
Emotional suffering and loss of companionship
In some cases, punitive damages
Dealing with the loss of a loved one is a tough time, and pursuing a wrongful death claim can be complex. It's crucial to have the proper representation to maximize the compensation you're entitled to. At Ehline Law Firm Personal Injury Attorneys, APLC, we can provide the compassionate, dedicated, and expert legal assistance you need to navigate the challenging process.
Compensation For Injuries in a Recreational Watercraft Accident?
Generally, you can claim for:
Medical expenses
Lost earnings
Pain and suffering
Emotional distress
Property damage related to the accident
Punitive damages may also be warranted if malice or gross negligence is involved with the other boater or other parties.
Client Testimonials: Success Stories with Ehline Law Firm Personal Injury Attorneys
Below, we showcase a range of insightful success stories from clients who have had first-hand experience with the Ehline Law Firm's approach to personal injury law in Galveston, Texas, particularly concerning recreational watercraft accidents.
An Undeniable Track Record
In our rich history of serving clients all over Galveston and surrounding areas, we've been privy to high client satisfaction.
"My family was left devastated after a fishing trip ended in tragedy, due to a malfunctioning boat. The Ehline Law Firm ensured that we had the best possible representation. Their empathy was comforting and their expertise was empowering. Thankfully, they were able to secure a compensation package that was fair and just for our family." – Peter.H
Client-Centered Solutions
At Ehline Law Firm, we prioritize our clients' needs and strive to ensure their best interests are at the forefront.
"I had no knowledge about personal injury law or how to proceed after my son suffered from a wakeboarding accident due to a negligent boat operator. The attorneys at Ehline Law Firm patiently guided me at every step and pursued the case with tenacity, helping us secure a rightful compensation." – Martha.K
Injured victims can call us for your free case evaluation today by dialing (833) LETS-SUE. If we take your case, it will be on a contingency fee basis, so there is little to no risk in getting a free consultation with an expert at our law offices.
Schedule a Free Consultation With a Recreational Watercraft Personal Injury Attorney
At Ehline Law Firm Personal Injury Attorneys, APLC, we understand that suffering an injury from a recreational watercraft accident can be a daunting and traumatic experience. That's why our team is dedicated to supporting you every step of the way. Experience and expertise are the cornerstone of our legal representation. Our team has successfully worked on many recreational watercraft accident cases in Galveston, TX, and we are well-versed in the intricacies these cases bring. We are proficient in understanding the legal, medical, and insurance-related aspects of a boating accident, ensuring a comprehensive strategy is set in place for you.
We offer a free initial consultation with our experienced attorneys for potential clients. You can meet with us at no cost to discuss your case and explore possible legal avenues. We listen attentively to your story, examine the facts, and provide objective advice on your best action. We value transparency and believe you should always be informed about your case's progress.
Contact us online or at our offices for your free, no-obligation consultation. If we win, your right to justice and fair compensation should never be hindered by extraneous costs except for the contingency fee. Let's work together for the justice you truly deserve. You can also email us at galveston@ehlinelaw.com to discuss your watercraft boating accident.
Michael Ehline is an inactive U.S. Marine and world-famous legal historian. Michael helped draft the Cruise Ship Safety Act and has won some of U.S. history's largest motorcycle accident settlements. Together with his legal team, Michael and the Ehline Law Firm collect damages on behalf of clients.
We pride ourselves on being available to answer your most pressing and difficult questions 24/7. We are proud sponsors of the Paul Ehline Memorial Motorcycle Ride and a Service Disabled Veteran Operated Business. (SDVOB.) We are ready to fight.