If we don't win, you don't pay.
Speak to the Attorney.
Born to serve.
633 W 5th Street #2890
Los Angeles, CA 90071
(213) 596-9642.
2323 S. Voss Rd, Suite 244
Houston, TX 77057
(832) 592-1260.
Date Modified: November 23, 2023
Welcome to the dedicated landing page for Michael Ehline, your reliable guide in a tumultuous sea of Galveston, Texas, Longshoreman's Injury claims. Per the Texas Department of Transportation, the harbor accommodates close to 1,000 ship arrivals, manages roughly five million tons of goods, and caters to more than a million cruise vacationers each year.
Furthermore, locals and tourists partake in activities such as fishing, observing sea creatures like whales, paddling canoes and kayaks, besides other aquatic sports around the coasts of Galveston Island, away from rough, high seas, and within its safeguarded water bay.
Longshoreman Defined
A longshoreman is an individual like a dockworker who loads, unloads, and checks cargo being transported via maritime vessels. They often work in perilous conditions and can also be offshore workers on barges and oil platforms as well.
For example, they operate large cranes and heavy machinery, all on dangerously high platforms. Hence, they are exposed to a high risk of workplace injuries. And when accidents happen, affected individuals and surviving family members are entitled to claim compensation under specific maritime laws.
Navigating the choppy waters of maritime law can be arduous. Still, with Michael's team of highly experienced attorneys by your side, fair compensation for your injury is never far from reach.
"Victory in maritime law claims is not a matter of chance. It is a matter of calling in the experts."
As one of the leading legal entities in the realm of Longshoreman's Injury Claims, Michael Ehline has successfully spearheaded countless cases, securing justice for seamen injured at sea. With his exceptional dedication to justice and fair compensation, injured maritime workers find a beacon of hope and a path to restoration.
If you are struggling to receive the compensation you deserve, including death benefits, you've docked at the right place. Now, get ready to seek compensation on a contingency fee basis for your severe injury or death with help from an experienced maritime seaman lawyer.
Docker Accident-Injury Statistics
These figures are alarming when compared with the fatality rates of other high-risk professions:
Between the years 2002 and 2008, the fatality rate among Longshore workers/dockers reached:
17.3 deaths per 100,000 dockworker employee
16.6 deaths per 100,000 firefighters
14.9 deaths per 100,000 law enforcement officers.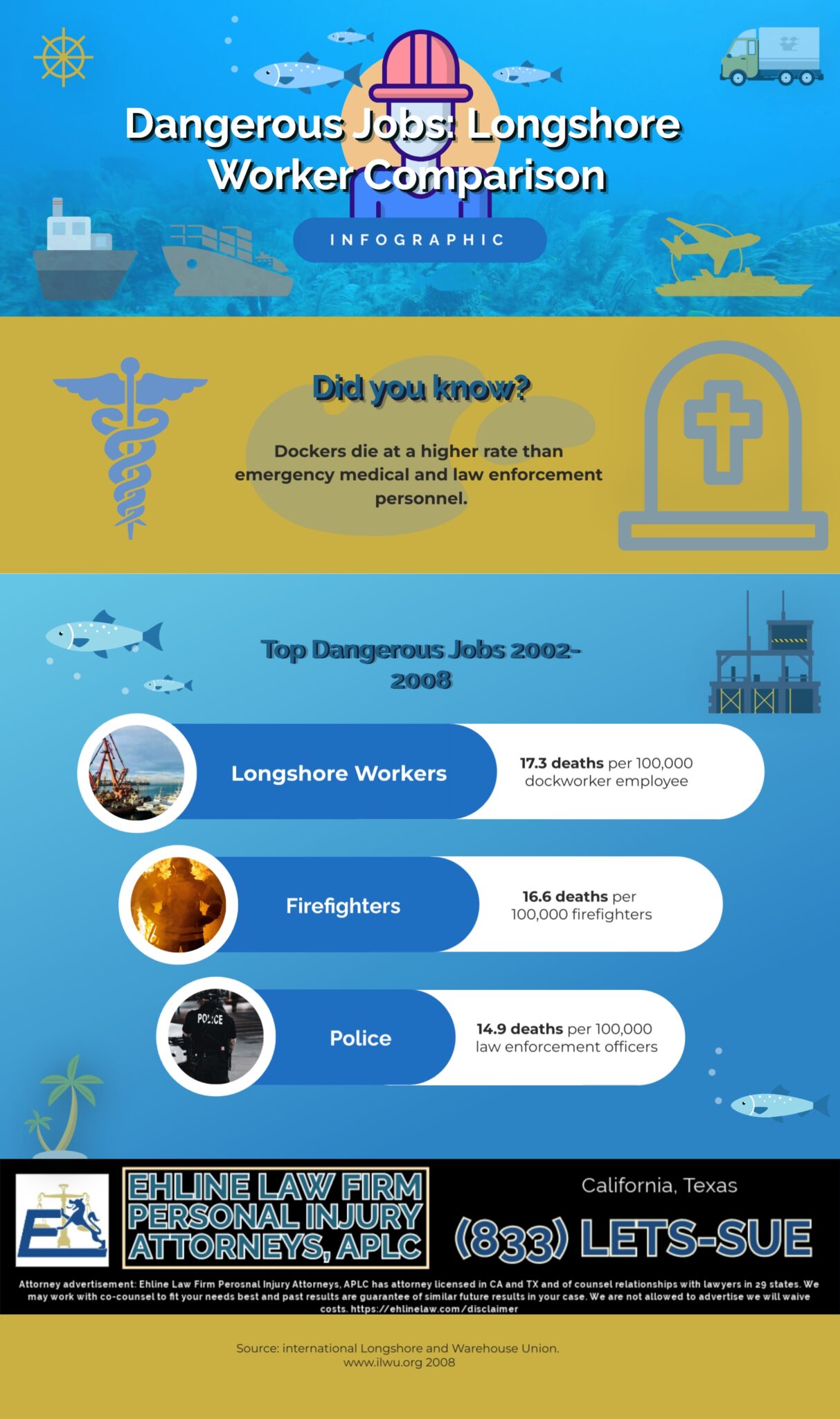 Why Choose Michael Ehline?
Experience: With years of specialized experience, we haven't encountered and conquered virtually no maritime case scenario.
Accessibility: We are always ready, willing, and able to fight for your cause.
Communication: We believe in keeping our clients in the loop. You'll receive transparent, timely updates about your case progression.
Results: We take pride in our long, successful track record. Our aggressive and strategic approach has helped seamen recover substantial settlements and verdicts.
Working with Marine and Admiralty laws in Galveston is an intricate task. This is primarily due to the many laws and regulations that come into play when dealing with work-related injuries near or on water. These laws include the General Maritime and Admiralty Law, the Jones Act, the Longshore and Harbor Workers' Compensation Act, and the Death on the High Seas Act. Identifying the specific laws that apply to your unique case scenario is a critical step in building a strong claim or court case.
When you're a longshoreman, dock worker, or engaged in any occupation that falls under the umbrella of maritime work, every day on the job exposes you to potential hazards. The oceanic environment presents unique challenges, from slips on slick surfaces to hazardous gear. Unfortunately, when injuries occur, so does a complex legal process. But fear not—Michael Ehline is here to help you navigate these turbulent waters.
Let's delve into the details as well as the applicable federal statute or statutes that apply.
Understanding the Longshore and Harbor Workers Compensation Act
The Longshore and Harbor Workers' Compensation Act (LHWCA) is a federal law specifically designed to protect workers, including longshoremen, who are injured while working on navigable waters of the United States or in areas used for the loading, unloading, repair, or building of a vessel. This crucial piece of legislation provides ongoing medical care and compensation for those injured or disabled due to work in the maritime industry.
The Scope of Coverage Under the LHWCA
Eligibility for Non-Seamen
The LHWCA provides protection to an array of maritime workers and dockers. Specifically, it covers Longshore workers, ship repairers, shipbuilders, ship-breakers, other dock workers, and harbor construction workers. However, it is important to note that the Act does not cover seamen (i.e., individuals working on board a vessel), as the Jones Act typically covers these injured workers.
Covers Non-Seamen on Certain Offshore Oil Rigs?
Whether the LHWCA applies depends on the location of the drilling rig. If it's located on the navigable waters or an adjoining area, workers in an industrial accident may be covered by the LHWCA. Suppose the rig is on the Outer Continental Shelf (OCS). In that case, the Outer Continental Shelf Lands Act (OCSLA) and the associated federal regulations may cover maritime workers injured on the job.
Compensation
When a longshoreman is injured on the job, the LHWCA provides for the payment of compensation for medical care and services, any necessary rehabilitation services, and provides compensation for lost wages during the period of disability. The Act also provides compensation for permanent impairment resulting from a work-related injury. That is where our Galveston personal injury lawyer comes into play. We help injured seamen with serious injuries as top-rated maritime injury lawyers. We have cheerfully done so since 2005.
Understanding the Jones Act
The Jones Act— also called the Merchant Marine Act of 1920 — plays a pivotal role in maritime law cases. Essentially, this law protects seamen from employer negligence, unsafe working conditions, or harm inflicted by coworkers. It allows seamen to claim damages for injuries linked to their employment. However, the challenge lies in proving these "Jones Act" claims, where Michael Ehline's expertise comes into play as an experienced maritime lawyer.
Remember, time is essential in filing a claim. Medical bills and lost wages are piling up. Maritime workers must not delay in contacting us to discuss their maritime injuries and receive a free initial consultation from our law firm.
Your Rights as the Injured Party
Under the LHWCA, you are entitled to certain rights. Misunderstanding or ignorance of these rights can significantly impact your claim. In this context, Michael Ehline's team, who have been champions of maritime worker's rights, can effectively help comprehend and exercise your rights as a maritime injury lawyer.
This includes:
Compensation for lost wages: If your injury has infringed your ability to work, you are entitled to a percentage of your average weekly wage during recovery.
Medical care: You have the right to choose your doctor for treatments related to your injury and to have these expenses covered by your employer.
Vocational rehabilitation: If your injuries prevent you from returning to your previous position, you are eligible for vocational rehabilitation services to prepare for a new line of work.
Common Types of Injuries Experienced by Maritime Workers
Longshoremen often face perilous environments whether they are working shipside or on the docks. Accidents at sea or on the shore happen regularly due to various factors such as heavy machinery, unpredictable weather conditions, and high-risk tasks.
Workplace Hazards Leading to Maritime Injury Claims
Being a longshoreman often means dealing with physically demanding tasks while navigating the dangerous terrain of the docks near navigable water and sea ports. If they do get hurt, injuries often turn catastrophic for many workers. Oil platforms are at special risk for these pain and suffering and lost earning capacity incidents. To obtain compensation, you must classify the injury and organize your medical bills for us at trial as evidence.
Your profession exposes you to a higher risk of severe injuries, some of which include:
Spinal cord injuries: Maximizing heavy loads can lead to spinal cord injuries and other back injuries and paralysis that may cause chronic pain and lifelong disability.
Traumatic brain injuries: Michael Ehline expertly demonstrates winning employer negligence claims on behalf of victims who've suffered severe injuries like head trauma. These devastating injuries often lead to career termination and a permanent vegetative state.
Broken bones: Falls from heights or slips due to wet and slippery conditions on deck possess the risk of causing fractures and facial disfigurement due to offshore accidents.
Amputations: Operating heavy machinery and equipment always carries the potential danger of accidents that can result in limb loss. There is no such thing as a full recovery from dangerous conditions here in the victim's life. We can't regenerate limbs. Once it's sawed off, it's lost to future history.
Crushing injuries: Being caught between shipping containers and machinery is, unfortunately, a common event that can lead to devastating crush injuries.
Wrongful death: Losing a loved one is the worst kind of mental anguish. We can also help survivors sue for death on the docks in the worst industrial accidents for employer negligence, such as an oil rig fire caused by an employer's negligence.
Mental and Emotional Traumas from a Maritime Accident
Increased stress, Post Traumatic Stress Disorder (PTSD), and general anxiety disorders are some common examples that harbor long-term consequences on overall health and well-being.
Mental health issues following occupational accidents can be just as devastating as physical injuries, but they are often overlooked as they cannot be seen and are harder to quantify. At Ehline Law, we understand these challenges and advocate for holistic compensation that covers not only physical damage, but also emotional and psychological suffering.
The road to recovery from such accidents can often be arduous, both physically and emotionally, requiring comprehensive medical treatment and mental health support. We have recovered millions of dollars for maritime workers forced to work in unsafe conditions. We are world-famous for this reason. Do you want to prove your case and win? Call us, and a team member will talk you through the issues right over the phone!
Understanding Maritime Employer's Liability
Employers owe a duty of care to their employees working at sea, just as they do on land. This includes ensuring all equipment is maintained in a safe working condition, that safety training protocols are adhered to, and that they provide appropriate supervision. In our experience, many longshoremen's injuries could have been avoided if appropriate safety measures were in place. Think of explosions at oil refineries near ports and how the loss could be overcome with proper care and training.
Identifying Potential Third-Party Liability
Additionally, maritime law allows for considering third-party liability in injury claims. This includes manufacturers of faulty equipment, other vessels that may be responsible for collisions, or contractors who fail in their duty to maintain a safe working environment. We aggressively pursue all avenues of liability to ensure that our clients receive all the compensation they are entitled to after a maritime accident.
Complexities of Liability in Maritime Accidents
Another layer of complexity stems from maritime law extending beyond national borders and can be influenced by international laws and agreements. Whether you have been injured in domestic waters or while working overseas, our Galveston personal injury lawyers have the expertise to protect your rights within the maritime industry.
Note: It is critical that you seek legal representation as soon as possible after an injury to safeguard evidence and secure eyewitnesses.
Your case's potential value is not determined merely by surface evaluations but relies on a thorough and in-depth investigation of the accident's circumstances. Taking a holistic approach, we ensure that no avenue of compensation remains unexplored. Our maritime injury attorneys know how to negotiate with insurance companies for a fair settlement. With sharp negotiation skills, we work our best to ensure you receive what you rightfully deserve.
If negotiations aren't enough, you can trust our proficient legal team to bring your case to court, presenting a compelling case before the jury. Let us shoulder the legal burden so you can focus on recovery. Suffering a longshoreman injury can be life-changing, but with Michael Ehline on your side, you don't have to face it alone. We are here to help you through this challenging time in any Galveston maritime action.
The Statute of Limitations for Longshoreman's Injury Claims
The statute of limitations refers to the allocated time within which you must file your Longshoreman's injury claim after the incident. This timeframe is dictated by maritime law and varies according to the type of claim made. When this period expires, you may lose your right to pursue compensation for your injuries.
The maritime law generally permits three years from either the date of your injury or the discovery of your injury for personal injury and wrongful death cases. However, in some cases, the period can be extended. Decoding the nitty-gritty details of these timelines is something that your attorney can assist you with.
Exceptions and Nuances to Consider
Like all aspects of the legal system, the statute of limitations is fraught with exceptions and complications. Some exceptions could potentially shorten or lengthen your time to file a claim. For instance, if a maritime injury victim is a minor, the statute of limitations doesn't start until they reach adulthood. Similarly, if injury symptoms don't manifest until after the accident, the clock might start ticking from the date of discovery.
Filing a Longshoreman's Injury Claim in Galveston, Texas
When dealing with the aftermath of a work-related injury, the process of filing a claim can add more stress to an already difficult situation. But it doesn't have to be that way. Our expert team at Michael Ehline can help you make sense of these steps, always aiming to minimize the stress and confusion that can come with legal procedures.
Steps to File Your Longshoreman's Injury Claim
Understanding the process can be the first step in gaining confidence during these testing times.
Documentation: The first step in the process includes collecting and documenting all necessary information related to your accident. This includes the accident details, medical records, witness statements, and other evidence supporting your claim. Working swiftly can make a difference, as fresher evidence is often more compelling.
Report your Injury: Inform your employer about your injury as soon as possible. Failure to notify within a certain time frame can lead to a dismissal of your claim.
Professional Medical Help: Seek medical attention immediately, regardless of how minor your injuries may seem at the moment. This action can prevent complications down the line and help support your claim.
Legal Counsel: Consult with a maritime injury attorney to understand your legal rights and the gravity of your situation before contacting your insurance company.
File Your Claim: Your attorney will help you draft and submit the necessary forms to the Division of Longshore and Harbor Workers' Compensation (DLHWC) and ensure that the claim is filed within the required timeline.
Avoiding Pitfalls During the Filing Process
We understand that stress, confusion, and uncertainties can cloud the claim filing process. There are common pitfalls that many fall into, but with strategic guidance, we can help you steer clear of them.
Don't allow your employer to dismiss or minimize your injury, medical expenses, and future medical care.
Don't take statements or sign documents without understanding the full extent of their implications under federal laws like the Jones Act, etc. (a free consultation will resolve these questions)
Never assume that you don't have a claim. Even if you think your injury resulted from your own actions, consult an attorney to evaluate the situation properly.
Don't accept a settlement without consulting your attorney to ensure it truly covers all your damages and needs.
Michael Ehline and our team of skilled attorneys are committed to guiding longshoremen and harbor workers in Galveston, Texas, through the complexities of injury claims. Reach out to us for comprehensive support that ensures your rights are protected and your claim duly recognized.
The Benefits of Settling Longshoreman's Injury Claims
Less Time, Fewer Expenditure
From a practical standpoint, settling your longshoreman's injury claim is often faster and less expensive than going to court. Trials can drag on for months, even years, and the costs can add up quickly – from court fees and expenses associated with gathering evidence to the time you'll need to take off work to attend court proceedings. In a settlement, both parties mutually agree much quicker, saving you time and money.
Taking Legal Action: Lawsuits for Longshoreman's Injuries
If you're a longshoreman, who's suffered an injury while at sea or on shore in Galveston, Texas, you might be considering a lawsuit to compensate for your damages. But it's crucial to have professional legal help on your side. This section delves into the specifics of legal action for longshoreman's injuries.
Choosing to File a Lawsuit
When you've had an accident and are dealing with the physical, emotional, and financial aftermath, it's often difficult to make clear, informed decisions. Filing a lawsuit is one such choice that needs proper consideration. It's important to understand that a lawsuit can potentially yield higher compensation, but it's a process that takes time, resilience, and financial resources. Having a skilled attorney like Michael Ehline can facilitate this process and significantly increase the chances of a client obtaining a favorable outcome for themselves, their families, and their loved ones.
Steps Involved in Filing a Lawsuit
The process of filing a lawsuit is multi-step and requires accuracy and attention to detail as follows:
Identifying the liable parties.
Assembling significant evidence.
Filing a complaint with the court.
Undergoing a discovery process.
Negotiating a settlement or going to trial if negotiations fail.
Note that the steps could vary depending on the specifics of your case. Having an experienced attorney who has helped hundreds of people or even thousands ensures you navigate this process effectively.
Preparing for a Trial
In case your lawsuit progresses to a trial, it's essential to be well-prepared. You need substantial evidence for your claims, witnesses who can testify on your behalf, experts who can lend credibility to your case, and, most importantly, a well-versed attorney to represent you. Effectively preparing for a trial can be resource-intensive but often results in higher compensation.
Effects of a Lawsuit on Longshoreman's Injury Claim
Filing a lawsuit can significantly impact the outcome of a longshoreman's injury claim. A successful lawsuit can result in far greater compensation than negotiating a settlement out of court. However, it's a path assembled with legal complexities associated with this federal statute enacted to help workers swiftly.
Remember, pursuing legal action is a major decision that should not be taken lightly. Discuss your options with attorney Michael Ehline, and make an informed choice that suits your unique circumstances. Speak with him before contacting the tour operator and moving forward.
The Difference Between Workers' Compensation and Longshoreman's Injury Claims
Understanding the difference between Workers' Compensation and Longshoreman's Injury Claims is essential for any longshoreman, marine terminal employee, or other waterfront worker in Galveston, Texas. These distinctions can ultimately influence the scope and quantum of the benefits the injured party is eligible to recover.
Workers' Compensation: An Overview
Workers' Compensation is a form of insurance providing wage replacement and medical benefits to employees injured in the course of employment. It is mandatory for most employers in Texas and across the United States. The primary goal is to provide injured workers with immediate financial and medical help while protecting employers from costly lawsuits.
However, while Workers' Compensation can provide basic support, it often lacks the complete economic and non-economic damages that an injured worker might require. This is especially true for longshoremen and other marine workers, whose injuries are often severe and life-altering.
Longshoreman's Injury Claims: A Specialized Form of Protection
On the other hand, Longshoreman's Injury Claims are designed to deliver more comprehensive protection to employees working near or on navigable waters. The LHWCA covers longshoremen, harbor workers, and other maritime employees who are not sea-faring (so it does not cover commercial fishing accidents like other federal maritime laws.) This federal statute guarantees a maritime worker, like a dock worker, will recover compensation for medical care, vocational rehabilitation, and disability benefits for lost wages and basic living expenses.
Employers must ensure proper safety measures are in place, and if maritime injuries occur, they are tasked with providing immediate medical attention. In these admiralty law cases, employers must cover mounting medical bills and rehabilitation expenses.
Testimonials: Satisfied Clients of Michael Ehline, Galveston's Trusted Longshoreman's Injury Claim Attorney
Don't just take our word for it. See what some of our past clients have to say about their experience working with Michael Ehline, the trusted offshore accident claim attorney in Galveston.
"From the moment I first contacted Ehline Law Firm, my case was handled with the utmost care. Michael was compassionate and thorough during a very difficult time in my life. He fought tooth and nail to ensure I was awarded the maximum compensation for my permanent disability. Excellent attorney, even better person!" -Jane D.
"I can't express just how grateful I am for Michael Ehline. After my accident at the docks, he handled every aspect of my lawsuit, never leaving me in the dark about what was happening. Not only did he help me get compensation for my injuries, but he made it clear that my wellbeing was his top priority. He's more than just an attorney; he's a true advocate for the injured longshoremen." -Alan M.
This level of dedication and compassion makes Michael Ehline a standout choice as a longshoreman's injury claim attorney in Galveston. He understands the physical, emotional, and financial impacts injuries a serious accident can have on your life. Because of this, Michael is ready to help you navigate the difficult road to recovery ahead in all serious accidents.
Residents and Vacationers Can Receive Decades of Experience From A Top Longshoreman's Lawyer 24/7
But don't wait to handle business if you were employed and injured on the docks! As important time limits can affect your claim, it's crucial to act swiftly. Don't just settle for basic maintenance pay. You have a right to recover all your lost earnings and more. Let Michael Ehline guide you on the journey to justice and compensation. Contact an experienced maritime injury lawyer today for a free initial consultation before you suffer more problems from procrastinating over such a complicated matter.
Become our next success story by getting help from a serious injury law firm in Galveston County. Let us pursue your negligent employer and any other defendant involved today. Schedule a free consultation today to rebuild your life and create and proceed with a legal claim during this stressful time. We have a record of millions won and charge no fee unless we argue and win your case. Just dial (833) LETS-SUE to get started and see if you qualify under the LHWCA or other Galveston maritime statute.
Citations:
Michael Ehline is an inactive U.S. Marine and world-famous legal historian. Michael helped draft the Cruise Ship Safety Act and has won some of U.S. history's largest motorcycle accident settlements. Together with his legal team, Michael and the Ehline Law Firm collect damages on behalf of clients.
We pride ourselves on being available to answer your most pressing and difficult questions 24/7. We are proud sponsors of the Paul Ehline Memorial Motorcycle Ride and a Service Disabled Veteran Operated Business. (SDVOB.) We are ready to fight.