How Our Attorneys Investigate Los Angeles Tour Bus Companies?
Bus accidents often occur when a bus driver, bus operator, bus company, or other defendant acts negligently, causing an injury. Under California law, the burden of the preponderance of the evidence is on the surviving families or plaintiffs to prove negligence.
If so, the insurance company or self-insured private bus company must cover the victim's personal injury claim.
Our lawyers are fully aware of bus accidents and have the proper:
Our trial lawyers also use a warehouse to inspect automobiles for flaws, accident reconstruction, and testing and simulations.
We understand the company's data and what information is taken from the electronic control module (the black box) and GPS reports. We obtain this evidence.
Although transport passengers may see similarities outside, there are two main types of tour buses, as follows:
Charter buses

Band buses
The way they are insured and insurance coverage amounts may be different. However, both offer cutting-edge, premium features, technologies, and amenities. Mainly, it's who they serve and how that matters most to an injured person.
Charter Bus Defined
These vehicles are designed and reserved for the transportation of larger groups of people to and from major events like sports competitions, conferences, school field trips, weddings, and more.
Includes:
Band Tour Bus Defined
These motorcoaches, also known as "sleepers," "entertainers," or "nightliners," are designed with artists, performers, and other high-value clients in mind. These coaches frequently transport Rock & Roll bands, touring comedians, politicians, performing artists, and their staffs over long distances– often hundreds of miles between stops.
In California, in particular, entertainers, musicians, rock stars, dancers, and even politicians travel in sleepers.
Some of these are non-commercial coaches registered with the California DMV as private motorhomes. P.I. lawyers often face a lack of insurance coverage for such high-profile clients.
Car Accidents

Motorcycle Accidents

Truck Accidents

Plane Crashes
Common Charter Tour Bus Excursions
---
Most people think of sightseeing tours using intercity double-deckers with open tops with a great view cruising through Beverly Hills, Hollywood, and Santa Monica. These could be large 2 to 4 axle intrastate, and interstate lines, for short and long-distance destinations.
These include:
Indian and Las Vegas Casino Tours
Celebrity Tours
Although the tour bus company must carry millions in coverage, sometimes they operate illegally, leaving your personal injury attorney holding the bag.
A proper investigation into the insurance company status of any private company before you schedule your tour remains in your best interest. This is the best way to avoid seeking future legal representation.
In the modern, high-tech world of Las Vegas, it is easy to forget that there was a time when visiting this city from far away required a bit more effort. Soon, casinos arranged chartered gambling tours, which evolved into the modern Casino tour.
Our experienced lawyers have dealt with all types of serious injuries at our Los Angeles office. In one famous case involving significant injuries, we discovered that a casino tour was in partnership between gambling casinos and private charter bus companies.
Las Vegas gambling casinos regularly pay common carriers a commission for "herding" groups together for "casino tours." Many Nevada and California Indian casinos subsidize common carriers using gambling profits.
The tour bus operator can sell trip tickets for below market price and absorb the cost of accident claims when you file a claim against negligent parties, shielding their casino partners.

Hemsley v. Davis tour bus accident
Aside from the legality of sharing profits in the gambling scene with partners not licensed by the Nevada Gaming Authorities, in Hemsley v. Davis, casinos never inspected a single "casino tour" bus. In one case, the driver was not paying attention. Instead of watching the route, he became distracted.
He was looking at a small portable T.V. inattentive to the road's conditions. The driver was simultaneously changing channels on the radio immediately before the crash occurred!
His vehicle rear-ended another bus, and there was a jackknife rollover. There was a fatality. And most aboard sustained spine injuries, and bones were broken after being thrashed around inside. One rider was catapulted through the breakaway windows.
The casinos argued they had no responsibility for the passenger's ejection, despite apparently sharing profits and losses with many negligent businesses. Our charismatic personal injury trial lawyers have vast experience in casino tour bus cases and many others.
When you call our trial lawyers for legal advice about your catastrophic injury, we'll give you a free case evaluation to discuss getting your fair compensation, medical attention, and help with medical expenses.
The casino could be liable as a common carrier, joint venturer, partner, or co-venturer of the tour company you hired.
The gaming venture faces liability for your personal injuries, not just the tour provider and driver. Federal laws may also come into play. Having a lawyer from our law firm helps with obtaining justice when insufficient money exists to proceed in your fight.
A common carrier has a special obligation to paying customers. A bus company operates as part of a bigger travel business. Federal and state law (California Civil Code Section 2100) classifies any group that transports for money or other gains as a common carrier for hire.
The casino or co-venturer must conduct regular carrier inspections and employ trustworthy workers. (Determine drug use, for example). Families and their loved ones deserve experienced counsel. Was your bus involved in a collision? Call our law firm's local office to learn more about compensation for injuries sustained in Los Angeles, CA bus wreck. (213) 596-9642.
Celebrity Tour?
These include hop-on-hop-off service like the "Malibu Stars Homes Tour" on a double-decker. Visitors to Los Angeles go on popular tours through Beverly Hills, Santa Monica, and Hollywood.
Problems With Double Deckers?
Bus operators often fail to issue upper deck protective warnings. No statutory requirements exist regulating the operation of routes or handling a bus accident claim.
Under civil negligence law, the tour operator is held responsible for establishing standard procedures and protocols. Because they are held to a higher care standard, they must act with utmost care.
Common Causes of Bus Accidents?
Buses involved in accidents piloted by negligent drivers are common on U.S. roadways, including tour buses.
Problems Making Buses Inherently Unstable?
Greater stopping distance. The amount of distance it takes a small car to come to a complete stop after the driver applies the brakes is determined by how hard he or she pushes on the pedal. The heavier and larger the automobile, the further it must go. The rate at which you brake has an impact on how far it will take you to stop safely.

Higher center of gravity. When attempting emergency maneuvres to avoid an accident, its larger profile makes it more likely to tip over, especially approaching a sharp curve or bend.

A big difference in blind spots. Every wagon has a blind spot, an area—typically around the edges of the car's rear—that the driver can't see in either the rear or side-view mirrors. To check the blind spot, instead of looking over their shoulder, the driver must look behind them. These lumbering vehicles have wide blind spots on all four sides of the auto, placing other drivers at risk of being struck bus while crossing through that area undetected.

Tour Bus Company Error

Inefficient loading: Buses have a greater center of gravity and are more likely to topple when executing a sharp change. The imbalance between riders and goods within the busses raises this danger.

Unfamiliarity with the automobile: To drive a big commercial vehicle, you'll need a commercial driver's license (CDL). Employers are tasked with hiring and training employees to deal with the daily stresses of the work.

Inadequate maintenance: Companies that provide motorcoach services to the general public for a fee must, under federal rules, ensure that their vehicles are inspected and maintained regularly. Inadequate inspection and maintenance may result in a vehicle failure, which might result in an accident.

Overcrowding: Overcrowding makes customers uncomfortable, creates weight imbalances, risks of slip and fall or trip and fall occurrences, and the danger of tourists struggling to open the emergency exits.

Distracted driving: Distractions while driving are a major contributing factor in all sorts of traffic-related accidents. Tour bus drivers confront the same distractions, such as texting or other phone usages, eating or drinking, and adjusting vehicle controls. A tour bus personnel must professionally deal with rowdy or chatty ride alongs and others who talk with them while driving the vehicle.

Drowsy driving: Fatigue can result in mental or physical tiredness and an inability to drive a vehicle safely. Employers frequently demand employees travel hundreds of miles in a day and go late at night when sleeping.

Bad weather: Buses that serve tourist destinations frequently must cope with weather conditions, including snow, rain, and fog. While human error does not cause inclement weather, slick roads and low visibility might lead to mistakes like driving too fast for the roads.

Alcohol/Drugs.
Manufacturer's Defect and Recall Problems With Tour Buses?
Often overlooked by the masses is the plethora of manufacturing and remanufacturing problems that can cause serious injury or wrongful death to a plaintiff.
Americans With Disabilities Act Problems: A wheelchair lift positioning input cam may fail during lift use, causing the platform to travel at a higher ride height than the vehicle road surface height.

Harmful Lights: The headlights may have the incorrect light output, making them too bright or dim. The NHTSA warns that "Excessively bright or dim headlights may reduce visibility, increasing the risk of a crash."
Common Types of Accidents:
Casino Tour Accident
Celebrity Tour Accident
Sightseeing Tour Accidents
Adventure or Sporting Tour Bus Crash
Private Tour Collisions
Car accidents
Motorcycle collisions
Pedestrian incidents
School crosswalk crashes
Equipment malfunctions
Illegal or unsafe passing
The causes can be due to driver or mechanical error. Fall from spilled fluid or an abrupt stop of head injuries because of luggage or debris.
Slip and fall accidents are common for those riding a shuttle. Many passengers leave their bags out in the aisle intentionally. When debris and beverage spills are not cleaned quickly, it creates a further chance for passenger falling injuries.
Examples of Unusual Bus Accidents
Get your mind off the road and inside the vehicle. Bus passengers rely upon the tour operator to provide them with padded, often leather seats that recline. Passengers can kick their feet up on footrests and extend their forearms along with the padded armrests. Typically, alcohol flows freely. To add to the distractions, T.V. monitors broadcast close to the handy lavatory.
So imagine traveling along the I-215 at 75 mph, walking over to the refrigerator, or hot water urn to pour some boiling hot tea. Now throw in some loose luggage in the overhead compartment, a few loose kids near the lavatory, and a sudden stop.
At these speeds, the acceleration g forces can eject a passenger into an overhead hand-luggage rack or through the window to their death. A small child could be killed by a heavy piece of loose luggage or a person flying through the bus passenger compartment.
It doesn't get better for disabled vets and elders outside the vehicle, either. The wheelchair lift or ramp and easy access "kneeling suspension" can fail, throwing an elder or infirm person to the floor, causing a head wound, or killing them.
Drivers can be blocked from seeing by tinted windows, blinds, or curtains, or they may be watching their own T.V.
Who Is Responsible For My Tour Bus Accident?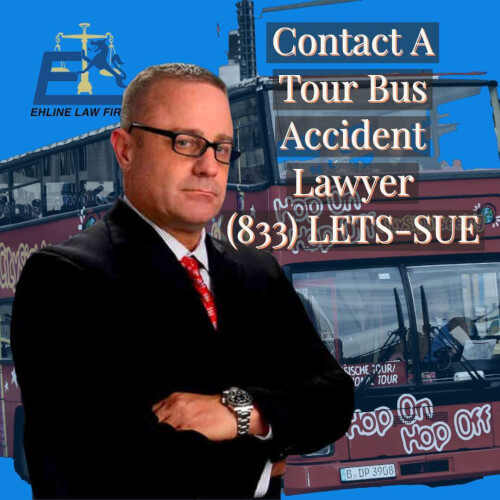 The bus accident victim may be able to collect payments from multiple defendants under California's pure comparative negligence law.
Many potential defendants can arise from a bus accident injuries claim, including:
Bus Passengers
Pedestrians
Other Vehicles
Bus Manufacturer
Repair Company
Tour Bus Driver
Public buses (Ex: US Marine bus).
Bus Company
Operators of transit buses are ultimately responsible for safety. The bus company is held legally liable for inadequate bus driver training or when the bus owner fails to maintain good practices in the safety of passengers.
Bus companies should make certain the vehicle is in good service and that the staff is properly trained.
In many cases, negligence and lack of safety is the cause. Those who serve the public must be more careful in their work to prevent injured passengers / clients. (California Code Section Section 2011, et seq.).
Those who have failed the repairs or the erroneous service performed are liable defendants, including an independent maintenance company.
Southern California businesses and cruise ships can be held liable by clients for bus-related accidents. (Ex: shore excursion.).
Who Can Lawyers Sue In Court After a Bus Accident?
In some situations determining fault and who is held accountable requires help from a bus accident attorney. A motorist injured by several coaches and motor vehicles can sue each negligent defendant or seek a settlement during the process.
Other victims who can file a bus accident lawsuit include taxis, etc. Your attorneys will seek records and evidence before filing to win the largest expected payout.
Can I File A Wrongful Death Lawsuit on Behalf of A Killed Family Member?
Surviving family members of bus accident victims may receive compensation for their injuries with the right team of lawyers.
Potential Celebrity Tour Defendants:
Big Bus Tours
Starline Tours
Typical Products Defect Lawsuit Defendants:
Motor Coach Industries
Volvo BusesPrevost Car
Mercedes-Benz buses
In addition, various jurisdictions have legislation covering carrier obligations. Even a Los Angeles, CA school bus accident could involve other entities and federal law. Of course, determining all liability sources and your options remains more complicated than clients involved in different situations. Our office can lend you a helping hand.
Determining Liability For My Accident?
Because of the many ways bus accidents can happen, the question of who is responsible for injuries and other damages depends upon the circumstances of the accident. Many different parties may be on the hook after a California accident.
To prove that another violator caused the crash that caused your injuries, you must prove the elements of common carrier negligence:
The at-fault party owed the victim a heightened duty of care. The greater care standard of conduct is reasonable chauffeurs would use in comparable situations to avoid causing injury to other persons or property.

The at-fault party breached the duty of care. The breach refers to the at-fault motorist's conduct that went against their higher duty of care.

The breach caused the collision, which led to you becoming injured and incurring expenses and mental trauma.
Note: Pedestrians, not buses or cars, have the right of way but are owed an "ordinary" burden of care.
Let's Looks At Some Different Duties Owed By Differing Parties
We already know a negligent driver can cause fatal crashes. But these large vehicles have weak roofs and windows too. When multiple parties, including common carriers, fail to use a reasonable degree of care to ensure passengers wear their seat belts, tie-down luggage, or maintain logs, problems multiply.
The bus driver must obtain:
A commercial license and training in operating the conveyance.
Follow all other federal guidelines, including random drug and substance testing, hours, or restrictions (You must take regular rests and have lower legal limits for driving while intoxicated charges.).
You're always under obligation to follow traffic regulations for your location. You should avoid speeding up and driving through stoplights. Buses should never be started or stopped without sufficient notice, and group bus drivers are equally accountable.
Failing to deliver their passengers to a safe place, especially a government entity transporting students in school buses, is unlawful. If not, our best Los Angeles bus accident lawyer help victims recover compensation who've sustained injuries.
Buses require regular maintenance, including checking for faulty brakes, improperly inflated tires, and tire wear.
If seatbelts are installed, they must be in working order. The casino or the bus company may be held responsible for keeping the buses used for casino tours in excellent operating order.
Spills should be cleaned as soon as possible to reduce the chance of slips.
To avoid falls, steps should be demarcated with light-reflecting tape.
Duties of Agency Hiring Bus Drivers?
Obtaining a prospective employee's criminal background check and driving history is part of the hiring procedure of both private and government agencies. A background check is required. The Bus Operator Candidate Assessment Test (BOCAT) exam must be passed among other written and driving tests.
The government (L.A. Metro, LAUSD-  school districts, etc.) must maintain its buses and routes in a safe manner. A private school and a tour bus will have other obligations. No matter what, a bus operator or controller should never permit inexperienced, fatigued, or otherwise medically unqualified drivers to travel our roads! The City of Los Angeles, or Los Angeles County, will be held to account for a public bus accident, assuming you or your lawyer can navigate the government claims filing process. You must hire the best Los Angeles bus accident lawyers to achieve this goal successfully. Only these experts will know how to gather this evidence from the parties involved.
Typical Tour Bus Accident Injuries
In 2014, over 14,000 people were injured in bus accidents, resulting in the deaths of 257 individuals. Permanent injuries may result in long-term, lifelong disability, mental impairments, and disfigurement.
Catastrophic injuries commonly induced by these accidents are expensive and include:
Ongoing medical therapy
Rehabilitation
Lifelong life aid.
Such expenses easily exceed millions, adding to the tremendous financial burden of your serious bus accident case.
The injuries suffered in any casino tour bus accident can range from:
Wrongful death (intercity buses accounted for around 13% of fatal bus accidents, with 40% involving school buses and 35% transit city buses)
Severe friction burns
Broken ankle
Fractured bones
Coma
Recovering Damages
Recovering damages means obtaining compensation for the expenses (known as economic damages) and emotional impacts (known as non-economic damages) of your injury.
Examples of the types of expenses and impacts for who may be held liable to pay financial recovery include:
Medical bills: Ambulance for transporting people to the hospital, diagnostic testing, surgical or physician services, prescription medication, physical therapy and rehabilitation, assistive medical devices, such as a wheelchair or crutches
Income: Lost past, present, or future wages or lost income
Property damage
Physical pain and suffering
Emotional distress
Loss of enjoyment of life
Statute of Limitations For a Tour Bus Accident Claim?
Look at your trip ticket or passage contract. The standard two years to sue may be abrogated by contract. In the unlikely event, a governmental entity contract with a school district exists, for example, you'll have six months to file an incident claim. (Ex: Kid's open road field trip to a museum or zoo, etc.)
Client Testimonial
"I was unable to get any support from my first lawyer, who blew off each request for an update about my individual case. I was fortunate to visit Ehline's trial lawyers and speak about my hurt children hurt in a bus crash rear-ended in the street by two construction trucks. Ehline Law Firm was aggressive and got my family maximum compensation. I trust Mike and Irene at their Los Angeles office." – F. Hemsley
Get A Free Consultation From Top Los Angeles Tour Bus Accident Lawyers
Accidents happen. But don't try dealing with insurance companies on your own. You may be in dire straits, owing money for hospital bills and lost wages while receiving no income. Our personal injury attorneys in California help victims injured after they depart L.A. to Las Vegas or vice versa.
Call us and tell us about your bus accident case today. We can explain the difference between a public transportation agency, public bus drivers, and liability. Ehline Law Firm and its California tour bus accident attorneys await your essential questions with vital answers about the bus crash data and other aspects of your case. Reach our legal representative for a free consultation at (213) 596-9642.
---
Michael Ehline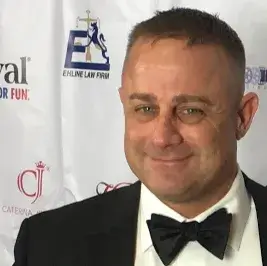 Michael is a managing partner at the nationwide Ehline Law Firm, Personal Injury Attorneys, APLC. He's an inactive Marine and became a lawyer in the California State Bar Law Office Study Program, later receiving his J.D. from UWLA School of Law. Michael has won some of the world's largest motorcycle accident settlements.
---
Recent Personal Injury News
Check out our most recent bus defects, accidents and more, including the famous, infamous and everyday people wounded by at fault parties around the world.