If we don't win, you don't pay.
Speak to the Attorney.
Born to serve.
633 W 5th Street #2890
Los Angeles, CA 90071
(213) 596-9642.
2323 S. Voss Rd, Suite 244
Houston, TX 77057
(832) 592-1260.
Date Modified: June 11, 2023
Prisoners make up only a portion of victims of Department of Corrections Bus crashes.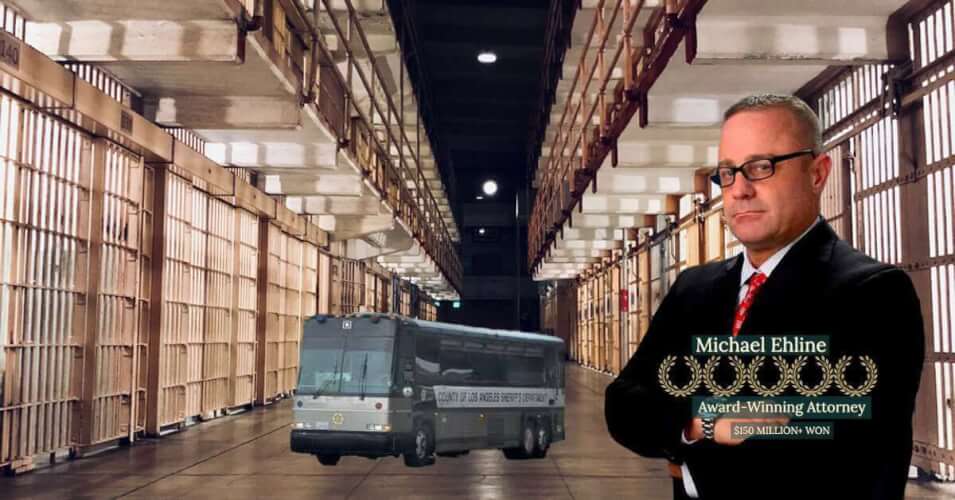 And bus crashes fail to discriminate as to who their victims will be. The next ER visit could be a person inside or outside the locked-down conveyance. Because of this, lawsuits may name many defendants.
We Fight Hard For All Accident Victims
The next ER visit could be a person inside or outside the locked-down conveyance. Because of this, lawsuits may name many defendants. For example, respondents may include mechanics, drivers, the County, City, State, and federal authorities.
Worker's compensation laws cover guards and deputies. But they could also file against a third party, such as a tire maker. Prisoners may still be innocent until proven guilty or convicted. In that case, the accused person may sue under specific civil rights statutes for their prison bus accident injuries. For example, if the level of care falls too low, it becomes cruel and unusual. In other words, prisoner transport must occur humanely. If weather conditions are bad, the heater is broken, etc., the bus occupants deserve warmth and dignity. So it's not just a brain injury or nerve damage caused by a drunk-driving commercial trucker slamming the bus or an exhausted, overworked bus operator falling asleep at the wheel. During transport, prisoners are akin to a customer. Think about that.
Ehline Law Firm helps in all of the above cases. We can help a police union. We may also work on behalf of the husband, children, parents, or wife of a deceased prisoner bus wreck victim. Our Los Angeles injury attorneys have taken down millions of dollars in verdicts and settlements in many unusual cases, including cases involving prison buses. During your cost-free case evaluation, we can chat about your potential claim.
Many cases involving prison buses have been against the government. But we have also sued private and state actors who may have designed, constructed, or negligently repaired prison buses, and that negligence caused or created a prison bus accident.
Often these cases must meet many statutory requirements, or you may waive your rights to sue for compensation. Like a big rig truck, they have powerful diesel motors and plenty of blind spots. A prison bus can also roll over, trap and kill the passenger inmates inside. Not having a lawyer for delicate prison bus accidents like this is a recipe for disaster. Let Ehline Law steal your victory from the jaws of defeat.
Not All Bus Passengers Are Safe
Bus accidents can cause severe injuries to a handcuffed prisoner. The higher speeds of San Bernardino County mean even more significant impacts, increasing the chances of a wrongful death or severe brain injury to bus occupants. So being transported on a California prison bus has personal consequences. The prisoners, employees, and families all trust the coach driver in any event. But they also rely upon the State/County and the bus builder to provide safe transportation.
This confidence is not always warranted. Numerous cases exist where prisoners and guards received severe injuries. In some examples, the passengers died. Even when passengers doubt they're injured, they must obtain a complete medical evaluation.
At a minimum, victims should be scanned and tested for head, back, and spinal cord injuries. After all, police must protect prisoners under their custody.
The pain-masking effect of adrenaline wears off only later on. So directly after the bus crash, testing may be the only way to know if the victim will further injure him or herself. But no matter what, swelling, bruising, and distress are all signs of significant injuries.
Convicts And Compensation For Roadway Negligence
Prisoner or not, all bus occupants are entitled to safe transportation. The prison inmate, employee, or family has the right to compensation after a prison bus crash. But they must hire a prison transport specialist. Under unforgiving time constraints, plaintiffs should hire a lawyer to file the legal claim with the right insurance company or proper government entities.
That means they need an excellent lawyer familiar with shorter time duration against government entities. The prison bus accident attorney builds the legal claim using experts.
Also, these advocates will thoroughly investigate the events. But you must hire a severe injury lawyer right away. So speaking to a personal injury attorney in Los Angeles remains vital.
---
Recovery Of Prison Bus Accident Compensation
The bus occupants can suffer brain injuries, spinal cord injuries, nerve damage, broken bones, many types of back injuries, friction burns, and amputations. This is serious stuff and could require lifetime care with many medical expenses. Compensation for all of this is called your "damages."
Compensation is what the prisoner accident victim and their family deserve, including:

Medical expenses
Ongoing medical care
Loss of consortium
Lost wages (for correctional officers and other employees)
Vocational rehabilitation
Workers Compensation
Impairment of earnings
Pain and suffering
Punitive damages
The prison bus accident attorney helps injured victims with many issues. For example, they assist in determining the financial compensation available. They also provide leadership in an emotional wrongful death action where clients are grieving with nowhere to turn for solace or financial support. Victims must get the right lawyer right away.
For example, knowing that each bus occupant has different rights, duties, and obligations is essential. Prisoners and prison employees are aboard.
So this means employment and worker's compensation laws are at play. As for the prisoners, they have to deal with Civil Rights and other statutes. Plus, they may have a shortened period to file a claim for damages. Remember also that you need to locate that DUI driver or distracted hit-and-run driver. You will also need to speak with the insurance adjuster. Only an attorney can do this while you or your loved one remains in a prison hospital with a spinal cord injury, etc.
And in the event of termination of life during a bus crash, the decedent's family will have specific issues that will pop up in a wrongful death cause of action involving a convict. Only a trained wrongful death attorney can gently guide the family through the legal process. That way, they can send their passed loved ones while the survivors try and recover compensation.
So you can see, this is no walk in the park. Juries can be biased against the injured convict. Only a trained attorney knows what motions are in limine to file. That way, our focus remains on legal rights to compensation for the injuries and not whether the victim was the wrong person. We help you get maximum compensation by covering all the bases in a prison bus accident scenario.
Schedule a Free Case Review With an Aggressive Correctional Institution Bus Accident Lawyer Today
Ehline Law Firm helps prisoners hurt during common carrier jail transport file lawsuits against correctional institutions. During the fair compensation recovery process, we also damage claims against negligent bus builders and other government entities acting as common carriers transporting humans and cargo. We also help bus drivers injured in defective manufacturing cases to receive fair compensation for job-related bus injuries.
Call our prison accident lawyers to discuss your injuries on prison transport buses at (213) 596-9642 or use our convenient website contact us form for verification purposes only and a prompt return call.
Michael Ehline is an inactive U.S. Marine and world-famous legal historian. Michael helped draft the Cruise Ship Safety Act and has won some of U.S. history's largest motorcycle accident settlements. Together with his legal team, Michael and the Ehline Law Firm collect damages on behalf of clients.
We pride ourselves on being available to answer your most pressing and difficult questions 24/7. We are proud sponsors of the Paul Ehline Memorial Motorcycle Ride and a Service Disabled Veteran Operated Business. (SDVOB.) We are ready to fight.