If we don't win, you don't pay.
Speak to the Attorney.
Born to serve.
633 W 5th Street #2890
Los Angeles, CA 90071
(213) 596-9642.
2323 S. Voss Rd, Suite 244
Houston, TX 77057
(832) 592-1260.
Date Modified: June 7, 2023
Bus accidents are something most military passengers don't expect. In fact, like all of us, they place their trust in the bus driver or private bus company. Some soldiers, sailors, and Marines think they can't sue.
Former U.S. Marine Trial Lawyer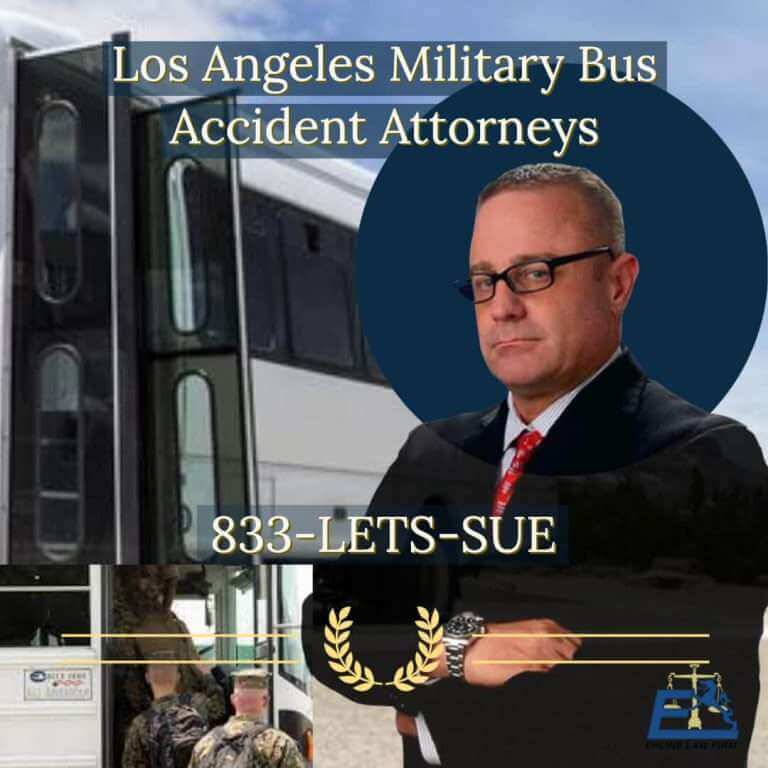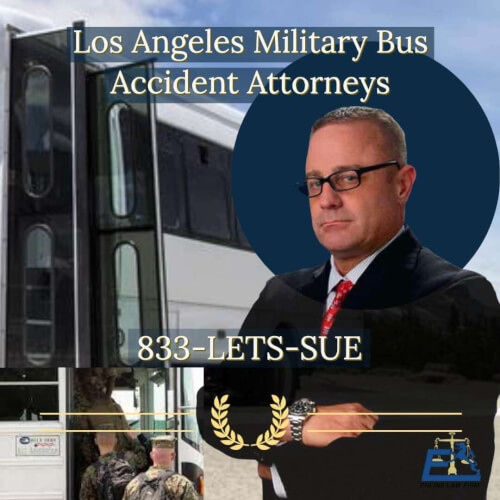 Because many vets or active duty soldiers, Marines, etc., think they can't sue, they rarely contact a bus accident lawyer. Most vets recall government immunity and that the UCMJ supposedly prevents suing the U.S. military. But sometimes, a maker or private bus company remains outside the cloak of sovereignty. So you need to keep reading and learn your rights.
Family members must pay special attention and get a proper case evaluation. The military-industrial complex often tries to blame weather conditions or road conditions for military bus crashes. If that's the case, why was the bus on the road?
Sometimes bus drivers are private, and other times they are DOD employees. What if they have a known record of speeding? The higher speeds of San Bernardino County mean even greater impact speeds, translating into a higher chance of a wrongful death lawsuit or severe brain injury to military personnel aboard.
And why isn't the bus manufacturer on the hook for their role in a failing piece of equipment like a defective seatbelt? Roger that? Starting to see why hiring the right Los Angeles bus accident lawyer is vital when going up against Uncle Sam and the large corporations it's in bed with? Our bus accident lawyers are ready to go to war for you!
Are You An Injured Military Bus Passenger?
When a military bus accident occurs, it is a harrowing event for everyone involved. So the passengers on the bus, the bus driver, and victims in other vehicles all become victims. FEstimates show between 15,000 and 21,000 people become bus accident victims annually.
Also, deaths have been as high as 21 innocents per year. Injuries in a military bus accident can be significant for the passengers.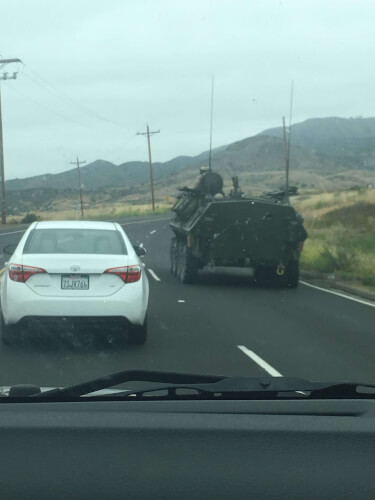 And this remains true even when a passenger believes they might not have been injured. They need a complete medical eval.
Above all, tests should include the head, back, and spinal cord. In any case, injuries to these body parts might not be apparent at the accident scene. Last, the injured passenger should contact a reputable bus accident attorney immediately.
At this point, having an experienced military bus accident attorney by your side remains vital. These members of the California State Bar will know the statutes of limitations to file a legal claim.
Also, better firms have the resources to investigate the accident.
Incidentally, the time limitations to sue government entities are usually shorter. So that means the lawsuit must get filed within a short amount of time.
Other military injury cases we take include Camp Pendleton personal injuries arising from:
LAV-passenger car accidents
Military fighting vehicle manufacturing defects.
We also accept sexual abuse cases against bus drivers guilty of sexually assaulting sick, wounded, or intoxicated military service members aboard buses.
Compensation Potentially Recovered From A Military Bus Accident
There are many types of compensation. We offer free legal advice for any individual with more specific questions, but here is a list of the payment types generally available in a typical military bus accident injury claim.
Compensation may include:
Medical Expenses.
Lost wages.
Worker's compensation (where it is applicable).
Vocational rehabilitation.
Impairment of earnings.
Pain and suffering.
Loss of consortium.
Your continuing medical care.
Punitive damages.
Speak With An Inactive U.S. Marine As Your Legal Counsel
The experienced military bus accident lawyer determines the damages. Damages are the money award victims receive. In any event, different circumstances can apply to military personnel. We have helped families, veterans, and service members in Santa Monica, Long Beach, San Diego, Imperial County, and just about anywhere in the United States. Our best personal injury attorney stands by to take your essential call at 0-dark thirty, 24/7.
Military Bus Collisions We Take?
Our highly experienced Los Angeles bus accident attorneys handle various types of accident claims in both Los Angeles federal and state court, including:
MEPS transportation fleet collisions
MCRDSD to Camp Pendleton / Edson Range buses
Camp Pendleton-Oceanside buses
USMC Bus Accidents
National Guard Collisions
Recruit Travel Assistance crashes.
We handle more cases, but they all have a common thread. These are riders on active duty, EAS, or recruits seeking to be soldiers, sailors, airmen, Marines, or DHS Coast Guardsmen/women.
Because of this, government transportation claim liability and ordinary civil negligence law can often overlap with contracts for private bust companies and government agencies.
Our brilliant Los Angeles personal injury attorneys have the money, time, and resources to investigate the at-fault parties and find your compensation from the legal spiderweb of confusion.
The Ehline Law firm has the experience to represent injured military bus personnel and has represented thousands of victims. Our over 15 years in practice, our Los Angeles office has recovered over $150 million for Angelenos.
Attorney Michael Ehline, as a former U.S. Marine, will fight aggressively for you. We love the military personnel who place their lives at risk for us and our very law firm.
We know you and your closest loved one didn't sign up to become an injury victim in a noncombat-related action. Our trial lawyers want to help you stay in the fight you joined to pursue.
Schedule a Free Consultation With a Military Bus Crash Law Firm
Form an attorney-client relationship with us today. Get that free consultation and hold Southern California insurance companies responsible today for your spinal cord injury, medical bills, pain and suffering, and other damages. Contact Ehline Law Firm in Southern California at (213) 596-9642. If you wish to provide pictures or evidence of bus accidents, please use our convenient online contact us form by entering your email address and pertinent information. Award-winning military bus crash lawyers are standing by, Semper Fi, Do or Die!
Michael Ehline is an inactive U.S. Marine and world-famous legal historian. Michael helped draft the Cruise Ship Safety Act and has won some of U.S. history's largest motorcycle accident settlements. Together with his legal team, Michael and the Ehline Law Firm collect damages on behalf of clients.
We pride ourselves on being available to answer your most pressing and difficult questions 24/7. We are proud sponsors of the Paul Ehline Memorial Motorcycle Ride and a Service Disabled Veteran Operated Business. (SDVOB.) We are ready to fight.