SR 22 remains an East-to-West state highway serving a portion of Los Angeles County and Orange County. The SR-22 starts at Long Beach and transitions into a freeway before entering the San Gabriel River. Once it crosses the river, the Garden Grove Freeway joins the San Diego Freeway for 3 miles before continuing on the Garden Grove Freeway at Seal Beach.
The freeway then enters the Orange Crush interchange, which is highly congested with cars, SUVs, and commercial vehicles. The Garden Grove Freeway runs along the borders of Santa Ana for 3 miles before finishing at the Costa Mesa Freeway. The major junctions on the SR-22 are at Long Beach, Seal Beach, Westminster, Santa Ana, and Orange.
Multiple exits on the SR-22 allow vehicles to travel to different cities in the region. For example, the 14B exit on the SR-22 leads to Santa Ana through the Santa Ana Freeway, while exit 13 leads to Fairview Street Garden Grove. Many construction-related collisions have been reported along the Eastbound State Route 22 between State Route 39.
Recent Car Accidents on the SR-22
History: When my father was growing up in "Garbage Grove," aka Garden Grove, Orange County drag racers used to race when the SR 22 was being constructed. Even the police came out to watch these sons of World War II veterans along when the 22 Garden Grove construction began in the late 50s early 60s. Back then, personal injury attorneys were not something people thought about. Since then, it has been widened and under a new alignment. Let's look at how things have changed around the Garden Grove Freeway compared to when my dad was racing on its virgin road!
A black Nissan pickup truck and other vehicles crashed recently, resulting in at least one victim being transported to UCI Medical Center.
A Pursuit Turned Traffic Collision in Orange County
On October 29, 2021, local authorities encountered a driver previously charged with assault and pursued the vehicle. The driver with criminal charges headed to State Route 22, where it collided with a vehicle. However, that wasn't enough to stop the chase. The car sped off the freeway, but unfortunately, a second collision occurred on Garden Grove Boulevard.
Law enforcement authorities moved the driver for medical clearance to a nearby Garden Grove hospital before taking him into custody.
Big Rig Pursuit on Garden Grove Freeway
A shocking incident on Garden Grove Freeway that left residents baffled for days ended with a big rig pursuit that started on Wednesday and lasted for 13 hours until the very next day on the SR-22. A young 22 years old resident of Los Angeles stole the large vehicle and drove it non-stop for 13 hours before the tires came off, causing the vehicle to come to a halt.
The local authorities could not do a pit maneuver or any tactic as any sudden impact could cause the rig to collide with other vehicles. Instead, they followed the vehicle until 15 tires came off, with a few rims also getting damaged in the process. Besides property damage, the big rig was responsible for hours of traffic congestion in the morning, causing delays at the workplace in Southern California.
Property Damage near Knott Street
On July 6, 2021, a crash occurred at 2:30 AM between a car and the divider between the roadway on State Route 22. The California Highway Patrol turned up to the accident scene where one was dead and multiple injured. The westbound lanes of SR-22 got closed with the local authorities diverting traffic to Knott Street.
What's more shocking about this accident was a missing woman from the crash, leading to a full-blown police investigation.
Bus-Car Collision on Harbor Boulevard
A deadly car accident took place on September 23, 2021, when a car struck the Orange County Transportation Authority bus. The authorities found out that the bus and the car were both heading north on Harbor Boulevard. However, the car crashed into the bus as the bus pulled over at a nearby bus stop, instantly killing the car's driver.
An accident on the SR-22 can have devastating consequences. You don't want to end up in the nearby UCI medical center stressing out about medical bills. Our personal injury attorneys can help you get the financial compensation you need to pay for hospital expenses, lost income, and other damages.
Who Is Responsible for Your Car Accident?
Is it the third vehicle that rear-ended you or Caltrans District 12 for the poorly maintained roads that resulted in an accident causing severe injuries to you?
Oftentimes, if there are two vehicles in a car accident, the fault lies with either one of them. However, an accident can get complicated if several cars were involved or if there was a manufacturer's defect that caused the accident in the first place. You need a personal injury attorney to investigate your accident, whatever the case may be.
A resourceful personal injury attorney can help injured victims by collecting evidence from the accident scene, a police report, and other relevant documentation to help determine who is at fault. In California, since it is a fault-based state, you need to prove the other driver's negligence to get compensation. Having a legal expert can make all the difference in proving negligence, expediting the claims process, and negotiating maximum compensation for your loss.
Why Choose Ehline Law?
Ehline Law is a personal injury law firm operating in more than 15 locations across California. We help protect injured victims from negligent parties by helping them file claims and recovering compensation on their behalf. Since our inception, Ehline Law has successfully represented more than 3,000 injured victims and recovered over $150 million in compensation.
Here are a few reasons why Ehline Law should be your preferred legal representative:
We work on a contingency fee basis. Our lawyers don't charge a fee unless they win the case for you.
We offer a free consultation without any legal obligations. You can visit us or call us anytime and get free legal advice on your case.
We help locate a lien medical doctor to ensure great medical care for a quick recovery.
Ehline Law is an award-winning legal firm with several achievements to our name, such as Top 100 Trial Lawyers, Superlawyers Rising Star Award, Best Attorney of America, and many more.
Schedule a Free Consultation With An SR22 Car Accident Law Firm Today
If you got injured in a car accident on the SR-22 that was not your fault, contact us at (213) 596-9642 and get a free case review with our legal experts today. Our SR 22 accident law firm can help raise public awareness and get you maximum compensation from all at-fault parties.
---
Michael Ehline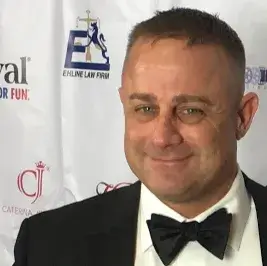 Michael is a managing partner at the nationwide Ehline Law Firm, Personal Injury Attorneys, APLC. He's an inactive Marine and became a lawyer in the California State Bar Law Office Study Program, later receiving his J.D. from UWLA School of Law. Michael has won some of the world's largest motorcycle accident settlements and he can help you get the compensation you deserve for sure.
---
Recent Personal Injury News
Check out news about the most recent freeway accidents and more, including the famous, infamous and everyday people wounded by at fault parties around the world. Follow us on social media to learn more.