If we don't win, you don't pay.
Speak to the Attorney.
Born to serve.
633 W 5th Street #2890
Los Angeles, CA 90071
(213) 596-9642.
2323 S. Voss Rd, Suite 244
Houston, TX 77057
(832) 592-1260.
Date Modified: April 19, 2023
SR-71 Crash Law
Were you or a close loved one seriously injured while riding along the SR-71? Car accidents in Los Angeles County on SR-71 can be fatal. Spanning 15 miles, State Route 71 is an important route linking Riverside, San Bernardino, and Los Angeles County cities. The state highway starts where the SR-91 ends and intersects the Pomona Rincon road after around half a mile as an expressway before it transitions into a freeway all the way to Rio Rancho Road.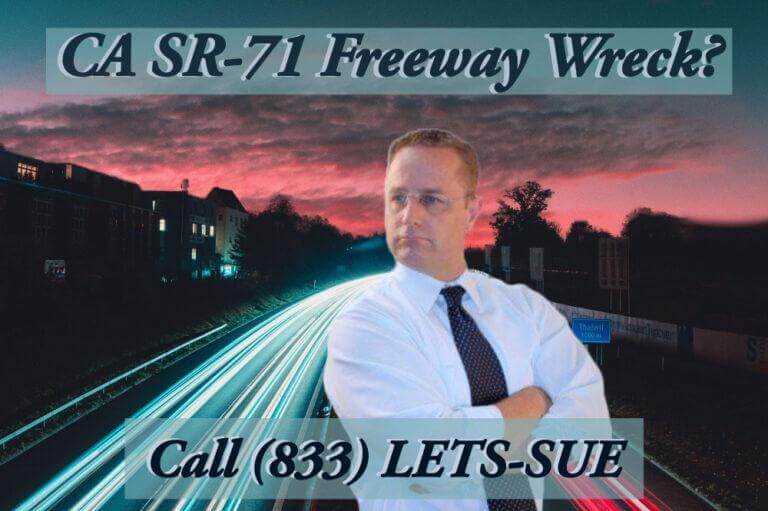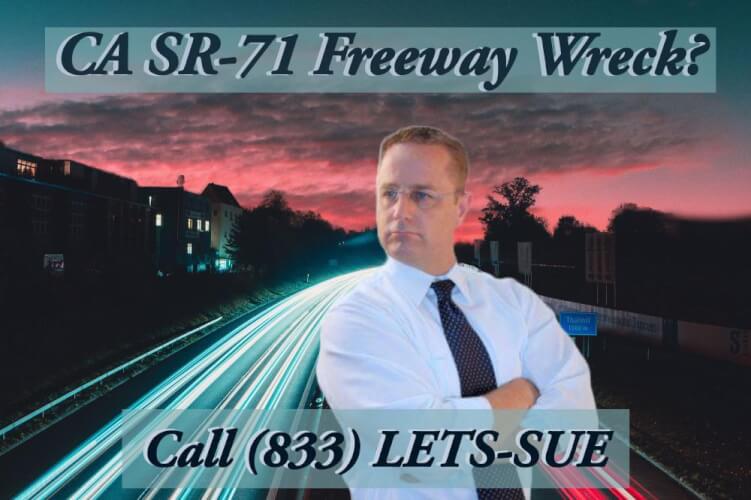 In the future, the SR-71 crosses Mission Boulevard and into the Kellogg Interchange in San Dimas, a city in the San Gabriel Valley, where it ends just like many other routes, like the SR-57 and I-10. A vital northwest-southeast corridor, the SR-71 is an important route for residents living in Pomona and cities in eastern Los Angeles and Riverside counties. The state highway sees heavy traffic as many prefer to use this as an alternative route to the Orange Freeway, I-15, and Ontario Freeway.
Besides the heavy traffic, certain parts of the SR-71 pose a challenge for drivers due to the thick fog that settles in the area. Many accidents occur on these parts of the route as drivers often go through them at high speeds, even though the fog drastically reduces visibility.
Recent Car Accidents on the SR-71
Death on the Corona Freeway
On October 29, 2021, the Corona Freeway, which is part of SR-71, saw an unfortunate accident where a vehicle went off the embankment and landed on the other street. Witnesses saw the accident and described it as a horror scene as the vehicle went off the road, rolled multiple times, and crashed into a light pole.
One of the occupants died at the accident scene, while the other two were rushed to a hospital immediately to treat their wounds. The California Highway Patrol shut down Cresta Road for around four hours before resuming traffic activities. Investigations revealed that the driver made a quick turn, resulting in the vehicle flying off the embankment.
Chino Valley Collision
On August 26, 2021, a multi-vehicle crash occurred on the Chino Valley Freeway, part of the SR-71. Investigators revealed an adult woman in her Mazda sedan collided with a Ford who tried to steer left to avoid a collision but ended up crashing into another 1997 Ford vehicle. The 1997 Ford flipped a couple of times, with the driver ejected from the car. The driver had gotten serious injuries from the vehicle overturning multiple times and was unable to make it out alive. Auto, motorcycle, and other types of accidents are quite common on state highways across the United States.
Having a qualified personal injury attorney look into your personal injury case can help protect you from the financial repercussions of an accident. A car accident attorney or a law firm can help file an auto accident claim with the relevant documents to recover fair financial compensation for your loss.
What Is a Fair Settlement?
The word "fair" opens the door to many different interpretations, and our qualified attorneys can get you the best outcome. Several factors impact the value of the claims, and an experienced attorney can recover your economic and non-economic losses. Our lawyers use previous experience in similar cases and the multiplier method to ensure that you get a maximum settlement for your damages. Some losses are hard to quantify, such as the loss of quality of life due to pain and suffering from injuries.
Using a multiplier method and our prior experience, we can help determine the value of your claims and get you the compensation you need to move on with your life. Ehline Law Firm has helped injured victims in Los Angeles County recover medical expenses, property damage, lost income, future expenses, and more.
Can a Lawyer Always Get You a Settlement for Your Car Accident?
This is an important question that car accident victims often have after an accident, and the answer depends on your situation. Insurance firms would rather settle claims than take matters to court, as it can be more expensive and cause bad publicity. However, before settling, these companies try their best to delay claims or reject them without any proper reasons. Even if they don't delay your claims, expect to get a low settlement offer that may not even cover your medical expenses.
Our attorneys have helped more than 3,000 injured victims and recovered over $150 million in compensation for the damages. Having our experienced car accident lawyer on your side increases your chances of getting a fair settlement.
When Should You Hire a Car Accident Lawyer?
Automobile accidents can occur at any time, and the victim must take certain steps to secure themselves from any repercussions of an accident that was not their fault. Fatal accidents often leave victims with serious injuries, and seeking out medical help immediately should be your priority.
Your next step should be calling the police to file a police report for the accident. Even if you're unable to collect the relevant information from the negligent driver, a police report should contain enough information to help file claims.
Now is the time you call a car accident attorney, as the sooner you bring them into your case, the better access you give them to first-hand evidence at the accident scene. Calling attorneys after a serious accident gives them enough time to prepare for your case and fight for your rights.
Contact Ehline Law and Our Personal Injury Attorneys Now!
If you got into a car accident on the SR-71 that was not your fault, contact us at (213) 596-9642 and get a free initial consultation today. Our attorneys will help assess your personal injury claim, determine your claims, file claims against the negligent party, and deal with the insurance adjusters to get you the compensation you deserve. You can even visit us at any of our 15 locations across Southern California, servicing areas like Orange County, Los Angeles County, Riverside County, and more.
Other California Freeway and Interstate Accidents
Michael Ehline is an inactive U.S. Marine and world-famous legal historian. Michael helped draft the Cruise Ship Safety Act and has won some of U.S. history's largest motorcycle accident settlements. Together with his legal team, Michael and the Ehline Law Firm collect damages on behalf of clients.
We pride ourselves on being available to answer your most pressing and difficult questions 24/7. We are proud sponsors of the Paul Ehline Memorial Motorcycle Ride and a Service Disabled Veteran Operated Business. (SDVOB.) We are ready to fight.