I-210 Interstate Auto Collision?
Car accidents can leave a victim with severe injuries, affecting them financially and in their social lives. Individuals in a car accident can have painful injuries that can last for months, if not weeks, resulting in a reduced quality of life. Getting legal help can affect your chances of getting the compensation you need to pay for your medical expenses and support your family while you recover.
If You or a Loved One Has Gotten into an Auto Accident on the I-210, Reach Out to Ehline Law
If you're in a car accident that was not your fault, contact Ehline Law and our auto collision lawyers today, as you may be eligible for compensation.
About Interstate-210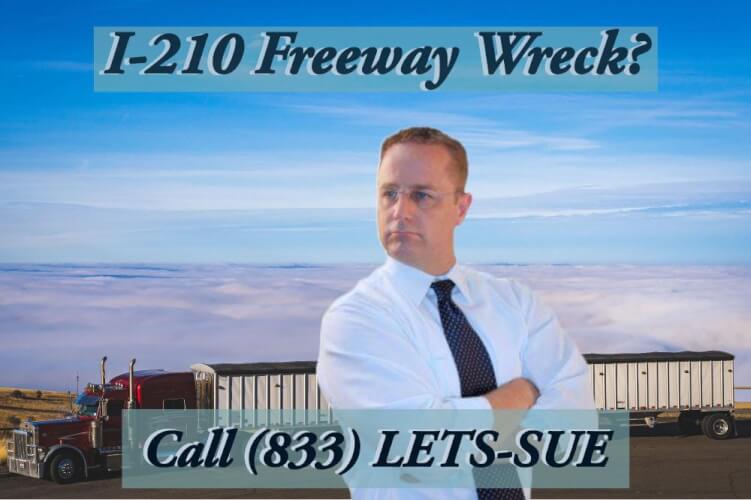 Interstate 210 in California travels west to east from Los Angeles to Redlands and has major junctions at Pasadena, Irwindale, Glendora, San Bernardino, and Highland. Also known as the Foothill Freeway, the I-210 in California transitions to the East-West Freeway after reaching the Pasadena Junction.
The Eastern segment of the I-210 currently does not meet the Interstate Highway System standards, but there have been construction plans in motion since last year. The three-year plan looks toward adding two more lanes broadening the SR-210 at San Bernardino.
Types of Traffic Accidents on the I-210
It is very difficult to find data on the fatal car crashes on the I-210 according to the different types of traffic accidents. Local governments and websites publish the total number of car accidents but do not provide any further information. However, based on local news reports, we can deduce that the nature of the accidents on the I-210 varies.
The following are some of the types of car accidents that have occurred or can occur on the I-210:
Recent Car Accidents on the I-210
Let's look at some of the serious and fatal accidents on the I-210 that took place this year.
Motorcycle Collision on the Freeway
On October 15th, 2021, a motorcyclist got killed in an accident by colliding with an SUV. According to the California Highway Patrol, the auto accident occurred on the San Bernardino County line at around 4.18 PM, with local authorities dispersed immediately to control traffic. Upon the arrival of medics and law enforcement, it was too late, and the motorcyclist lost his life at the scene of the accident.
A Disabled Riverside Car
A driver and a passenger set off from Riverside, traveling on the 210 Freeway on the morning of September 21st, 2021. The two people were in a silver Toyota Prius that got disabled on the right shoulder of Freeway 210, causing the incoming SUV to collide with the car. This accident resulted in major injuries to the people in the Toyota Prius, and within 6 minutes of the accident, both of them lost their lives. The passengers and driver in the SUV also got minor injuries, with at least one person requiring medical attention at a nearby hospital.
A Fiery Crash
The 210 Freeway in Rialto saw a fiery crash on June 29th, 2021, when a car entered the eastbound lane from the westbound, swerving from other vehicles before crashing into an oncoming car. One of the vehicles caught fire while rescue teams tried to get passengers out of both cars. However, two of the victims died inside the car before making it out.
Motor vehicle accidents like the ones mentioned above are just a couple of examples of the types of car accidents that can occur on an Interstate Highway. These accidents can cause a dent in an individual's quality of life depending on the severity of the injuries sustained from the incident. Having qualified car accident attorneys on your side can increase your chances of collecting financial compensation from insurance companies for the damages.
Who Is Responsible for Your Car Accident Injuries?
Depending on where you are and whom you get into an accident with, several parties may be responsible for the accident. For example, you can file claims against a trucking company in an accident for negligence and the truck driver as well for distracted driving. Or perhaps file a car accident claim against a local government for unmaintained roads.
To hold people responsible for an accident and save time during the claims process, our car accident lawyers have the right resources and experience to investigate your accident and file claims against the responsible, negligent parties.
Our Car Accident Lawyer Can Help with Your Personal Injury Case
You need a car accident lawyer to identify whom to file claims against and require expert lawyers to help file claims. California is a fault-based state, and those filing claims must prove that the accident was due to the other driver's negligence. Once proven, the personal injury lawyer must negotiate with the at-fault driver's insurer to get the injured victims the compensation they need to get their lives back on track.
Why Choose Ehline Law for Your Car Accident?
Ehline Law is a personal injury law firm that helps accident and injured victims get the compensation they deserve. Whether it is drunk driving or distracted driving, our personal injury attorney can help protect your rights while negotiating with the insurance company to compensate you for your loss.
Ehline Law has had more than 3,000 successful clients and recovered over $150 million in compensation for our clients.
Our law firm has won several prestigious awards like the Superlawyers Rising Star, Premier Personal Injury Attorney, Top 100 Trial Lawyers, and many more.
Our law firm stays active in the legal space by creating awareness of legal issues on TV while contributing to the California Law Journal.
We provide 24/7 legal assistance across 15 of our law offices in California.
Our lawyers work on a contingency-fee-basis. We don't get paid until we win for you.
Our law firm has compassion at its core. Michael Ehline, the Founder of Ehline Law, was a former US Marine Trial Lawyer who helped fight to protect the rights of injured victims. After getting honorably discharged, Michael decided to continue protecting the rights of American citizens by establishing Ehline Law, a legal firm that cares.
Contact Our Car Accident Attorney Today and Get a Free Consultation!
If you got into a car accident on the I-210 due to someone else's fault, contact us at (213) 596-9642 and get a free case review with our personal injury attorneys in Los Angeles today. Medical expenses from a traffic crash can financially paralyze an injured victim, and you shouldn't be the one to shoulder the burden for somebody else's fault.
Having our professionally qualified attorneys on your side increases the chances of you getting financial compensation for your loss. Contact us for more information on how we can help.
Other California Freeway and Interstate Accidents